Mum-and-kids-only trips: Why it's becoming a thing to travel without your husband
Have you been noticing more mum-and-kids trips among your friends appearing on your social media feed? This writer has been doing it since her son was six weeks old and she shares her tips on how to plan a without-Daddy trip with your kids.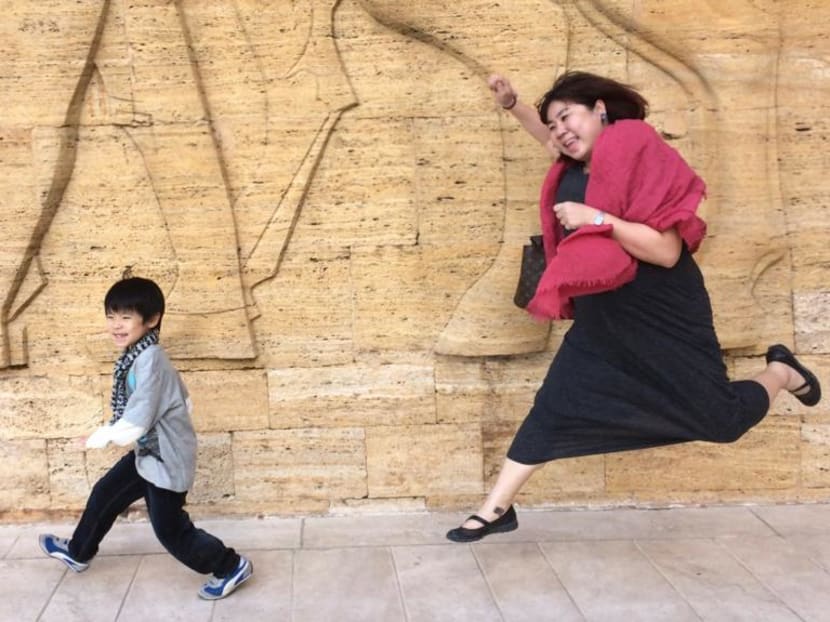 The first time I took my son Ayden on a trip without my husband, he was just six weeks old. We went on his first road trip to Genting Highlands, Malaysia, along with my parents, sisters and nieces all ready to lend a helping hand.
Over the next few years, my husband and I holidayed as a family. To Melbourne, Australia, where we went on a self-driving trip and attended the Day Out With Thomas festival to ride the Puffing Billy train; to Shanghai, China, to spend Christmas and New Year; and to Tokyo, Japan, where we visited Disneyland and onsens.
Forming a tag team with my husband made travelling with an active toddler much easier, of course. But when Ayden was four, I resumed our mum-and-son trips.
Our first long trip was to Turkey when he was six. My best friend was looking for a travel buddy to visit Turkey. I was keen but Hubby wasn't. So, I decided to book a package tour with Ayden and my bestie, and off we went for a nine-day jaunt around exotic Turkey. 
WHY DO MUMS TRAVEL ALONE WITH THEIR KIDS?
In my case, Ayden's and my trips started mostly out of necessity. My husband was building his new business then and work took precedence. As a polytechnic lecturer, I could only travel during my school vacations. It was just easier to plan trips based on one person's work schedule.
Work aside, my husband was also not interested in travelling to certain places, like Malaysia. But I love visiting our nearest neighbour, and it was easier to plan short trips with my girlfriends instead of forcing a family holiday that he wouldn't enjoy.
So far, Ayden has joined me and my girl squad to Ipoh, Sarawak and Penang.
Similarly, several mums I know have planned mum-and-kids tours, sometimes with other mummy friends, because of a clash of interest with their partners. It's like an extended version of a girls' trip, just with the kiddos in tow.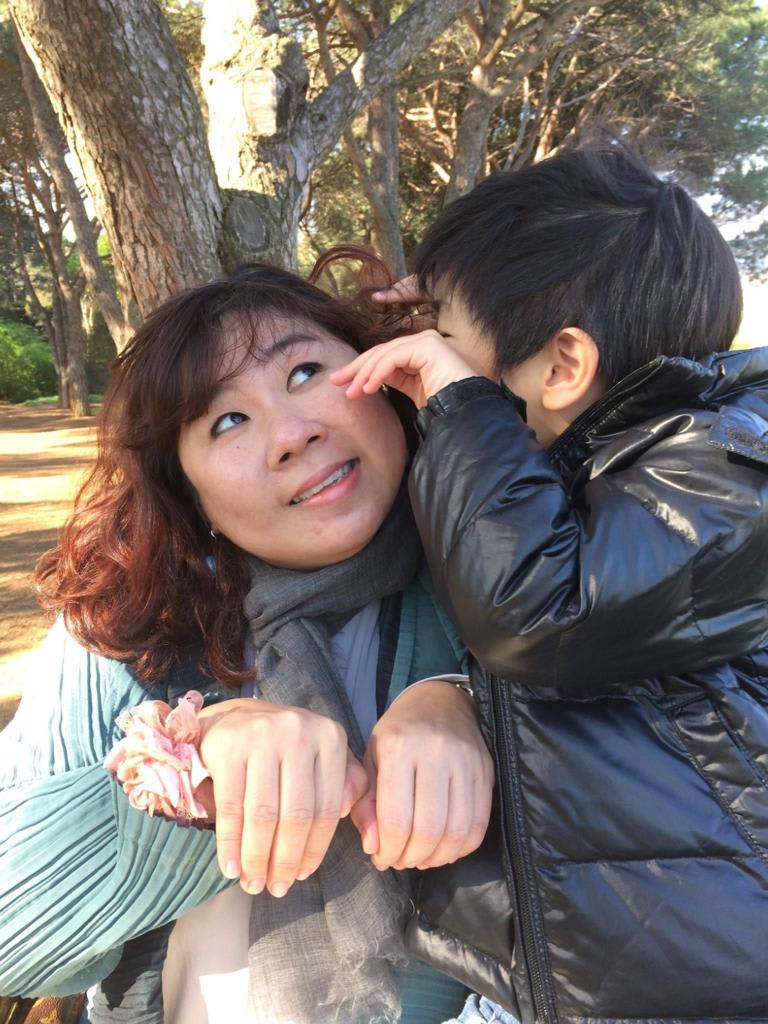 Another reason: Because Mummy wants some alone time with each kiddo. This is especially common among my friends with multiple kids.
Juggling the daily crazy routines of several kids can exhaust any mum, so it feels extra special to take one kid on a trip and lavish all your attention on him or her.
Jelaine Ang, 44, a mum of four kids ranging from four to 14, has a wonderful plan to take her kids on solo trips before they start primary school, because it is easier to take the kids out of childcare to suit her work schedule.
So far, she has toured America with her eldest son, and South Korea with her second son. Unfortunately, COVID-19 grounded her plans and her third kid, a daughter, has since started primary school.
But Jelaine has Plan B. "I'm encouraging my hubby to take my two youngest girls on his own solo trips with them!"
In fact, that's just what local blogger Mr Brown has done. He took his son Isaac on their first father-and-son trip to Japan back in 2015 after Isaac completed his PSLE.
Here's how to go about planning a mum-and-kid trip:
MAKE SURE YOU PLAN FOR YOUR KIDS TOO
After getting my toes wet with several short trips and the nine-day Turkey tour, I felt ready to take Ayden out on my own. He was 11 when we visited Kota Kinabalu in Sabah in December 2019.
The highlight of our itinerary was to take the North Borneo Railway, a lovingly restored steam engine train that is over 120 years old.
We'd developed a bit of an obsession with railway trains when Ayden played with – you guessed it – Thomas and Friends as a toddler. We wanted to relive that experience before my little boy got too big to want to play with trains with me.
I also included other activities a boy would enjoy. We ate ice cream at Desa Dairy Farm and went on a river cruise to see Proboscis monkeys and fireflies. It was magical and fun for both mother and son.
PICK ACTIVITIES THAT ARE MEANINGFUL TO BOTH OF YOU, TO CREATE LASTING MEMORIES
Another reason why I picked Sabah was because Mount Kinabalu has a special place in our hearts. In June 2015, several children and teachers from Tanjong Katong Primary School, and their Singaporean guide, perished under falling rocks when an earthquake struck while they were on Malaysia's highest mountain.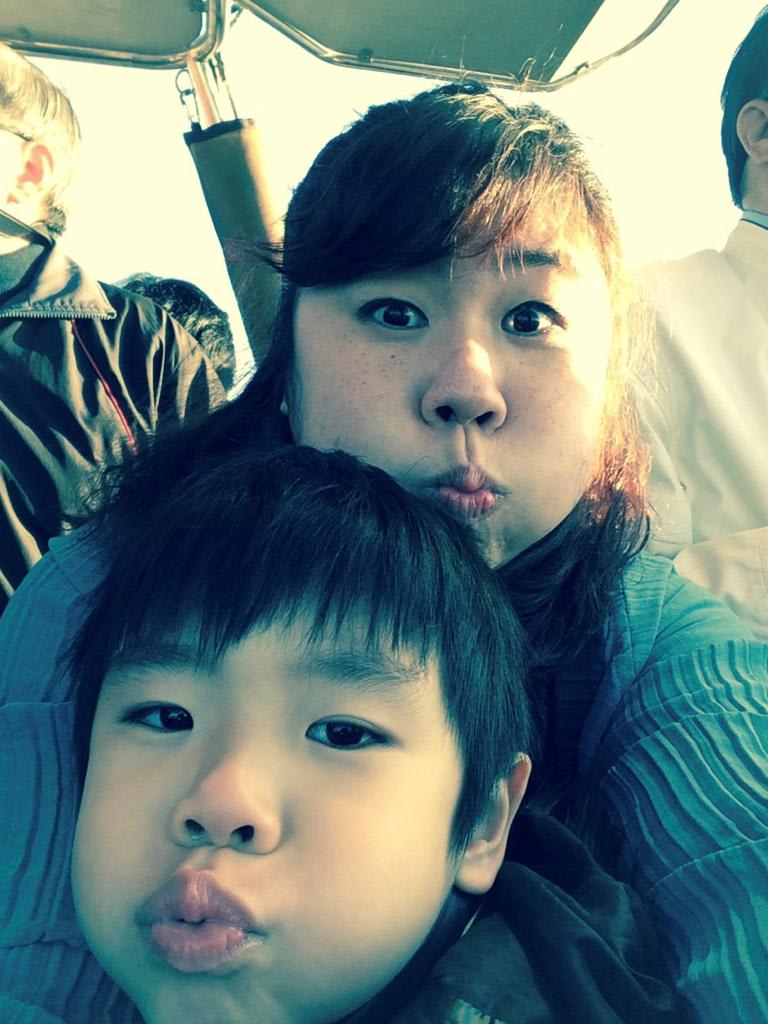 The night we heard the news, Ayden, then seven, asked to sleep next to me, with his fingers tightly laced around my neck. He also requested to visit the school, where he left a hand-drawn card, carefully written in his shaky penmanship.
We still remember how sorry we felt for the kids and parents; how terrified and broken we would feel if we were in their shoes. So, on our first proper mother-and-son trip, we wanted to visit Mount Kinabalu and say a little prayer for the lost souls.   
DON'T OVER PLAN. LEAVE LOTS OF SPACE TO DO NOTHING, AND ANYTHING
That was it – two big items on our Sabah trip. The rest of the time, we just ate whatever we felt like, did whatever we wanted.
Our first meal there was at a Japanese restaurant near our hotel. That is Ayden's favourite cuisine and if he felt like having it, why not? 
INVOLVE YOUR CHILD IN YOUR HOLIDAY PLANNING
Ayden and I are now planning an epic two-week trip to Japan during the upcoming June holidays. Travelling with my 15-year-old, with all his teenager needs, is vastly different from when he was 11.
From booking hotels to researching and planning our itinerary, I've involved him in every step of the way.
And research is half the fun of a holiday. He watched YouTube videos on capsule hotels and shared the pros and cons; we've both decided we'd rather spend a little more for comfort.
On his list of must-visits are Gundam Factory in Yokohama, Hiroshima because he is a history buff and Kyoto because he loves that old school vibe. It is fortunate that we share the same interests so there isn't much we need to compromise on.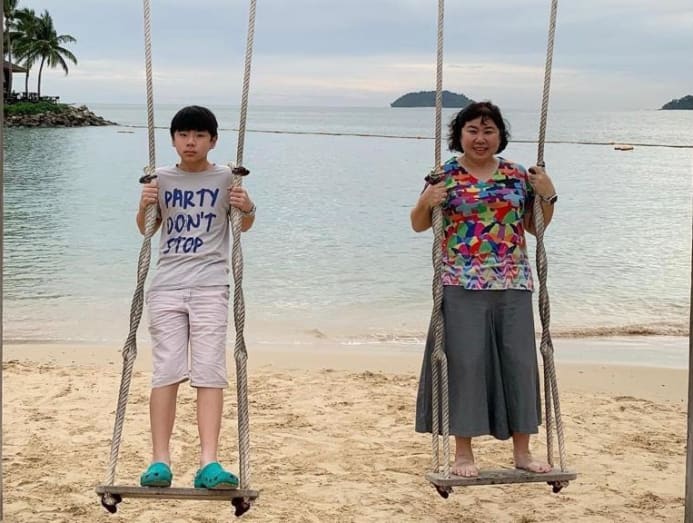 Because Ayden hopes to study in Japan some day, and he is interested in anime, we booked three nights in a hotel at Akihabara, Tokyo. This will give him a chance to soak in the vibe and explore if he really wants to pursue his career in it.  
As for me, I'm a big foodie so, we're also compiling an alarmingly long list of must-eat food. We plan to eat all the sashimi, Hida beef and ramen we can.    
BE PREPARED TO SPEND A LITTLE MORE TO MAKE SAFER CHOICES
Another highlight of our Sabah trip was our visit to Tanjung Aru beach to catch the sunset. It would be nice and romantic if I were travelling as a couple – cue IG-worthy photo ops – but not really the kind of thing an 11-year-old tween wanted to do with his mum.
So, I factored in an activity I knew he would enjoy: A giant pizza experience at the Shangri-La Tanjung Aru resort. For RM$168 (S$50.49), we got a gazebo right on the sand to watch the sunset, while tucking into a massive 28-inch pizza that came in four flavours.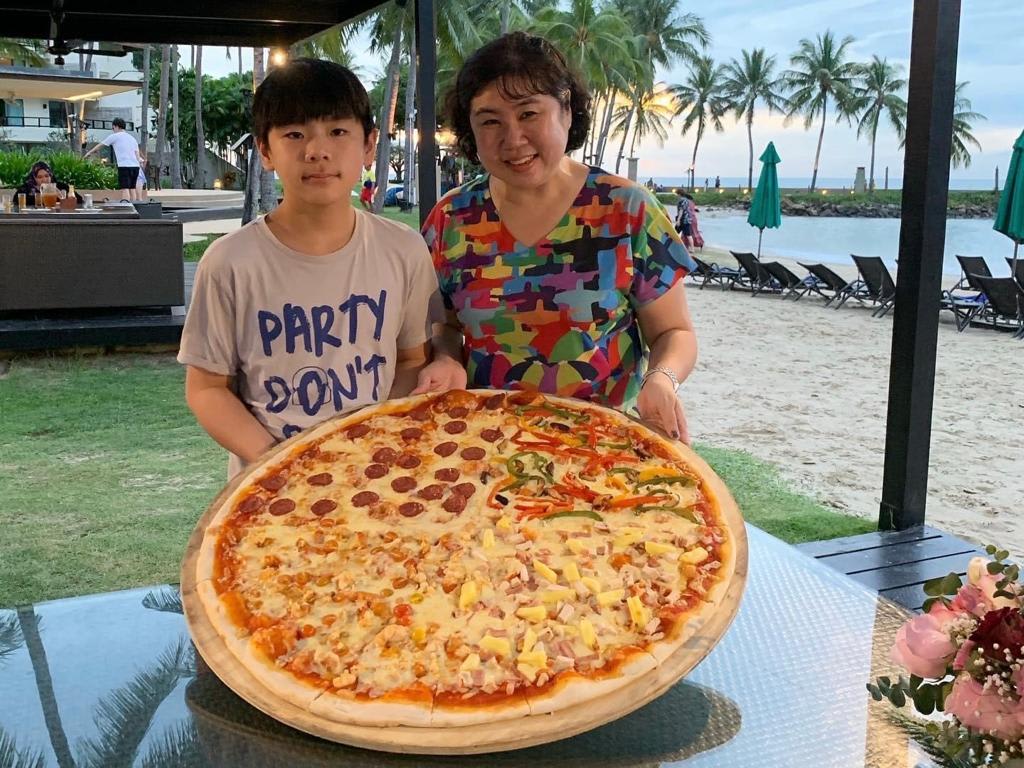 Despite Ayden's claims that he was a growing boy, we couldn't finish even half of it. We packed the rest for supper and gave away some to our Grab driver. (Another tip: Book a Grab where possible; much easier than taking public transport when you're travelling with a kid.)
The S$50 I spent was an affordable and much more comfortable way to experience Tanjung Aru's golden sunset and avoid a kiddie meltdown. And that peace of mind, as every parent will tell you, is priceless. Best of all, we could play in the sand and have access to clean bathrooms at the resort to wash up – again, priceless.
Transportation tip: If you don't drive or don't feel comfortable doing a driving holiday on your own, then don't. Spend more to hire a personal driver or just depend on public transport or Grab. When you're a mum travelling alone with a kid, it is always prudent to prioritise safety.
DON'T FORGET TO ENJOY YOURSELF TOO
This is a mother-and-child trip so don't forget to pamper yourself too. Schedule shopping time carefully. When Ayden was younger and could fit into his stroller, I found shopping during his nap time to be the most conducive.
Or limit yourself to short bursts of well-planned shopping so you'll zip in and out of the stores.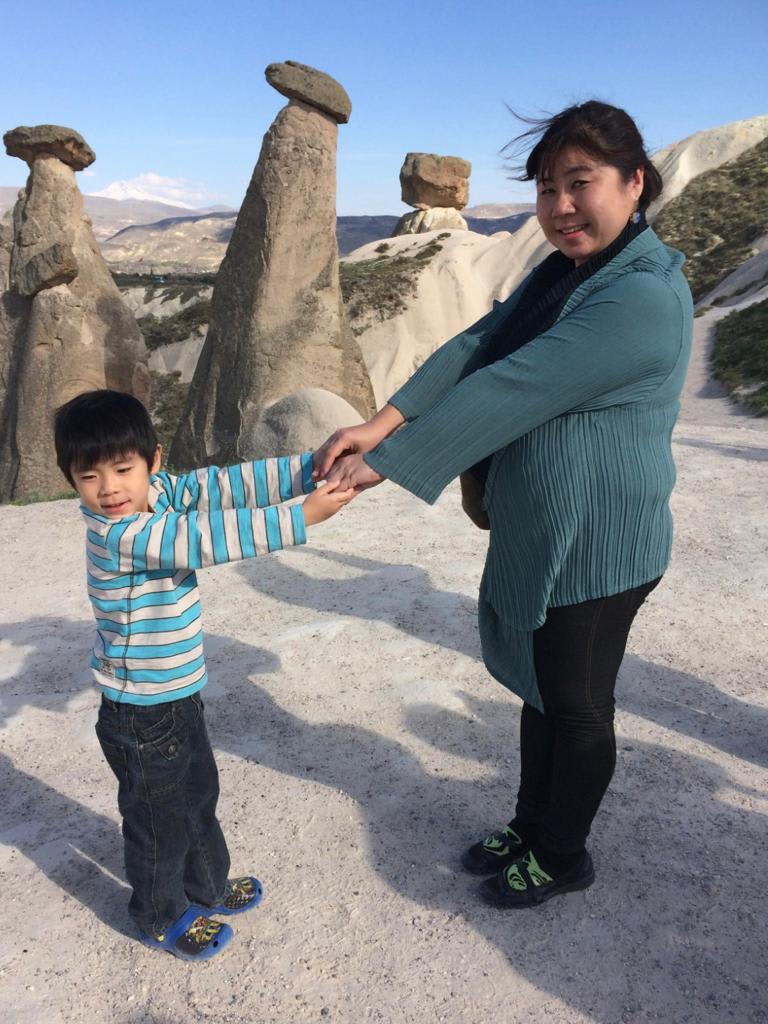 Now that he is a teen, on this upcoming trip to Japan, I've given him a budget so he can enjoy his own shopping – a win-win situation for both of us. 
If you want to spend half a day at the spa, make sure you book a resort with a kids' club so your child is well taken care of. Luckily for me, Ayden loves massages so on my last trip to Sabah, we ended it with a good massage at a local spa.
There is something special about a mother-and-child trip that is just different from travelling as a family with Hubby. You learn to cope on your own; you grow as a parent. You discover a new side to your child outside of mundane school work and your busy work schedule. And you develop a unique bond and experience that only the two of you share.
Our Sabah trip happened because 11-year-old Ayden told me that he missed our "Mama-and-Ayden" trips, and it melted my heart. That's not something I'll get to hear often (or again) as he grows into a cool teen.
So, make your time together count. It doesn't even have to be an expensive holiday; a staycation or an overnighter to Johor Bahru will do. After all, it really is the quality time that counts.