From bin to skin: Meet the Singaporean who makes face masks from food waste
Didi Gan's quest for an all-natural, non-toxic N95 mask and home disinfecting solutions led her to intercept heaps of nut waste on their way to landfills. CNA Women speaks to her in this first instalment of our women in sustainability series.
Seemingly overnight, face masks, hand sanitisers and disinfecting solutions went from being medical supplies to everyday necessities. While they may help us live with the deadly COVID-19 virus, disposable masks generate heaps of waste while disinfecting solutions dry out our skin and poison the ecosystem.
How can we better protect ourselves and the ecosystem?
That was the question on Didi Gan's mind while she was having drinks and nibbling on some nuts with her aunt and a friend in January 2020, around the time the virus peaked in Wuhan, China. Already, the world was running worryingly low on masks and antimicrobial solutions.
The biomedical graduate from the University of Melbourne looked at the pile of nut shells on her dining table and had a moment of inspiration. What if food waste could be transformed into a powerful yet gentle antimicrobial solution?
With that, Gan founded N&E Innovations, leaving her job as a managing director of a textile mill in Malaysia.
Six months later, she launched the first all-natural N95 and CE-certified mask. More than a year later, she launched a disinfecting solution for surfaces and hands.
These were formulated with cashew nut waste and other food-grade ingredients.
TRANSFORMING TRASH INTO REUSABLE MASKS
The 34-year-old remembers how she spent her childhood at her family's melon seed shop in Chinatown, which has since closed. Every afternoon after school, she would mould "cakes" out of nut waste.
Little did she imagine that this childhood game would one day inspire her to create a pandemic solution.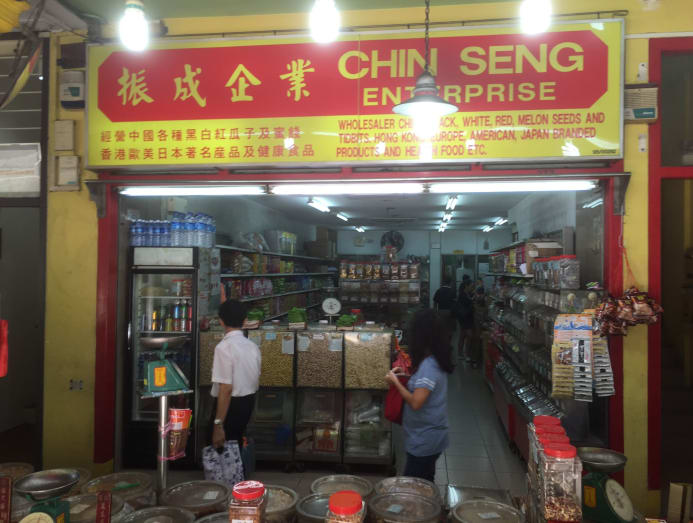 Fast forward to early 2020 when the virus was raging in Wuhan: Gan began searching for natural antimicrobial solutions for use in masks.
She couldn't find any. Instead, she found that many manufacturers use toxic heavy metals to line masks.
The significant levels of lead, antimony and copper in many disposable face masks are believed to have a substantial impact on the environment, a study by Swansea University found. The university's scientists even cautioned that long-term exposure may pose a risk to public health with "known links to cell death, genotoxicity and cancer formation".
"I am ANA positive (meaning antibodies in the blood attack the body's own tissues) and am allergic to many chemicals. I wanted to find a more natural way to mask up and disinfect while reducing the amount of toxic chemicals I am in contact with," said Gan.
Determined to create her own natural and safe solution, Gan began to experiment with food waste, including melon seed waste, orange peels and durian husks for antimicrobial properties.
After repeated trials, she discovered that cashew nut waste, food-grade iron from soya beans, and chitosan from crab shells work synergistically to offer protection against bacteria and viruses, including the SARS-CoV-2 responsible for COVID-19, influenza, and hand foot and mouth disease.
Based on her research, she developed an edible, non-toxic molecular coating known as VIKANG99.
"It forms a chemical structure that continually gives out reactive oxygen species, a natural occurring phenomenon in our body cells. This inactivates bacteria and viruses by destroying their cell walls," she explained.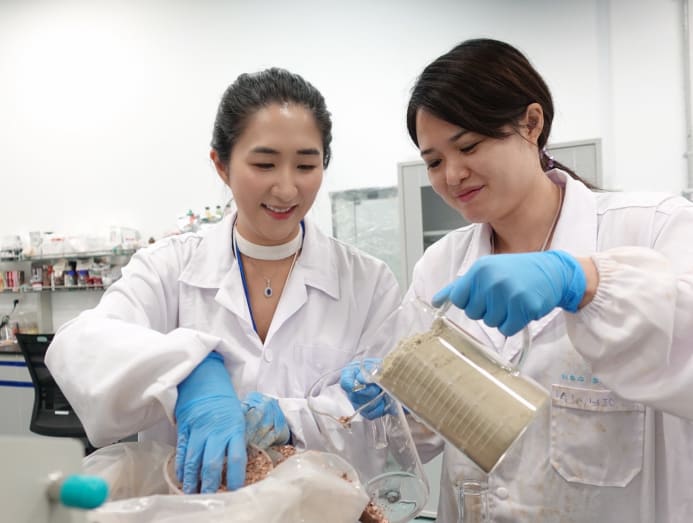 On how she sourced for sustainable ingredients, Gan said she buys cashew nut waste from Intersnack, a cashew nut processing company.
"Intersnack produces 100,000 metric tonnes of cashew nuts each year, which generates 2,500 metric tonnes of waste. This would otherwise end up in landfills or be incinerated. Why not use it to make something powerful against COVID-19?"
The iron from soya beans and chitosan from crab shells are sourced from China.
REDESIGNING FACE MASKS
It took her six months and four formula tweaks to get her mask N95-certified, meaning it meets the US National Institute for Occupational Safety and Health standard of filtering at least 95 per cent of airborne particles.
In addition, it is also CE-certified, meaning the product complies with EU requirements for medical face masks. Costing between S$300,000 and S$400,000, R&D was so expensive that Gan did not draw a salary for four months.
Finally, in August 2020, the Vi-MASK (from S$15.90) was launched. The three-layer reusable mask protects its wearer against 99 per cent of viruses and bacteria for up to 30 washes.
Its first layer is fortified with VIKANG99 antimicrobial technology to inactivate the virus upon contact. The second layer filters virus, bacteria, dust, pollen and allergens like a surgical mask.
The third layer is a soft bamboo lining featuring a quick-dry technology to keep the skin cool and reduce maskne. Fabrics are sustainably sourced and Oeko-Tex certified to be free from toxic levels of more than 100 substances known to be harmful to human health.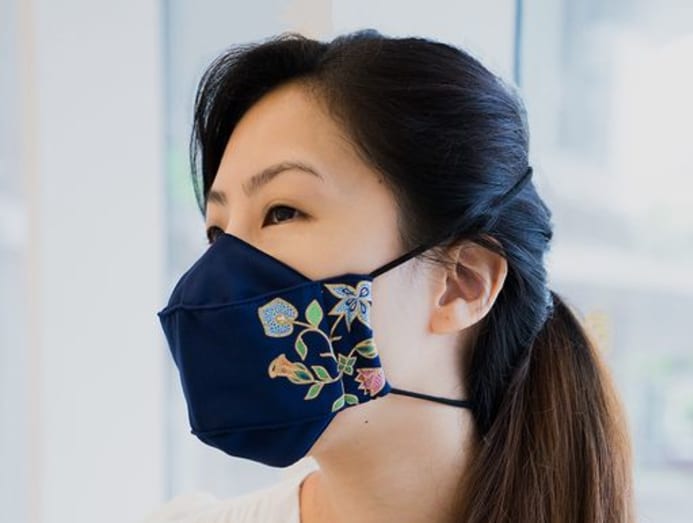 Having since sold 300,000 to 400,000 masks, Gan has upcycled more than one tonne of cashew nut waste. Her masks are available at selected local supermarkets, personal care stores and pharmacies, and also on KrisShop in batik print from a unique collaboration.
They are even exported as far as German towns Mistelgau and Bad Berneck, located in Bayreuth.
Gan was also motivated by her five-year-old daughter Emma to develop a gentle, non-toxic and baby-safe hand sanitiser. "My daughter has bad eczema, and cries when she has to use toxic alcohol sanitisers in school," Gan said.
"All the chemicals in regular disinfectants also wash down the sink and toilet bowls, go into the groundwater, poison trees and plants, and harm the ecosystem," she added, stressing that C2+ sanitising and disinfecting products are non-toxic and 100 per cent biodegradable.
"We don't expect people to stop cleaning, but we can offer a cleaner approach made with waste products free from toxic chemicals," she said. "With a normal disinfectant, corporate customers might have to clean their premises seven times a day. With this spray-coat antimicrobial product, they only need to clean once a day."
To ensure the disinfectant is gentle on the ecosystem, Gan even conducted her own home experiments, spraying it on her houseplants and into her fishbowl to ensure that it would not harm living organisms.
The product has been used at the Singapore Zoo, River Safari and Night Safari to coat high touchpoint areas.
Gan is now in the process of developing a C2+ food spray, slated for launch by end 2021 or early 2022. "There is currently a lot of cross contamination. If a COVID-positive person touches an apple in the supermarket for instance, it may be contaminated," she explained.
"This product can be sprayed directly on food by the retailer or consumers, to continuously deactivate the virus for 24 to 48 hours," she said.
To upcycle more food waste, Gan is also working with Insectta, a local black soldier fly farm which uses the insect to convert food waste into chitosan, a key ingredient in her antimicrobial solutions.
Why is sustainability such a big part of Gan's pandemic solutions?
"You see the world change over the years and you really worry for your kids," said the mother-of-two. "In 30 years, will they even see a blue sky? Will they have fruits to eat? Will there still be fishes in the ocean?"
"I believe it will make a difference if people use the right things in the right amount, even when it comes to COVID-19 solutions and food waste. If we each play our part, our kids will have a better, cleaner and happier future," she said.
CNA Women is a section on CNA Lifestyle that seeks to inform, empower and inspire the modern woman. If you have women-related news, issues and ideas to share with us, email CNAWomen [at] mediacorp.com.sg.