Best eats: Extra-stuffed, extra-tasty Teochew soon kueh in Joo Chiat
The ladyboss behind Ah Yee's Soon Kueh picked up her skills from family – and the secret is in the skin, as GOLD 905 DJ Denise Tan discovers in this week's Makan Kakis.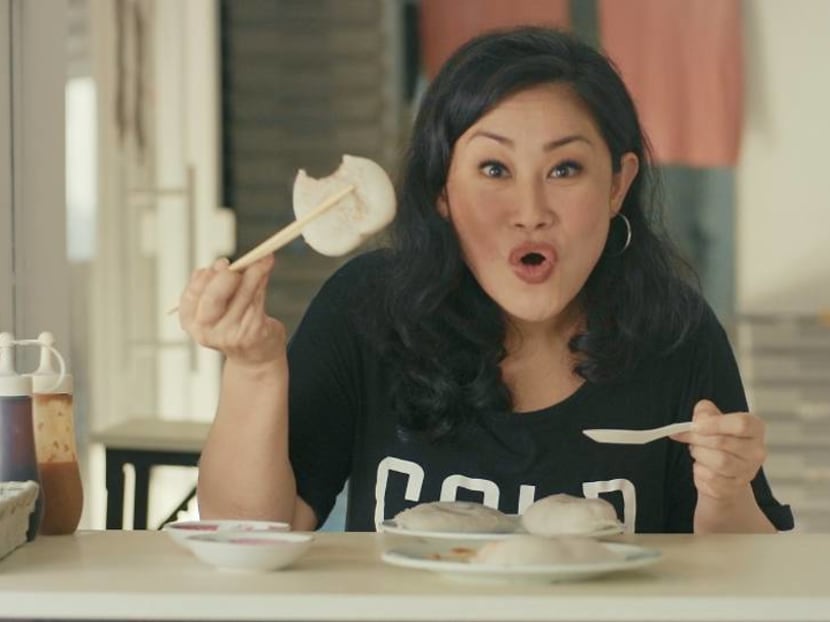 As we navigate these days of automation, industrialisation and mass production, it feels like we've lost that human touch – a sense of belonging and a connection to a remembered past. In my personal search for culinary authenticity, I've found a taste of the past that connects me to the Teochew side of my heritage.
The ladyboss behind Ah Yee's Soon Kueh picked up her skills from family – and the secret is in the skin, as GOLD 905 DJ Denise Tan discovers in this week's Makan Kakis.
Madam Tay Lee Tiong's traditional savoury kuehs were a delight to discover, thanks to the recommendation of my Makan Kaki and author of the cookbook The Way Of Kueh, Christopher Tan. Through the course of research for his book, he met this formidable woman with an equally formidable skill in creating traditional Teochew snacks like soon kueh, png kueh and koo chye kueh (all of which are variations of steamed rice cakes or dumplings, stuffed with different fillings).
At Ah Yee's Soon Kueh (named for Madam Tay, whom everyone calls "Auntie", or "Ah Yee" in Mandarin), the gregarious ladyboss calls out friendly greetings to customers from behind the glass counter, while deftly shaping her kuehs for steaming. She has no formal training in the culinary arts, but has learnt the way many women of her generation did – through marriage and the necessity of taking care of a large household.
Making traditional Teochew kueh at home for prayers and important Taoist festivals was part and parcel of her kampung life in Changi. She picked up the skills by observing an auntie who was the designated family kueh-maker. When she needed someone to take over, Madam Tay gamely stepped into the role, perfecting her recipes by trial and error, improving through the help of neighbours and those she met at the temple.
At the encouragement of her relatives and friends, she opened a stall at Dunman Food Centre in 2004. While she developed a loyal following of customers, the labour-intensive kueh-making process left her exhausted – even with family chipping in – and she eventually made the difficult decision to close shop eight years later.
In 2017, her son Jeffrey returned from a banking career in Hong Kong and helped Madam Tay restart the kueh business. "I just thought it was such a waste for her to close for good because her soon kueh is really very good," he explained. Driven by that desire to continue his mother's legacy, Jeffrey put his corporate experience to use – crunching numbers, assessing risk, conducting his own research and development, before going into business with her.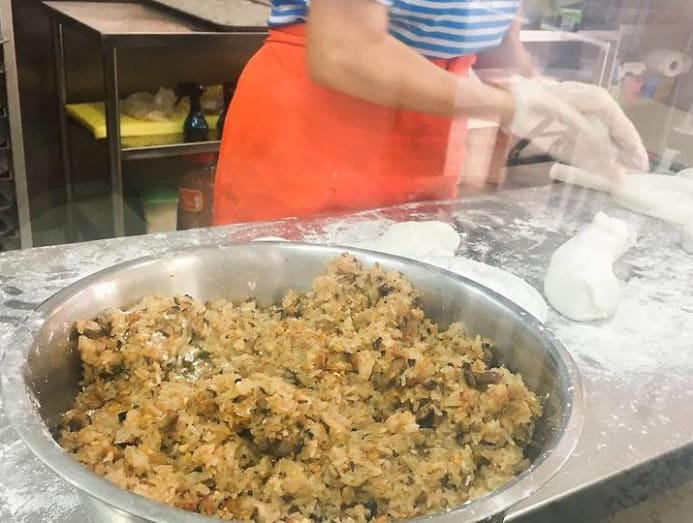 Ah Yee's Soon Kueh was revived at their current location on Tembeling Road, just a stone's throw from their previous location. Jeffrey has learnt pretty much everything Madam Tay could teach him about kueh-making, although he still finds his mother's methods slightly maddening, from a business standpoint. Much like any other home cook from her generation, Madam Tay employs the "agak-agak" (estimated) way of cooking. "Us old people, we don't follow recipes. We just know by flavour and feel," she admitted, laughing.
Madam Tay is up between 3am and 4am every day. "By 5am, everything has to be ready to steam for customers," she said, enthusiastically. Even with their new equipment, this is sweaty, backbreaking work. There are ingredients to prep – the chopping and mincing of turnip, bamboo shoots, carrots and mushrooms into their signature fine shapes for frying in massive woks. There are peanuts and hae bee (dried shrimp) to fry. There are flours and water to be mixed into dough, and a myriad other little chores that need to get done for everything to come out perfect.
I started with the shop's eponymous soon kueh (steamed rice dumplings traditionally stuffed with bamboo shoots, S$1.30 each). These were enormous, generously overstuffed pillows of Teochew tastiness, packed with julienned winter bamboo shoots, turnip and carrot, stir-fried till just tender. Whilst this trinity of veggies added a natural sweetness and crunch, the minced shitake mushrooms infused the mix with an earthy meatiness, and the fried hae bee dialled up the flavour with its intense brininess. Aromatic shallot oil sprayed over the finished kuehs kept them glossy, moist and perfumed with subtle oniony flavour.
Madam Tay's mantra is, "If you want it to taste good, the skin is the most important". Indeed, the soon kueh I ate fresh out of the steamer were meltingly soft and smooth on the outside, with a little bounce and pleasant chewiness – without being too thick or rubbery.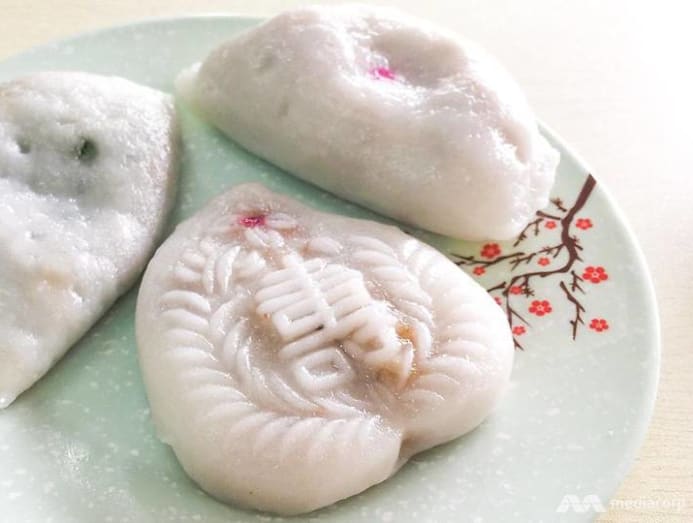 As for their png kueh (glutinous rice cakes, S$1.30 each), the proportions of flours and water change to create a slightly denser dough, which is needed to support the robust filling. Png kueh are traditionally shaped like a peach (a symbol for longevity in Chinese culture), and instead of the usual bright pink colour, Ah Yee's are pristinely white, with a hot pink dot.
Jeffrey explained that the ones with the pink skin are usually offered during prayers to deities, so for day-to-day consumption, they maintained the original whiteness of their dough but included the dot (applied with a chopstick dipped in food colouring) for a touch of the auspicious. Their moulds are also specially made, stamped with the Chinese character for longevity, for a double dose of long life.
Ironically, their png kueh tasted so wonderfully decadent that I felt they could shorten my life if I ate too many. Just eating a single png kueh was like having an entire meal in one hefty, yet compact cake. What set theirs apart was the addition of deep-fried peanuts (instead of the usual boiled or braised) to the already delicious glutinous rice filling. Again, fried hae bee performed its umami magic here, but it was Madam Tay's genius idea to crush and scatter toasty fried peanuts throughout the rice that made the png kueh worth all the extra calories.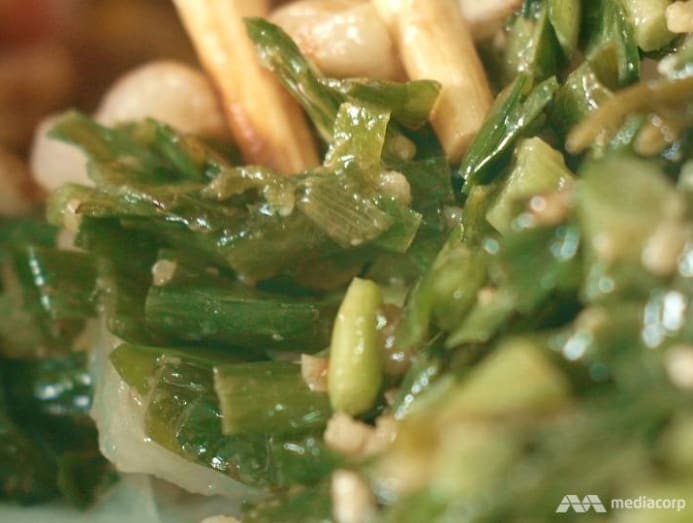 Ah Yee's koo chye kueh (chive dumplings, S$1.30 each) did not disappoint either. Hidden within the same delicate skin as the soon kueh was a glistening treasure trove of green that immediately gave off the heady aroma of chives. The fragrant fumes were so intense, so concentrated, I could almost taste them through my nose. Stir-fried till succulent and moist, the koo chye filling was bracingly fresh and spicy. Where the soon kueh was more mellow, rounded and earthy, the koo chye kueh had a strong bite and a wonderful balance between the bold, assertive filling and the mild, soothing skin.
All these kuehs were lovely to eat unadulterated, but if you wanted to enhance the flavours with condiments, there's savoury-sweet, thick dark caramel sauce to drizzle over the snacks, as well as Madam Tay's own blend of chilli sauce. The latter added a whole other dimension to my kueh enjoyment, with its mildly spicy red chilli kick, mingling beautifully with plum sauce and sesame seed for sweetness, tang and a rounded nuttiness.
If I could describe Ah Yee's Soon Kueh in one word, it would be "extra" – extra ingredients, extra care taken, extra tasty. How fitting that food traditionally made for the gods should taste so extra heavenly.
Ah Yee's Soon Kueh is located at 124 Tembeling Rd. Open 8am to 5pm, Thursdays to Tuesdays. Closed on Wednesdays. Catch Makan Kakis with Denise Tan every Thursday from 11am on GOLD 905.