Best eats: This chye poh-packed carrot cake in Yishun deserves a standing ovation
In this week's Makan Kakis, GOLD 905 DJ Denise Tan meets the family behind 618 Sim Carrot Cake and a plate of chai tow kway that does the tango with her taste buds.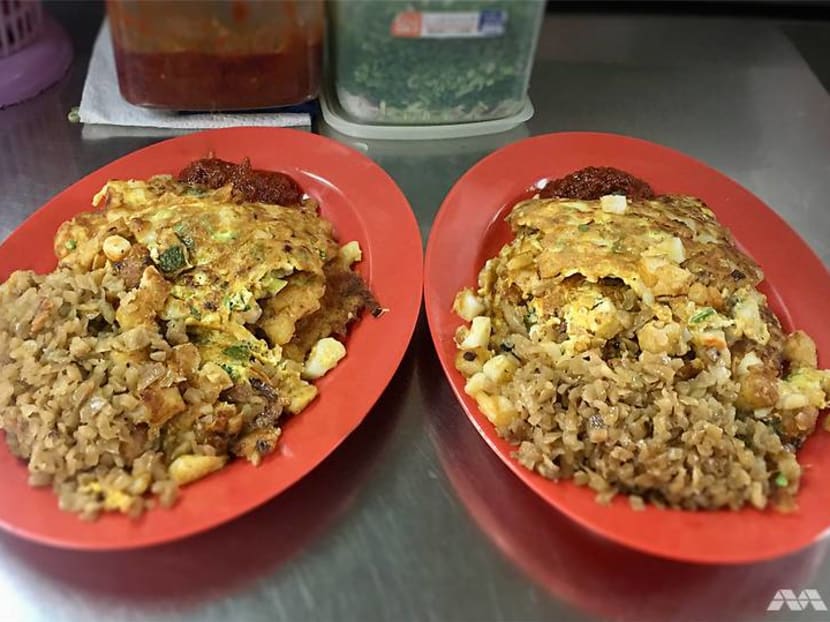 I was told it was the best carrot cake in the world by my Makan Kaki, The Salted Plum founder Shawn Kishore. 
Growing up in Yishun, a breakfast of chai tow kway (or carrot cake) became such a cherished weekend ritual for him and his brothers that he even invited the stall auntie to his wedding!
With such a glowing recommendation, I knew I was in for a very special carrot cake experience.
However, I was not expecting to be treated to a complete symphony of the senses on my first visit. Ladles clanging on a metal wok harmonised with food sizzling on high heat. My taste buds sang in anticipation, as fragrance free-styled with flavour.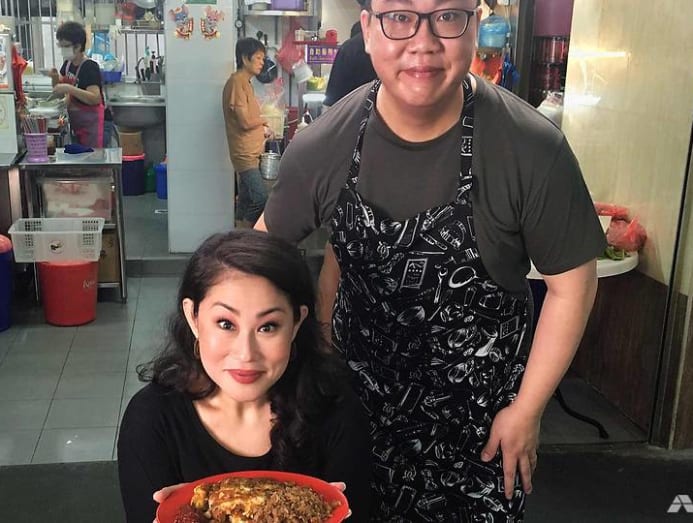 Please excuse the musical metaphors, but second generation carrot cake hawker Stanley Sim started it. He's a music teacher by profession and juggles classes with cooking chai tow kway alongside his parents at their popular Yishun Ring Road stall.
After two years of just helping out on weekends and with the looming possibility that the senior Sims might retire, Stanley was motivated to leave his 19-year career as a professional clarinetist to give running the family business a go.
Taking that leap from culinary theory to performance, he threw all his efforts into learning the craft of frying carrot cake from his parents.
But continuing the legacy hasn't been easy. "I'm still learning! My mother still tastes my cooking for quality control." Stanley said, with a laugh.
Back in 2001, Stanley's mother Madam Wye Lai Cheng originally sold bak chor mee, laksa, prawn noodles, lor mee and wan tan mee at the stall. Rather a lot to handle, but she is a truly formidable lady and the driving force behind their culinary enterprise.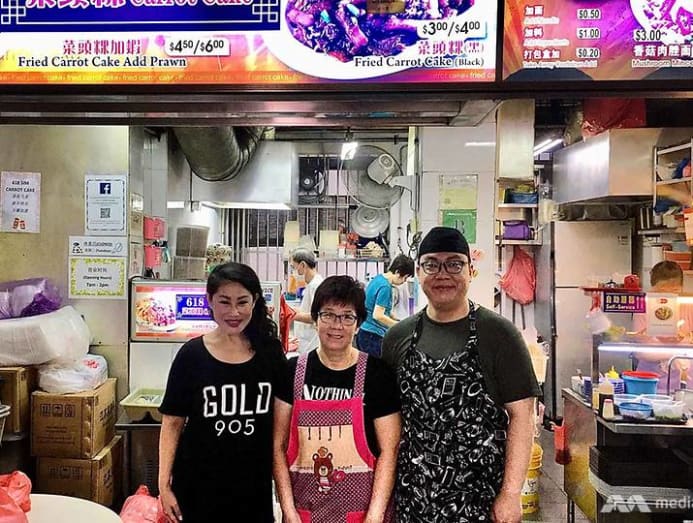 She didn't want their business to stagnate so she switched to selling chai tow kway in 2003, when the owner closed the coffee shop for renovations.
Banking on her 25 years of experience, desire for change and constant flow of bright ideas, Madam Wye and her husband Sim Kwee Hock improved on a basic chai tow kway recipe, tweaking it till they were confident of their new product. When the coffeeshop re-opened, 618 Sim Carrot Cake was born.
The number stands for the block of flats where the stall is located, Sim for their family name and carrot cake for their signature dish, of course. "It's a very effective name to remember, right?" Stanley asked, in-between serving customers.
Indeed, but even more memorable is the taste of their carrot cake, which actually, is a widely-used local misnomer for a dish that's nothing like the baked Western confection of the same name.
The carrot cake here refers to steamed cakes made from rice flour, water and daikon (white radish, which in Chinese, is also referred to as carrot), wok-fried with eggs, garlic, chye poh (preserved radish) and other seasonings to create a hot, savoury snack.
Commonly found in hawker centres across Singapore, both black (fried with sweet dark sauce) and white (without the dark sauce) versions are often enjoyed for breakfast. Case in point: The long line of customers that had formed at 7.15 am in front of 618 Sim Carrot Cake.
Frying up heaped portions of their sought-after breakfast dish with his parents, Stanley revealed: "Actually we now only serve the white version. But even customers who prefer the black version will come to eat our chai tow kway."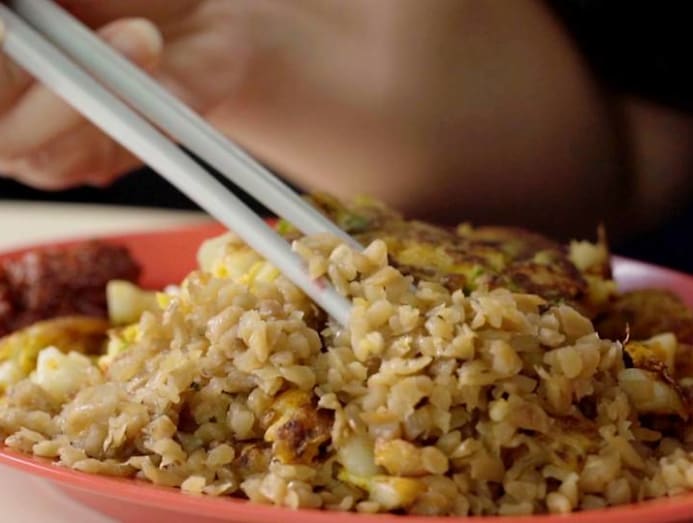 Thankfully, I prefer mine without the sweet dark sauce and my first impression was a lasting one. I was served a plump pile of egg-crusted deliciousness with a pervasive smoky, garlicky aroma, almost obliterated by a mountain of chye poh.
This is what 618 Sim Carrot Cake is famous for – their ridiculously lavish garnish of preserved radish bits. Actually, garnish is an understatement. The blizzard of extra chye poh on the side made it look more like the main course.
Any student of music theory will recognise the Italian musical term "troppo" and I think this best describes their chai tow kway – excessive, but in the best way possible. Almost generous to a fault, this is one business that doesn't believe in skimping on ingredients.
Abundance of chye poh aside, masses of minced garlic, lashings of aromatic fish sauce, forests of spring onion and Chinese celery (qin cai), diced prawns a-plenty and four sizeable slabs of steamed radish cake expertly ladle-cubed, were tossed up in sizzling oil then served piping hot with a large spoonful of secret-recipe chilli paste. 
All for just S$4.50. After tucking in for a good 15 minutes, I was barely able to make a dent in the unstinting portion.
But I tried valiantly, flavours and textures setting off that full-blown symphony in my mouth. Beautifully seasoned, tender radish cake hid, waiting to be liberated from under a crispy crust of fried egg, which was like the glue to holding everything together. Chinese celery bejwelled the chai tow kway with peppery, pungent freshness.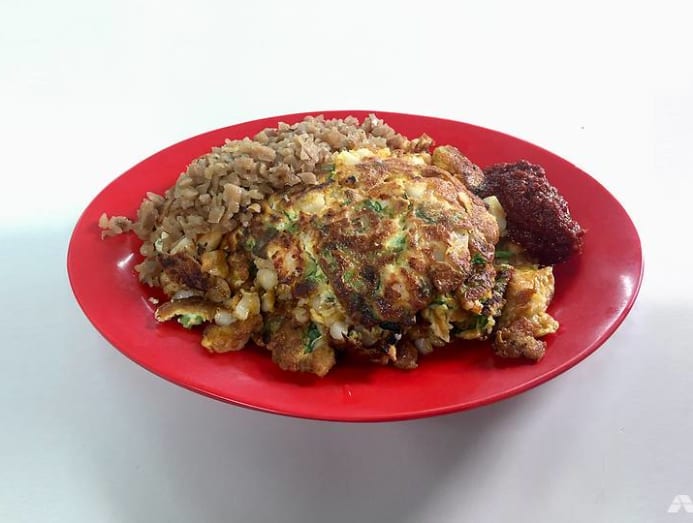 But just like a soprano, three key ingredients really hit the high notes for me. Every forkful brought a morsel of sweet and juicy diced prawns, perfectly balanced by their kicky chili paste and signature chye poh that was both fried in the carrot cake and also loaded on as an over-the-top condiment.
The brainchild of Madam Wye, it occurred to me that she was a cook who really understood flavours. Taking customers deep into radish territory, 618 Sim Carrot Cake's amped-up version was a meeting of radish cake and preserved radish, which made the dish twice as nice. Radish, in itself, has a lot of umami, which also activates the taste buds and stimulates the appetite.
Some might think less is more, but in this case, the sheer amount of chye poh decorating the chai tow kway wasn't overkill.
Stanley and his parents painstakingly wash a lot of the salt off the preserved radish they order from a supplier. They then make it their own by adding a little sugar to create its signature taste, before frying it up with oil in their wok. The juicy, salty-sweet crunch of chye poh, eaten with the lightly-seasoned, soft and eggy radish cake cubes, struck a surprisingly delicate balance between tastes and textures.
The abundance of fresh prawns lent a natural sweetness and brininess that played melodiously with the flavours of the chye poh. "That was also my mother's idea, to dice up prawns, mix it with egg and add it to our chai tow kway," Stanley informed me. Judging from the queues, Madam Wye's inventiveness has paid off handsomely.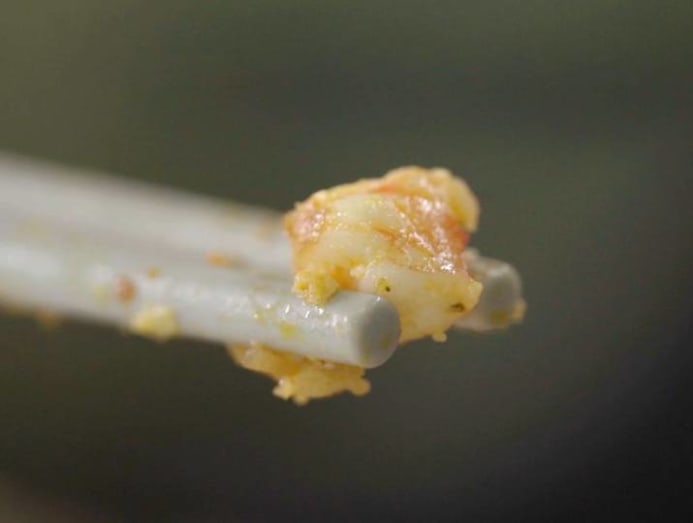 As for their super-fragrant chilli paste, I detected fresh chilli, maybe a little dried shrimp and lots of garlic, but otherwise I was stumped. I tried grilling the maestro for the recipe, but it's one the Sims guard closely.
His glee evident, Stanley apologised: "Sorry, it's our secret formulation, made from fresh ingredients, not from a factory." He did concede by revealing that they only pick really fresh, good-quality garlic, because the older it is, the drier it gets.
The same chilli paste is mixed directly with steamed radish cake for their spicy version. "So that when it touches the wok, it's even more fragrant," Stanley explained. 
He also advised me to boost the taste of their carrot cake by mixing the chilli paste with the chye poh. Obediently, I did, slathering it on thick. Tchaikovsky's 1812 overture, cannons and all, exploded in my mouth.
But when I asked Stanley to describe his carrot cake in musical terms, he said without missing a beat, "Nothing classical – that's too tame. The tango, because it's a dance with fire. Making chai tow kway is as exciting and passionate as the tango and also, the fire is real!"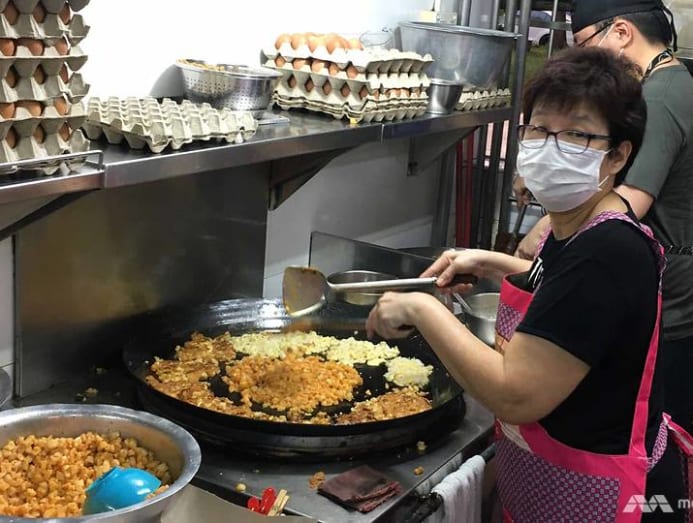 The way the Sim family cooked together was indeed like orchestral manoeuvres with a spark. Pardon the pun, but they were as entertaining as watching a dance performance. Within the confines of their tiny floor space, father, mother and son weaved back and forth with practised ease to their well-rehearsed choreography, creating their signature dish in perfect unison.
Any hawker will also tell you mastering the roaring fire of an industrial stove is key to perfectly cooked food. Stanley explained that the fire can flare inconsistently and learning to control the heat has been the most difficult step in his learning process. Drawing from his experience as a musician, he said he needed to be continually observant and react quickly "live".
In fact, Stanley even counts the beats for the correct cooking time, adjusting the amount of oil used and sometimes even shutting the fire off and on again to ensure crisp, browned, but not burnt carrot cake.
Coming to experience this "live show" isn't without costs, though. And not in the monetary sense. Stanley warned that sometimes on weekends, customers might wait for two hours to get their chai tow kway fix (but this was pre-COVID-19). They often have to stop service before their 2pm closing time because of high demand, so be sure to get there as early as possible.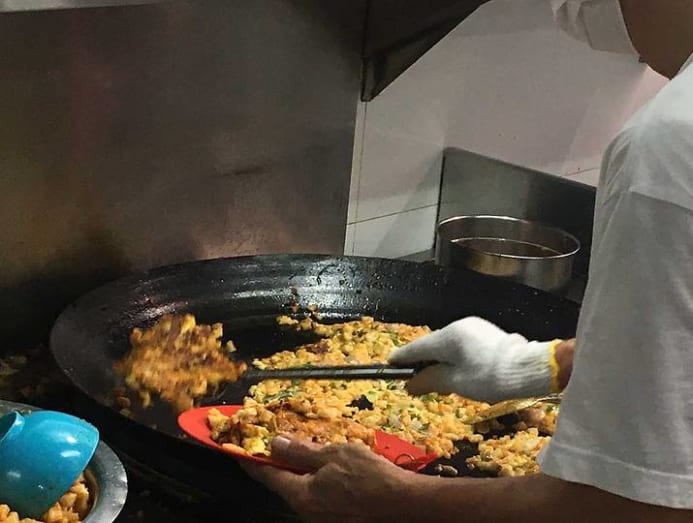 As I pondered the reasons why I might return to queue for another taste of their exceptional chai tow kway, Stanley answered my unspoken question.
"We're not the best, but I think it's because we serve comfort food. It's not too greasy and the taste is not too overpowering. The more you eat, the more you enjoy." I had to agree with him.
Ever the music teacher, Stanley gave me one last bit of advice to double the pleasure of my delicious duet with their chai tow kway.
"Takeaway, freeze it and when you want to eat, just re-fry till it's toasty and crispy again." He was right – theirs is a dish that holds up well to travel.
Dine-in or takeaway, eaten fresh or reheated at home, 618 Sim Carrot Cake definitely needs to tango with your taste buds. This is one unique, carefully choreographed number that truly deserves a standing ovation.
618 Sim Carrot Cake is located at 618 Yishun Ring Rd, Singapore 760618. It's open from 7am to 2pm (closed on Tuesdays). Catch Makan Kakis with Denise Tan every Thursday from 11am on GOLD 905.