Best eats: Charcoal-roasted juicy char siew, crispy pork belly at Keong Saik Road
In this week's Makan Kakis, GOLD 905 DJ Denise Tan indulges in Cantonese-style roasted meats cooked the delightfully old school way at Foong Kee Traditional Charcoal Roasted.
It's the season for roasted turkeys, glazed hams and other festive eats. But why not embrace the flavours of Asia instead and celebrate with Cantonese-style roasted meats?
In this week's Makan Kakis, GOLD 905 DJ Denise Tan indulges in Cantonese-style roasted meats - from juicy pork to tender duck - cooked the delightfully old school way at Foong Kee Traditional Charcoal Roasted at Keong Saik Road.
After hearing about this place from my Gold 905 Makan Kaki Chef Lim Yew Aun of The Cicheti Group, I hurried over to Keong Saik Road for some season's eatings in the form of char siew (barbequed pork) and siew yoke (crispy pork belly), with some roasted duck thrown in for good measure. One bite and I knew I was going to have myself a tasty, er, merry little Christmas, thanks to Foong Kee Coffee Shop.
Chef-owner Derrick Wong Wai Chiew's traditional charcoal-roasted meats have made it on to many "best of" lists, and after hearing his story, I understood why. In a nutshell, it boils down to a passion for cooking, humility, learning from the best, trial and error, quality ingredients and a personal love of roasted meats.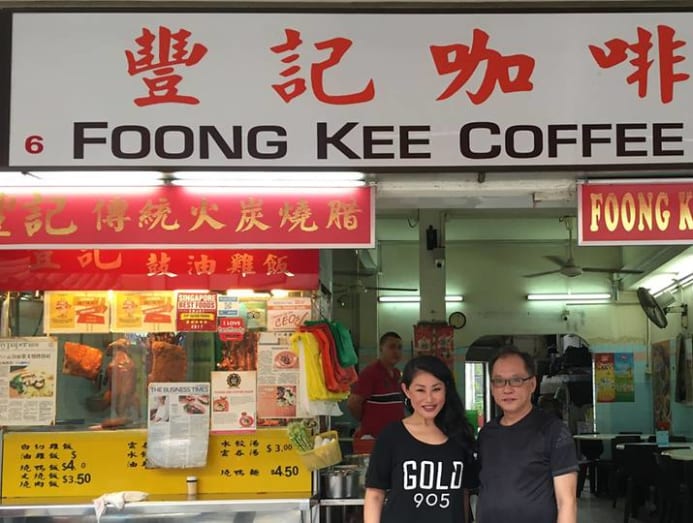 Formerly a shoe salesman, Wong decided to leave the footwear business behind in his 30s for a career in F&B. "I wanted to learn a proper skill," he explained in Mandarin. So he threw himself into learning the ropes, starting at the very bottom as a dishwasher and working his way up to chef's apprentice.
He worked in dim sum restaurants and at zi char eateries before a chef in charge of roasted meats at a hotel recognised his potential and taught him the basics of Cantonese-style barbeque. Along the way, he researched and experimented on perfecting his own method and recipes, before starting his own roasted meats stall, selling char siew rice (S$3.50), siew yoke rice (S$3.50), roasted duck rice (S$4) and wanton (meat dumpling) noodles (S$3.50).
Wong used to ply his trade at Commonwealth Crescent before he opened Foong Kee along Keong Saik Road 15 years ago. Since then, his food has won accolades from critics, if the news clippings plastering his stall-front were anything to go by.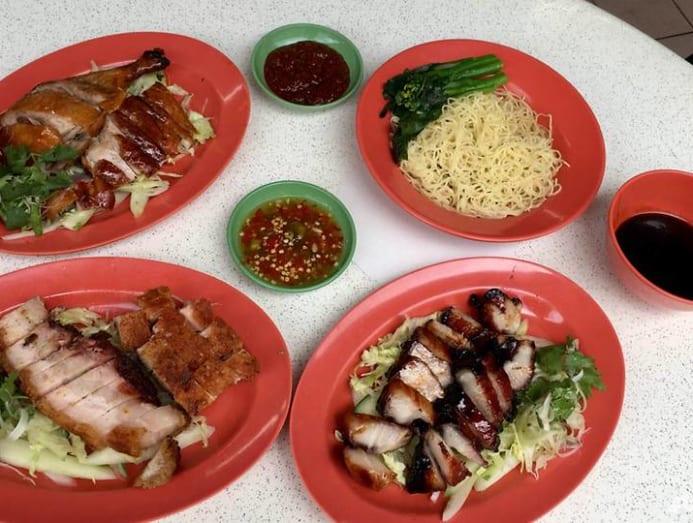 Even so, Wong believes he's only as good as the food he serves today. Watching him lift ducks hanging from hooks out of the large, distinctive charcoal ovens that resembled old-fashioned space rockets, he admitted it can be hard to keep up the consistency of his roasted meats because it depended on so many factors, including the quality of the meat supply (his ducks are from Malaysia and his pork is from Indonesia and Australia) and the charcoal supply which can affect the fire and in turn the cooking process.
On the day I visited, Wong told me his ducks were a little on the lean side, but hopefully with the right treatment, the meat wasn't dry. I decided it was definitely time to tuck in to a selection of his choicest cuts to test this for myself.
I ordered a bit of everything along with some noodles (S$2) on the side. Rice (S$0.50) was, of course, available too and best with a mix of roasted meats drenched in barbeque and chilli sauces.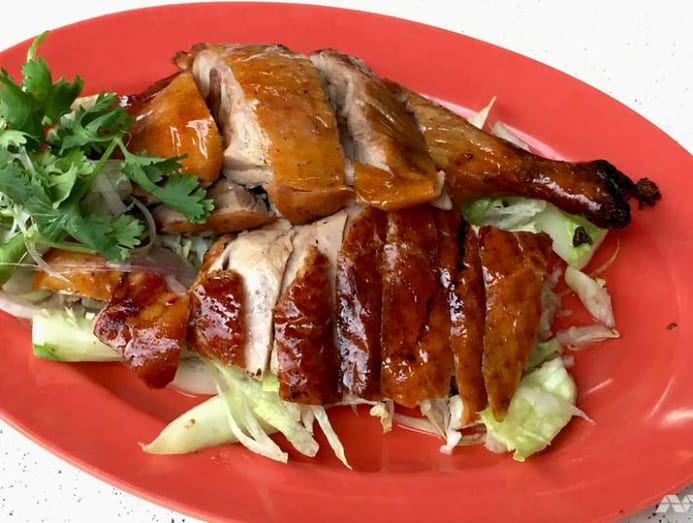 Wong also served up a mix of duck breast and leg meat (S$40 for a whole duck), which were indeed on the leaner side, but no less tasty. Even without a thick layer of fat, the breast meat was not stringy or dry. A smear of sambal chilli, dark and deep with the brininess of dried shrimp, added flavour and moistness. The full-bodied, pleasantly gamey taste of duck filled my mouth and a crisp skin added a delightful textural contrast.
Speaking of which, the siew yoke (S$40 per kilogram) was worthy of any top-end Cantonese restaurant, boasting tender meat and a crispy skin. The roasted pork belly revealed gorgeous layers – a charred band of burnt ends on one end (where all the savoury flavours seemed to concentrate and intensify), followed by a strip of jiggly fat, a stratum of clean-tasting white meat and a thin, crunchy, crumbly crown of crackling on the opposite end.
Perfectly good on its own, I popped piece after piece before realising I had a whole bowl of barbeque sauce for dipping or drizzling over my springy noodles tossed in lard. The piquant sauce was a glossy black pool of roasting drippings, dark soya sauce and other seasonings, thickened to a syrupy consistency, yet meaty, savoury and not too sweet. It tasted like char siew in liquid form.
Oh, the char siew. It's the absolute best of the lot, the perfect balance between meat and fat, sweet and savoury. This wasn't the dry, dyed orange stuff that came like an afterthought with some wanton noodles, but thick slices of really juicy, unctuous meat encrusted by a deeply charred bark.
Wong told me he only used a cut called "bu jian tian" (literally, "doesn't see the sky") or meat without tendons or tough sinews, taken from the armpit (between shoulder and belly) of the pig. I didn't know what to feel about eating pig armpits, but I did know I loved how succulent the meat was.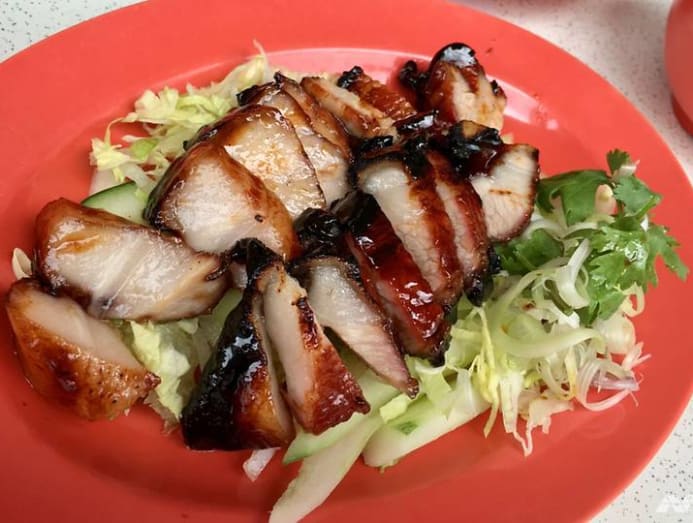 At an almost 50:50 meat to fat ratio, some may find this cut too rich, but the fat added much flavour to the beautifully lacquered meat. Each glistening piece melted in the mouth with the mingled flavours of caramel, smoke and savoury soy. At S$40 per kilogramme, Foong Kee's char siew wasn't cheap, but as Wong put it: "Because one pig only has two pieces of bu jian tian, it's more expensive." My serving today was enough for two or three people and cost S$10.
To cut through all that fatty richness, I dunked the roasted meats in the all-purpose chilli sauce (different from the one served with the duck). It's a unique accompaniment, a lot like sweet and sour Thai chilli sauce. The zestiness of calamansi brightened and lifted the smoky meat flavours, while the acidity prevented things from becoming overwhelmingly cloying. All in all, it was all about balance so that all the flavours zinged around excitingly in the mouth. Even the condiments were carefully concocted for maximum deliciousness – a testament to Wong's passion for perfection.
He admitted that while it's impossible to achieve 100 per cent consistency for his roasted meats, he tries every single day to coax the best out of the charcoal fires and his meats. "Personally, I aim for 90 per cent at the very least but even 80 per cent is acceptable because the taste is already very good. Hopefully this will keep people coming back for more," he said earnestly.
I, for one, certainly will be back – the char siew has officially made it on to my Christmas Party menu. Cue: taste buds singing falalalalalalala!
Foong Kee Traditional Charcoal Roasted is located at Foong Kee Coffee Shop, 6 Keong Saik Road, Singapore 089114. It's open Mondays to Saturdays, 11am – 8pm. They close on Sundays and public holidays. Catch Makan Kakis with Denise Tan every Thursday from 11am on GOLD 905.