Best eats: Tasty traditional kueh in Joo Chiat with a touch of kampung spirit
In this week's Makan Kakis, GOLD 905 DJ Denise Tan discovers Hjh Maimunah's other drool-worthy section full of handmade sweet and savoury kueh packed with taste and tradition.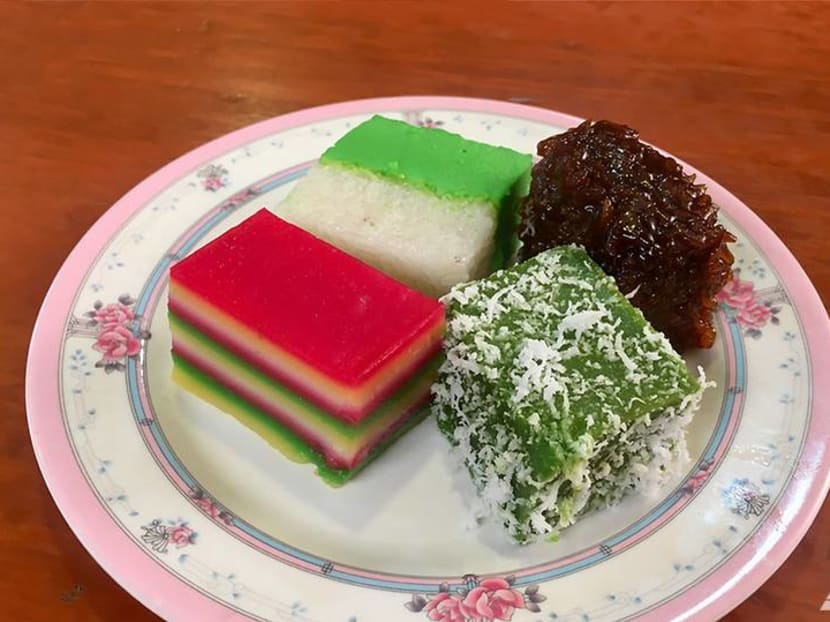 Hjh Maimunah is a name synonymous with traditional Malay and Indonesian rice and dishes, or "kampung-styled cuisine" according to their own description.
For sure, it's my go-to when I'm craving a hearty, spicy rice meal. But what I didn't know was just how delicious their desserts are, until my Makan Kaki, cooking instructor Christopher Tan enlightened me. He's the self-confessed "nerd baker" and award-winning author of The Way Of Kueh, so if there was anyone to take advice from, it would be him.
In this week's Makan Kakis, GOLD 905 DJ Denise Tan discovers Hjh Maimunah's other drool-worthy section full of handmade sweet and savoury kueh packed with taste and tradition.
He recommended I pay their Joo Chiat outlet a mid-afternoon visit, slow down and enjoy a cup of kopi with a plateful of kueh. He often does, after a marketing trip at nearby Geylang Serai. I must confess though, I skipped the marketing and went straight to the kueh-eating.
At Hjh Maimunah, the sight of the long counter, where savoury dishes being scooped on to steaming plates of rice, was a familiar one. More surprising was a whole other section on the opposite end of the restaurant, devoted to kueh and other delectable tea-time snacks.

According to Maria Didih, the operations manager and granddaughter of the eponymous Hjh Maimunah, they have the most variety in Joo Chiat to cater for the Malay community there.
Indeed, on display was a mind-boggling assortment of savoury and sweet treats.  
From epok-epok (deep-fried curry puffs) and dadih (milk and fruit pudding) to bubur pulut hitam (sweet black glutinous rice porridge) and abok abok sagu (steamed tapioca pearl cakes) to kueh bingka ubi (grilled tapioca cake) and ondeh-ondeh (poached coconut and glutinous rice balls with a liquid palm sugar centre), the variety was roughly divided into steamed, fried, poached and grilled categories.
There was no way I would have been able to decide what to order, but thankfully, Christopher had suggested I try a couple of his favourites.
These two traditional kueh were similarly dressed in shiny green coats of banana leaf, but they couldn't have been more different underneath. The steamed nagasari pisang was sweet, while the pulut panggang was savoury (but more on these later).
Unable to resist, I also added some of my favourites. Putri salat (glutinous rice layered with a coconut pandan custard) and kueh lapis nyonya (multi-layered, multi-coloured steamed tapioca, otherwise known as rainbow kueh) magically appeared on my plate, along with their popular wajik (sticky glutinous rice cake flavoured with palm sugar and coconut cream) and kosui pandan (tender, steamed tapioca cakes flavoured with screwpine juice and rolled in shredded coconut).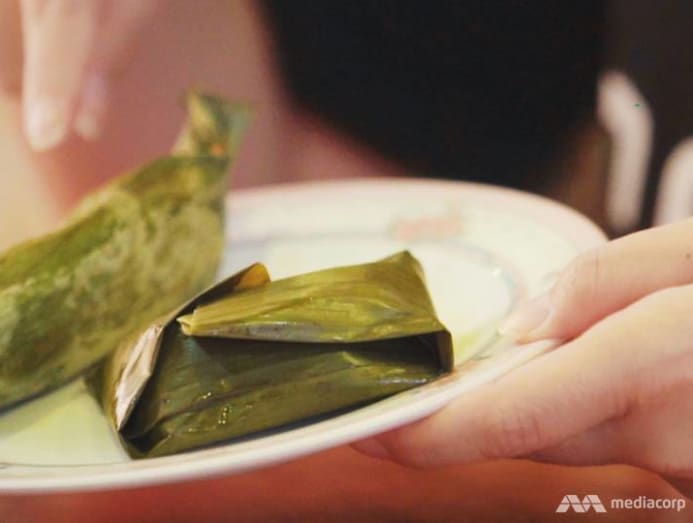 For an assortment of five kueh, the cost was S$5 to order online for delivery, and for three pieces in-store, the cost was just S$2.70. The day I paid Hjh Maimunah a visit, the above-mentioned kueh were available, along with their signature kole kole (a chocolatey-brown cake made from green bean paste, palm sugar and coconut). The variety on sale was somewhat random, depending on what was delivered from their central kitchen.
I thought, surely a huge operation like the famed Hjh Maimunah, with several restaurant branches and an entire catering arm, would have a central kitchen full of automated machinery and an army of staff churning out perfectly precise kueh along an assembly line.
In jaw-dropping reality, behind the 29 different varieties of kueh was just one diminutive Indonesian lady, Chef Supinah. Together with her kitchen assistant, 23-year-old Chen Fu Dong from Shandong, China, they are a compact yet efficient work force, hand-making masses of kueh for delivery daily.
When I paid her a visit at the central kitchen in Bedok North, Supinah was multi-tasking like a pro – measuring out ingredients for her kueh bingka ubi, working the blender and keeping an eye on Fu Dong, who was hunched over a giant wok, frying kueh keria (sweet potato donuts).
Brimming with youthful energy, the 42-year-old chatted and zipped from one kitchen station to another. "Everything I make is just from trial and error. My grandmother used to make kueh. I remember the taste from my kampung," she shared.
Chef Supinah's fondness for her days growing up in Indramayu, Jawa Barat (West Java), was evident. She spoke of how as farmers, they literally lived off the land, creating dishes from what was available in their backyards.
Indeed, at Hjh Maimunah and through Supinah, they have continued to stay true to those kampung roots, importing ingredients in small batches directly from independent Southeast Asian suppliers. Their gula Melaka (palm sugar), in particular, is from a secret source in Indonesia, which Supinah says gives her kueh a richer taste.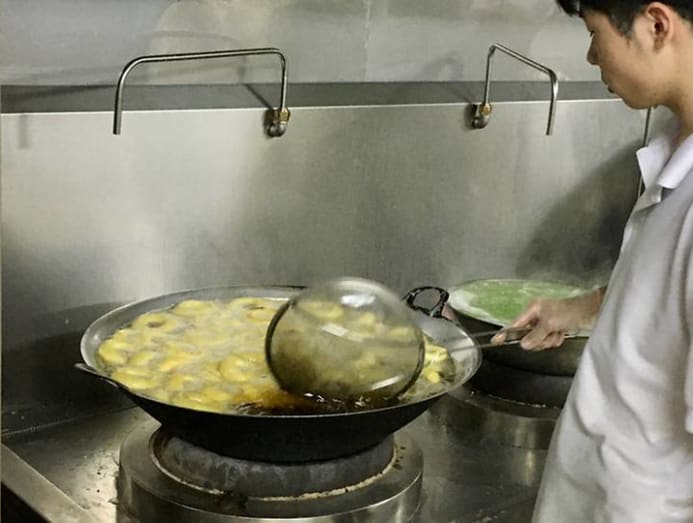 Supinah revealed that when she started work 12 years ago at Hjh Maimunah, she had never cooked professionally before, nor did she know any of her grandmother's recipes.
"My boss Madam Maria let me slowly experiment and develop my own recipes. She and my husband encouraged me to keep trying," she said.
Impressively, Supinah doesn't even write her recipes down. A true testament to her natural talent, everything is in her head and she creates all her kueh by instinct.
While she never had the hands-on cooking experience growing up, she did have plenty of opportunities to hone her palate and kitchen skills by accompanying her Singaporean husband (who's in the catering business) to various weddings and community celebrations. Her can-do attitude has always been to watch, taste and recreate.
"I even tried to recreate the kueh lapis nyonya, until I got it right. Nobody taught me!" she said, happy to have added a Peranakan-style kueh to her Malay and Indonesian arsenal.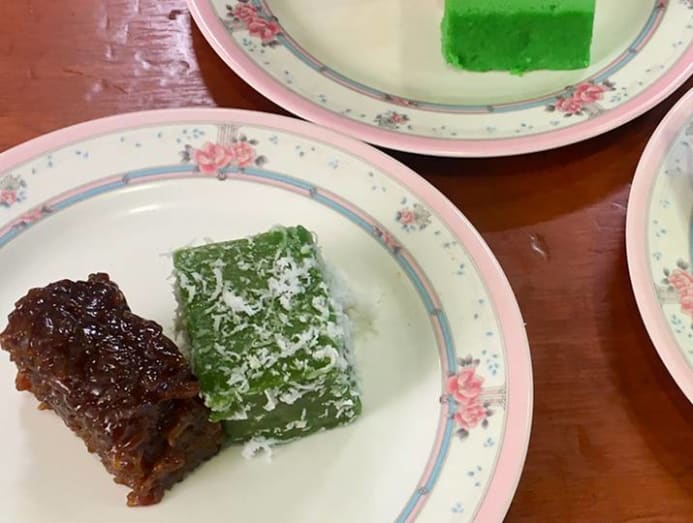 It was clear how much joy Supinah gets from being in the kitchen because even at almost 6am, having worked through the night, she remained bright-eyed and chipper.
"Every day, I sleep at 3pm, wake up at six to cook dinner for my husband, have another nap, then by 10 I get ready to come to work from midnight till 6am," she said. Just in time for breakfast service at Hjh Maimunah's Jalan Pisang, Joo Chiat and City Square outlets.
I was astounded by her punishing schedule, but her gusto for her job was infectious. "I stopped schooling at Primary 6. I never imagined I could work in Singapore, earn a salary, learn English and make the most of my cooking skills."
Heart-warmingly humble and full of gratitude, Supinah is the heart and soul of the kueh kitchen. Hers is a charmingly rustic, home-cooked approach, reflecting her kampung upbringing.
I watched as Supinah and Fu Dong worked in companionable silence, hand-making the traditional delicacies with painstaking care. Tray after tray of freshly-made kueh were hand-cut then sent off for delivery.
"I've lost track already of how many we make. I'm sure thousands of pieces every day!" Supinah laughed. The colours and types of kueh might vary according to her whims of the day, but the results are always simple, satisfying and delicious.
Take my two banana-leaf-wrapped choices for example, starting with the nagasari pisang, which is a steamed kueh of banana encased in coconut custard. This kueh took me straight back to my school days. It was very reminiscent of the first thing I learnt to cook in home econs class – hoon kueh.
The difference, I discovered, was hoon kueh is made from mung bean flour and nagasari pisang from rice flour (sometimes with tapioca flour added).
According to Supinah, nagasari pisang is a very traditional kueh, especially important to have, along with wajik, at Indonesian wedding feasts. She reminisced: "My grandmother used to make flour from the rice we grew. We also had banana trees, so the fruit and leaves went into her nagasari pisang. Everything was from our garden."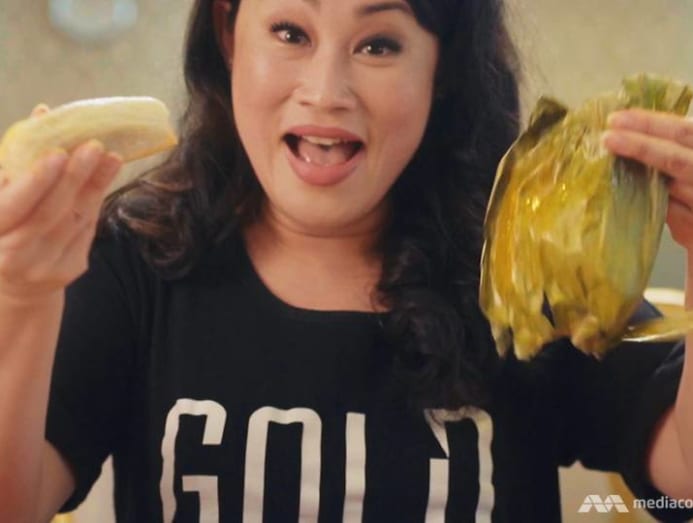 At Hjh Maimunah, bananas from our closest neighbour, Malaysia, are used for Supinah's nagasari pisang, the kueh she grew up watching grandma make. She stressed the importance of using good quality banana leaves, for both the fragrance and nutrients to infuse the entire kueh.
Soft, smooth and silky, the fragrant nagasari pisang custard melted creamily on the tongue. Whole banana slices were generously incorporated, giving an extravagant fruit-to-custard ratio. Coconut milk lent the custard a distinct richness, without being too sweet.
A restrained amount of sugar was used, allowing the natural coconut and banana flavours to really shine. Without an over-abundance of seasoning, the nagasari pisang had a delightful purity of flavour to it and a healthy respect for the simplicity of kampung tradition.
Then there was the other green-cloaked beauty, pulut panggang – a seemingly straightforward combination of glutinous rice stuffed with serunding (spicy coconut floss), wrapped in banana leaf and traditionally grilled over charcoal.
Just one whiff of its intense fragrance and I knew this was going to be my new favourite kueh. My palate tends to veer towards the savoury, so the smell of coconut mingling with spices had my mouth watering.
Undressing the cylinder of glutinous rice from its leafy wrap, it looked unremarkable, almost plain, save for its shiny slick of oil. However, one bite and I was hooked. It's no exaggeration that the serunding was the best I'd ever tasted.
Freshly shredded coconut had been expertly fried in a delectable herb-and-spice base, taking on a rich orangey-red colour from the chillies and cumin powder. Onions, galangal, fennel and coriander powders enhanced the powerful perfume and taste, while finely chopped kaffir lime leaf lifted the earthy flavours with its zesty zing.
The fluffy coconut shreds had absorbed all the aromatics and still retained its freshness, so each chew of the serunding extracted juicy hits of tongue-tingling heat, hints of sweetness and the rounded creaminess of coconut.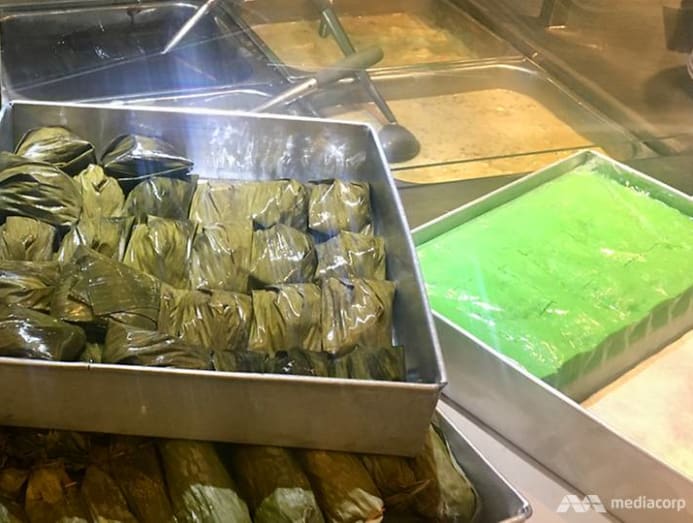 The same creamy flavour was echoed in the glutinous rice, which had also been infused with coconut milk. The rich rice had an almost nutty texture, with just the right amount of al dente bite.
For a boost of smokiness, I would have loved if they had grilled their pulut panggang over charcoal instead of in an oven, but that detail seemed minor next to the major mix of other flavours going on in the kueh. 
To me, this pulut panggang was next-level delicious and truly a revelation. Beautifully bundled to look like a sweet, it was the perfect balance of spicy, sweet and savoury. My only regret was that I couldn't eat more than one. This isn't a kueh for light-eaters – it's a whole, hearty meal wrapped in a pretty package!
As I finished off my feast with some kueh lapis nyonya, I was reminded how important it is to honour one's roots.
The foundations of my palate were built in the kitchens of my grandmothers, aunties and mother. As I peeled off each sticky-sweet glutinous layer of kueh, I was transformed into my four-year-old self, sitting at grandma's table, savouring each rainbow-coloured slice.
I thought of Supinah and her grandma, Christopher and his book, and realised that for so many of us in Singapore, this is where our lives intersect. Despite small differences, we have a certain shared culinary heritage – one that Supinah continues to preserve, one comforting bite at a time, through the humble, yet mighty kueh she makes at Hjh Maimunah.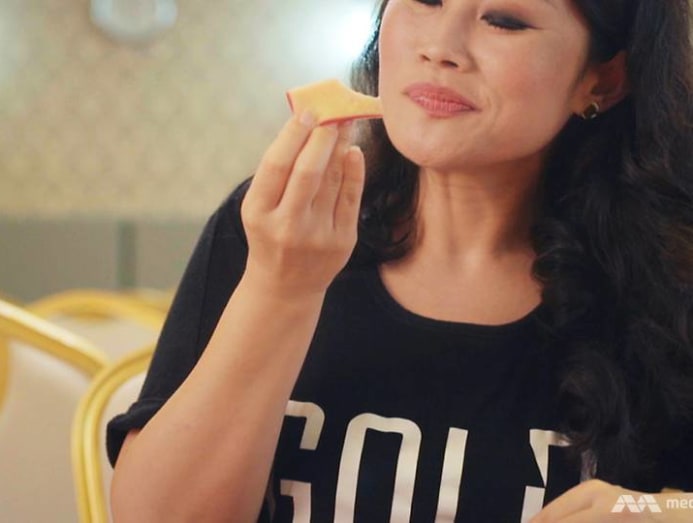 Hjh Maimunah Restaurant (Main) is located at 20 Joo Chiat Rd, Singapore 427357. It's open Tuesdays to Sundays 8am to 8.30pm. Closed on Mondays. Catch Makan Kakis with Denise Tan every Thursday from 11am on GOLD 905.