Best eats: Sweet, spicy mee soto packed with flavour and heritage in Ang Mo Kio
Gold 905 DJ and Makan Kakis foodie Denise Tan slurps down the delicious dish (and some gado-gado) served at the Yunos N Family stall – one that has journeyed from Solo to Singapore, Hastings Road to Zouk.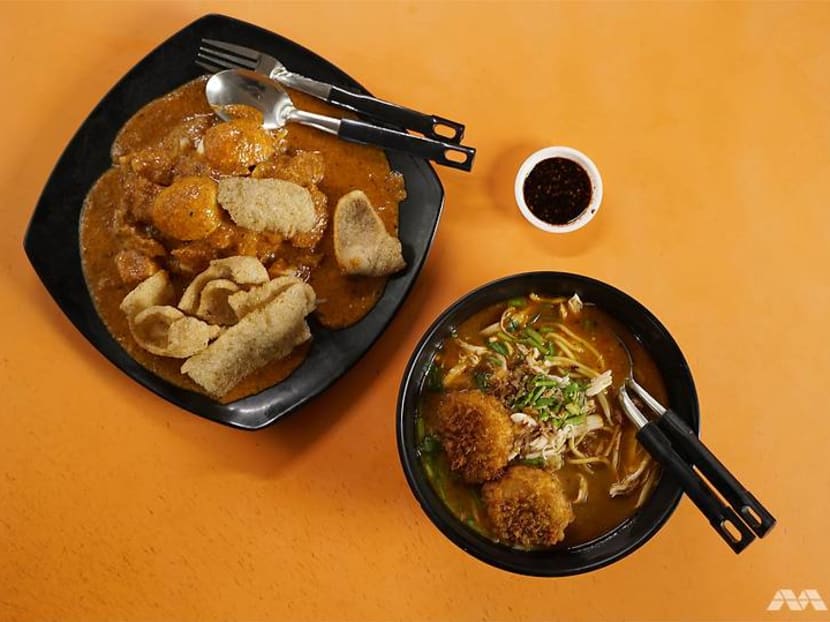 If you're looking for something nourishing and comforting, there's nothing quite like a bowl of chicken noodle soup, especially if a local version beckons – one that's rich, luxurious and packed full of spicy flavour.
I knew I was on to a winner after my first try of the mee soto from Yunos N Family. A foodie friend kindly had some delivered to me during the "circuit breaker" and even having withstood a long journey, it still bowled me over. So I went searching for the source of my soupy isolation consolation.
Gold 905 DJ and Makan Kakis foodie Denise Tan slurps down the delicious dish and also tries out the gado-gado at the Yunos N Family stall.
Ang Mo Kio Central Market and Food Centre was where I found the popular stall, which first made its name selling decadent, customisable mee rebus (mee soto came later). Chatting with third generation hawker Afiq Rezza from our vantage point of the stall front and its expanding queue of customers, it dawned on me just how popular Yunos N Family is. They've had many years to build their reputation and customer base.
The business began six decades ago with the story of Afiq's late grandfather (the eponymous Yunos), who travelled alone from Solo, on the Indonesian island of Java, to Singapore as an enterprising young man.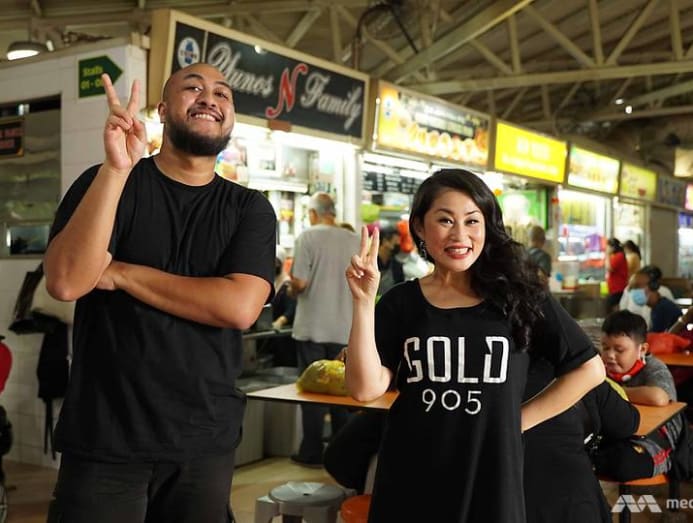 As 30-year-old Afiq put it: "Every bowl has a history. To my knowledge, my grandfather actually started this franchising thing in the early Sixties. He came here, cooked up his mee rebus gravy and sold it to other pushcart vendors. But he also had his own pushcart in Hastings Road."
The current stall in Ang Mo Kio has been in existence since 1979, when street hawkers were relocated to food centres. Mr Yunos chose the location because it was just three minutes away from the mosque. Calling his late grandfather a "wise old man", Afiq told me that his father took over running the stall following the move.
After studying interior design at NAFA, Afiq completed a few internships before joining the family business full-time in 2013. This was something he called "a natural decision" because "my point of returning is to give back. My dad has worked so hard to put me and my younger siblings through school."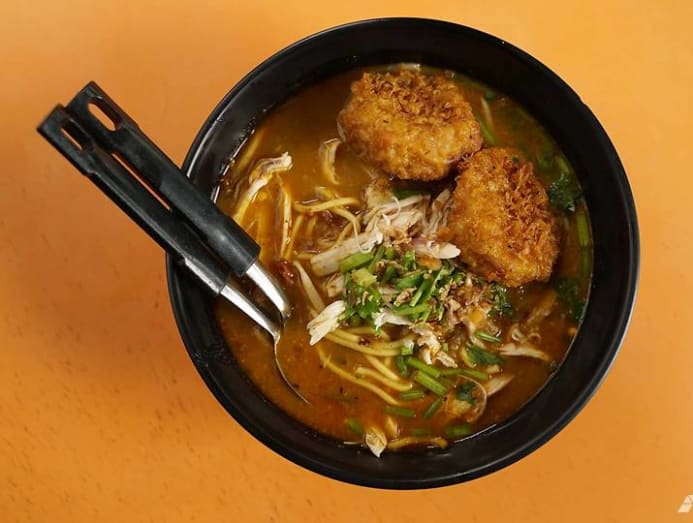 But his father believed in training the children to work hard for things they wanted, so during school holidays, they always helped out at the stall. "Imagine nine-year-old me back then, serving customers so I could save up for my Game Boy and my Playstation – quite an experience!" Afiq recalled.
A valuable life lesson, yet no formal cooking lessons have taken place to pass down Grandpa's legacy through the generations. Afiq explained: "We try to preserve the old recipes as much as possible, but my father has never taught me to cook any of the dishes. He's not the manja (pampering or babying) kind. And my late grandfather was also not the kind to manja and teach either."
So no mystical, dog-eared recipe book locked away in a vault then? "I've just been looking over their shoulders year after year and picked it up from there. Through osmosis," he joked. "Absorb and absorb, try to input what I know, then my father will correct me here and there."
This rootsy recipe relay has somehow still managed to preserve the authenticity of the food, which Afiq said sets them apart from others. Besides Grandpa's original mee rebus, Yunos N Family's culinary repertoire has expanded to include satay, gado-gado and mee soto.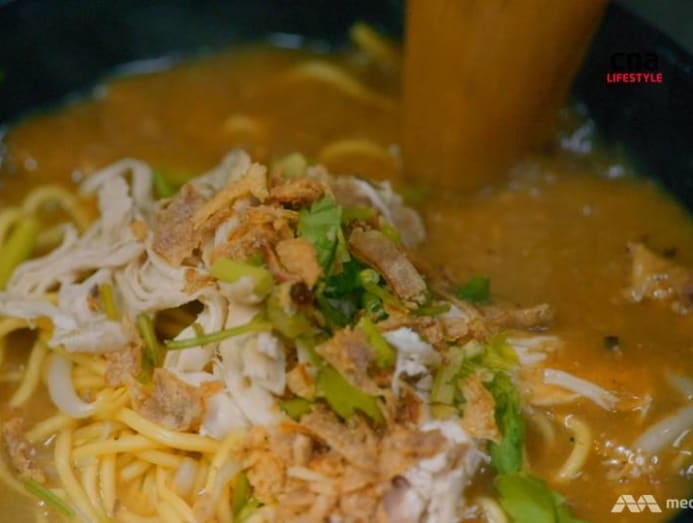 According to him, there are many different versions of the latter. "The Javanese, in particular, like things sweet. So we follow that style. As a matter of fact, everything we serve is quite sweet and we try to stay as authentic as possible."
Rest assured though, even if you don't have a sweet tooth, there were a whole lot of other flavours going on to give their mee soto lots of depth. For my Yunos N Family experience, Afiq recommended I start off with just their regular mee soto (S$3) and add on their best-selling begedil (fried potato patty, 70 cents each).

I leapt at the chance to order two and was ultimately rewarded with a couple of thick discs, staring up like large brown eyes, from a generous portion of broth with shredded chicken, bean sprouts and yellow noodles. Framed by a stylish black serving bowl, the way the begedil and noodles were arranged reminded me of a smiley face. It was like looking in a mirror!
Tucking in was like enjoying the Asian equivalent of a happy meal – quick, fun to eat and evocative of nostalgic childhood flavours. Of sick days off school, staying in bed all day and being fed round the clock by mum with steaming bowls of solace. Chicken noodle soup memories were made of these.
No pale, insipid liquid, the broth was thick and aromatic, a golden elixir of sweet yet savoury goodness, bringing to life every other element in the bowl. It spoke of Afiq's 6am prep time, of long hours simmering and making meaty magic in a pot. It was indeed sweeter than others I've tasted, but balanced with a deep earthiness from the complex infusion of herbs and spices.
The tender chicken, hand-shredded into substantial chunks, lent another savoury layer of flavour, along with the distinctive salty, alkaline taste and springy chew of the yellow wheat noodles. The garnish of bitter-sweet crispy fried shallots and bright, fresh daun sup (local celery) also added extra taste and texture to the bowl of soupy comfort.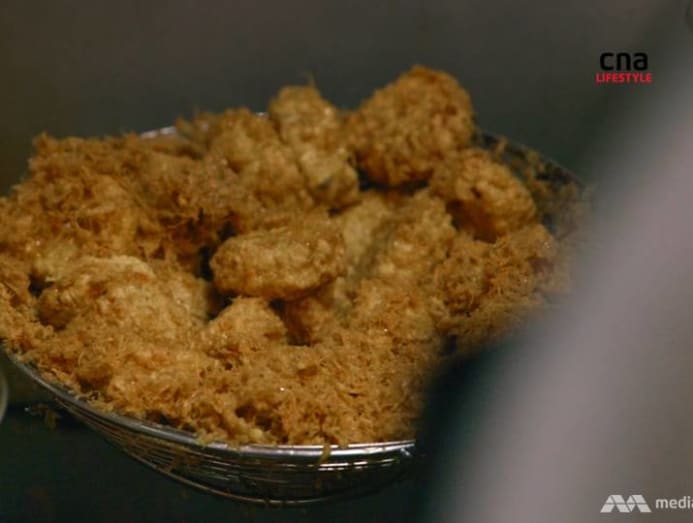 But the ultimate was the rightful addition of those two begedil. The perfectly plump potato pucks were well-seasoned and served hot out of the pan. Outstanding. They were really crisp on the outside, festooned with fluffy fried eggy bits and creamy on the inside, with superior soto absorbency. I could have easily eaten a couple more.
And just when I thought things couldn't get any better, Afiq urged me to try their signature chilli sauce. "I grew up eating that. It's actually my Mum's recipe and we recently introduced it to the stall. It's a hit. I'm biased, but soup and chilli go so well together!"
Inky from the sweet black soy sauce and extremely spicy from pounded cili padi, it was a powerful match made in heaven that brought everything together beautifully. The sweetness of the kicap manis echoed that of the soup, tempering the fiery burn of the bird's eye chillies and highlighting the gentle umami notes throughout the mee soto.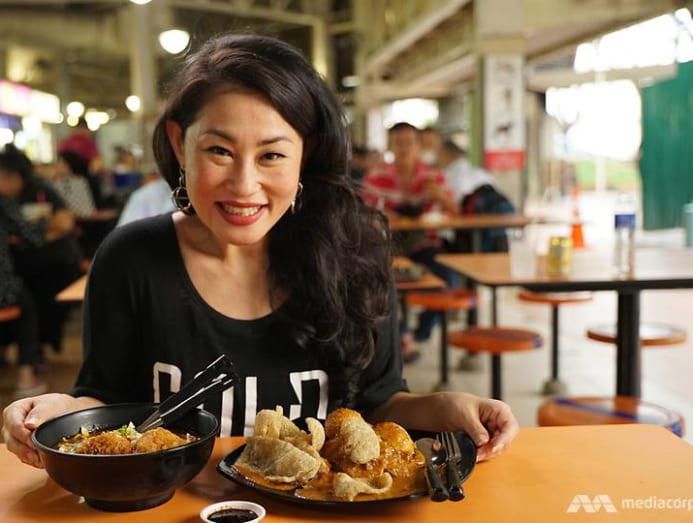 If you prefer, Yunos N Family also has another version sans soy sauce and made purely from cili padi. "We spoil our customers with choice!" Afiq proclaimed, and this certainly rang true. Swap out the mee for bee hoon or kway teow at the same cost, or go without noodles all together and order the soto ayam (S$3.50), which comes with rice cakes. 
Keeping to his promise of variety, Afiq also recommended some unusual creations from their extensive special menu. For those who like a good gnaw, try the Mee Soto Dinosaur (S$4.50), "because it looks very pre-historic". All the bony parts of the chicken, like the neck and the rib cage are served with the noodle soup. "We salvage every part of the chicken, nothing is wasted," Afiq stated.
Another fanciful (and filling) option was to "tarik", which means "pull" in Malay, or in their case, upsizing the dish with extra goodies. Three sticks of satay were added to mee rebus (S$5.10) or gado-gado (S$6.10), along with satay gravy, cucumber and onion.
I almost caved, but virtuously stuck to a side order of regular gado-gado (S$4) and called it dessert. It was a sweet finish to my feast, marked by a smooth sauce that tasted like peanut candy with a hint of spice.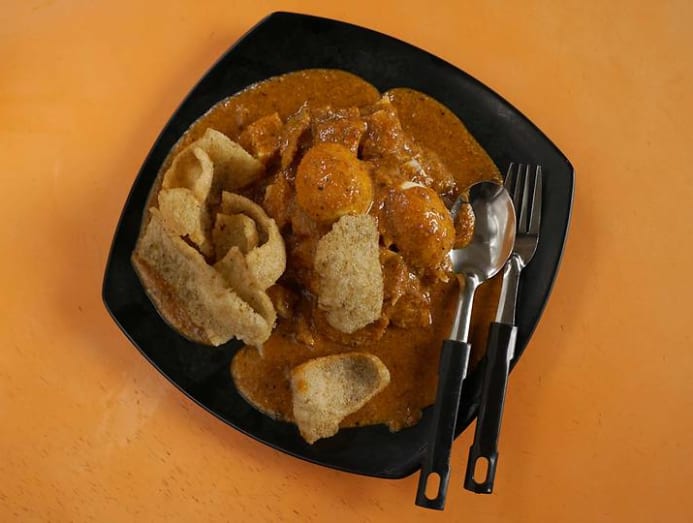 Boiled egg, potatoes, cabbage, fried tofu and tempeh were smothered and flavoured by said sauce. Crowning the dish was a handful of crispy keropok, like little edible scoops, perfect for shovelling sauce into my mouth.
Then there was the dish that started it all. A regular portion of Yunos N Family's famous mee rebus cost just S$3. But why settle when you could have it with beef rib (S$6)? Or fully commit and indulge in the Mee Rebus Rewang.
Afiq explained: "Rewang means to 'come together' in Malay. It's what we do the night before a wedding in the village. Everyone comes together to cook." As the name suggested, it was a full celebratory feast on one plate. For S$6.30, mee rebus came with extra satay, ketupat (steamed rice cake), and keropok.
In fact, as a standalone dish, many swear by their smoky skewers of charcoal-grilled meats. Mutton, chicken, beef and babat (tripe) satay went for 70 cents a stick (minimum order of ten sticks) and accompanying ketupat at 50 cents.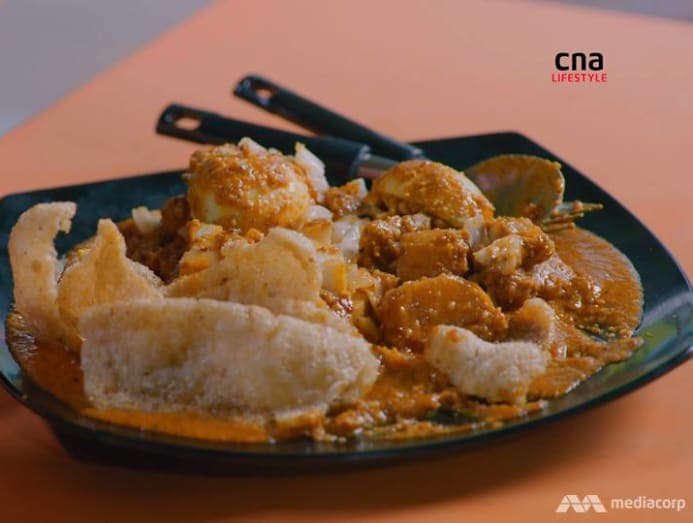 I had been at Yunos N Family for close to two hours and the line of customers showed no signs of abating. Even when the circuit breaker was in place and the customers stayed away from the stall, their orders didn't stop. Afiq admitted that business back then was "crazy" and the demand for home deliveries was "mad".
It was a testament to how delicious their food is, I thought, but Afiq begged to differ. He believed that taste is entirely subjective and instead chalked their popularity down to "the way we serve" and "because we do it sincerely. We see so many familiar faces that even the new faces we treat as familiar in hopes of them returning. I'm very grateful for the support."
Theirs is a good mix of long-time customers and new ones garnered from pop-up events and social media, which Afiq is in charge of. Putting his design skills to work at the family business has been rewarding for him, as he tries to "incorporate hype, art and subcultures into a traditional hawker setting".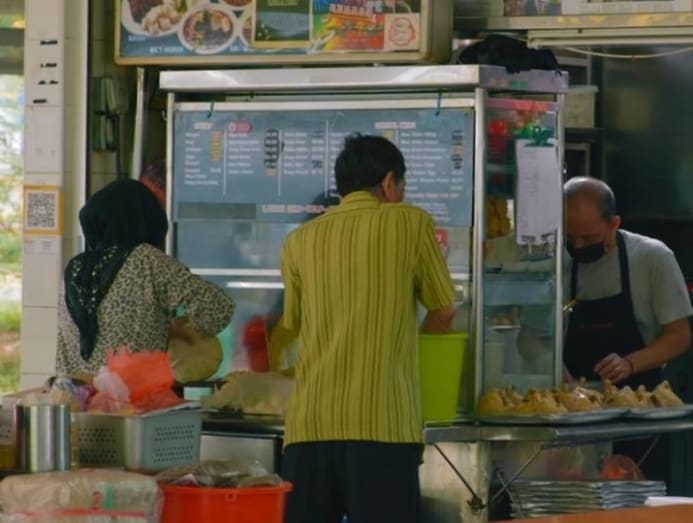 When he's not at Ang Mo Kio HQ, he's busy bringing his family's food to arts, music and street culture events. "We are probably the only hawker stall with merchandise. It's a walking name card," he said, pointing to his black T-shirt, printed with Yunos N Family's postal code on the front and "closed on Sundays" at the back.
Together with some creative friends, Afiq also once collaborated with local artist Pras The Bandit to design a work shirt. Embroidered with a cheeky picture of a certain North Korean leader eating their mee rebus, it sold out at Sole Superior 2017, a sneaker and street wear convention. Afiq recalled: "That was the first time we served at a pop-up event. Mee rebus in Zouk. Quite happening!"
As a throwback to their roots, Afiq has also built Yunos N Family's very own pushcart. "Kids these days call it vintage, right? That's how I'm bringing my flavour to the family business," he said.
That pushcart has travelled across the island, served at various events and brought the family's food heritage full circle. From Solo to Singapore, Hastings Road to Zouk, it was a fitting tribute to Afiq's late grandfather.
Meanwhile, back at the bustling Ang Mo Kio stall, Afiq told me he had to resume helping his uncles and aunties with dinner service. I was surprised to hear that the people behind the counter were all his relatives. "Yes, we're legit family here!" he confirmed. Something that meant so much to them, they put it in the name of their stall. Perhaps that's why I could really taste the difference at Yunos N Family.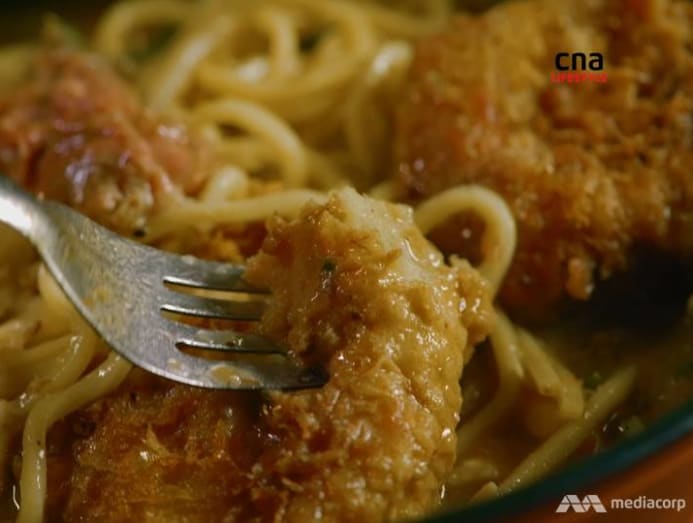 I quipped to Afiq that the family that cooks together stays together. "It's very fulfilling to carry on the legacy. I don't see myself stopping. It's not easy, but it makes me proud of myself," he replied with a laugh.
I told him his parents must be proud of him too. "I hope. They don't say it, but there's hope," came his reply, as he hurried back for another busy evening of cooking and serving with pride.
Yunos N Family is located at #01-01, Ang Mo Kio Food Centre, Blk 724 Ang Mo Kio Avenue 6, Singapore 560724. It's open from Monday to Saturday, 11am to 9.30pm (closed on Sundays). Catch Makan Kakis with Denise Tan every Thursday from 11am on GOLD 905.