Best eats: Nasi padang with the spiciest sambal belacan in Orchard Road
GOLD 905 DJ and Makan Kakis foodie Denise Tan headed to Far East Plaza and discovered that heat, heart and family make eating at hidden gem Mansor D'Cafe feel like a homecoming.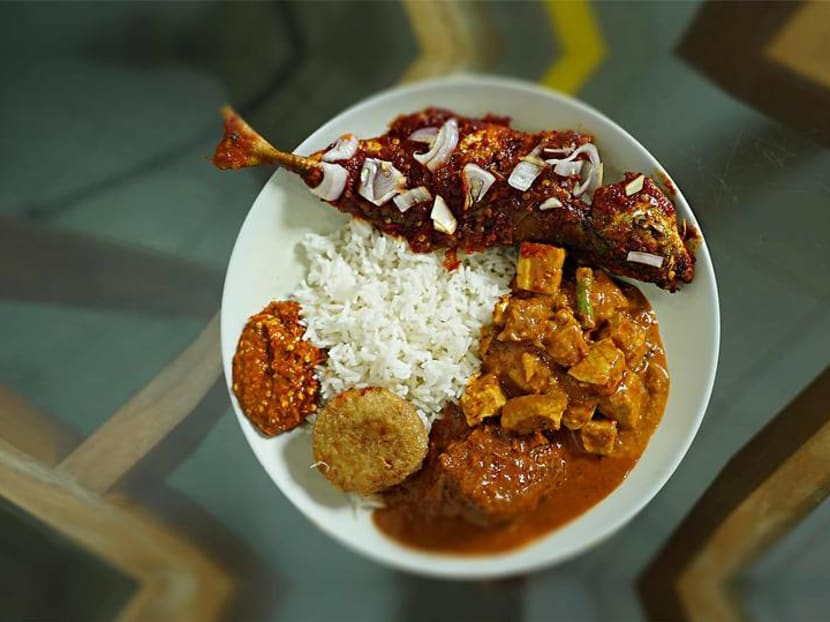 Say you're starving but you still want variety. Something quick, tasty and wallet-friendly. Say those hunger pangs hit hard while you're in the Orchard Road area. 
Nasi padang might not be the most obvious choice to fulfill those criteria – unless you stumble upon a lucky find tucked away in a quiet fourth floor corner of Far East Plaza.
GOLD 905 DJ and Makan Kakis foodie Denise Tan headed to Far East Plaza and discovered that heat, heart and family make eating at hidden gem Mansor D'Cafe feel like a homecoming. (And we're not kidding about their sambal belacan.)
So well-hidden was this nasi padang restaurant that I had walked past it several times without realising it was there, not to mention the many years since teenhood I've spent visiting the mall without ever noticing it.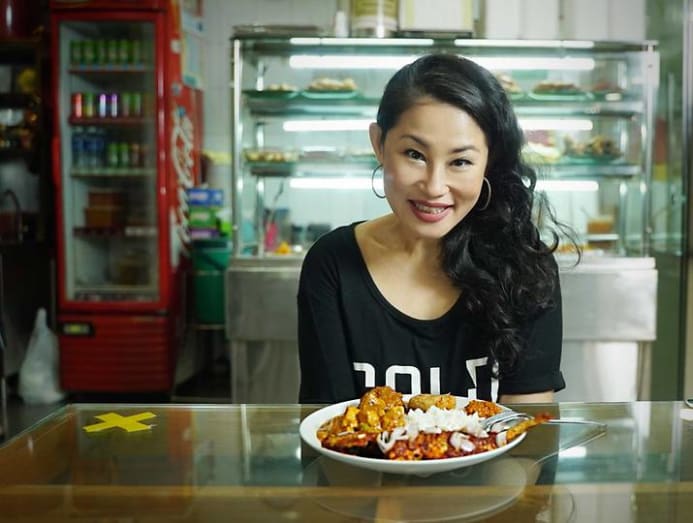 Mansor D'Cafe is a mini makan place that can barely fit more than 12 diners (thanks, safe distancing!) in its compact premises. But what it lacks in space, it makes up in masses of flavour and choices. There, classic Malay lunch plates are served cafeteria-style (just get in line and point at what you want) by a charming couple, Mr Amin Mansor and his wife Jamilah Md Daud.
Nasi padang refers to rice served with a variety of meat, seafood and vegetable dishes, and traditionally comes from Indonesia's West Sumatran capital city of Padang. It has become an adopted local favourite, a fact Mr Amin has wholly embraced, declaring: "Our nasi padang is Singapore style! You really cannot find this in other places. All home recipes."
Affectionately calling Madam Jamilah the "chief chef" and main pillar of their nasi padang restaurant, home and heart were never far from his lips when Mr Amin spoke. Respectfully named after Mr Amin's father, they've been keeping Mansor D'Cafe in the family for more than 15 years at Far East Plaza, after brief stints near Chinatown and Tekka Market.
Mr Amin shared: "Even my son used to help out, before he found an office job. This is very tiring work."
Indeed, running a food business requires stamina and in Mr Amin's words, "confidence" which he has in jovial spades, but also "God-given talent", which he attributes entirely to his wife. "Me?" he laughed, "I only cook a bit."
Madam Jamilah is usually up around 4am and after her morning prayers, she heads off to the market for fresh ingredients, before arriving at the cafe by 7am to start cooking.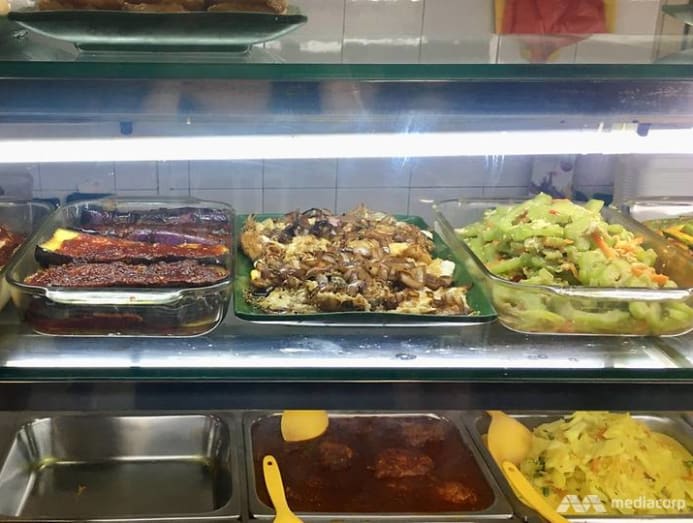 The sounds of sizzling food and the aromas wafting from their little kitchen were almost too much to bear, as Mr Amin rattled off some of their must-try dishes: Ayam masak merah (sweet and spicy chicken), sayur lodeh (coconut vegetable stew), lemak cili padi ("This one is killer. Doesn't look it, but it's the hottest of all our chicken dishes!") and Madam Jamilah's special recipe, two-hour-marinated, juicy-on the-inside, crispy-on-the-outside fried chicken. "Each day we sell 20kg of my ayam goreng!" she revealed, with a smile.
In the early days as a home cook, Madam Jamilah honed their current menu through trial and error, and after tasting everything, they picked the best dishes to sell. "So far, we've kept most of the original menu. Of all the dishes served, almost 90 per cent hasn't changed," Mr Amin recounted, saying his customers kept asking for their favourites to remain.
Such longtime customers continue flocking to Mansor D'Cafe, whose popularity has spread by word of mouth to new customers like myself. A queue can be seen most lunchtimes, ravenous for the glistening, rainbow-coloured array of freshly-cooked favourites. Get there before 11.30am to avoid disappointment. "First come, first served! By 2.30 or 3pm, there's not much left, you might not get your choice," Mr Amin advised.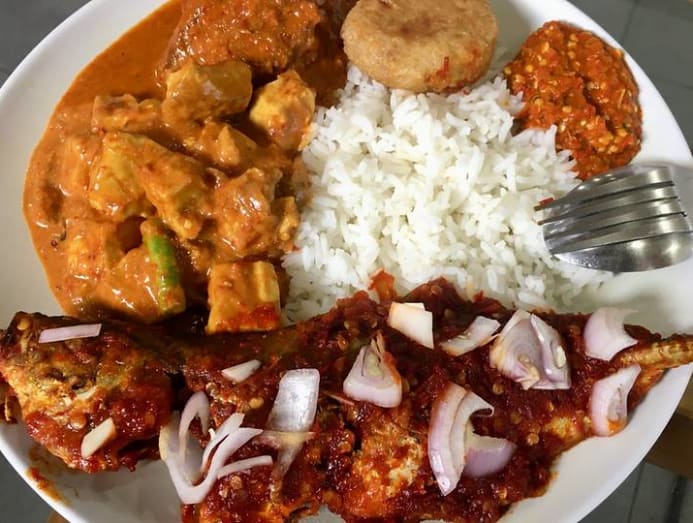 I made sure I arrived early for my first taste of the nasi padang spread, some of which was still being prepared by Madam Jamilah. I was happy to wait, smug in the knowledge I had first dibs on the freshest servings. It pained me not to order everything on display, but I ruthlessly stuck to what I imagined was a wholesome, varied and balanced plate.
Even so, I confess I blew the budget with my order, exceeding the usual S$6 for one main (chicken, beef, fish or squid) and two sides (vegetables, potatoes, ikan billis, et cetera).
Instead, my greedy hands held a plate full of beef rendang, sambal ikan, sambal goreng, begedil and a big dollop of sambal belacan, all carefully arranged atop steaming white rice. Mr Amin was especially thrilled to share his tongue-combusting condiment. "This is the spiciest sambal in Orchard Road! If you love spice, must try," he encouraged.
A glutton for punishment, it was the first thing I popped into my mouth, which immediately went up in flames.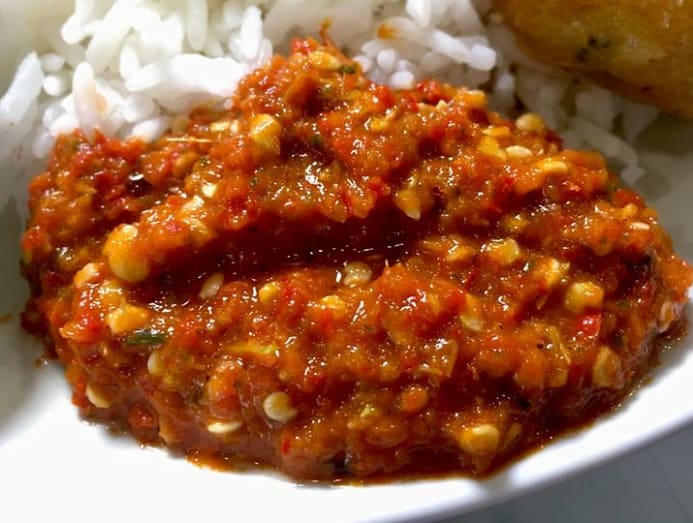 A deep orange colour, dotted with lots of chilli seeds and flecks of green lime, Mr Amin wasn't exaggerating about his sambal belacan (toasted shrimp paste). As he put it: "It's not mixed with normal red chilli. It's 100 per cent pure cili padi. The taste is solid!"
Tears sprang from my eyes and my nose had started to run, but the masochist in me adored the searing heat. Amused at my reaction, he added with a gleeful laugh: "I tell my customers, this is free, take and try. Most of them say, 'Abang (elder brother in Malay), I cannot tahan (tolerate).' But they try it anyway and next time they come back, they say, 'Sorry Abang, I surrender. Too hot!"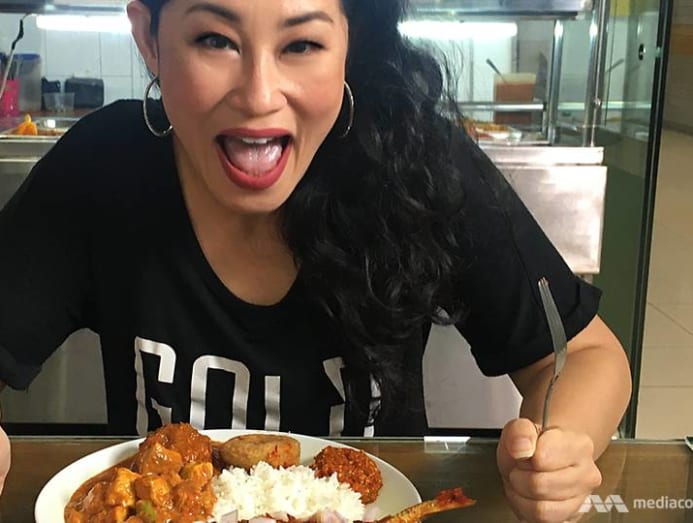 Although a challenge for this spice lover, I refused to wave the white flag, even though the fire in my mouth had to be doused with plain rice so my tastebuds could continue to do their job.
Thankfully, the creaminess of the sambal goreng soothed my singed tongue and tempered its own spice, allowing all the other flavours to come through beautifully.
I found it delightfully different from the drier, firmer versions I was used to – fried cubes of tender tofu, tempeh (fermented soybean cake) and long beans were blanketed in a velvety gravy that was both sweet and savoury.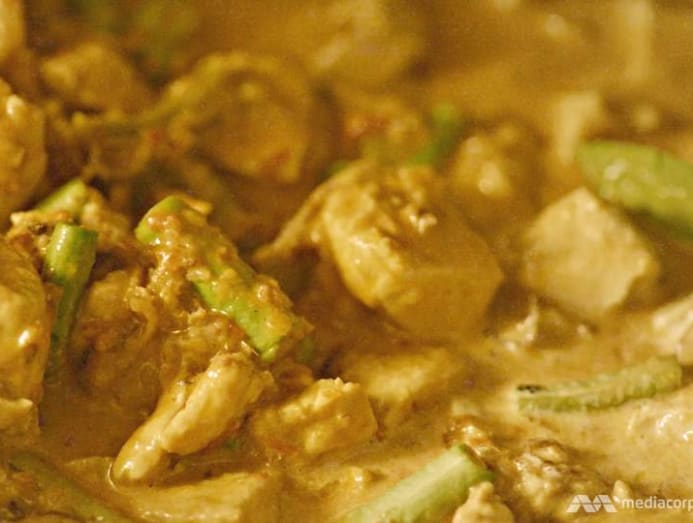 The rice had drunk up all that scrumptious sauce, making it impossible for any low-carb restraint. Spoonfuls vanished into my mouth, along with chunks of their begedil. Hot out of the kuali, the seasoned and spiced patties of buttery potato in an eggy crust were irresistible, especially with cautious dabs of sambal belacan.
The ikan sambal was a whole, deep-fried ikan selar (yellowtail scad) smothered in a rich chilli sauce and jewelled with diced raw onion. According to Mr Amin, their fish sambal was made by frying chilli with garlic, onion and select spices, along with a little water and a bit of milk.
Once the sambal had developed the right fragrance and consistency, the fish was added for a scrupulous stir. The robust, meaty ikan selar was the perfect savoury foil for the sweet, mellow heat of the sambal clinging to it. The little studs of onion added a sharp freshness and pungent sweetness to the outstanding fish dish.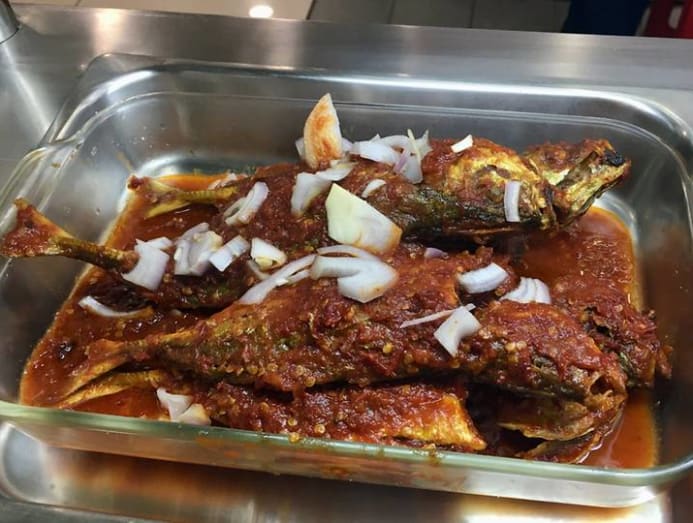 One final punch of protein awaited me – the beef rendang. Tender chunks of beef swimming in a piquant reddish-brown sauce, it struck me that at Mansor D'Cafe, it was all about maximising the absorbency of their rice with lots of gravy. Yet again, it was different from the usual dry curries I've encountered.
Mr Amin assured me it was one of their most popular dishes. "There are a lot of different styles of beef rendang from different countries. Our style is the best – Singapore style!" There it was again. His proudly patriotic catch phrase.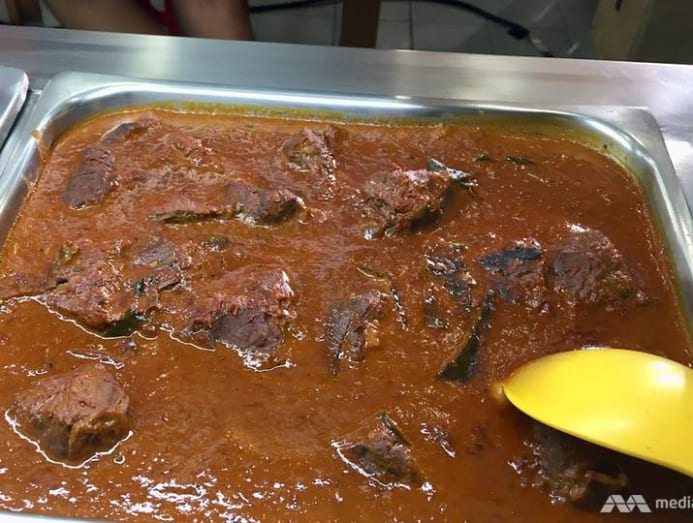 It reverberated in my ears as I took my first bite of beef. Its melt-in-the-mouth succulence was testament to having been simmered slowly for over three hours. "It's a lot of work to slow-cook the beef until it's so soft. You have to be patient in cooking, otherwise the flavours won't come out," he explained.
Certainly, many flavours were starting to emerge across my palate. The gravy was luscious and redolent with herbs, spices and coconut, releasing a delectable nuttiness that blended harmoniously with sweet, salty, tangy and spicy. For want of a better description, I could only agree with Mr Amin. The beef rendang tasted like Singapore. Home.
The whole Mansor D'Cafe experience was like a homecoming – from the kampung spirit, through which customers were warmly welcomed and treated as more than friends, to the delicious home-spun recipes using fresh ingredients and celebrating local flavours.
Mr Amin continued paying tribute to his wife by saying: "She cooks like everything is for our son to eat. You have to cook from the heart then it won't go wrong. You don't cook because of the money. We can't be rich, but at least we make people happy."
His relationship with his customers was disarming. Mr Amin was just so grateful for the support of his regulars, who he treats more like family than friends. No wonder they call him big brother, phone him often and keep returning with their entire families in tow for a taste of tiny but mighty Mansor D'Cafe's Singapore-style nasi padang with a side of sincere hospitality.
Mr Amin said it best – it's not just food they're sharing, but their hearts. With every plate, they're feeding you like family and welcoming you into their home. So next time I feel homesick, I'm heading back for the ayam goreng, lemak cili padi, sayur lodeh and all the other dishes I've yet to try.
Mansor D'Cafe is located at Far East Plaza, 14 Scotts Road, #04-34, Singapore 228213. It's open Mondays to Saturdays, 11.30am to 5pm. Closed on Sundays and public holidays. Catch Makan Kakis with Denise Tan every Thursday from 11am on GOLD 905.