Chicken curry at Old Airport Road with that home-cooked taste, just like Grandma used to make
We're spotlighting the best eats for you to spend your CDC vouchers on in our latest Makan Kakis series. At 168 Curry Chicken at Old Airport Road Food Centre, Gold 905 DJ Denise Tan discovers that spice is twice as nice when Grandma's recipe is at the heart of the business.
It took a certain New York publication's recipe for "Singaporean Chicken Curry", and the ensuing furore it caused for me to realise just how fiercely protective Singaporeans are over our local dishes – especially one that transcends almost every culture and kitchen in Singapore. Something bigger than food was at stake – our home and identity needed to be defended.
Sometimes though, the best defence is to take no offence, but simply partake in said dish, and let its taste speak for itself. A good place to start is at 168 Curry Chicken, recommended by my Makan Kaki, co-owner of Diamond Kitchen & iKO, Lambert Chen.
Chen described the food there as "wholesome" and worth a try because "a lot of effort is put into it", but the question on my mind was, "Could this be better than what Mum makes for our family?"
Indeed, most Singaporeans have their own home-cooked version of chicken curry and stall owner Shawn Low is no exception. Seven years ago, despite having zero F&B experience, he decided to bank on his grandmother's recipe to open 168 Curry Chicken. His gamble has paid off, perhaps, in part, due to the auspicious name of his stall. 
In Mandarin, 168 sounds like yi lu fa, which means smooth sailing. The name was chosen to "counter" the "inauspicious" number of the unit Low had previously occupied at Old Airport Road Food Centre. "134 doesn't sound very good in Cantonese," he explained.
A branch in Whampoa also didn't work out and he even decided to bear the cost of closing shop for six months to wait for a new stall within Old Airport Road. Fortunately, unit number 76 became available in 2019 and since the move, business has started to live up to the stall's name.
"So far so good. I now have quite a lot of regular customers who really enjoy my curry. They always tell me there's this home-cooked taste," Low told me with a laugh. Unsurprisingly, he ate a lot of it at family meals growing up.
"My grandma used to cook curry chicken frequently. The recipe got passed on to my auntie and I used to watch them cook because I found it very interesting. My love for curry chicken began there," Low said, by way of explaining why he decided to focus on selling the dish.
However, he discovered that even Grandma's recipe needed some tweaks to have mass appeal. He shared: "Our curry used to be very spicy. However, I need to cater to the general public and listen to customer feedback. Now even kids love our curry."
Dialling down the heat without compromising flavour took three years of adjustments to find the perfect balance, but it has since met with resounding approval from his family.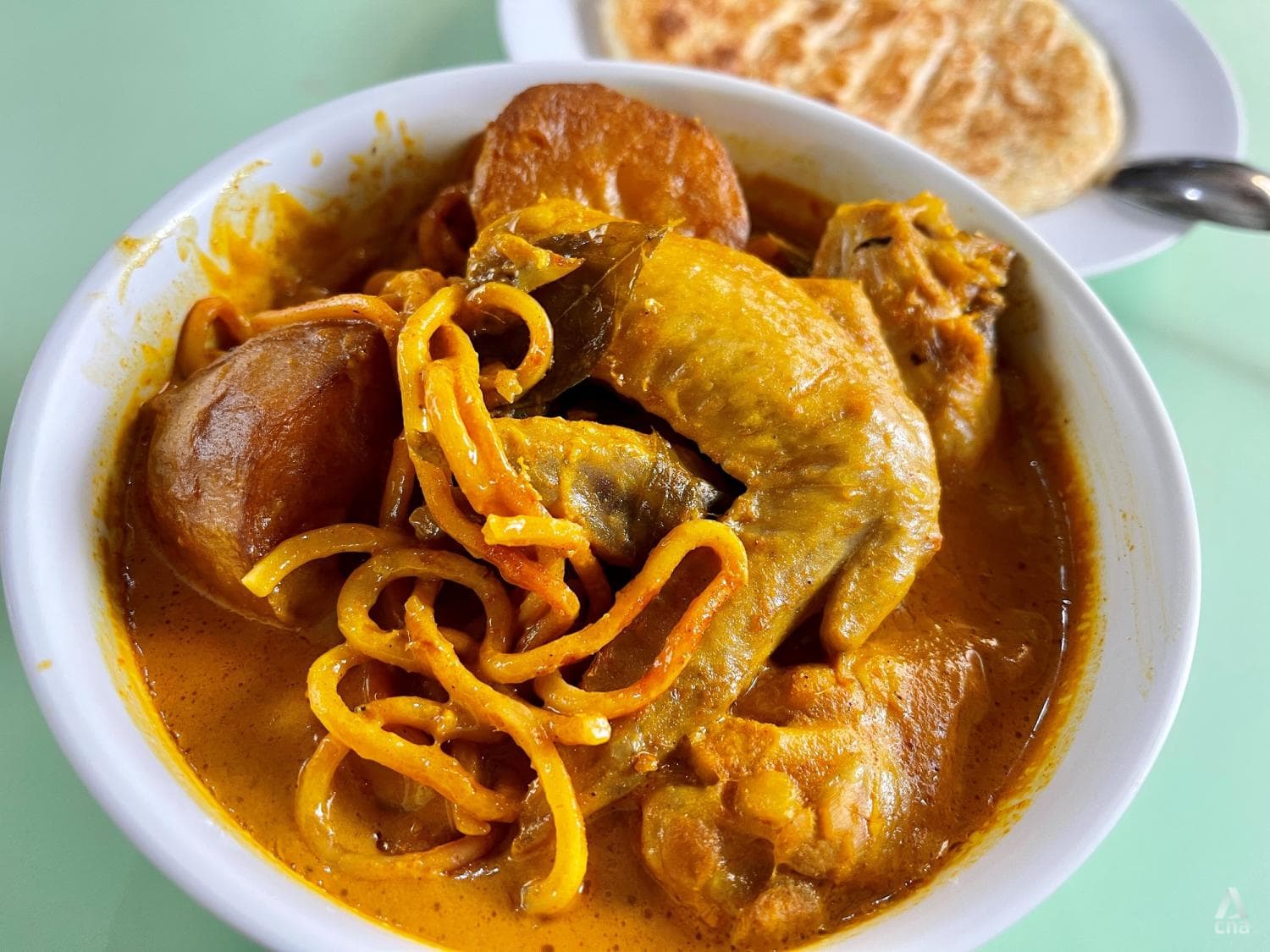 Low also gets much needed support from his wife Shan Shan, who helps at the stall in the mornings before leaving to care for their two small children. Most times, it's him doing the heavy lifting alone. "I have to," he declared earnestly. Providing for his family and doing his grandmother's recipe justice are important for hardworking Low, who usually starts each twelve-hour day at the stall between 7am and 8am, before opening for business at 11.30am.
He believes his curry still has that "home-cooked taste" because he prepares the rempah, or spice mix, fresh every day. "From scratch," he emphasised proudly, gesturing to plastic containers full of spice paste neatly lining a shelf.
Gold 905 DJ Denise Tan slurps up a bowl of curry chicken noodles at the auspicious sounding 168 Curry Chicken at Old Airport Road Food Centre, where stall owner Shawn Low is doing his grandmother's recipe proud. Bonus: They accept CDC vouchers.
While the exact ingredients and measurements of his rempah remain a secret, he did reveal that it was a blend of galangal, shallots, garlic, lemongrass, curry leaf, torch ginger flower, curry powder turmeric, cumin, fennel and belacan (fermented dried krill). He also let slip an extra detail: "The trick is, we prepare the rempah one day before because it will change gradually. The ingredients need to set." 
Flavours left to properly develop overnight, a container of rempah was fried till fragrant for about 25 minutes before chicken wings and drumlets were added, along with water and coconut milk, then cooked for a further 25 minutes. "We used to do the whole chicken but ended up with a lot of wastage because people didn't want the breast meat or wanted to choose parts. This way it's a lot easier and most customers like it," he said.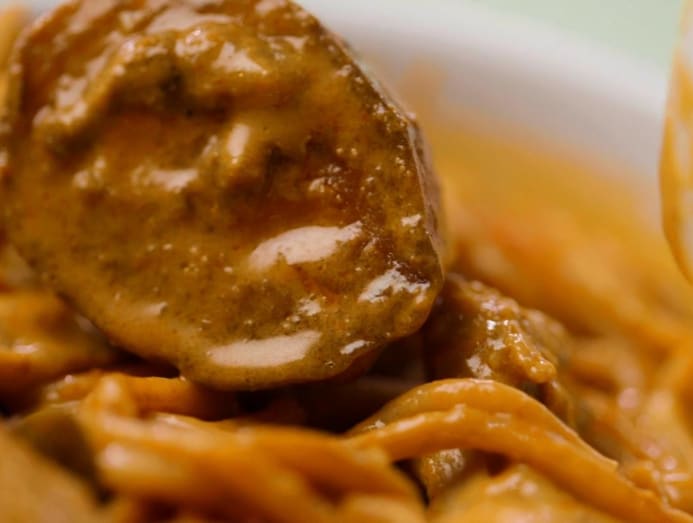 While the curry simmered and reduced, Mr Low did something I'd never seen my mother do – he deep fried quarters of potato to a deep golden brown before adding them into the massive pot of bubbling ingredients.
He explained: "Because it tastes better, and the other thing is they stay intact even after sitting for some time in the curry."
Almost an hour in the making (not counting time spent creating the rempah), the chicken curry was finally ready for the eating. All I had to do was choose an accompaniment – steamed white rice (S$5.50 per curry set), six-inch mini French loaf (S$5), prata (S$6) or noodles (S$5).
Low informed me that bread and prata were the most popular choices, but I went with the convenient all-in-one bowl of curry mee. Bee hoon used to be available, but he decided to phase it out because rice vermicelli doesn't keep well. Now, only yellow noodles are served and according to Low, "They soak up the curry and makes it taste better somehow".
He was right. The noodles maintained a bouncy, chewy absorbency that held up well in the curry. Their distinctive salty, alkaline taste enhanced the spicy flavours beautifully.
Low may have dialled down the heat, but the curry still gave a good chilli kick. The rich gravy was luscious on the tongue, with a smooth and creamy consistency from coconut milk. Redolent with punchy herbs and spices, it was boldly seasoned yet well-balanced. His judicious use of umami belacan also amplified the deeply savoury chicken flavour of the curry.
The curry-coated chicken pieces were tender and down-to-the-bone delicious, their jiggly skins adding a fatty, indulgent touch. The deep-fried potatoes held their shape without disintegrating into mush. Doing double carb duty, they helped thicken the curry and soaked up so much gravy that each bite exploded with flavour.
Unable to resist, I tripled my carb intake with a sneaky side of prata, which Low prepared to order on his griddle so it arrived hot, buttery and flaky. Crisp on the outside and fluffy on the inside to mop up more curry – I couldn't find any fault with it, even though it was of the frozen variety.
In between bites of prata and slurps of spicy, sauce-slicked noodles, I couldn't help but think that I was tasting the essence of Southeast Asia. The chicken curry was Singapore in a spoonful, it was truly a taste of home. My next thought was to bring some home so my family could enjoy the same experience.
With that, I had the answer to my initial question. It wasn't about whose recipe was better. 168 Curry Chicken was different from my mum's, but no less robust and delicious. Both could transport me to a place of comfort, where memories of family feasts and the cooking of a loved one reside. For Shawn Low, Grandma's recipe is at the heart of 168 Curry Chicken. And as the saying goes: Home is where the heart is.
CDC vouchers are accepted at 168 Curry Chicken, located at Blk 51 Old Airport Road, #01-76, Old Airport Road Food Centre, Singapore 390051. It's open Tuesdays to Sundays, 11.30am – 8pm, closed on Mondays. Catch Makan Kakis with Denise Tan every Thursday from 11am on GOLD 905.