exclusive Dining
How does Haidilao make its hotpot soups? A look at their central kitchen and smart restaurant in Singapore
It's the mammoth hotpot restaurant chain's 10th anniversary in Singapore, and they gave CNA Lifestyle a never-before-seen look into their Woodlands production kitchen, as well as a taste of some brand new robot technology.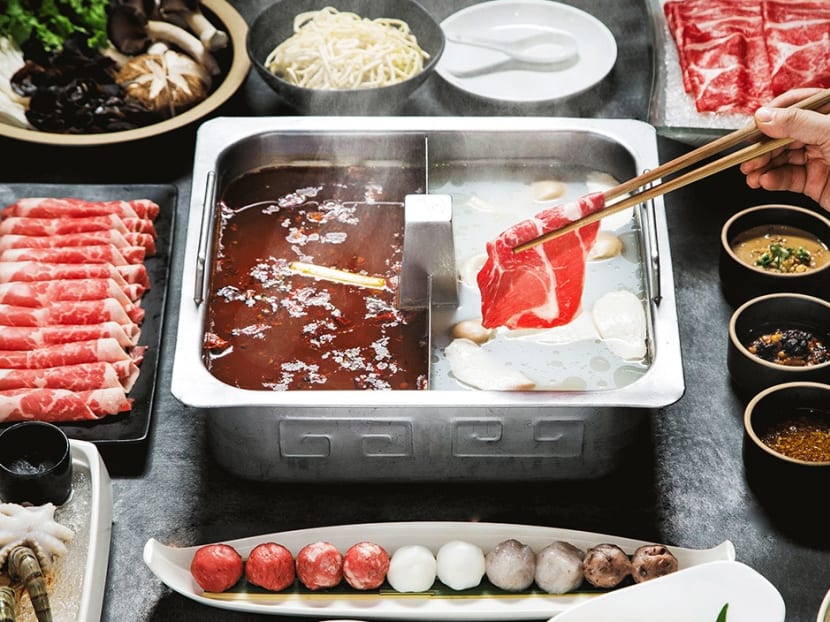 On most days, I am content, if not happy, to cleave to disciplined restraint for the sake of a bigger goal, to love and serve those near and dear to me, and to cultivate the serenity to accept the things I cannot change.
But, on the rare occasion, I want to have whatever I want, whenever I want, and everything going exactly my way. Like, I don't know, Elon Musk or something.
On those days, I go to Haidilao.
This, as I see it, is why eyes light up at the mention of everyone's favourite pre-eminent global hotpot chain. Not as much for the food itself as for the iPad of Ordering Instant Gratification. The Free Hair Ties and Ziplocks Of Hospitality. The Self-Serve Condiment Bar Of Limitless Possibility.
Like no other restaurant, Haidilao welcomes you to its bosom like a long-lost relative. Haidilao babysits your kids while you eat. Haidilao gives you bibs so your outfit will remain pristine. Haidilao is actually excited about your birthday.
They care so much about you that if you're dining alone, they even give you a life-sized stuffed mascot to sit with you so won't feel lonely. An emotional support doll, if you will.
So, it seems only natural that their next step would be robots.
At their newest outlet at Northshore Plaza, they've debuted a first-in-Singapore system of automated food preparation. Inside a cold room, six robotic arms, moving with eerie precision, grab dishes laden with food as soon as orders come in, placing them on conveyer-belt trays to be sent out.
The plates are equipped with RFID technology that not only allows the robotic arms to recognise them, but also carry information about when the dish was prepared and when it will become unsuitable for consumption. It's a system that was birthed by their own R&D team, in collaboration with Panasonic (at what cost, they declined to say).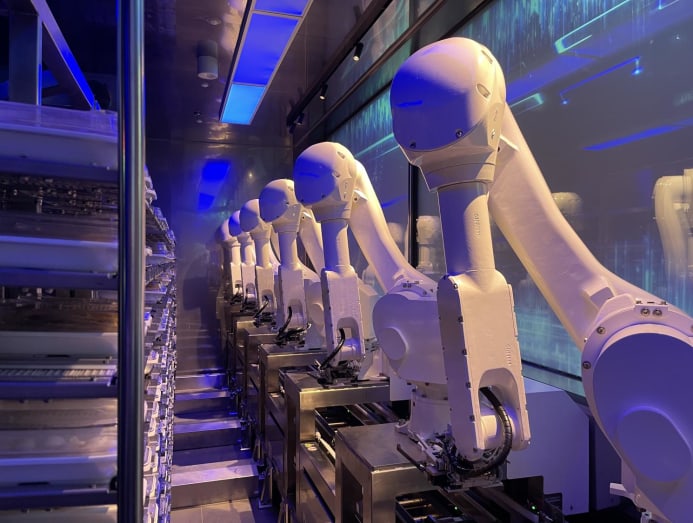 The robot arms have been launched in conjunction with Haidilao's 10th anniversary in Singapore this year, which is pretty momentous when you think about the fact that 10 years ago, a world in which free manicures while you waited in line for a table at a restaurant did not exist and you had to spend the time actually talking to your fellow diners instead, and now, robots are taking over the world.
The reason is the restaurant's constant quest to improve overall productivity and "to optimise and innovate our products", a spokesperson told me.
I guess they're focusing on technology because they've already hit a plateau when it comes to making hotpot better. They already offer an obscenity of fresh meat, seafood and vegetable riches; broths of flavourful plenty; fruit and dessert; and what my husband calls their "sauce piano": It's up to you to make whatever beautiful condiment music you want, for the low, low price of S$4 per person.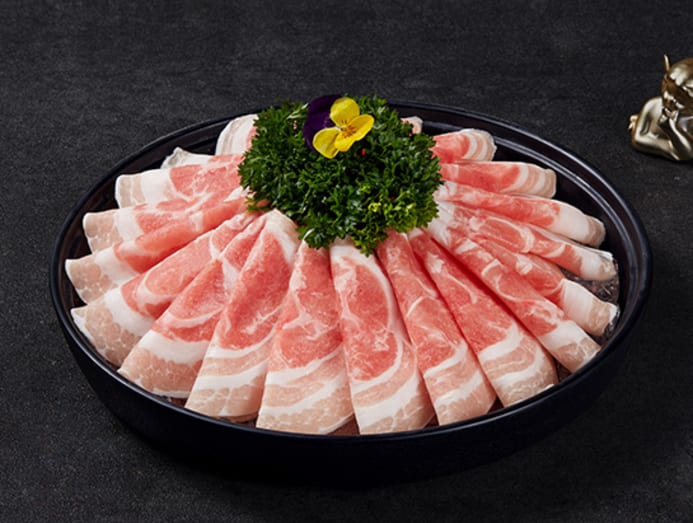 So, you can imagine how excited I was when the good folks at Haidilao Singapore bestowed a golden ticket upon me. They invited me to be the first ever journalist to enter the hallowed halls of their central production kitchen for a never-before-seen glimpse into how they made their hotpot magic.
You can bet I felt like a wide-eyed Charlie Bucket setting foot into Willy Wonka's Chocolate Factory, if that factory happened to be in an industrial complex in Woodlands.
The grand tour began in the locker room area, where I had to scrub my hands clean; don a disposable hygiene suit, hairnet and face mask; and enter an air chamber in which the dust and detritus of regular life was blasted off me, and I emerged into a glistening, fluorescent alternate reality – much like what happens when you enter a Haidilao restaurant. Cue harp music.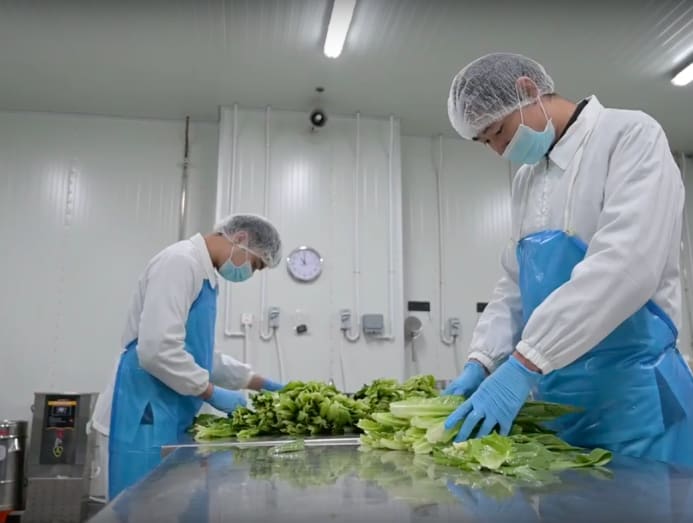 Off a glistening, fluorescent hallway were a collection of glistening, fluorescent rooms, each cavernous, clean, spartan and climate-controlled. There was the veggie room, in which people in white suits were tossing bundles of leafy green vegetables into a machine for washing, and then sorting and packing them; the meat processing room, in which people in white suits were portioning, slicing and grinding up large slabs of meat; and the soup room, in which people in white suits were operating rows of giant, stainless steel cauldrons that fried ingredients up and then boiled them down.
The soup room was by far my favourite, because it was filled with the warm aromas of simmering broths. Even in the hallway, you could smell the deliciousness being cooked up: A whiff of spice, a whisper of garlic, a whole lot of chicken, pork and fish. A land flowing with mala and honey.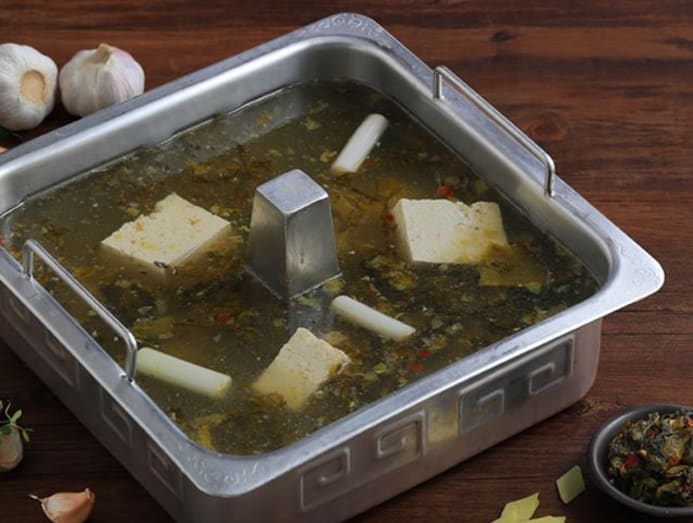 When the central kitchen was established in 2007, it enabled Haidilao Singapore not only to standardise quality and improve efficiency, but also to conduct their own R&D for locally created soups. The newest Singapore-made flavours are Sichuan Pickles Hot Pot, which has an acidic tang similar to salted vegetable soup; and Haidilao Fried Fish Hot Pot, inspired by milky fish head soup, a popular local dish.
I thought my favourite soups were the Sichuan Spicy Hot Pot with its numbing mala fire; the umami-rich tomato soup; and the Bai-Yu soup of chicken, pork and fish; but after sampling the Pickle soup and the Fried Fish soup, I'm considering writing in to Haidilao to suggest a pot with six compartments instead of the usual four.
If you think that that would be too much for the restaurants' kitchens to handle, you're wrong. As you could tell from the robot arms, Haidilao is intent not only on being the restaurant with the funkiest dancing noodle men, but also the restaurant that utilises "smart" technology to its fullest.
Its restaurant kitchens are increasingly being equipped with machines that automatically dispense your choice of soups into the pots, so all the server has to do is grab the consolidated pot and nestle it into the middle of your table.
That means when you send your order in, there's no messy order-calling or ladling in the kitchen – everything is silent, efficient, labour-minimising and error-proof. And you can easily customise your soups according to your preferences for salt levels, oil levels, spice levels, sedimentation and more – and even save your preferences for future orders.
It's all part of the restaurant's push towards improving efficiency and service. "We want to provide an enhanced 'service+' experience for our customers, spanning across dining experience, food safety, product innovation and ambience improvement," a spokesperson said.
I, for one, am glad that there are now 19 restaurants in Singapore (soon to be 20, in November at Jurong Point), because I remember that 10 years ago, at their first restaurant in Clarke Quay, the wait for a table could be three hours long (although someone once told me you could cheat your way in by saying, 'Chao Ge has reserved me a table', a claim I never got a chance to verify).
And, who knows? Maybe by next year, Haidilao will have full-sized robots to dine with you instead of stuffed mascots. Your robot companion could even cook your wagyu to perfect doneness, fish your cabbage out just before it gets too soggy and whisper sweet nothings into your ear. Less awkward than some Tinder dates, that's for sure.
In celebration of Haidilao's 10th anniversary in Singapore, two dishes each week are priced at S$10 each: From now until Nov 20, Squid Balls in Ink Sauce and US Beef; from Nov 21 to 27, Sliced Fish and Pork Jowl; from Nov 28 to Dec 4, Pork Belly Rolls and Beef Short Plate.
Ever wondered how Haidilao prepares its awesome food and soups? CNA Lifestyle was invited to their kitchen in Woodlands – and a new "smart" restaurant in Punggol.