Bubur lambuk ikan tenggiri: Orang laut family marks Ramadan with grandma's recipe
CNA Lifestyle visits the kitchen of popular home-based business Orang Laut SG to find out more about the forgotten maritime food culture on Pulau Semakau – and about how the family is giving back this fasting month.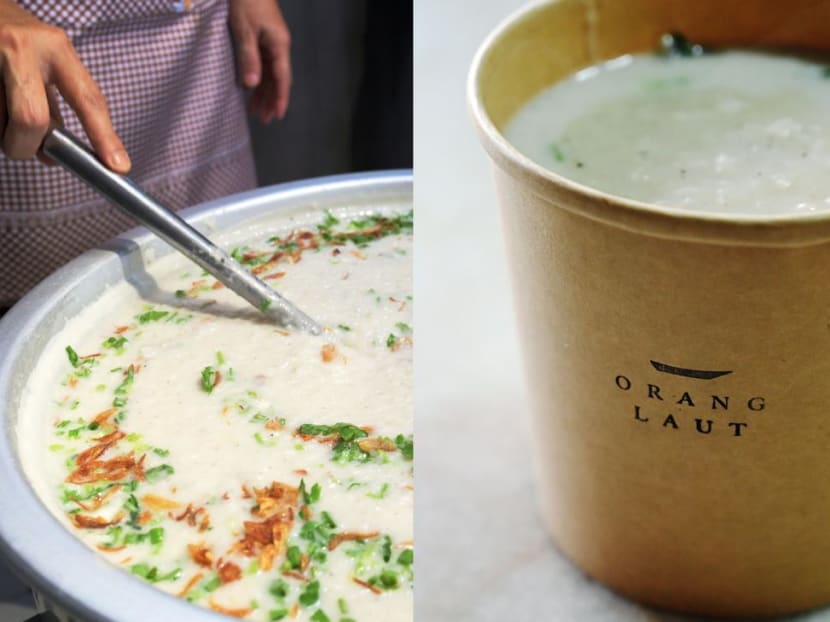 The holy month of Ramadan has come around again. Muslims all over the world observe Ramadan through fasting, prayer, self-reflection and charity, and it's common to witness people participating in food distributions.
In Singapore, mosques distribute porridge – specifically bubur lambuk, a spiced rice porridge typically containing beef or mutton. 
According to one family, bubur lambuk is a favourite for iftar (meal taken by Muslims after sunset during Ramadan) or sahur (pre-dawn meal during Ramadan) as it's believed to provide the body with its daily intake of nutrients while fasting. 
The family is behind Orang Laut SG, a home-based business dedicated to promoting the food of the orang laut ("people of the sea" in Malay) community on Pulau Semakau.
And this year, the family participated in the porridge distribution with a twist. Earlier this month, a week into Ramadan, they made and distributed from their home in Jurong West their orang laut version of the iconic dish: Bubur lambuk ikan tenggiri.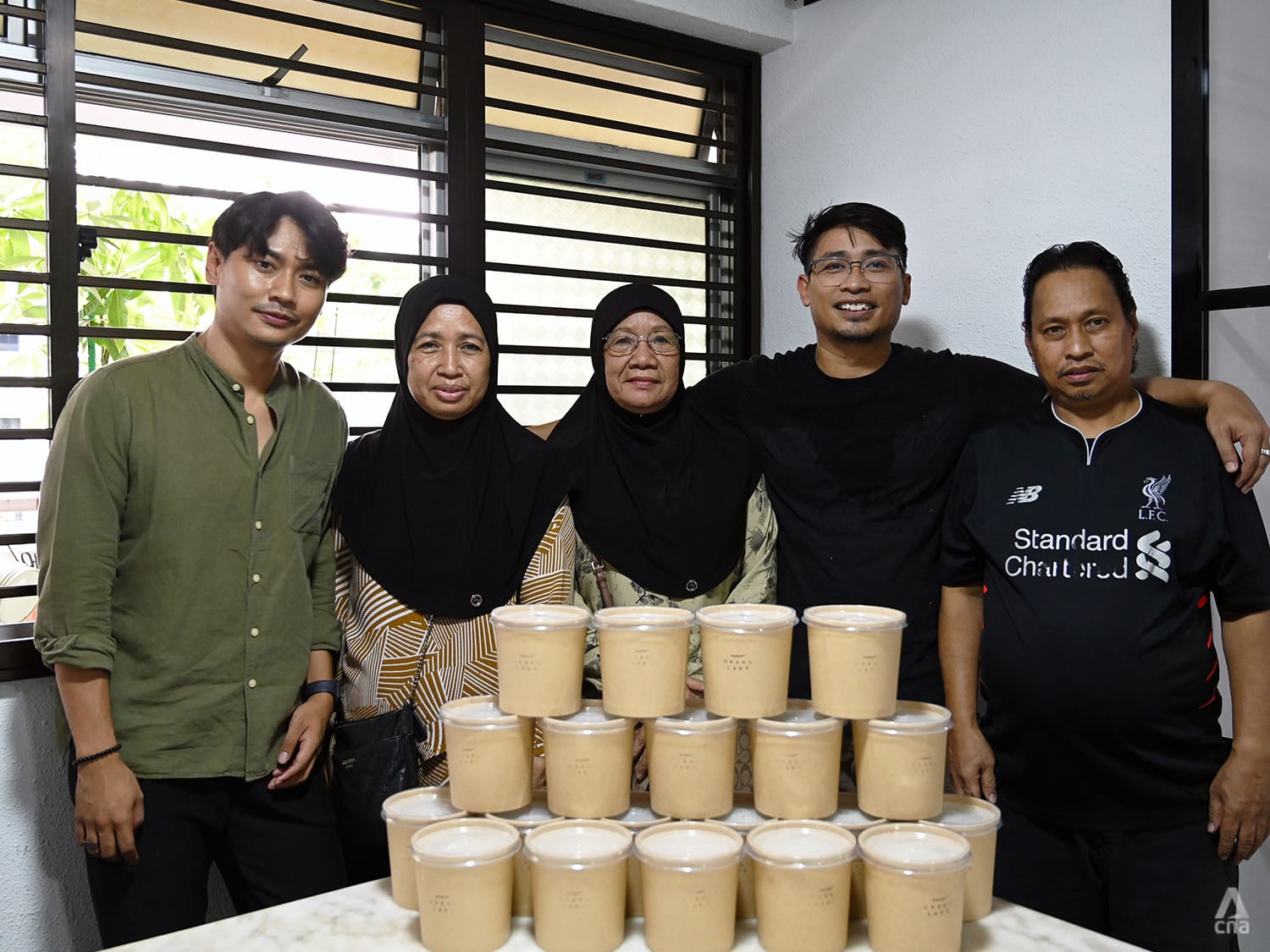 It was the second time Orang Laut SG had given away their porridge for free, in an effort to give thanks for the blessings their little business has received. At the same time, it was a way for the family to reach "those who know very little or would like to know more about our maritime culture in Pulau Semakau", said founder Firdaus Sani, who is a fourth-generation orang laut descendant. 
According to Firdaus, livestock was scarce in the community, so fish – such as the seasonal ikan tenggiri (mackerel) – was a staple. He added that his family used a traditional method of fishing called "menjaring" (gillnetting) to catch mackerel. The gillnets made it easier to catch more mackerel as they usually swim in huge shoals.
"This recipe was actually a solution to food sustainability on the island," Firdaus explained to CNA Lifestyle when we joined their distribution event. "Because they did not have a fridge, after fishing and selling what they could, the remaining fish would be deboned and ground into a paste to avoid food waste." Along with the fish paste, simple ingredients like black pepper, lemongrass, garlic and onions are added to the bubur for flavour.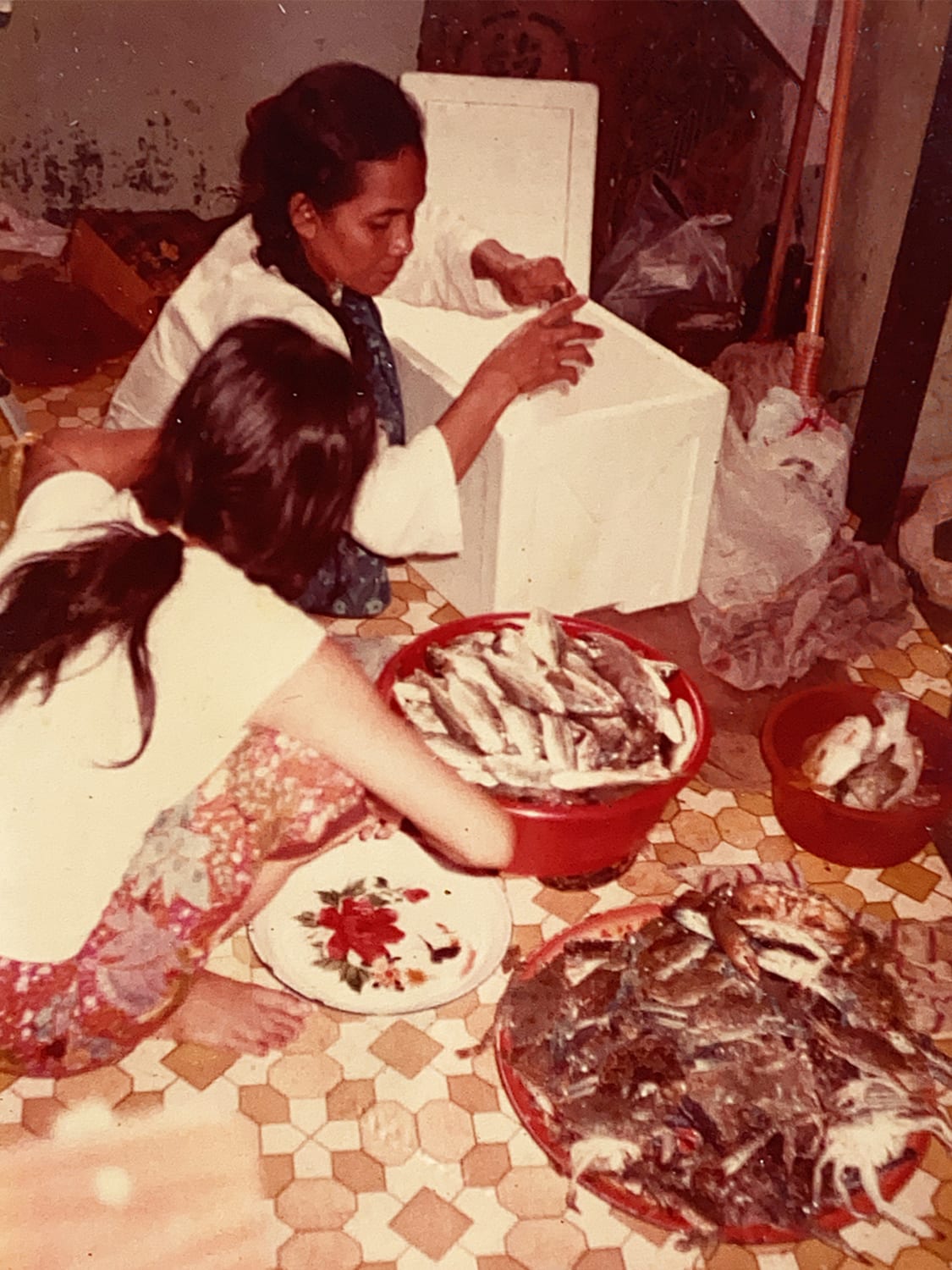 The bubur lambuk ikan tenggiri recipe is a family heirloom that has since been passed down to Firdaus' mum and aunt, Nooraini Rani and Rohaini Rani. 
"This dish brings me back to the island when my mother would cook this dish during Ramadan while we sat around her, waiting to be served," Rohaini reminisced. "She would use the mortar and pestle to grind the ingredients and when there was more fish, we had to borrow our neighbours' mortar and pestle. Today, we just use the blender."
In Singapore, bubur lambuk (porridge) is a favourite dish often taken and distributed to others during iftar or sahur during Ramadan. Orang Laut SG recently distributed a version more familiar with former residents of Pulau Semakau.
Lemongrass was easily available on the island as they had neighbours who grew lemongrass on their plot of land. For other ingredients like garlic, onions and spices, the family had to purchase them from one of the three provision shops on the island, which got their supplies from mainland Singapore.
"Today, we can easily purchase our ingredients from the market. But for the freshest mackerel fish, we have to visit a few markets," she said. Any fish can be used for this dish, but the mackerel fish is preferred as it is fatter than other fishes and has fewer bones.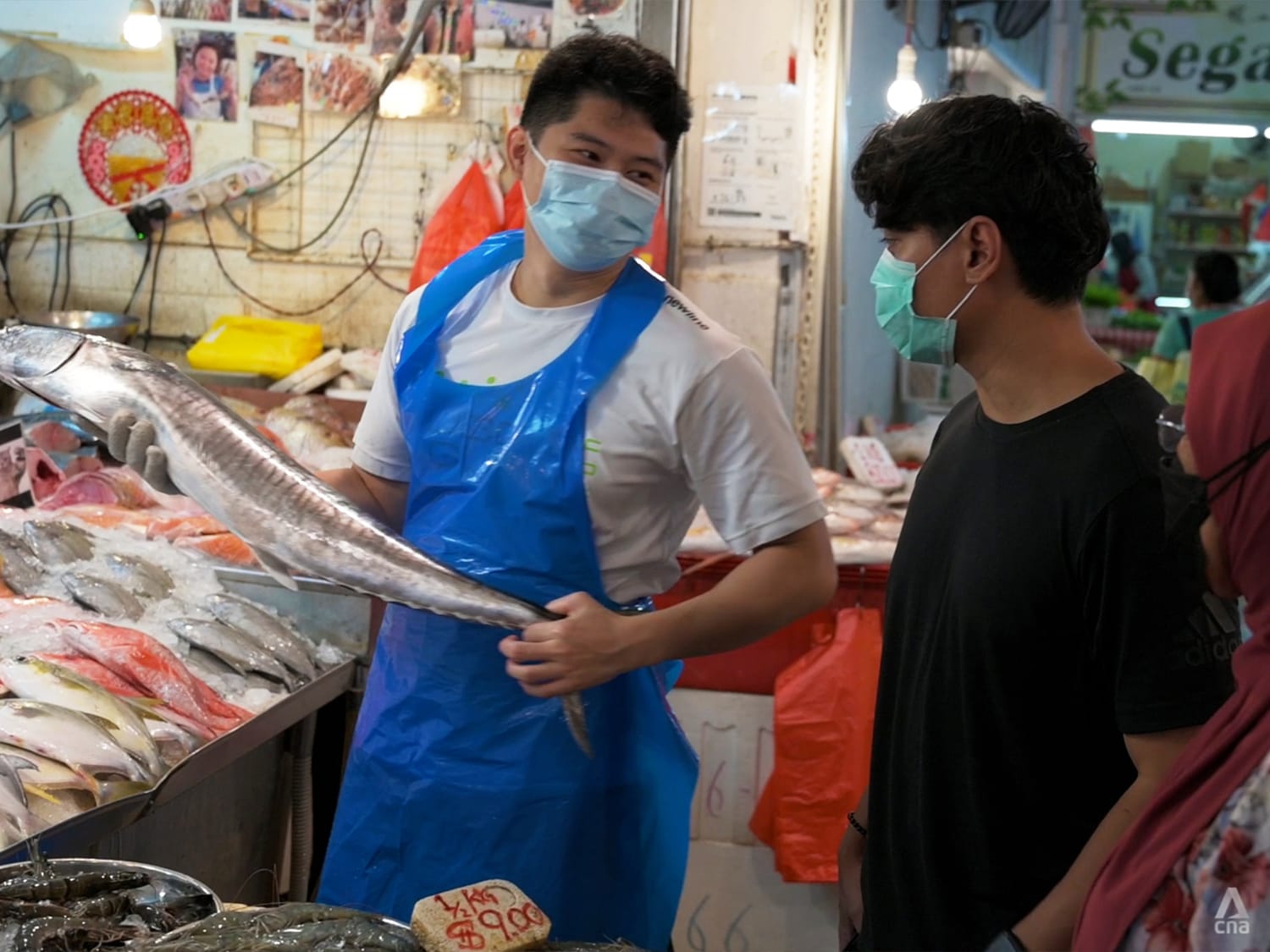 When CNA Lifestyle asked the family why they decided to cook for the community for the second year in a row, the sisters said they were taught by their late father that one does not need to have a lot to be able to give.
"We faced a lot of hardship growing up on Pulau Semakau, but we always shared our food and resources. We want to continue the spirit of sharing and giving as we did on the island, especially during Ramadan," Nooraini said.
"On Pulau Semakau, we could just walk from house to house to share our bubur. Today, people regardless of race and religion travelled all the way to our home to taste our cooking and to learn more about our culture. It really warms my heart," she continued.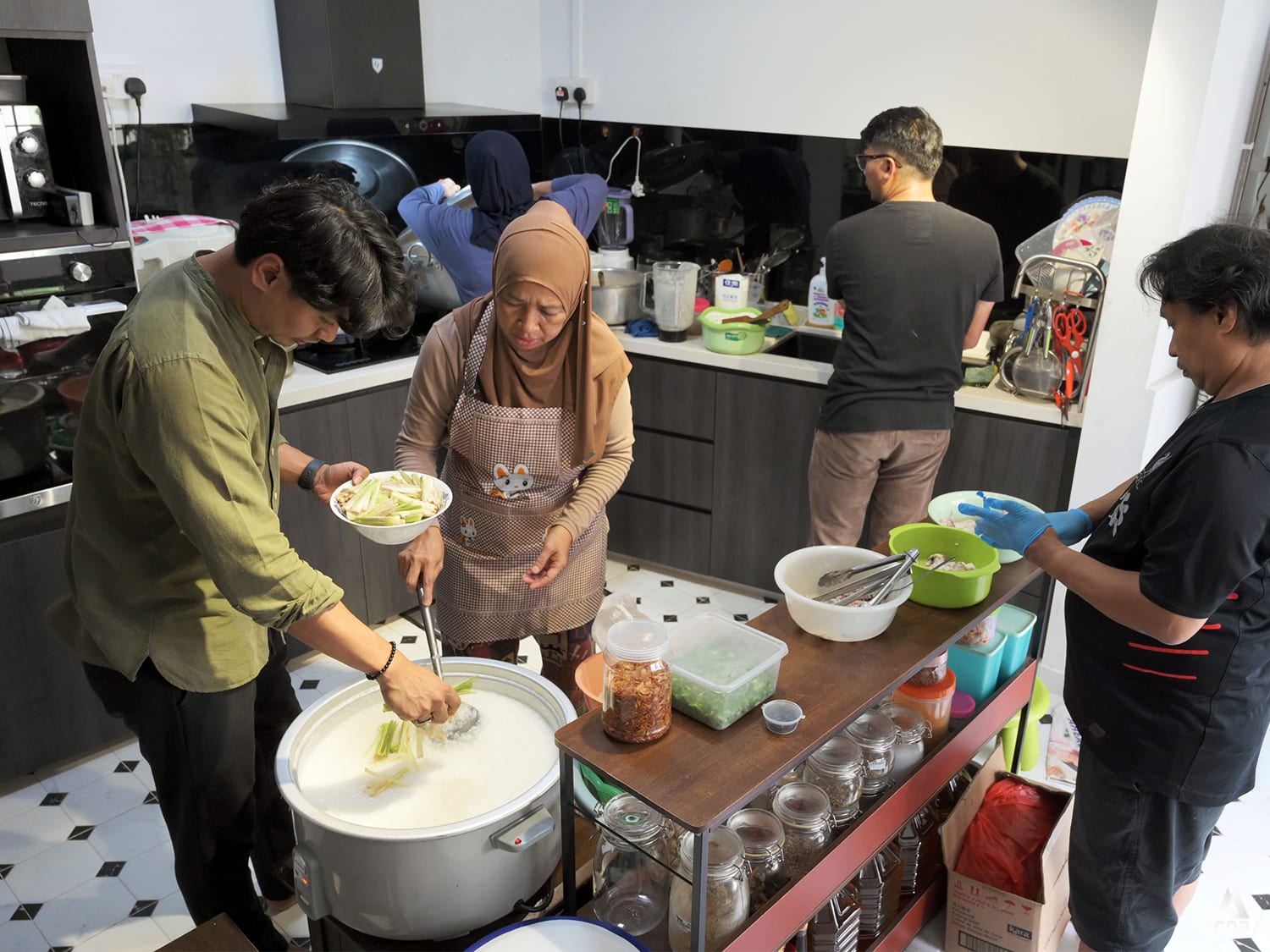 To ensure a decent turnout, Firdaus had put a shout-out on Orang Laut SG social media, not only welcoming fellow orang laut community members, but also families in need and those interested in their culture, to come to their home and collect some bubur.
"I was initially quite nervous because who would travel all the way to Jurong West on a Saturday just to receive a bowl of porridge? But like my mum said, we were overwhelmed by the exceptional turnout, which was really encouraging."
This distribution also proved to be an opportunity for old friends from the islands to reconnect.
"When we resettled in Singapore, I lost touch with some orang laut community members. We do not know where some of them are today. Through this distribution, I was able to meet some of them, not only from Pulau Semakau but from neighbouring islands like Pulau Sudong, Pulau Seking and Pulau Salu too," Rohaini explained.
Asnida Daud, whose grandparents are from Pulau Sudong, told CNA Lifestyle she had looked forward to the distribution as it felt like a family reunion.
"It was a very happy occasion for me. Not only did I manage to get my hands on the bubur lambuk ikan tenggiri, which is a very special dish to me, I also met the talented cooks and fellow maritime community members," she said happily.
At the end of the event, Firdaus and his family looked exhausted, but said they were confident they would continue to organise the initiative every year. 
"Not only does this activity bring us closer together as a family and community, I think it is a significant way to mark Ramadan with my great grandmother's recipe," he said.