Big crowds, big dreams: Meet Jeff Ng, the 'Cathay busker' who became a TikTok phenomenon
What's the story behind the Singaporean busker whose performances have gone viral in recent weeks? CNA Lifestyle talked to Jeff Ng, aka JeffHelloMusic, about his musical journey from a cafe to Chinatown, and his plans for the future.
Two weekends ago, a busker walked out to the steps outside of The Cathay and plugged in for one of his regular performances. He was expecting the usual handful of people who knew him from his pre-pandemic Chinatown gigs and curious random passersby.
Instead, Jeff Ng aka JeffHelloMusic ended that Saturday night (Jun 18) performing in front of an estimated 2,000 people – and becoming a TikTok viral star.
Clips circulated on social media of the musician performing, surrounded by a sea of lights as the audience sang along to his songs and waved their mobile phones as makeshift light sticks.
"I even teared up a bit," the 32-year-old told CNA Lifestyle.
And it wasn't a one-off but the start of something special. A few days later, Ng witnessed the same at his weekday Wednesday gig at Marina Bay Sands' Mist Walk. By the time he was back at The Cathay on Jun 25, bigger crowds were waiting for him.
Ng had, to his amazement, become a phenomenon. "I really didn't expect the audience response to my performance to be so good," he admitted.
"The singalongs and the waving of light sticks and mobile phone torches really touched my heart."
"WAITER BECOMES SINGER"
Ng's musical career had been building up to this. Having grown up in a Chinese-speaking family, he recalled spending most of his time listening to Mandopop – Ng is an avid fan of Singaporean artiste JJ Lin and Taiwanese singer-songwriter Jay Chou.
"When I (play) basketball, I listen to their songs. That was how I learned to sing Mandopop," he shared.
At 17, Ng knew he wanted to be a musician, and started to learn how to play musical instruments. In an interview with 8Days, he recalled joining a Chinese singing competition organised by Ark Music School and coming in first.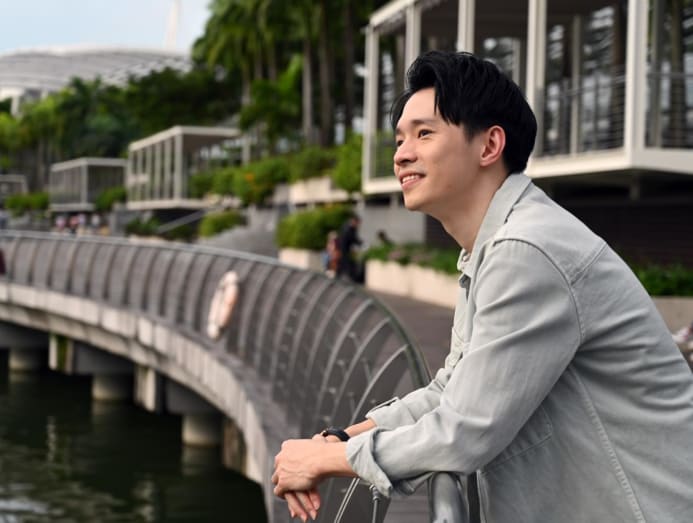 He later worked as a waiter at the Ark Music Cafe, where he would sing along to the open mic performances while making drinks. His then-boss noticed his singing and urged him to audition to sing at the cafe. Expectedly, he got the job.
"For most people, it was audience become singers. (But for) me, it was waiter becomes singer," he said with a laugh.
CHINATOWN GIGS AND PANDEMIC BLUES
Ng would eventually go on to perform as a resident keyboardist and vocalist at various bars and restaurants. "I believe that everyone should start from there," he said, adding that performing in bars gave him a steady income and provided "good exposure to know your bandmates".
After two years of National Service at the age of 22, he became a keyboard and vocal instructor at the Ark Music School and taught students from the beginner to advanced classes.
He also performed at various outdoor and indoor events, including hotel weddings, and directed shows at the cafe where it all began for him. At some point, he also released a self-funded EP of original songs.
He began busking in 2018, when he was invited by the Singapore Tourism Board (STB) and the Chinatown Food Street Organisation to perform for two months – which became two years.
"I decided to be a busker as I realised that my music was able to bring happiness and enjoyment to my audience, which motivates me to continue doing what I do," he said.
The pandemic in 2020 – with live performances and busking halted – threatened to stifle the aspiring musician's burgeoning career, but he found a way around it.
Ng took his music online and began freelancing as a music instructor. "(COVID-19) forced me to grow out of my comfort zone," he shared. "I started livestreaming on various apps and platforms. This allowed me to reach out to international viewers and I even managed to get international students to attend my lessons via web classes."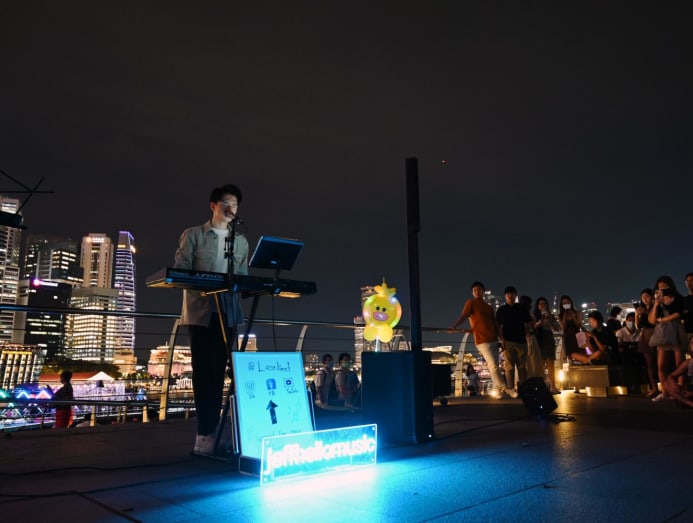 And when the busking rules started to slowly relax, he jumped right back in. "The first thing I did was get a busking license," Ng said.
"I just wanted to see how I could bring back my performance to my fans who have been supporting me since my Chinatown days."
LOYAL FANS AND BIG DREAMS
And that support has since grown beyond his "very loyal Chinatown fans" (pre-viral TikTok) to include new converts.
Among the latter is 19-year-old student Shanice Zhuang, who caught one of Ng's performances at Marina Bay Sands with her friends.
"We first chanced upon him two Fridays ago. We intended to come to iLight, but we heard someone busking Ni Guang by Stefanie Sun… It is one of our go-to karaoke songs, so we stopped, and we cancelled our whole iLight plans just to sit here," she said, adding that she has also caught other performances with her grandmother, and with friends and family.
"We are quite into Mandarin Chinese songs so the songs he sings are suitable and very relatable to us."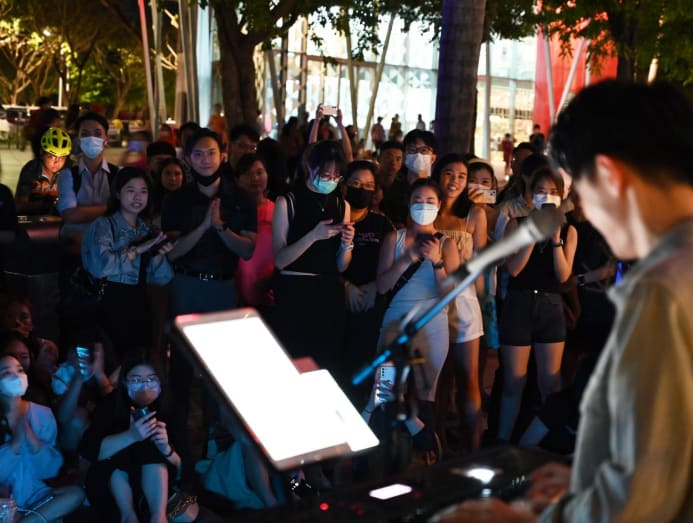 Ng's Mandopop performances have undoubtedly struck a chord with a lot of people – and it's come full circle for the aspiring musician who loves listening to his idols.
"Now I know how JJ and Jay Chou feel when (there are) millions in a stadium… and this is really enough," he shared.
Of course, this could just be the beginning of something even bigger and Ng has a wishlist of things he'd like to achieve.
One of his big dreams is to perform at the Singapore Indoor Stadium and hopefully work with his idol Lin. "I look up to him very much… I hope to follow in his foosteps." 
He also hopes to hold concerts at the Star Performing Arts Centre or the Esplanade soon and revealed that he's in discussions with recording labels that have reached out to him. A second EP is also in the works, which will comprise four to five original songs.
"I intend to expand my career as a musician and eventually open a music school so that I can share my love for music and educate the next generation. I would also like to do some artiste management work to help propel the dreams of other aspiring musicians and talents," he added.
Busking in the streets, however, will always be special to Ng, who said he will continue to do so. "This is where I have achieved my success and I think we must not forget where we started from," he said.
"You may not always get what you want, but I believe that with diligence and determination, you will eventually reach your goals," he said.
Jeff Ng started his musical journey years ago while working as a waiter in a Chinatown cafe. Since then, the Singaporean busker has gone viral on TikTok and he now draws huge crowds whenever he performs. He told CNA Lifestyle his story and his plans for the future.