A 'possessed' Hong Huifang, an 'intimidated' director, and why Ajoomma is the Singapore film you must watch
First-time feature film director He Shuming and veteran actress Hong Huifang tell CNA Lifestyle all about making Ajoomma, a movie that people can relate to, identify with, and is ultimately  "worth your time and energy to watch".
Unless you're living under a rock without Internet, you've probably heard how Ajoomma – the first ever Singapore-Korea co-production helmed by first-time-feature film director He Shuming and starring veteran Mediacorp actress Hong Huifang – is currently setting the Singapore cinematic scene on fire.
Apart from selling out all three of its world premiere screenings and receiving rave reviews at the recent Busan International Film Festival, the movie is also in the running for four Golden Horse awards, including Best Leading Actress for Hong and Best New Director for He. And yes, Singapore has also selected the film as our country's Best International Film contender for next year's Oscars.
For the uninitiated, Hong plays a Korean drama-obsessed Singaporean widow who ends up getting lost in Korea while finding a new purpose in life. She stars alongside several popular K-drama names, including Jung Dong-hwan (Mine, Hotel Del Luna), Kang Hyung-suk (Hometown Cha-Cha-Cha, Crashing Landing On You) and Yeo Jin-goo (Hotel Del Luna, Beyond Evil). Singaporean actor Shane Pow is also in the cast, playing Hong's son.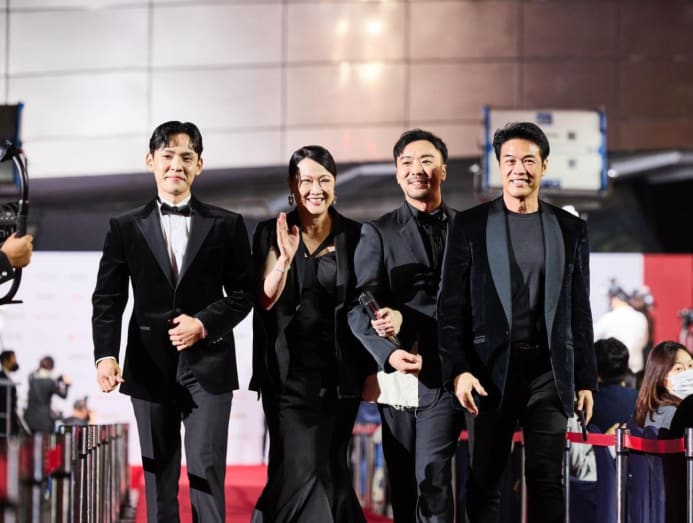 It's been a whirlwind ride to say the least, but Ajoomma was actually a dream come true that's been a long time coming. To be specific: Seven years for director He and 40 years for Hong.
The pair opened up about their journey to CNA Lifestyle over lunch at Summer Hill bistro at Claymore Connect, serendipitously just before it was announced that Ajoomma nabbed the coveted Golden Horse Award nominations. 
"This is my lucky place! Look at the golden archway – perfect for Golden Horse!" screamed Hong after her Best Leading Actress nomination announcement.
Being right here in the moment with Hong and He, one can't help but feel their hard-earned, well-deserved jubilation.
And understand perfectly when Hong tells CNA Lifestyle that she believes she "manifested" her leading lady role in Ajoomma.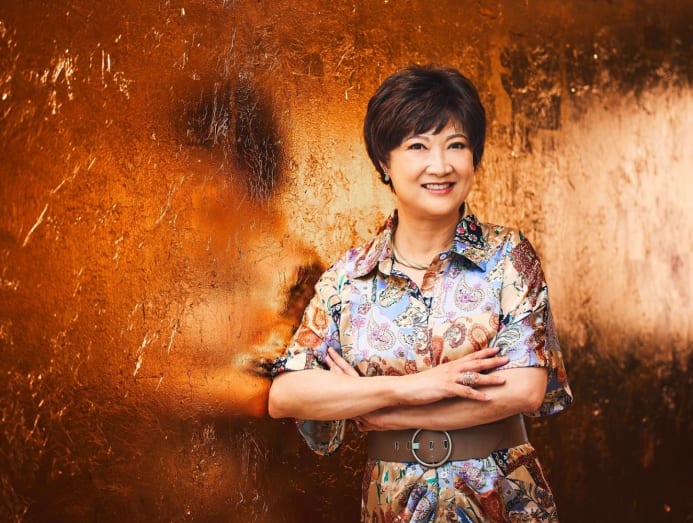 "Back in the day, when I was very young, like 20 years old, I was always envious of my fellow colleagues who got to travel to Korea to collaborate on dramas there. Back then, I was given the chance to travel to China for collaborations but never Korea," she shared candidly.
"It was always my dream to go film in Korea, but it never happened. I really didn't think that at 61 years old, I'll finally get a chance to do it. And a leading lady role!"
"I think I manifested it!" she added with a laugh.
For He, it took seven years for the idea of Ajoomma to come to life. It was a story inspired by his mother, who would "go on and on about the many K-dramas she was watching at any one time," that he first shared with the film's producer back in 2015 – a certain Golden Horse winner named Anthony Chen.
According to He, the script was well-received but faced numerous rejections, no thanks in part to the COVID-19 pandemic and the fact that he was an unproven first-time feature film director.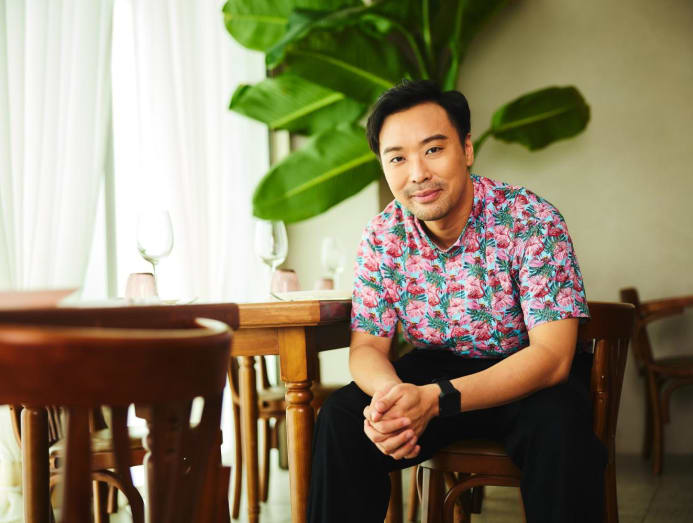 But here they are seven years later, and with the backing of the Singapore Film Commission, Korean Film Council and Seoul Film Commission, the movie's about to open nationwide on Oct 27.
Perhaps it's more than just serendipity how Ajoomma came to be. After all, who'd think to cast a 61-year-old actress, who's known for her supporting actress prowess, in a leading role and alongside Korean stars at that?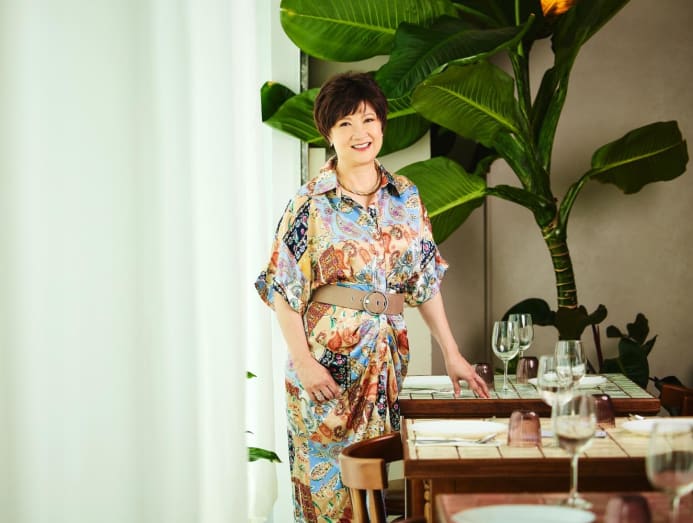 Surely not Hong herself, whose breakout role was 36 years ago in the 1986 Channel 8 period drama Samsui Women.
"I remember going for the (Ajoomma) audition. I wore my pyjamas, and went without makeup and without eyebrows! I wore glasses, a hairband to hold back my curly white hair and I just walked in," she shared with a laugh. "I was, okay let's go!"
She added: "I also thought the main character was the son (played by Pow). I didn't know it was me!"
And boy did it work. He told CNA Lifestyle that once he saw Hong's audition – a phone call scene where she was talking to her son abroad – he knew she was his leading lady.
"Everything was just right. It felt correct!" he shared. "Her instincts were right, she understood the role perfectly."
And yes, He was "intimidated" the first time he met Hong.
"I always saw her as Hong Huifang the celebrity, and we all grew up watching her on TV right?" he revealed. "So I was intimidated! But I have to be honest, I knew she could act but this was something else."
Indeed, fans have always known Hong to be a great supporting actress. But Ajoomma has positioned the mother-of-two grown children in a totally different light.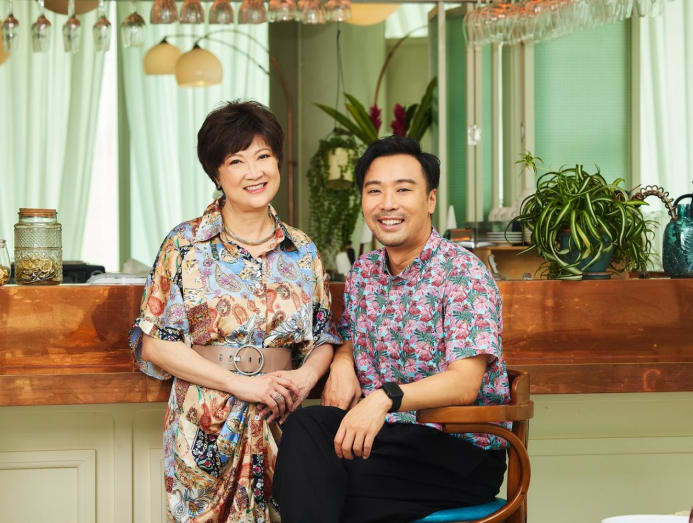 Hong admitted that for her, being able to act in "the role of a lifetime" meant she now has "no more regrets in life". 
Filming Ajoomma, shared Hong emphatically, has been "the most beautiful and rewarding thing" she's ever done in her entire professional career. A large part of it, she attributes to her young director.
"I've learnt so much during this film. I learnt a completely different way of acting from what I'm usually used to," she shared. "Shuming is a wonderful director and an old soul, and when I sit down with him and the crew, we always share and discuss how to 'feel' the role and deliver the performance. It's mindful acting and I feel deeper in a role like this like no other."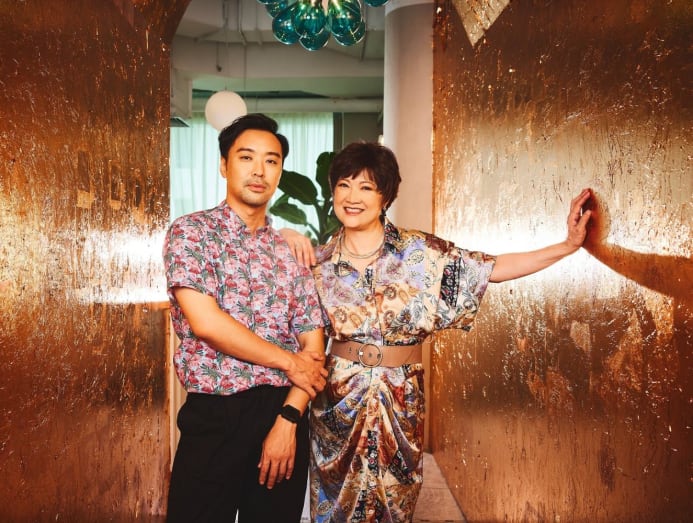 While she did put pressure on herself to do her very best, Hong said she enjoyed filming Ajoomma in Korea with He and the crew so much, she was extremely sad on the last day of shooting overseas.
"I  was thinking to myself that my dream is almost over! I didn't want to go to bed the last night there because I don't want to wake up and go back to reality!" she quipped with a laugh.
This experience, she revealed, is exactly why she enjoys working with younger people. 
"I still have a lot of things to learn from young people. The old generation might have one way of acting, but a new generation has a different way of doing things," she said. "In this industry of ours, one should never stop learning!"
As for He, it was a two-way street. "It's a mutual learning process for us. It was a real understanding. When we workshop together, we talked a lot. We shared a lot about our own lives and it got very personal and we got very close."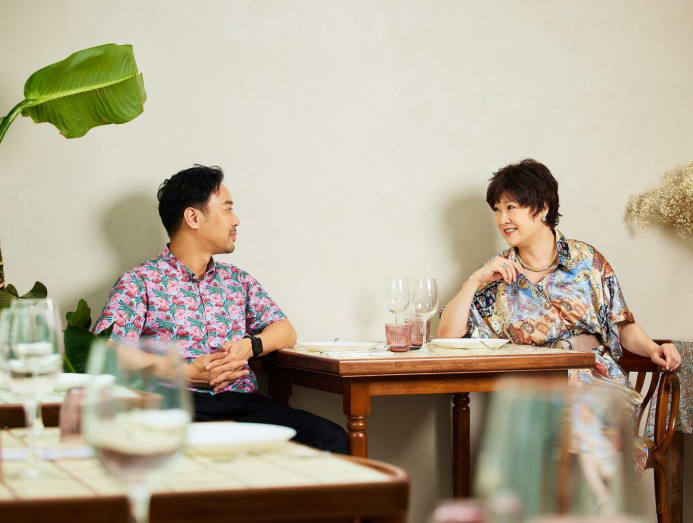 Over the course of a year, both He and Hong "workshopped" the character on and off. They would also watch other films together and then discuss them at length after.
"We watched Minari, Nomadland and The Lost Daughter," shared He. "And oh, Marvel's Shang-Chi. We then talk about the specific performances of the actors after."
Chimed in Hong: "Oh I really enjoyed this homework he gave me, watching films I would not have watched otherwise. I especially loved Nomadland!"
He explained how Hong brought with her "the kind of experience you cannot find anywhere else".
"It's not just from all her years from working on television dramas, but also her life experience comes into play. She took in so much of her different parts of her life into this character. To see her build this character was just very interesting to watch."
He continued: "I remember asking her once if she had found her voice already. And then she replied, 'Once I do my wardrobe, once I do my hair, I'll be possessed. It'll come!'"
"Yes, I become possessed!" interjected Hong with a laugh.
"And it did come!" replied He.
According to He, that kind of confidence, to understand and to "get" that role, all really comes from experience.
"Also, her stamina is unparalleled. One of my concerns is that shooting in Korea, it's an environment new for all of us. I want to be able to show that we have talented actors from Singapore," He said. "She's a veteran actor, she wasn't going to let us down. And she didn't."
Hong chimed in: "I sure cannot let myself down!"
The one thing He shared he learned from Hong: Work ethic.
"She went above and beyond…that was the one thing I've learnt from her," he said.
It's been a long but fruitful seven years for He since finishing graduate school at the American Film Institute. And the talented and eager filmmaker knows he's in unique position, having his first film released in a completely new world, post-pandemic.
"It's a different climate – the way we consume content is very different," he shared.
And now with his long-gestating Ajoomma finally out there on the big screen, he is focused on one thing in mind: "How can my film drive people back to the cinema?"
"This is a film that I hope people can come to watch because it's made for the cinema. I would like to take you to that world of watching Korean dramas come alive, and experience life through the lens of this auntie, who is just like our mums, our aunties or a friend of ours," he said.
"She's someone we can all identify with. I think we can also recognise the relationship some of us have with our families, especially in this part of the world," he continued. "And then after, we can all come out of the cinema feeling a little more hopeful. Like how Huifang and I did our 'homework' watching and discussing film, I hope audiences will do the same with our little film. I hope Singapore can feel the love and sincerity we all poured into Ajoomma."
He's debut film is entering a Singapore film scene he believes is "still very exciting".
"I mean there are so many filmmakers coming out with new work, whether it's my generation, or a new generation or even my seniors. Everyone is coming out with films that will worth your time and energy to watch. And I'm just happy to be part of this."
Ajoomma opens in all Golden Village cinemas in Singapore on Oct 27.