South Korean stars Lee Seung-gi and Lee Da-in marry in lavish hotel wedding ceremony in Seoul
The bride and groom looked stunning against the noir-themed backdrop of their star-studded wedding at the Grand Intercontinental Seoul Parnas hotel in Gangnam. 
South Korean star Lee Seung-gi married his actress girlfriend Lee Da-in early this April in a glamorous wedding at a five-star hotel in Seoul. 
The duo, who had been dating since 2020, looked spectacular in photos widely circulating on social media, with the male Lee looking dapper in what appeared to be a black velvet suit. His bride donned an incredible white ballgown bedecked in lace and glitter, complete with a diamond tiara. 
Seung-gi, 35, and Da-in, 30, first announced they were getting hitched in February, through letters posted on the former's social media pages.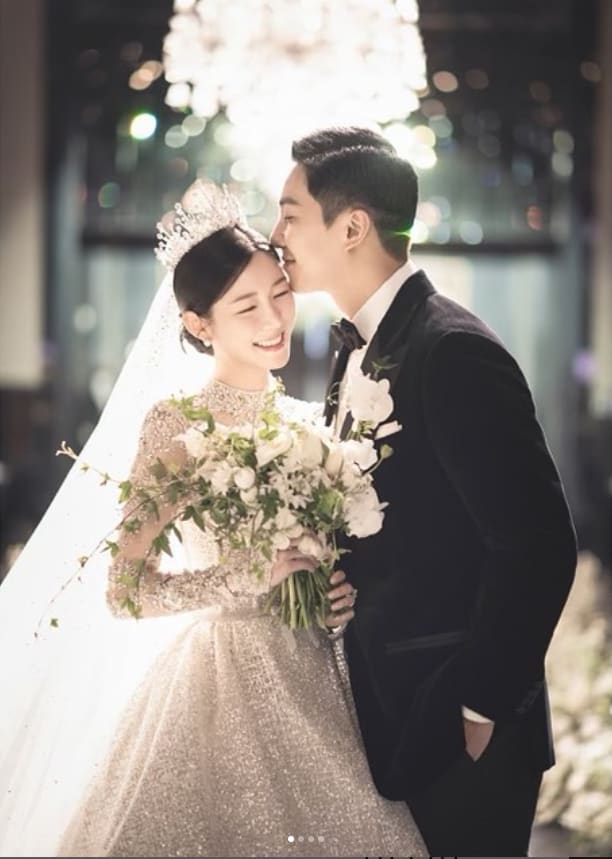 Photos of the happy couple appeared on the Instagram account of Seung-gi's agency Humanmade on Saturday, several weeks after the wedding, which was said to have taken place on Apr 7.
The lavish event, held at the Grand Intercontinental Seoul Parnas hotel in Gangnam, was a star-studded affair, featuring guests like BTOB's Yook Sung-jae, Lee Sang-yoon, Yang Se-hyung – Seung-gi's fellow cast members on the reality show Master In The House – host-comedian Kang Ho-dong, actors Lee Dong-wook, Yoo Yeon-seok and Lee Se-yong, as well as members of K-pop groups like FT Island, Seventeen and Super Junior. 
The wedding was also reportedly hosted by comedian and Running Man star Yoo Jae-suk. 
"SOMEONE WITH A LOT OF WARMTH AND LOVE"
In a letter posted to his Instagram in February, Lee Seung-gi announced he had decided to "spend the remainder of (his) life with Lee Da-in, who is the daughter of veteran Korean actress Kyeon Mi-ri. 
"She is someone with a lot of warmth and love, and she is someone I want to keep by my side forever. I want to share our happiness together, and even if there are difficult times in life, I want to overcome those difficulties together without letting go of each other's hands.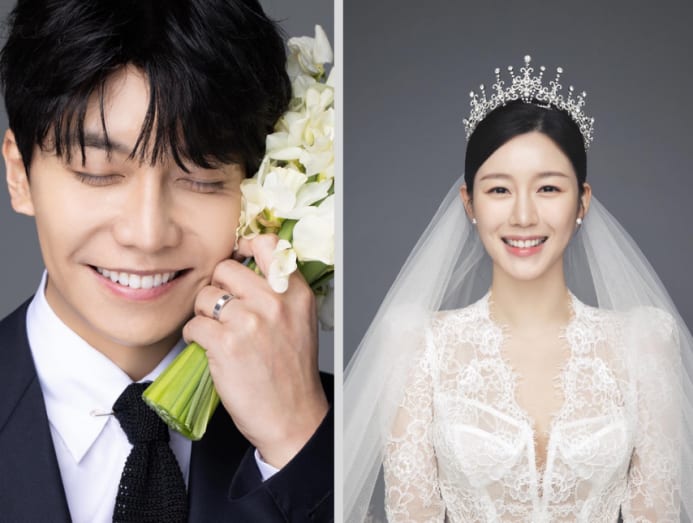 "I hope you will show support for our future ahead, and we will live happily while continuing to give back to others," Seung-gi had written in Korean. 
Seung-gi, an accomplished actor and singer, and a seasoned host on the Korean reality TV circuit, was last in Singapore in 2018, for a fan-meeting event to promote the action drama Vagabond. 
He will next perform in Singapore in June as part of his Asian concert tour, The Dreamers' Dream – Chapter 2.