The Singaporean creating yummy snacks from 'ugly', unwanted vegetables for a good cause
Betty Lu is the founder of Confetti, a snack brand that saves carrots, mushrooms and more veggies from the bin.
If you had told me a few years ago that my favourite snack while working would be dehydrated, flavoured, ugly vegetables that would have otherwise been discarded, I probably would have laughed at you. But then again, none of us thought we would spend the vast majority of the last two years working from home and gaining far too many pandemic pounds.
In a quest for healthy, nutritious snacks, I discovered Confetti. The packaging is fun and colourful. I love that it's a local brand – you know me, I always try to support local! And reviews I found on the Web when I did a preliminary Google search were all very positive. I grabbed a bag of the Truffle flavoured veggies and within a few bites, was instantly enamoured with these absolutely delicious vegetable chips. I immediately went online and ordered up every flavour they make, just to try them.
Confetti was founded in 2018 by Betty Lu, a (now) 34-year-old Singaporean. The inspiration came three and a half years into an epic around-the-world trip. Once I additionally found out that Betty donates product and proceeds from Confetti to charities that address food security and hunger, I knew I wanted to speak with her.
HI, BETTY. AFTER WORKING FOR JUST A FEW YEARS, YOU DECIDED TO GO ON YOUR AROUND-THE-WORLD JOURNEY. TELL ME HOW THAT CAME ABOUT.
Being a cog in a corporate wheelhouse wasn't cutting it for me. I kept dreaming about the world out there, what fascinating secrets each place held, what strangers I would meet who could change me in some tangible way. I felt like I needed a fresh perspective. It's important to live to the fullest, take some risks, see the world and make something beautiful before our limited time on this planet is up. I guess I wanted to travel to gain some perspective to inspire me to create something that could bring joy to myself and the world.  
DID YOU ALWAYS PLAN THE TRIP TO BE THAT LONG OR DID THAT JUST HAPPEN?
It was supposed to be longer. I planned a nine-year trip to see every country in the world, all 195 of them. But after three and a half years, I chanced upon an idea that could actualise my creative energy and make an impact. Confetti was created to upcycle food waste from imperfect produce or crop surpluses into a range of gourmet snacks that are nutrient dense. I also believed I could use this business as a force for good to contribute to humanitarian hunger relief efforts.
I will definitely get back to travelling after this project has reached its potential in target markets. Travelling is important creative fuel and it also strengthens empathy and the human connection. Our creative output is only as good as the quality of the input we receive.
TELL ME ABOUT THE INSPIRATION FOR CONFETTI.
I'm an avid hiker, paraglider and diver. But I have always found it a challenge to carry fresh fruits as I explore the great wilderness, as they are heavy, bulky and perishable. Potato crisps give me a terrible sore throat. I started experimenting with fresh produce from farmers' markets when I was in Canada, slicing veggies and testing them with Singaporean flavours from the food I missed back home. I was able to turn them into crunchy perfection. I shared it with my neighbours and friends and everyone loved it. So that's why I returned home to Singapore to start Confetti.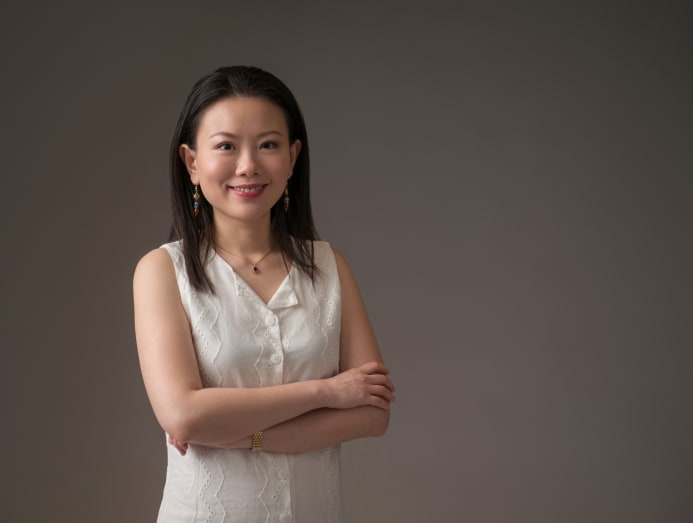 HOW DID YOU KNOW THIS WAS A VIABLE BUSINESS?
I had a solid test market with a beta product that people loved and would pay for. That was sufficient impetus to turn that into a real company. I saw so much beauty in my travels and also, so many challenges with supply chain inefficiencies, hunger and poverty. It made me think, 'How can we build a food company that makes a true difference for millions of lives?' It made absolutely no sense to me that 2.8 trillion pounds of edible produce – nearly one third of agricultural output – are discarded annually while an average of 8.6 million people die from hunger and malnutrition each year. How can we turn valorised produce into something special that the world can enjoy? We have a solution to both issues with Confetti using business as a force for good, and hopefully it brings joy, adventure and colour to the world.
HOW DIFFICULT WAS IT TO GO FROM HAVING AN IDEA FOR A BUSINESS TO ACTUALLY SETTING ONE UP?
An idea has to work with so many components to turn it into a proper business. We needed manufacturing, human talent, R&D, lawyers, accountants, designers, funding, consumers, retailers, distributors, logistics, all working in the same synchronised heartbeat in order to actualise a commercial product. An idea lives in its protected bubble of idealistic perfection, whereas a business has to thrive in real world environments with constantly changing conditions. It's like playing chess, where we need to predict what the next three moves will be and take measured risks based on variables that change swiftly. One needs to be very scrappy at the start and make something from nothing, and that takes creativity and tenacity, and finding ways to make it work with very little resources.
WHAT WAS YOUR BIGGEST CHALLENGE IN GETTING THE BRAND OFF THE GROUND?
The established snack brands have millions of dollars for advertising and marketing. We need to acquire market share and brand awareness with very limited resources and a small team. That requires a lot of creative thinking out of the box, and being capital efficient and pouring resources into things that have a significant impact – to really focus on what truly matters in building a brand. I had to lift heavy boxes, set up pop-up events, stand at trade shows for eight to nine hours a day at times, pitching and handing out samples. As a founder, you do need to be a salesman, marketer, designer, finance person and media spokesperson all rolled into one. And that's a good thing – you learn a lot from wearing all these hats and it helps you train future team members as your team grows. You understand the systems behind each department of the company.
YOU STARTED OFF AS "TRISHAW TREATS". WHY THE BRAND NAME CHANGE?
We were asked at a trade show in the US what a trishaw was, and I had to explain to this buyer for 30 mins what it was and why we chose to name it Trishaw Treats. I went on enthusiastically explaining in detail how it's a traditional vehicle and it represents the Asian culture that our snacks embody. And the next question I got was, 'Where is Singapore? Is that part of China?' And I was pulling up Google Maps on my phone to show that Singapore is a separate country. I was left thinking, 'Okay, this brand is not working. It needs to sell itself on the shelves. I can't be at all the stores 24/7 explaining what our brand is about. We need to simplify the brand to its core, find that one singular message. What exactly is the DNA of the company?' We needed something that people got instantly, and a brand that had wings to fly around the globe.
We took some time to think about this over lots of hot chocolate and mints. And we decided that what we wanted to show was that snacks don't have to be made from potatoes. There is a world of colour out there, with thousands of vegetables and fruits. These colours from mother nature contain unique phytonutrients and vitamins that are good for us. They can be made into colourful snacks that are fun to eat, and celebrate authentic recipes from around the world. So on the point of celebrating, Confetti came to mind as we celebrate colours with plants and fresh produce made into crunchy, scrumptious snacks.
UPCYCLING SEEMS TO BE A GROWING TREND IN F&B. CAN YOU HELP EXPLAIN TO OUR READERS WHAT THAT MEANS?
Food loss can be due to imperfect produce that doesn't make it onto shelves because they are not the perfect size or shape. It could also be due to crop surpluses as no farms can accurately predict demand from the market. In most cases, these crops are just thrown away.  
HOW DO YOU SOURCE THE VEGETABLES THAT YOU USE FOR YOUR CHIPS?
We work with agricultural partners and wholesalers to source and channel imperfect produce and surpluses into our production. We source and manufacture regionally to keep our carbon footprint low and to maximise supply chain efficiencies. A hyper localised strategy is what we strive for in the long run, to reduce shipping costs and to get our snacks farm-to-table to maximise freshness and nutrient density while elevating the food security of the regions that we manufacture out of.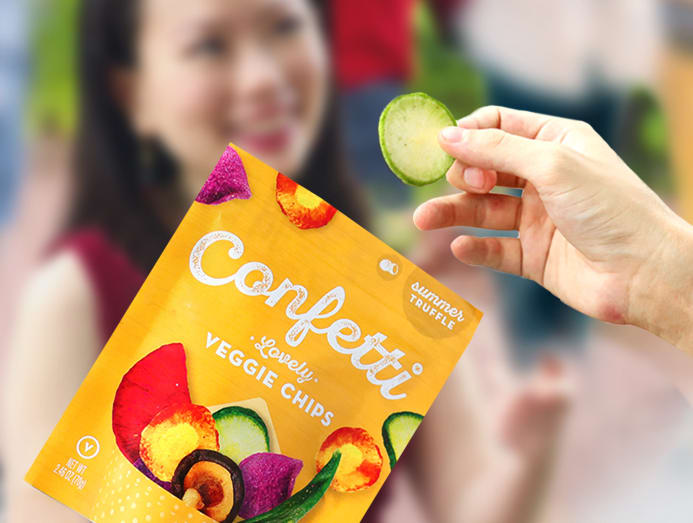 HOW ARE THE CHIPS ACTUALLY MADE?
We source edible imperfect produce or surpluses that are low in starch like carrots, radishes, mushrooms and okra, slice them into uniform pieces, and dehydrate them to remove most of the moisture. Then, we cook the vegetables gently to give them a nice crunchy texture with a good mouthfeel while retaining much of their nutrient profiles.
DO YOU FIND THAT THERE IS A RISE IN INTEREST IN PLANT-BASED SNACKS?
Absolutely. Consumer trends are moving progressively into the plant-based space as seen by the rise in popularity of brands like Oatly, Beyond, Impossible and Bare Snacks. Even Haagen-Dazs and Ben and Jerry's now have plant-based products. Consumers are increasingly aware of their impact on the environment. There has also been huge media coverage on the benefits of a plant-based lifestyle for health as well as environmental reasons. Some customers of course are just curious. I mean, the taste of vegan products has improved by leaps and bounds due to technology and it's a marvel to observe.
HOW DO YOU DECIDE ON NEW FLAVOURS? ANY EXCITING NEW ONES YOU ARE WORKING ON?
Usually by asking the most important people in the room, our consumers, what they want. Hitting the streets, letting them taste and tell us what they would like. Our mission is to make them happy, and we need to really listen to what they are saying and how they are responding. We are definitely going to continue celebrating diversity through our snacks. Perhaps something Caribbean inspired, or African, or even Korean so people can take a culinary journey around the world using snacks as a medium of travel. More exciting base vegetables and exotic fruit, too. That's exciting to us.
I UNDERSTAND YOU DONATE YOUR SNACKS THROUGH HUMANITARIAN MISSIONS. CAN YOU TELL US MORE ABOUT THIS WORK? HOW MUCH OF YOUR PRODUCT IS DONATED AND WHICH CHARITIES ARE YOU WORKING WITH?
We donate through the United Nations World Food Programme, Red Cross and Migrant Workers' Centre. We peg our growth by donating product or part of our sales to hunger relief efforts for people who can't afford food in the poorest parts of the world. We also organise and participate in hunger relief fundraisers like our #ColourForHunger Challenge. This was held recently. We asked everyone nationwide to submit colouring postcards of fruit and veggies to us via ConfettiSnacks.com. We pegged each entry to donations to the World Food Programme. Over festive periods like Christmas, we pledge a percentage of sales revenues per snack box we sell online to hunger relief efforts to feed the hungry.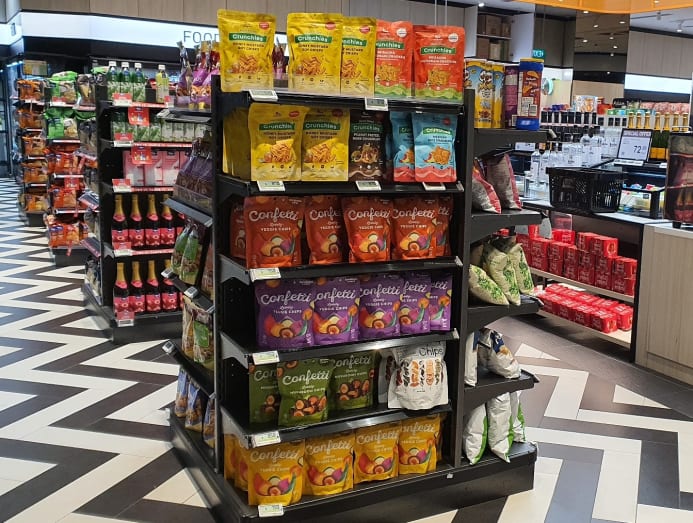 HOW HAS THE PANDEMIC BEEN FOR THE BUSINESS?  
Great in terms of demand actually. People snack more and comfort-eat more in times of uncertainty. In addition, more and more people want to feel good after indulging, so they crave a snack that is tasty and nutritious.
We have more international distributors approaching us from the Middle East, Europe, USA and Australia for our snack range. As food is an essential service, most shipping routes stay open. However, the cost of shipping has increased due to a global container shortage, and that means we need to pivot to premium channels and markets to adapt to the situation.
WHAT INSPIRES YOU?
All the Confetti Yetis who have worked with me inspire me every day. As Confetti gathers momentum, as it snowballs into more consumers' hands around the world, the process of listening to the real consumers on the ground is extremely inspiring. We run taste tests and sampling, and set up in festivals, all to have the privilege of listening to our most important audience – our consumers – in order to find out what they want and how we can improve on our snacks and come up with exciting new concepts that thrill them. We hold case competitions like the MarkeTHINK case recently that gathered teams from local universities to create their dream snack. Youths inspire us as they imagine a world that is different, and we encourage them to think and ideate creatively in a safe environment.
WHAT HAS BEEN THE BEST THING TO HAPPEN TO YOU BECAUSE OF CONFETTI?
The people I have met on this journey, hands down. These Confetti Yetis have been through the rollercoaster of storms and havens in this journey. They are some of the most passionate, purpose driven, determined, intelligent, kind and humble people I have met and they teach me so much every day. I'm grateful to have built strong friendships and learnt important lessons through creating Confetti, and grown as a human being through this adventure. This is priceless. No one can take that away from you.
ANY EXCITING PLANS FOR 2022 TO SHARE?
We are going to launch a low fat version of our snacks that is very tasty but super high in nutrients. We will feature exotic vegetables and fruits that will be fun to snack on with very interesting flavours.
We will also launch our current range of snacks in the USA and Europe, in premium channels across the UK, Benelux and Scandinavia, as we have very strong interest from these markets for plant-based snacks that feature diversity through world flavours.
We will also invest in R&D and innovation to maximise the bioavailability of nutrients in our snacks by working with leading research institutes, food scientists and our flavour house to create novel ingredients and processes that support our mission to create the tastiest and most nutritious snacks on the planet. If we can be the ideal snack that represents permissible indulgence and make consumers happy and feel good, we have a real potential to reduce food waste and tackle global hunger in a tangible way that can elevate millions of lives in the long run.