Creative Capital: The artist who paints mouthwatering food in watercolour
Victoria Moey is based in Sweden but indulges her love for home by making watercolour paintings of her favourite Singapore food with her platform Plate.to.Paper.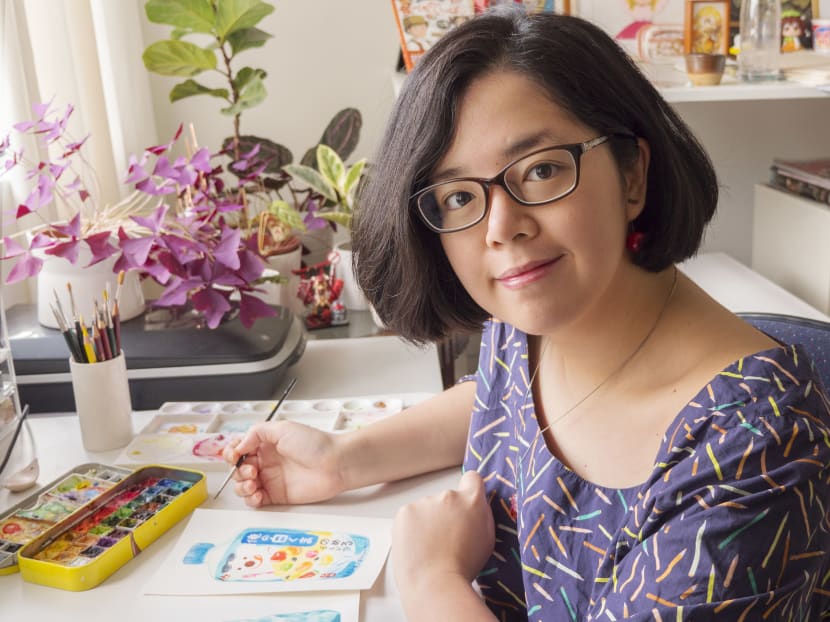 Victoria's Moey's illustrations are beautiful. They are delicate, detailed, colourful and charming. They also make you really hungry. Moey, whose freelance handle (and Instagram handle) is Plate.to.Paper, specialises in watercolours of food.
Victoria lives in southern Sweden right now, having moved there to be the Art Director of a furniture workshop. In her free time, as Plate.to.Paper, she services international clients, including some very recognisable local ones like Tiong Bahru Bakery.
Few people know that my first job in the media was in the art department of a newspaper when I was 16. Back then, I aspired to be an illustrator or an artist. And while I eventually put down my graphic pens to pound out prose on keyboard, I still have a deep love for great illustration and an even deeper respect for people who create art for a living.
I'm also a foodie, so when you consider that Victoria's subjects are all edible, you know I am a huge fan of her work.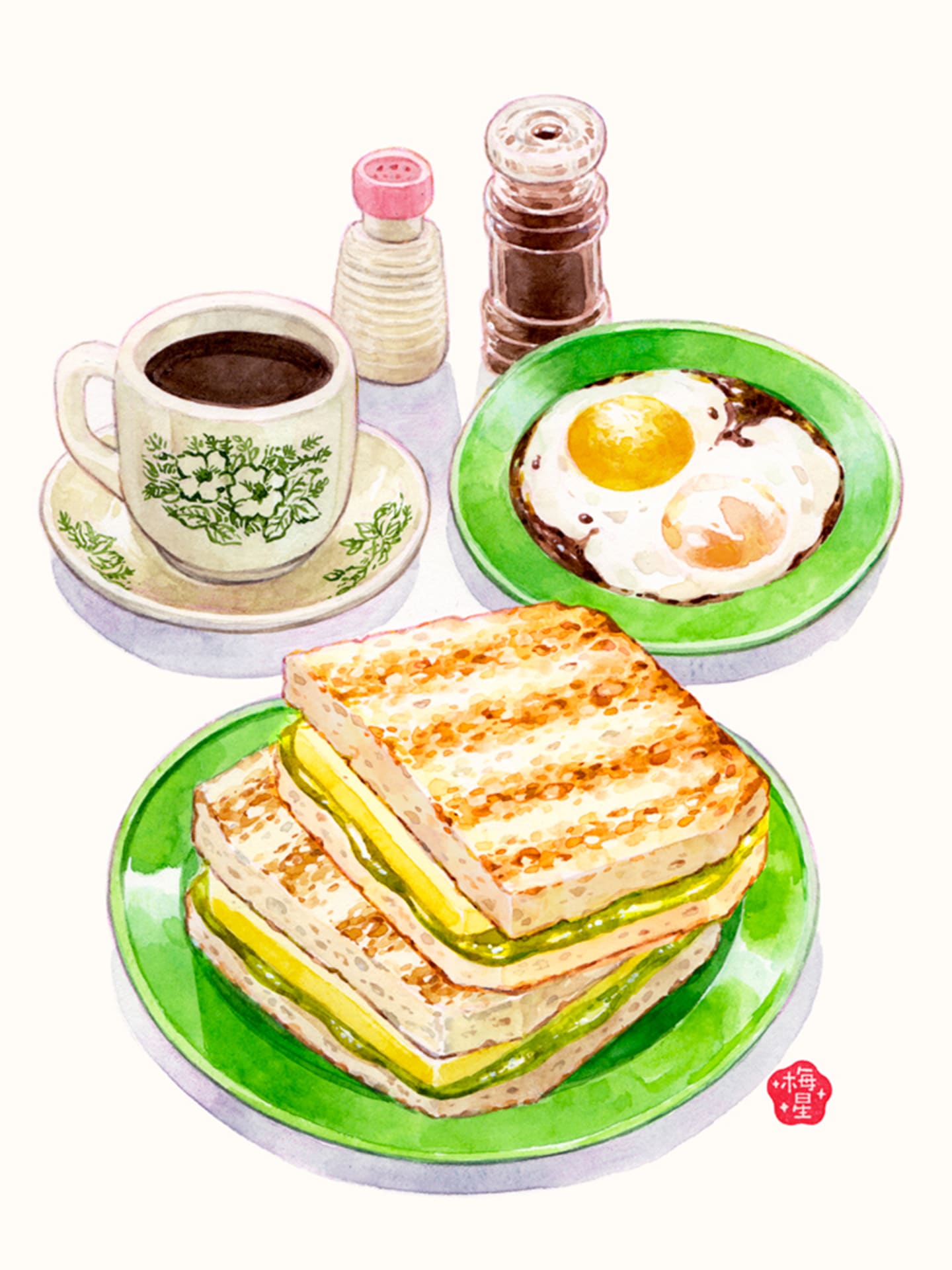 So, I couldn't resist reaching out to her for this column.
HI, VICTORIA. WHEN DID YOU FIRST DISPLAY A LOVE FOR ART AND ILLUSTRATION? AND DID YOUR PARENTS NURTURE THAT INTEREST?
One of my first art related memories was having to erase all the pencil drawings I made on my bedroom wall when I was little, if that says anything. In primary school I'd often be scribbling under the desk while class was in session. I made a small side-business of selling drawings to my classmates then, too.
Art has always been a constant in my life, for sure! My parents have a long history of being involved in local musical theatre work, and so I'm very lucky to have had that kind of understanding and environment growing up. They've always been incredibly supportive – maybe too supportive? Funnily enough, all the other five members of my family have been blessed with some level of musical talent, but that seems to have skipped me.
DID YOU GO TO ART SCHOOL? WHAT WERE THE MOST VALUABLE THINGS YOU LEARNED FROM YOUR TIME IN SCHOOL?
I've been engaged in design work since my school days thanks to my club activities, and I went on to study Interactive Media design at Temasek Polytechnic. I did well enough to earn a scholarship to attend the College of Fine Arts in Sydney for my degree, but all of my 'training' is really in digital media. I've never received formal training in traditional arts.
From what I've seen and experienced so far in my field (Illustration and Design), the ones who don't take themselves too seriously end up making the most interesting work. While I was studying for my diploma, I spent all my time chasing grades in pursuit of the scholarship. I think I ended up losing out during a time when I should have been taking risks and experimenting more. I think it's really important to take the time in school to pick up a variety of skills because what you study may not necessarily be what you're doing in the years to come.
HOW HAS YOUR STYLE EVOLVED OVER TIME? HOW DID YOU LAND ON YOUR CURRENT STYLE?
Do I even have a style? That's a question I ask myself constantly. I work both as a designer and illustrator in parallel a lot of the time. As designers, we're often tasked with adapting a style to fit in with trends or brand guides. If I were to show all the illustrations – for client work and personal work – I've done over the course of my life, you'd probably never guess they were done by the same person. I've never been satisfied settling on one style or another, which keeps things interesting for me personally, but can be quite confusing professionally.
I've only been painting in watercolour for just under five years now and I would say I've gotten better technically, and the style has just come about from all the practice I've had and my choice of medium. It's not a very exciting answer, I know. Even in the area of food illustration, I really enjoy experimenting with different styles, and I don't think I've really settled on my own style just yet. It's an ongoing journey, and I'm just happy allowing myself to have fun with it.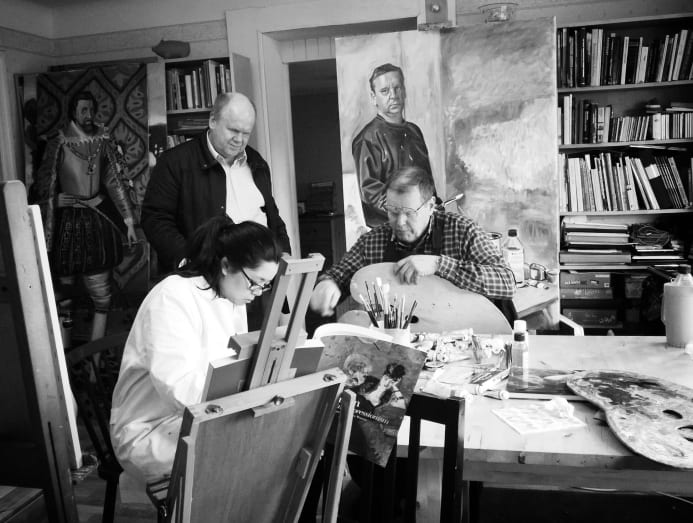 HOW DID YOU END UP IN SWEDEN?
We have a Swedish family friend who was working in Singapore about twelve years ago. He eventually returned to Sweden. In 2013, I was invited to come visit and see his brother who is an extremely talented oil portrait artist. I spent two days doing a crash course in oil painting, and that was a bit of an eye-opening experience for me, since I'd mostly been working in the digital space before then.
A few years after that I was invited back to work on different projects, and I spent a lot of that time working on film and video projects and picking up that part of the trade. I spent about three years working on a documentary about local Equestrian sports, among other things. Right now I'm employed as an Art Director at a workshop that makes furniture for the hospitality industry.
WHAT IS THE BEST THING ABOUT LIVING IN SWEDEN?
I live in southern Sweden, in an area that's well known for being flat as a pancake. It's amazing how much sky you can see when you're not surrounded by concrete. My residence is in the countryside, outside the city, and on any given day I pass horses, cows and sheep on my commute to work. Nature is a part of everyday life, at least where I am, and that's something I treasure a lot about my time here.
AND WHAT DO YOU MISS MOST ABOUT SINGAPORE?
The three Fs! Family, friends and food, of course. Singapore is an incredibly convenient place for a lot of things – especially in the food department – and enjoying that with friends and loved ones is a big part about what I miss about Singapore. I don't consider myself a city girl, but home will always be home.
WHY START PLATE.TO.PAPER? DID YOU ALREADY HAVE COMMISSIONS LINED UP?
My first experience painting food was for a packaging project while I was working as a graphic designer at a design agency – it was for Julie's Biscuits. I was the only one with any traditional art experience, so they asked me to have a go at it. I always say that was the first time work didn't feel like work.
After that project, I thought I'd try my hand at painting again. I'd been gifted a set of handmade watercolour paints when I left Sweden the first time, so I thought I might as well use them! That's basically how Plate.to.Paper started. You can see my journey on Instagram, all the way from my very first paintings. I definitely wasn't hitting home runs off the bat. I didn't have any other commissioned work until three years later.  
WHAT HAS BEEN THE MOST ENJOYABLE COMMISSION TO DATE?
In 2019 I was approached on Instagram by the owner of a bakery business in Nigeria to design and illustrate the motifs for her cake business. It was challenging, but extremely fun. It's always great to see works you've done impact the lives of partners and those around them. More recently, I was commissioned by Tiong Bahru Bakery to paint some of their menu items for their outlet at Fort Canning, and that was no less than a dream job, but it also got me very hungry while working on it.  
AND WHAT HAS BEEN THE MOST DIFFICULT GIG?
I can't show it right now, but the most challenging job so far has got to be my most recent one, as the client specially requested the original artworks to be sent back to Singapore for framing as gifts for their business partners. This is not something I've ever done before, and having to work at that level was extremely intimidating. One light smudge or stray speck of paint on the white of the paper and you basically have to start all over again. I had to do four pieces, and each one took about 2-4 days to complete, so it was a nail-biter all the way till the end when the client told me the artworks had arrived safely.
HOW DO CLIENTS FIND YOU?
Most of them find me through Instagram, as I don't actively promote myself on any other platform right now.
CAN YOU DESCRIBE YOUR CREATIVE PROCESS?
My pieces tend to be quite straight forward. Once I decide on a subject matter, I do some research, since one dish can be presented in many ways. A big part of the process is deciding what the main appeal of the subject matter is, and how to emphasise that in the painting. For paintings with multiple parts, I'll do a sketch on my iPad, and transfer that to watercolour paper before starting. Depending on the piece, the paintings usually take about three to six hours for a single subject. Many times I don't know if I'll actually be satisfied with the piece until I'm 80 per cent done.
Overall, I consider the painting process to be like meditation, or an act of faith. You start from nothing, and you kind of have to trust that you'll get something decent out by the end of it. Sometimes you don't, and have to start over, but that's all part of the process. I've painted hundreds of motifs, but I've also painted a lot of them badly before I got to where I am today.
WHAT IS AN AVERAGE DAY LIKE FOR YOU?
My days end up varying quite a lot. I've been working from home quite a lot since I arrived in January – and since the start of the pandemic. Part of my day job requires some travel to other Swedish cities, so there are some days I'm on the road or on a train, and I use that time to work on sketches or experiment with digital drawings.
Having good light is really important for painting work, so I try to paint as often as I can in the afternoons. This is great in summer when it doesn't get dark till 10pm, but really difficult during winter when it's dark outside by 3pm.
Because I live alone it can get quite isolating, so on the weekends I try to paint on livestream to connect with my friends and audience. I can't always do it for more intricate work though, as that requires my full attention throughout the process. Getting some exercise a few times a week is also a must because painting can actually build up a lot of stress after long sessions.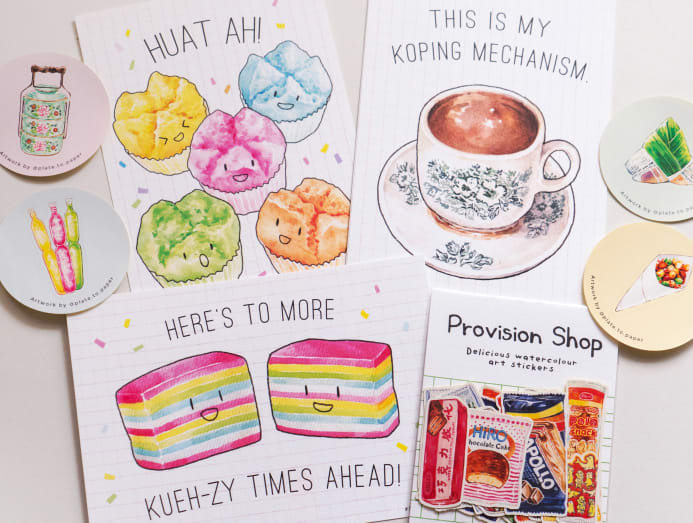 YOUR ART REVOLVES AROUND FOOD AND CULINARY CULTURE. ARE YOU AN AVID FOODIE?
To be more specific, I would say my art is based on appreciation of food and food design. It is also, at times, part wish-fulfilment, as I don't always get to eat what I paint. I also paint a lot of snack packaging not just because of the memories and experiences tied to them, but I enjoy the challenge of interpreting them into painting form. It also gives me the chance to really study them, as a designer.
It would probably surprise people, but I wouldn't call myself a foodie. As a freelancer the last few years, income has never been a constant, so I've always been very hesitant to allow myself to indulge in the cafe-hopping life. Some might even say I'm stingy in this regard. I'm also luckier than most because my mother is a fantastic cook who also loves to experiment, so there's never been a shortage of good food at home.
WHAT IS YOUR OWN FAVOURITE LOCAL INDULGENCE?
The things I would do for a good roasted duck rice! I grew up eating it at a coffee shop near Telok Blangah market. Roasted duck would definitely be my last meal.
AND WHAT IS THE BEST THING YOU'VE EATEN IN SWEDEN?
Well, Sweden isn't known for being a gastronomical paradise, but the quality of produce is generally really good, though somewhat limited. One of the more memorable local delights I've had was a fried herring burger near the coast. And no, I've not had the courage to try surströmming (fermented herring infamous for its smell) yet.
WHAT WOULD BE YOUR DREAM COMMISSION?
Maybe a published collection of some kind, featuring paintings of creations by Singaporean chefs. I think that would be a blast to do! We have some amazing chefs churning out edible art every day, and turning those into paintings would be great.
AND WHAT'S THE VISION FOR PLATE.TO.PAPER?
I'm always trying to be a better painter, but what that means changes on a day-to-day basis. I'd be happy if I still enjoy painting food years down the road, and if others have been inspired by my work or have widened their view about what art can be.