Creative Capital: Singapore's Macaron queen now designs colourful clothes 'with love'
Eileen Tay first made a name for herself with ET Artisan Sweets. But the 39-year-old entrepreneur changed gears with Elizabeth Little, an online clothing brand that makes "playful vintage-inspired ethical heirlooms, carefully crafted with love and compassion."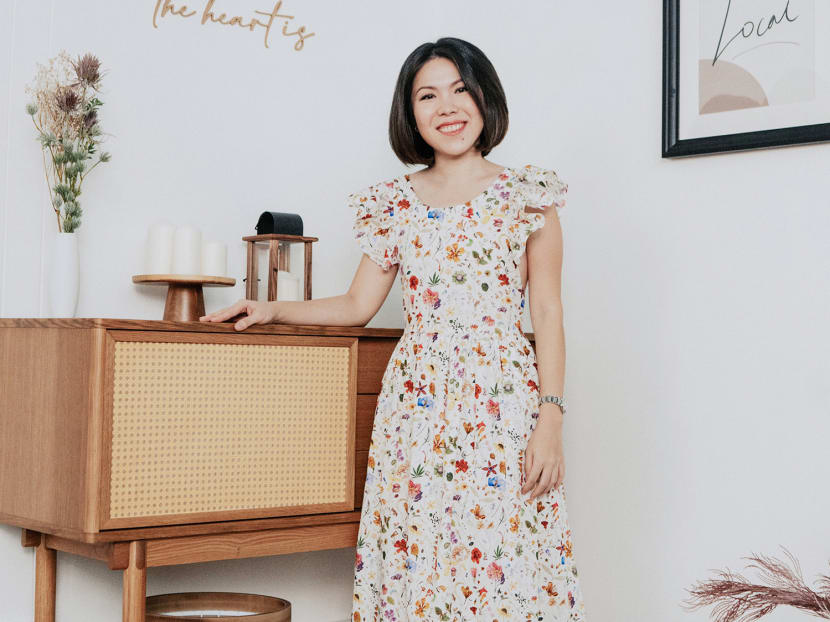 Over a decade ago, the best macarons you could get in Singapore came from a local baker whose shop was called ET Artisan Sweets. "ET" stood for the founder and baker, Eileen Tay. Today, she is applying her artistry not to baked goods but to clothes.
For the past four years, this 39-year-old entrepreneurial Singaporean has been running Elizabeth Little, an online clothing brand that makes, in her words, "playful vintage-inspired ethical heirlooms, carefully crafted with love and compassion."
Elizabeth Little makes fun, wistful outfits, mostly for little girls and their mums. While there are some clothes for boys and men, this outfitter is much more for the ladies (both big and little). Having been a huge fan of Tay's previous company, and as a girl-dad myself, I could not resist browsing through the range of girl's dresses on her website.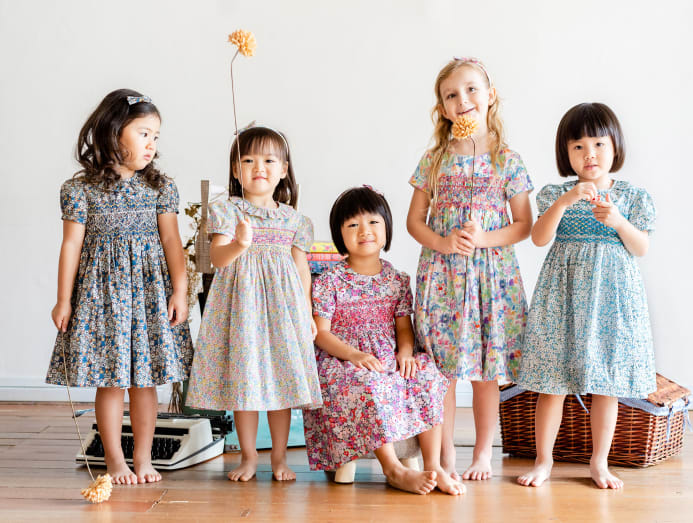 WHEN YOU WERE GROWING UP, WERE YOU ALREADY INTERESTED IN CREATIVE PURSUITS?
I grew up in a family where entrepreneurship and creativity were highly encouraged. Although academic pursuit was important, my parents provided my siblings and I ample opportunities to learn other skills like martial arts, sports and the arts.
I remember learning Chinese calligraphy and painting at Holland Village at five, and attending art and handicraft classes involving twisting wires and crystals to form elaborate ornamental displays. I have done cross-stitch, knitting, and even the obscure Paper Tole technique in primary school because my mum loved sending me for classes. She doesn't have crafty hands, but she has many friends who craft, and I spent most holidays and weekends learning craft. I continue to love the process of creating from scratch because it is so therapeutic.
YOU'RE A PROFESSIONALLY TRAINED PASTRY CHEF WHO HAS WORKED IN SOME AMAZING PLACES. WHAT DREW YOU TO FOOD?
My mum is a homemaker who visits the wet market almost daily to buy fresh seasonal produce for our daily meals. Because she lives to eat, her love for quality food inspired me to learn more about the quality of ingredients, the importance of seasonality and different cooking techniques. Growing up, I sat at the kitchen counter watching her bake trays of cakes, which she learned from her community centre lessons. I also helped with the mis-en-place during festive meals. Lunar New Year season was spent making pineapple tarts and cookies for family treats and gifts. When most girls my age were spending money on fashion magazines, I was slowing growing a collection of food magazines, cookbooks – and spending a lot of time eating.
WHEN DID YOU START ET ARTISAN SWEETS?
I started ET Artisan Sweets in 2008, which became renowned for delectable macarons and decorated desserts. My dream was to emulate Martha Stewart and Darcy Miller as a crafter of tastefully made goods.
WHAT WERE SOME OF THE HIGHS AND LOWS OF RUNNING THAT BUSINESS? WHY DID YOU EVENTUALLY CLOSE IT DOWN?
My best memories were working with an excellent crew and making products that were known as the "best macarons in Singapore". We expanded to making dessert tables for weddings and corporates, and had so much fun designing celebrations for clients. One of the finest moments was making 50 mini celebration cakes for NTUC's 50th birthday, which Mr Lee Kuan Yew cut into.
The lows include experiencing hiring challenges pertaining to retail staff, and challenges because of my business model and rising costs. I closed when we were doing well, primarily because of unfavourable conditions for a lease renewal and the impending arrival of my second child. I closed the shop on Feb 12, 2015, two days after I saw a revised proposal to the tenancy. My daughter, Elizabeth, was born on the 16th.
WHAT WAS THE CATALYST FOR ELIZABETH LITTLE?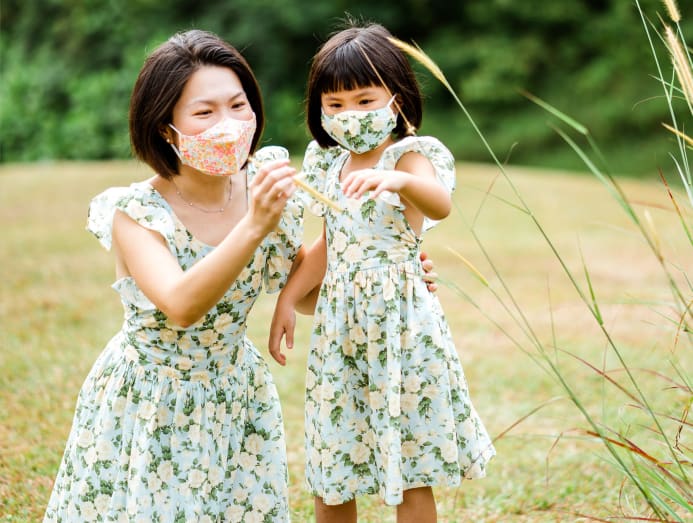 After closing the cake shop, I was busy juggling two little ones and settling into a role of a homemaker. However, I soon became very bored. I took up dressmaking and fell in love with fabrics, especially Liberty Fabrics, which I had started to stockpile. My original plan was to sell fabrics to people online, but there was little demand for that. During this time, I was also sewing for my children and people started enquiring about those outfits. Subsequently, I explored the possibility of outfitting children instead.
HOW LONG DID IT TAKE YOU TO GO FROM THAT INITIAL IDEA TO ACTUALLY OPENING?
Six months. I was on vacation in Bali and discussed the idea of selling fabrics with my husband. Six months later, I incorporated the business and started to build the online storefront.
HAS BUILDING A BRAND BEEN EASIER THIS TIME AROUND?
Yes, because I've been able to draw inspiration from both the positive experiences and mistakes from my previous business. The real challenge at first was finding a name. We had some ideas revolving around our children's names. Then one day, my anglophone husband drew up a sketch and idea called "Elizabeth Little". Elizabeth was our second child and she was petite, always somewhere below the national average weight.
Of course, we learned along the way that the process of building the brand was far more than just finding a name. We didn't hit it right on the onset – in fact, we think of the process as evolutionary and expect it to continue to change. As makers, there were times we had to stop ourselves from becoming overly product-focused so we could pay more attention to the brand story. As we started to get to know more of our customers, we began to understand who we were reaching out to and believed even more in our brand values.
WHAT LESSONS FROM RUNNING ET ARTISAN SWEETS DID YOU APPLY TO ELIZABETH LITTLE?
Building relationships with customers is arguably the most important thing you can do for your business. Similar to how we remembered our clients' names and journeyed with them through celebration milestones from weddings to baby showers, full-month celebrations and birthdays, we continue to apply the same care and attention with our clients today.
AND WHAT ARE SOME OF THE NEW SKILLS THAT YOU HAVE HAD TO LEARN?
I'm not naturally digitally savvy, so I had to learn everything from post-editing in photography, to building an e-commerce platform, to creating visuals, and strategies on social media. In tandem with running the business, I took time to attend several courses at SMU on digital marketing and brand story telling.
WHAT'S THE CORE PHILOSOPHY BEHIND ELIZABETH LITTLE?
Our products are always ethically made, socially responsible, and use sustainable materials. We believe at the very heart of what we treasure – as makers, as parents, as humans – is time. Unfortunately, there a growing enmity between time and the personal technology that surrounds us.
Although some forms of technology have made positive changes in the world, there is evidence that technology cares very little for our humanity or our time. This is why we believe that in building a better world for all with unhurried hands.
When unhurried, we have the time to notice the other person in the room. We cherish conversations and make memories. We imagine and touch, and we translate that movement into something beautiful. When unhurried, we pause to care for those around us, and so make the world a better place.
This is why we believe in taking the time to make things well, as well as to make them last, with the hope that clients will cherish and pass them down for generations to come.
YOU MENTIONED THAT YOU ARE INSPIRED BY LIBERTY PRINTS. CAN YOU ELABORATE MORE ON THIS?
Before I started the business, I found difficulty identifying with the styles and colours of existing available childrenswear brands.
I love the amazing kaleidoscope of colours and floral prints from Liberty (a fabric brand in the UK known for its colourful designs). They bring lots of cheer to me and remind me of what a happy childhood should be: Colourful.
Liberty has filled my imagination to create timeless dresses like the classic Peter Pan collar dresses and smocked ones I grew up with. With their prints, we create beautiful and functional pieces that are perfect for occasions as well as everyday wear.
HOW WOULD YOU DESCRIBE YOUR DESIGNS?
I am not driven by fashion trends. My focus is on timeless designs that transcend trends and seasons.
For childrenswear, I am mindful of how quickly children grow. We add functionality to allow expandable options for a longer wear. We go to the extent of selecting fabrics, linen and natural fibres which are hard-wearing and long-lasting.
For ladies, we design classic, timeless styles, accented with handcrafted details that our clients are proud to wear.
I hope to encourage a more responsible approach to fashion through sustainable consumption. Yes, this includes the use of the finest materials and choice of cuttings, but ultimately, what is most important is how our clients feel when they wear something from Elizabeth Little, whether that's comfort or a confidence boost.
DO YOU FIND ANY SIMILARITIES BETWEEN CREATING A DESSERT AND DESIGNING CLOTHES?
Absolutely. In both cases, hands and tools are needed to bring out details and finesse. Both crafts also require technical skills and precision to attain a consistent product.
Smocking a dress is like piping macaron shells. Once the formula is set, the art is repetitive yet therapeutic. I try to make each stich as consistent as the previous, so for the next. Similarly, donning crystals on dresses is also like donning crystals on a decorated cake.
Whether you're designing clothes or creating desserts, you begin with a blank canvas, and weave together different ingredients and materials to make a masterpiece. The quality of each ingredient and material also contribute to the outcome, which is why I spend a lot of time looking at quality and process sustainability, whether I'm working with clothes or food.
ARE YOU BEHIND ALL THE DESIGNS OR DO YOU HAVE OTHER DESIGNERS WORKING ON THE PRODUCTS?
I design all the products at the moment, but you can imagine that running a business would not be possible without a team or collaboration. I'm hoping to expand it going forward.
Our values drive the type of products we make, be it ready-to-wear, made-to-order or made-to-measure. This allows us to be more conscious in curating the quality and quantity of products we make. We abhor wastage of production offcuts and have been collaborating with like-minded organisations to create opportunities for employment
WALK ME THROUGH A TYPICAL DAY OF YOUR LIFE.
I try to start my day early at 6:30am. I drop off my children at school before heading for a quick breakfast. I'm usually in the office by 7:30am.
My list of to-do's include planning and posting the brand's social media content, planning and testing designs, cutting orders for supplies and production, troubleshooting quality issues, researching new designs and materials, and fulfilling and packing customer orders.
If I cannot complete the work in office, which is often the case, I'll take it home with me, skipping lunch while I continue to check that my children are compliant with their schedules by driving them around to where they need to be.
Along with the shuffling, I might have staff meetings or discussions with external parties at least three to five times a week to check in on how things are going on the other sides of the business.
In the evening, I check that dinner has been prepared. Our entire family comes together for the meal, which is so important since that's the only meal we have together.
After my husband and I have put the kids to sleep, I am usually finishing up more work – smocking, stitching bows and accessories, addressing customer queries, and preparing the fulfilment of orders to clients through our courier services. I'm usually in bed by midnight or at 1am.
Even though I sometimes work weekends, I try to strike a balance since that's my time with the children. We do our best to keep ourselves study- and work-free for at least 24 hours. Weekly rest has become so essential.
DO YOU HAVE A HERO OR SIGNATURE PRODUCT?
From a design perspective, we are known for our range of hand-smocked heirloom dresses, each named after regal princesses: Charlotte, Victoria, Eleanor, and Alexandra. Our Narumi dress with Broderie Anglaise collars, and bespoke Carina smocked cheongsams for ladies are also highly sought-after.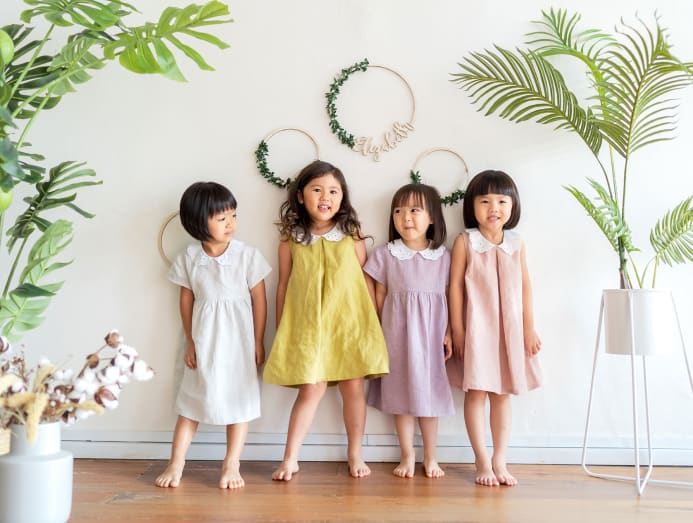 But beyond a signature piece, many of our customers know us for our commitment to social responsibility. We pride ourselves on being an ethical and sustainable business that creates opportunities for those who need it most. Our products are crafted by persons in developing sectors of society, who are paid above-average wages.
YOU HAVE KIDS AND THIS BUSINESS. ANY SECRETS TO ACHIEVING WORK-LIFE BALANCE YOU CAN SHARE?
I have three kids who are eight, six, and two years old. It's a known secret: There is no such thing as work-life balance. There will be trade-offs whichever way one chooses.
I try to find ways to engage my children in my work, so that their lives are not dichotomised from my trade. They need to see that we care about their contributions as well. During last year's Circuit Breaker we ran a promotion to give re-usable facemasks to charities with beneficiaries in need. My children helped to pack the face masks – we created a mini production line at home as they too had been sanctioned to home-based learning.
ANY PLANS IN STORE YOU CAN SHARE WITH US?
Pre-COVID, we joined Boutique Fairs, which was a big bi-annual affair that gave us many opportunities to mingle with our clients. The pandemic has certainly changed everything we previously experienced. But one thing that remains is our humanity.
In the road ahead, we hope to create new opportunities for clients to engage with our process of making their own heirlooms. We dream about a physical place for our clients to walk into, where they can disconnect from their hurried lives, and co-create memories in an unhurried way.