Creative Capital: Simbian Chua's bakkwa 'croffles' are making this heritage treat cool again
CNA Lifestyle talks to the 30-year-old chef and entrepreneur about the passion that goes into making and reinventing heritage foods.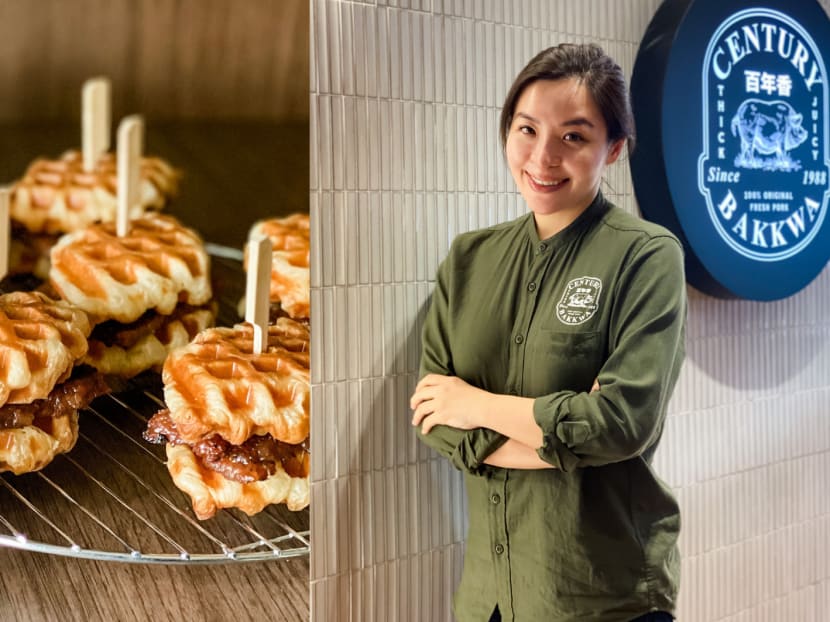 Like most Singaporeans, I follow a fair number of foodies on Instagram.
Earlier in the year, I began to notice that several of the ones that I trust — i.e. the ones who pay for their own food — were all ordering a gorgeous and authentic-looking Indonesian bakmie from a brand I had never heard of, Indocin Food.
Based on those social media posts, I had to try it. And it was amazing. I ordered it not once, not twice, but again and again (hence my expanding waistline). I also tried the other Indonesian-Chinese dishes made by this small artisan brand, which I discovered only started during and because of the COVID-19 pandemic. The nasi lemak, the nasi padang and the Balinese roast pork were all outstanding.
Because of my gluttony, I also got to know Indocin Food's founder, 30-year-old Chef Simbian Chua. I started to follow her Instagram feed and enjoyed her sense of humour and her authenticity. I also tried some of her outstanding Iberico pork bakkwa, sold under another relatively new brand, Century Bakkwa. Century Bakkwa has just opened its first flagship store on Dunlop Street. Given the occasion, I thought I would chat with Chua about her life and her businesses.
TELL ME ABOUT YOUR UPBRINGING. YOU HAVE OPENLY TALKED ABOUT COMING FROM HUMBLE BEGINNINGS ON INSTAGRAM. WHAT WAS LIFE LIKE GROWING UP?
I grew up in a staunch 7th Adventist family. My parents have never eaten pork in their life — I don't anticipate them ever patronising Century Bakkwa. I like to say that my parents provided me what I needed, but never what I wanted. If I needed S$1, they would give S$0.30 and make we work for the S$0.70. Looking back, I am very grateful for this upbringing because it turned me into a hardworking person, which opened me up to a lot of opportunities.
HOW AND WHEN DID YOU DISCOVER AND INTEREST IN FOOD AND COOKING?
Well, this is the irony of my life. As both my parents are 7th day Adventist, we did not get to eat out often, as most (commercial) food contains seafood, lard and pork. This made my Peranakan mother a full-time cook at home and this made me her Sous Chef. It was through that experience that I realised that the way to anybody's heart is possibly through the stomach.
YOU STARTED WORKING PRETTY YOUNG. WHAT WAS YOUR FIRST JOB?
I started working at Burger King Parkway Parade at 13. Back then, they paid me S$3.30 per hour, but the free flow Coca Cola was what attracted me to stay for a year.
ON INSTAGRAM, YOU'VE SAID THAT F&B IS A GREAT INDUSTRY FOR PEOPLE WHO MAY NOT HAVE EXCELLED IN SCHOOL. CAN YOU ELABORATE?
From my personal experience, F&B employers favour skills and commitment over academic achievements. We don't need a degree to do mise en place.
CENTURY BAKKWA'S PACKAGING SAYS IT WAS FOUNDED IN 1988. I ASSUME YOU WERE NOT EVEN BORN THEN. IS THIS A FAMILY BUSINESS?
The Century Bakkwa master recipe was created 33 years ago. It was founded by a bakkwa maestro, who had been selling charcoal grilled handmade bakkwa since 1988. A friend introduced us and we hit it off right away.
One day, the bakkwa maestro called me for support during the Chinese New Year rush as he couldn't cope with the volume for Chinese New Year. So I went down with my team to assist them. What I thought to be a two-hour job turned into a two-week commitment. We were exhausted, overworked and overheated, but we were satisfied with doing a good job for him.
After Chinese New Year, the bakkwa maestro and his wife came to speak to me. They told me that they would like to retire as he was turning 65. In his own words, he said that he would rather bury the recipe with him to his grave, like the Apollo char kway teow recipe, if he did not find a suitable successor to perpetuate his craft.
He entrusted me with his recipe and craft and I am honoured to continue this tradition and carry on the heritage. This is how Century Bakkwa was born and how we are producing his original bakkwa, along with other variations and food items.
A crowd favourite has become our signature bakkwa croffle (croissant-waffle), our first permanent menu item that encapsulates both modernity and tradition. We wanted to bring something fresh to show how bakkwa isn't just "Chinese New Year food" but a treat that can be enjoyed in different ways, all year round.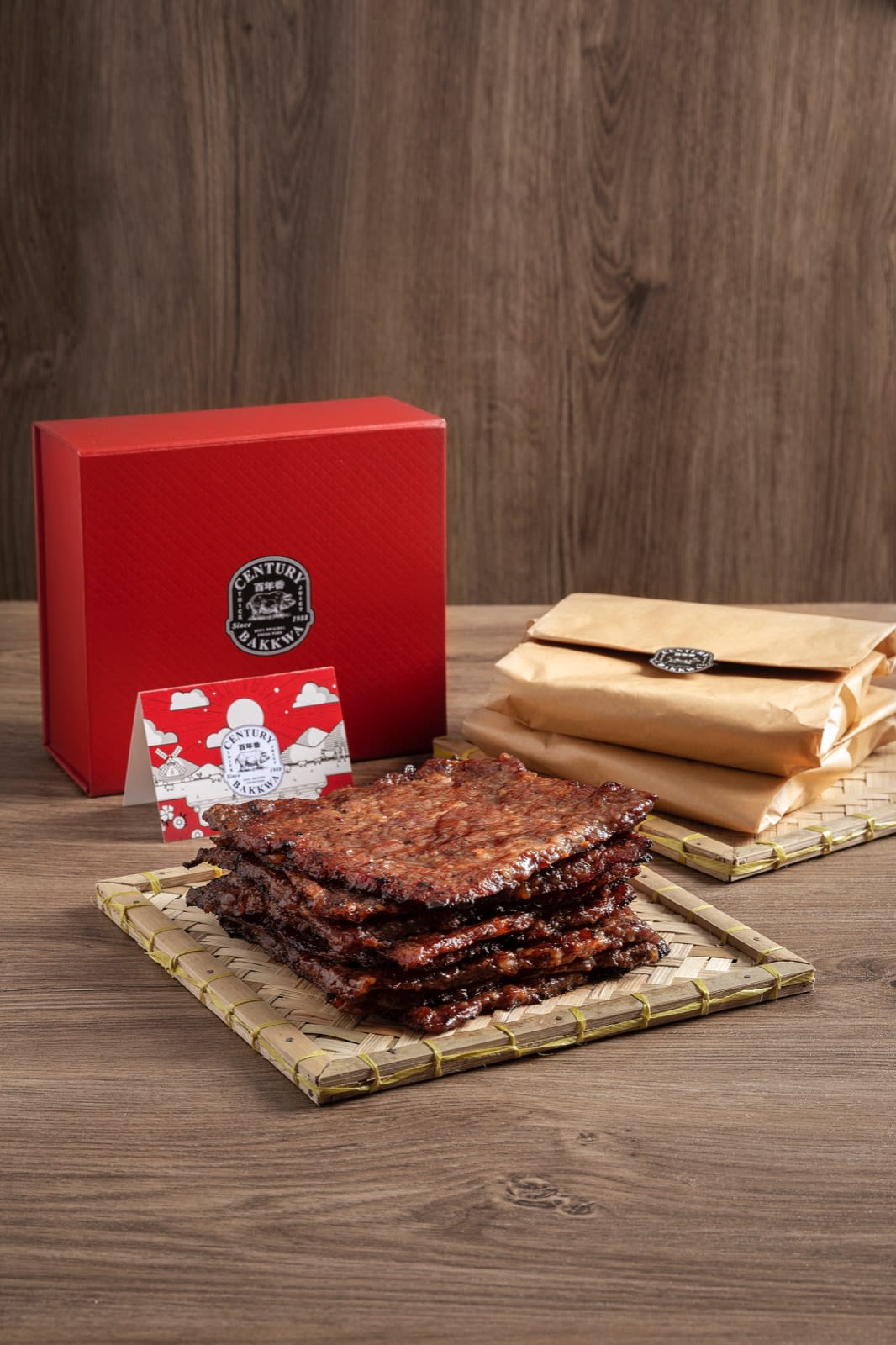 YOU'VE JUST OPENED A PHYSICAL STORE FOR CENTURY BAKKWA. DO YOU THINK IT'S IMPORTANT TO HAVE A PHYSICAL PRESENCE AS OPPOSED TO BEING A PURELY E-COMMERCE OPERATION?
As Century Bakkwa is founded in Singapore, I have dreams to make it a heritage brand in time to come. I opened a physical store because I want a flagship store located in town, where I can meet customers face to face, speak to them and continuously improve Century Bakkwa.
HOW AND WHEN DID YOU START INDOCIN AND MIE BIAN BIAN?
Indocin Food was born from my own food cravings. COVID-19 had just happened and I couldn't fly to Indonesia, where I worked for half a decade, running a restaurant and entertainment club. Stuck here, I started cooking and posting about Indonesian food. My Indonesian friends based in Singapore were home sick and commented that they could never taste it through the screen, so I invited them to come down and have a meal. They unanimously said that I should start selling Indonesian food and I thought, why not?
Initially, I only wanted to try selling 10 boxes of artisan nasi padang. You know, to test the market? If no one liked my food, I figured I would pivot to something else. But life had other plans and I sold 50 boxes within 30 minutes. I immediately rushed down to Takashimaya to buy a large rice cooker. The sales lady there asked if I had a big family. I told her "I may have a small family, but I have big dreams". From there, the rest is history. Today, we are a team of more than 10 at Indocin food and Century Bakkwa.
YOUR F&B BRANDS (NOT COUNTING HEXAGON) SEEM TO CELEBRATE HERITAGE. HOW IMPORTANT IS HERITAGE TO YOU?
Heritage is important to me. It helped me develop an awareness of who I am and where I come from. I do think it's very important to promote quality food from our region, and I am excited to see that there is demand for it, that people are not only interested in global brands selling international food.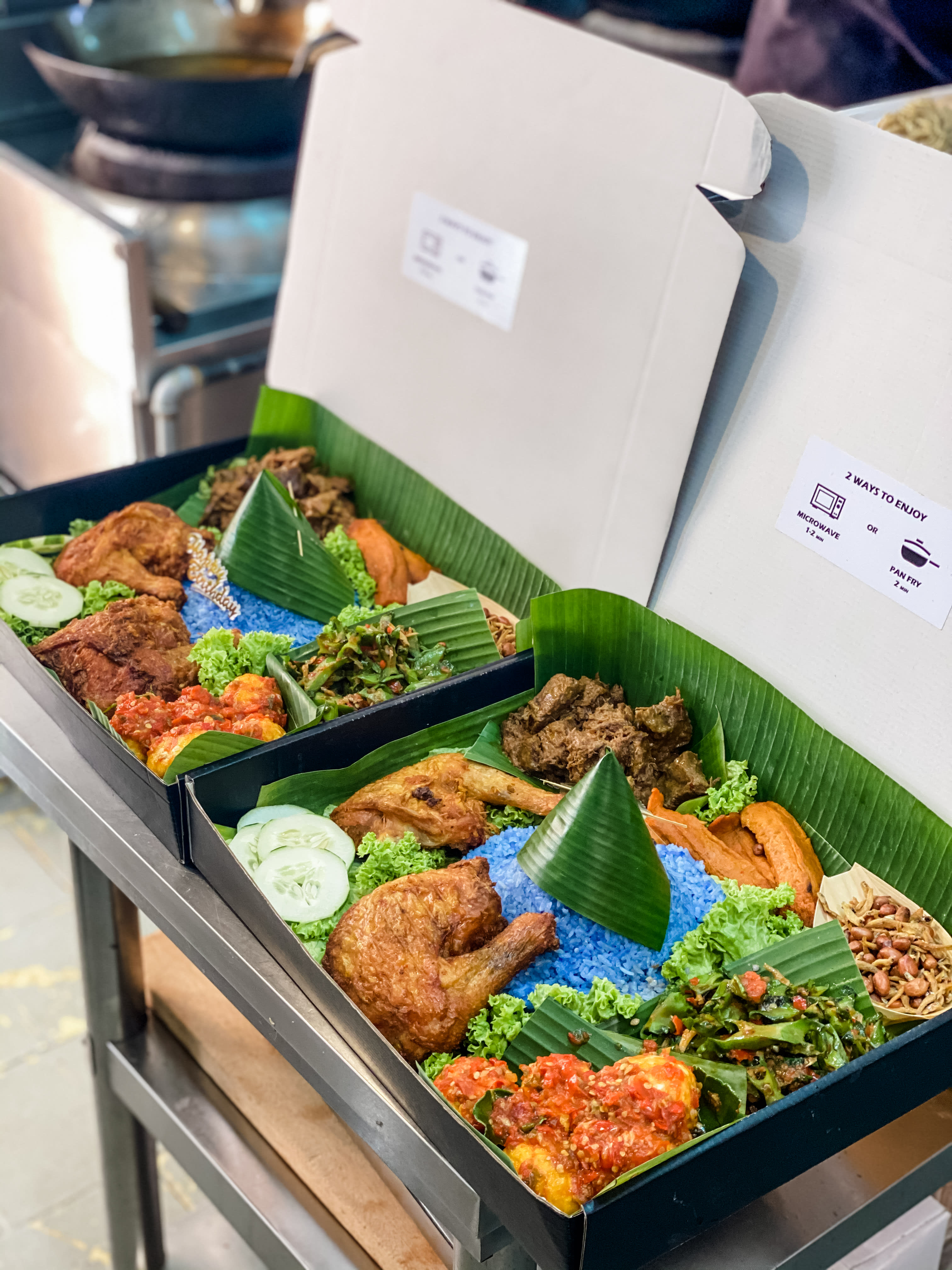 HOW MUCH R&D GOES INTO THE PRODUCTS YOU SELL?
The longest R&D we did was for Miebianbian bakmie noodles. It took four months. Our Miebianbian bakmie noodle recipe originated from Medan. After we did R&D for the first month, I almost gave up. It was very tedious. We ate and threw away a lot of bakmie noodles. I never ate so many noodles all my life. There is also no bakmie noodles supplier in Singapore. Most are made in-house or they use mee kia as a replacement instead. I made my foodie friends come by for many rounds of food tasting. I soon realised that when I wouldn't hear back from them, I failed.  They just couldn't bear to tell me. We revised the recipe at least eight times until one day, my foodie friends couldn't stop calling me to ask me to release the bakmie noodles so they could order them. Only then, I knew we had succeeded. The R&D ended there. During the process, we broke a 30-litre commercial dough mixer within four months and I gained a few kilos. The weight is still on me right now.
DO YOU CONSIDER YOURSELF A SERIAL ENTREPRENEUR? WHY RUN SO MANY DIFFERENT BUSINESSES CONCURRENTLY?
Actually no... I am just a cook. I just like to cook. I like experimenting with food. I work six days a week in the kitchen. On my off day, I will cook at home. I don't know what I will do if I don't cook.
AND YET YOU ARE ALSO A BUSINESSWOMAN.
I prefer the culinary side. I love the R&D. I love menu creation and making clients happy with the food. I think if you are in F&B for the business side, then you will be disappointed because F&B is time, cost, and labour-intensive. Without passion, one simply cannot be in this business. This business can be both rewarding and depressing, especially with all the constraints the industry is facing.
YOU SEEM TO HAVE LED A COLOURFUL LIFE WHEN YOU WERE YOUNGER. WHAT LESSONS HAVE YOU LEARNT FROM THOSE DAYS?
I learnt to never be haolian (arrogant) no matter where you are in life, because nothing in life is permanent. Within a short span of time, I have seen a lot of haolian people rise and fall. Very xiasuay (embarrassing). Just be yourself. The biggest prize is that you will be able to build relationships and relate to many more nice and interesting people!
WHAT IS THE HARDEST PART OF RUNNING YOUR OWN BUSINESS?
The hardest part is to find the right team members. I think that without the right team members, who have the same goal and direction as you, it's very hard to go anywhere — especially in Singapore, where the wages in many other sector seem to be much higher than F&B. It's hard keeping people and growing a team. But I so happy with the current team we managed to build.
WHAT IS THE BIGGEST MISCONCEPTION ABOUT YOU?
Despite being so outspoken on social media, people who have met me in person are often surprised by how quiet I am.
YOU SEEM TO HAVE REALLY LONG DAYS. CAN YOU WALK ME THROUGH AN AVERAGE DAY IN YOUR LIFE?
On an average day, I will try to avoid bringing my son to school myself as he will often convince me make a detour to somewhere else, like McDonald's! Hahah. I will go down to the wet market to hunt for fresh produce.
Then I would go and help the team prepare for the lunch orders. I would sometimes have lunch with them. I would then work on social media posts, R&D and on the dinner orders. I try and spend some quality time with my son later, and then, later in the evening, work on administrative matters and of course on social media — both for work and for unwinding!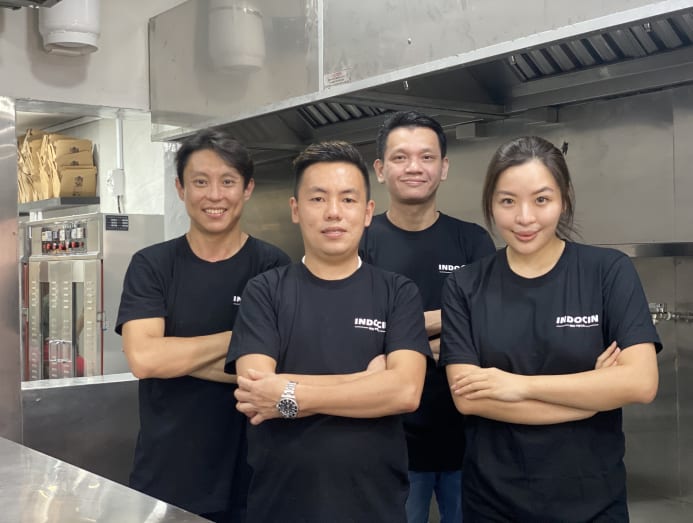 I LOVE HOW HONEST AND BLUNT YOU SOMETIMES ARE ON SOCIAL MEDIA, BUT DO YOU EVER WORRY THAT WILL AFFECT YOUR BUSINESS?
I think it overall aids my business. There are many times when I am out making food deliveries for Indocin, I get to meet my female customers. When they see me, they will give me a packet of candy or even a fruit and share with me how they started a home-based business as they were inspired by my endeavours.  Social media definitely helps create visibility and also helps generate feedback and appreciation. However it does take quite some time to handle social media, and there have been times that people have not been happy with what I said on social media. I have gotten my fair share of nasty comments!
HOW DO YOU STAY MOTIVATED AND INSPIRED?
To be honest, my customers' feedback is my motivation. I review every single customers' feedback. The good feedback keep me motivated, the bad ones inspire me to be better.
YOU HAVE A YOUNG SON. IF HE SAID HE WANTED TO BE A CHEF OR A RESTAURATEUR WHEN HE GETS OLDER, WILL YOU ENCOURAGE HIM?
I will encourage him to do so only later in life, after he has given me a grandchild to play with. Hahaha. Working in this industry is really time consuming. Many of my colleagues don't have time for their spouses or families. Sometimes, I have to force them to take mandatory leave, because work can feel never-ending.
ANY COOL UPCOMING NEWS OR PLANS YOU WANT TO SHARE?
Currently we are entering our 3rd phase of R&D for our Hainanese iberico satay. It will be available at Century Bakkwa in mid-September 2021 for a limited time only. Look out for it.