This former advertising exec is building a new life curating beautiful handmade ceramics
Annie Li brings unique ceramic pieces together at Artifactt, with a new brick-and-mortar store at Palais Renaissance.
When you meet Shanghai-born Singaporean Annie Li, it makes sense that she is the entrepreneur and curatorial mind behind Artifactt, a new local brand curating gorgeous handmade ceramics. Li is strikingly elegant, stylish and cool – all elements you see in the pieces she has brought together and sells, both online and through a newly opened and, again, strikingly beautiful, gallery.
The new gallery is on the ground floor of Palais Renaissance. Designed by her husband Chris Lee, the highly respected designer and founder of creative company Asylum, the space perfectly displays the ceramics, as well as his wife's vision.
When visiting for the first time, you may be a little trepidatious. But as you look at each of these exquisitely made pieces, you'll discover that Li has not just curated with an eye for form and function, but also with an understanding that accessibility is paramount. Prices are surprisingly reasonable and encourage you not just to look at these items as one-off gifts, but pieces you could collect in sets to use at home.
HI, ANNIE. TELL ME ABOUT YOUR CHILDHOOD. WERE YOU AN ENTREPRENEURIAL OR CREATIVE KID?
I am entrepreneurial at heart. Since I was young, I have been fascinated by how businesses work, and have always had all sorts of weird business ideas.
THE FIRST PHASE OF YOUR CAREER WAS IN ADVERTISING. WHAT DREW YOU TO THAT SECTOR?
To be honest, advertising chose me. I studied foreign trade at university but a chance meeting led to an advertising position when I graduated. It wasn't what I had originally envisioned. It was quite a demanding role; I ended up having to manage some of the biggest accounts at that time. Looking back, I can now feel thankful for the long working hours and training that I received in the early days of my career.
WHAT BROUGHT YOU EVENTUALLY TO SINGAPORE AND HOW LONG HAVE YOU BEEN HERE?
Love and family. There is a Chinese saying, marry chicken follow chicken, marry dog follow dog. I married a dog, so ended up in Singapore. (Laughs) I joke because my husband was born in the year of the dog. I came to Singapore in 2004, but left for a bigger opportunity in Shanghai a year later. We had a long distance marriage for six years until we decided to start a family. I finally settled in Singapore in 2011. Today, I am a proud Singaporean!
HAVE YOU ALWAYS BEEN INTO BEAUTIFUL FLATWARE AND CERAMICS?
I am always drawn towards beautiful things, be it architecture, food or fashion. I appreciate the intricate details of a small cup and the bold gestures of a large building. The first set of ceramics that drew my attention was from my favourite fashion designer, Ann Demeulemeester. She quit fashion nine years ago and started her pottery adventure. Her porcelain collection shares the same aesthetic approach as her clothing designs.
WHAT DRAWS YOU TO AND EXCITES YOU ABOUT THIS ART FORM?
I think artisanal craft propels the human spirit forward. I admire the things that were made in ancient history. The amount of craft that was dedicated to perfecting a piece in those days was amazing. Unfortunately, we have evolved so much and a lot of craft and admiration of craft has been lost as a result. I believe that a beautifully crafted object brings a moment of delight in one's life. A nice plate to go with your food at breakfast brings a smile to light up the start of your day. Beautiful tableware enhances the dining experience.
I'm not a good cook myself, so I usually take away food for friends and family gatherings. People always tell me that the food from restaurants that they are familiar with tastes better when served on our crockery. A fun tip for a lousy cook who loves to have guests over.
DID YOU SEE A MARKET GAP THAT ENCOURAGED YOU TO START ARTIFACTT? WHAT GAVE YOU THE CONFIDENCE TO START THIS BUSINESS?
There was definitely a market gap for curated, somewhat affordable tableware. My husband and I couldn't find beautiful plates that we could also use daily. We wanted to get new things after we renovated our home and had a hard time. We also didn't want to buy them when we travel because they are fragile and heavy. When we were relating the experience to our friends, we realised that many couples shared the same issues we had.
We actually didn't know how the market would react to our business, but after talking to friends, we felt that there must be people like us. So we started as an online platform and did a few pop-ups. Our customers kept urging us to open a physical shop once they saw our collections in person. It's one thing to see the pictures online and another to be able to see, hold and feel the quality and craft that goes into each piece of work.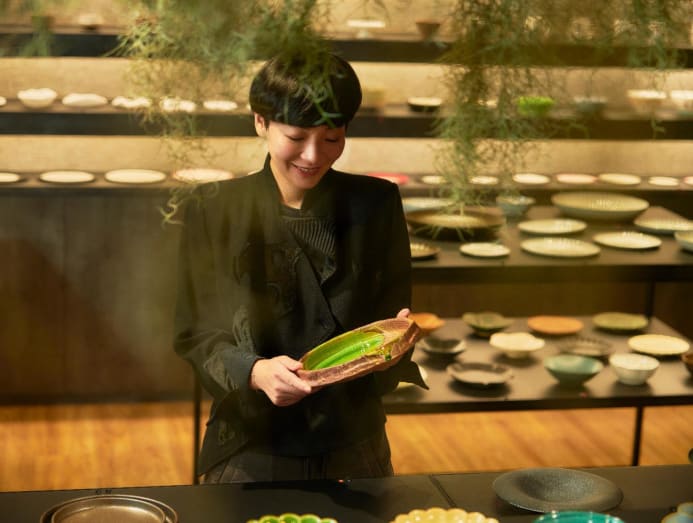 WHAT QUALITIES DO YOU LOOK FOR WHEN DECIDING WHETHER TO REPRESENT AN ARTIST/MAKER?
Quality and aesthetics. These are the two deciding factors for us when we choose the maker and the products.
Some of the Japanese pieces are quite intricate, versus the rusticity of other pieces. Maybe it's a sense of sophistication that we are looking for; maybe it's the vision of the artist. I am sure that not all the pieces fit well together, but as long as the pieces are well crafted, they will have a place in our shop.
I think most of us buy tableware for long term use so we want to source products that should also be timeless and continue to give us joy after many years of use.
IS IT CORRECT TO SAY THAT THE MAJORITY OF THE MAKERS YOU WORK WITH ARE JAPANESE OR IS IT AN INTERNATIONAL MIX?
We have an international mix of artisans. Japanese pottery pieces are beautifully made with very high quality but they have a similar range of aesthetics. We currently have some European pieces and will continue to expand the range internationally.
WILL YOU BE LOOKING TO WORK WITH LOCAL SINGAPOREAN OR SOUTHEAST ASIAN CERAMICISTS?
Absolutely! It's in the pipeline. We have been talking to some pottery artists in the region. It is extremely important to promote local artisans and ceramic culture. We also hope that our shop can be a platform for local artists to showcase their creations. Leng Soh is the first ceramic artist that we have chosen to feature and we will continue to work with more in the future.
THE NEW BOUTIQUE IS BEAUTIFUL. DID YOU GET YOUR HUSBAND TO HELP WITH THE DESIGN?
Yes. I can't resist free labour. (Laughs) Chris is behind the branding too.  A special thanks to Jessika and Michelle – these two wonderful ladies brought the idea to life as well.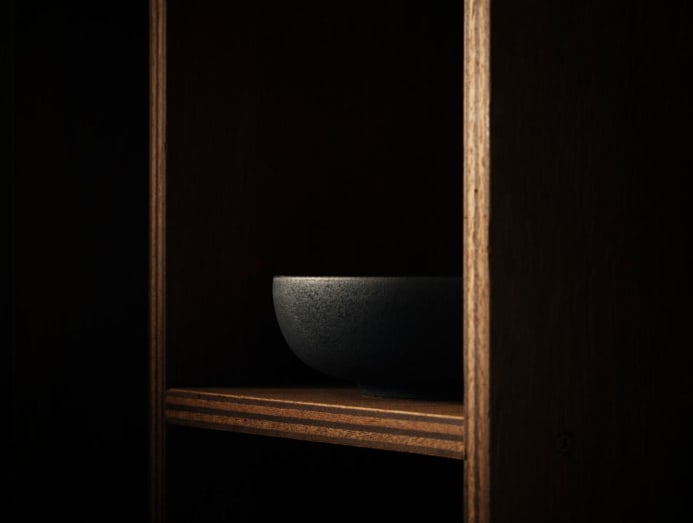 WITH E-COMMERCE BECOMING MORE AND MORE NORMATIVE OVER THE LAST TWO YEARS, WHY INVEST IN A BRICK-AND-MORTAR STORE?
An online platform is extremely important. It is becoming more and more normative for sure. However, it depends on the nature of the product. For quality and handmade goods, it is a lot more powerful to build the online and offline experience together.
We got so many enquiries from our IG followers, saying they would like to touch and feel the products. It's crucial to have a space for showcasing the products and creating an experience for our customers. You can mix and match the tableware and see how the pieces work with one another – that is something no online platform can achieve. Our shop also serves as a branding platform for our philosophy. We will launch some workshops and do some sustainable projects in the future, all based out of the boutique. It will help to expand our online community and bring people together physically.
HOW HAS THE TRAFFIC TO THE BOUTIQUE BEEN SINCE OPENING?
Other than new walk-in customers, we feel really grateful to have many repeat visits from our IG followers. Some of the customers had come to our pop-ups before and they came to congratulate us on our first day. We have also met many wonderful chefs through our boutique and they help us market our shop when they use our collections in their restaurants.
WITH ARTIFACTT, ARE YOU TARGETING MORE TRADE OR RETAIL CUSTOMERS, OR A MIX?
We started as a BTC online platform, intending to serve individual customers only. As we grew, we started to attract quite a few trade customers. Some of these restaurants are very well respected in the industry so we feel very honoured that many of these chefs are our customers now. We are happy to serve both client segments and will continue to do so.
YOU ARE ALSO A MUM. IS BALANCING THE BUSINESS AND RAISING YOUR SON CHALLENGING?
Absolutely. I am constantly feeling guilty when I need to work on weekends and in the evenings. Now that my son is older, it is much easier to juggle both roles. He is my big supporter and leaves goodnight notes for me before he goes to bed when I work late.
WHAT IS YOUR AVERAGE DAY LIKE?
I like to have a big breakfast and coffee to start the day. I try to finish some paperwork before going to the shop. Then I have a meeting with my staff and welcome customers in the shop during operation hours. I try to have dinner with family and friends two times in a week. And I continue work at night after I tuck my son into bed. My staff and agents are used to receiving emails from me late at night. In the past five years, studying, my corporate job and starting Artifactt took up almost all my weekends. But it's a trade-off for any mum who wants to persuade entrepreneurship.
WHAT AND WHO INSPIRES YOU?
Sara Blakely, the founder of Spanx. She is real and down to earth. She shared on MasterClass about going through struggles and finding clarity along the way. She started lean, with very limited capital investment, and built an empire without institutional investment. It's extremely rare.  
Oscar Niemeyer and I M Pei, both of whom are centenarian architects. Even towards the end of their lives, they were still looking forward to the next project. Niemeyer maintained his practice until he died at the age of 104. Pei had shared that it was only in his 60s that he got a project he really wanted to do. I always felt I had missed the golden years of my career after quitting my full-time job at the birth of my son. But I have learnt that it is never too late, and maybe I am only now hitting my prime.
AND WHAT ARE YOUR PLANS FOR ARTIFACTT OVER THE NEXT SIX TO 12 MONTHS?
I have four goals: Increase our selection of artisans, explore new markets – we are aiming to expand into the region and beyond – set up a trade team to service our trade customers better, and have workshops in our premise and build a community for the brand.