This local designer conceptualised a sustainable way to make soap at home
In this week's Creative Capital, we meet Singaporean designer and artist Teo Ying Xuan whose project Mass Production of Happiness, presented in 2021, explored sustainability in daily life through a device that can manufacture soap in one's home, thereby eliminating plastic soap bottles.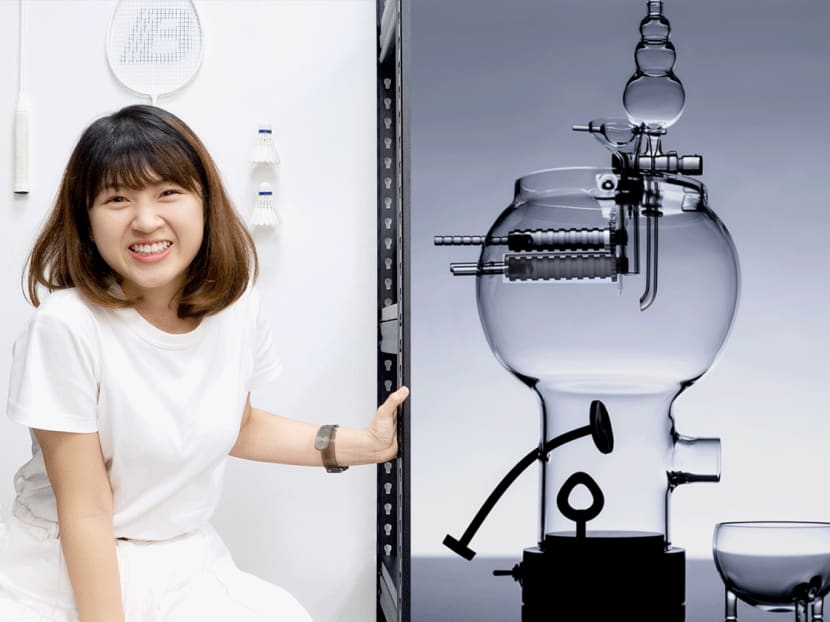 Twenty-nine-year-old Teo Ying Xuan, by her own admission, never really thought much about sustainability, at least, that was until she moved to the Netherlands to attend the Design Academy Eindhoven. There, through her classmates and new friends, she began to understand how important it is to be less wasteful and to appreciate how, as a designer and artist, she can add value to the push for a more sustainable world.
The result was a project exhibit that first showed at the Dutch Design Week 2018 and then again here in Singapore in 2021. Called the Mass Production of Happiness, it is a highly notable work exploring industrial production and daily rituals. And while Teo is taking a break from her more artistic projects to focus on contributing – as a designer – to her family's business, she is definitely one to watch.
DO YOU CONSIDER YOURSELF A DESIGNER OR AN ARTIST OR BOTH?
A little bit of both. I generally take on a light-hearted approach when I create. When embarking on a new project, one of my favourite things to do is to design playful research methods. Most of my design decisions are informed by the research behind each project. However, I also have an artist in me who believes that not every project has to end up with a functional product or outcome. It can also be a random and funny object. Humour is important too.
WERE YOU ALWAYS CREATIVE, EVEN AS A KID?     
I wouldn't say that I have always been creative but I did grow up in a pretty 'hands-on' environment; my father is a sofa craftsman and my mother is a seamstress. They are the creative ones! The factory and office have always been my playground since young and I guess that is how being in touch, and experimental, with materials became natural for me.
LAST YEAR, YOU PRESENTED A REALLY INTERESTING PROJECT, MASS PRODUCTION OF HAPPINESS. CAN YOU EXPLAIN THE WORK?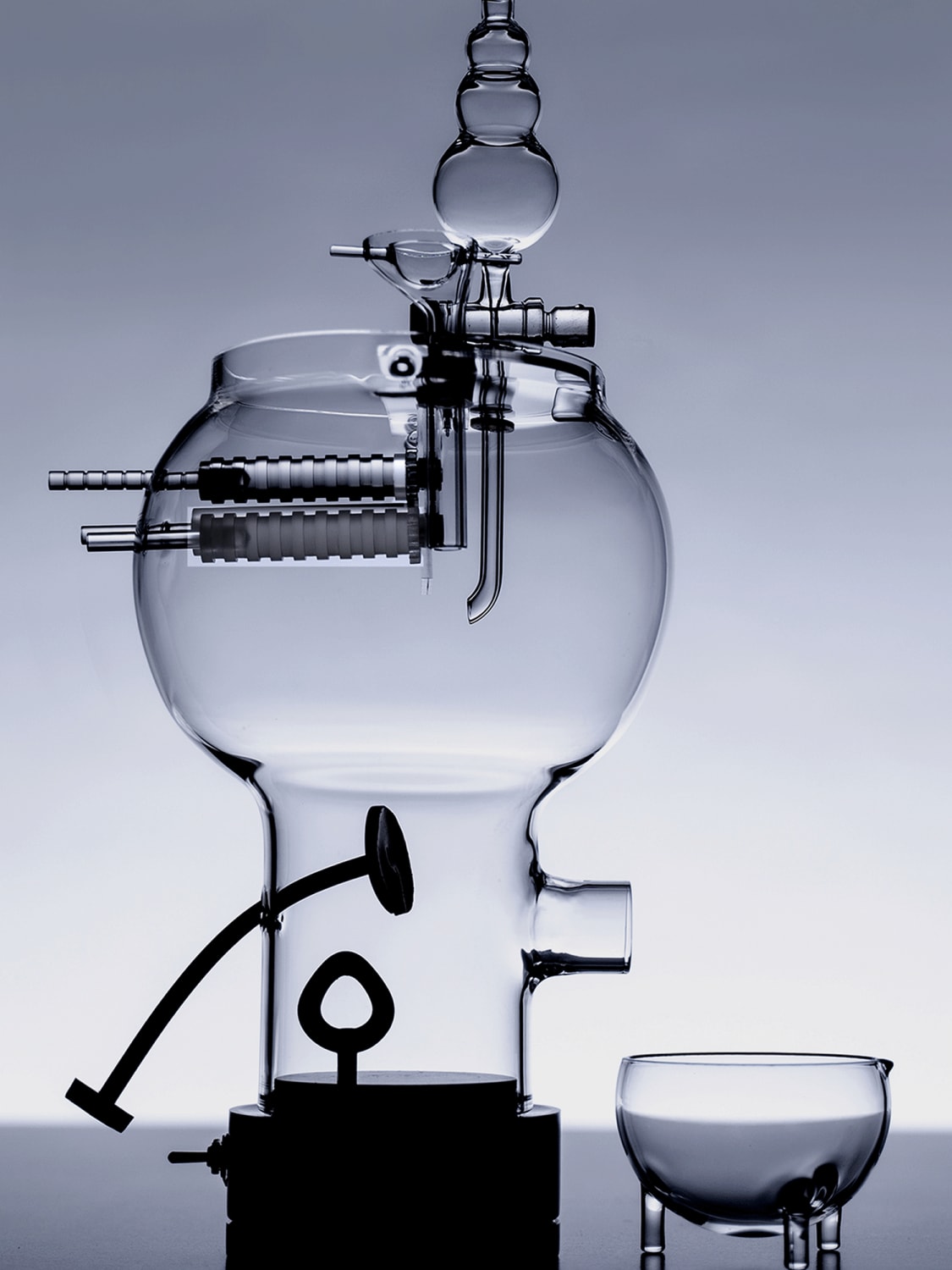 Mass Production of Happiness envisions an alternative future with no more plastic soap bottles, but only little machines that add soap-making into our daily self-cleansing rituals. This is an apparatus for the home that harks back to the traditional craft of extracting natural saponins from soap nuts so that users can take comfort in knowing the provenance of their skincare products. Each apparatus is designed based on the natural ingredients which can be added to the soap nut solution, in this first edition, it is the aloe vera.
The project was inspired by manufacturing processes like what we see in 'How it's Made' videos. The addictive and satisfying videos which show object or food going through different industrial machines is so fascinating! They help us understand processes, make sense of and appreciate objects and our environment. I wanted to create a mini-factory that reproduces a similar kind of satisfaction we get from watching these videos.
COULD THIS BE A VIABLE COMMERCIAL PRODUCT?
Although looking more like an installation, the product itself is surely viable. Its only challenge will be the cost of production. Most of the components are currently made out of glass as the entire idea is to move away from plastics.
WHAT SPARKED YOUR INTEREST IN WASTE AND SUSTAINABILITY?
It is extremely easy to buy bottled soap off the shelves and I never questioned anything about it in the past, neither the plastic nor the ingredients. I am even guilty of having my choice of soap influenced by attractive packaging designs.
The word 'sustainability' has never been approachable to me either. It is such a big topic and slightly overwhelming for me. Living in the Netherlands definitely made a difference in the way I look at it. I was curious about how my friends chose their soap and whether it is related to their nationalities. To my surprise, a handful of anti-soapers (showering with water only) and many went for soap bars as they preferred natural ingredients. Most importantly, they did not want to contribute to plastic waste. These conversations have helped me gain interest in the topic of sustainability which used to be daunting for me.
YOU LIVED IN THE NETHERLANDS FOR SEVERAL YEARS. WHAT STRUCK YOU AS THE BIGGEST DIFFERENCES BETWEEN LIFE THERE AND IN SINGAPORE?
I felt like a sponge in the Netherlands. Working alongside friends from all over the world, it is a space that is so rich in culture, ideas, and newness. It was a once-in-a-lifetime experience, the right place at the right time. After moving back to Singapore, it is not every day that I get to meet people from a different culture/nationality, but I have learned to embrace our own Asian culture much more than before. 
GETTING BACK TO MASS PRODUCTION OF HAPPINESS, HOW LONG WAS THE PROCESS OF IDEATION, RESEARCH AND DESIGN IN ORDER TO ARRIVE AT THE FINAL WORK? AND CAN YOU WALK US THROUGH YOUR PROCESS?
It took me about four months to arrive at my first working prototype, blown by a glass craftsman in Eindhoven, the Netherlands, where I used to study. Imagining it to be a domestic product instead of a 'soap factory' at home, it was important and also challenging to make the machine approachable in its size and relative to the form of soap and its recipe.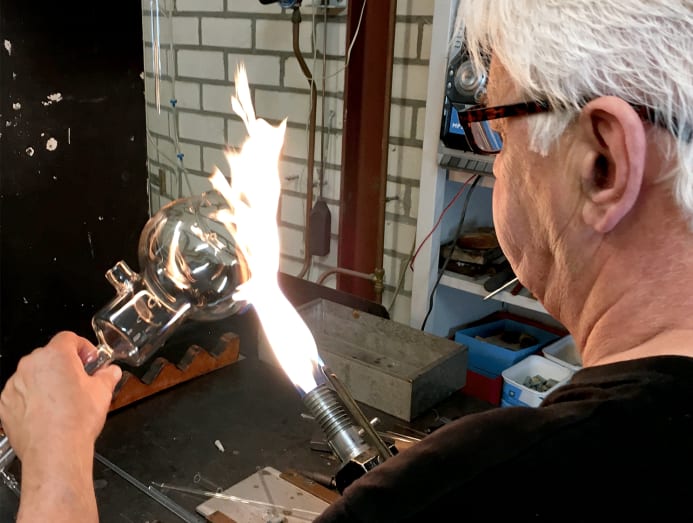 Having decided to produce most of the components in glass, it was important to first understand more about the material, possibilities, and limitations of the glass-blowing lathe. Without any glass-blowing background, the wood lathe was a lifesaver. Technically, if it is achievable on the wood lathe, it will work on the glass-blowing lathe as well. A good amount of time was spent on it before arriving at its final form. It went through many rounds and months of refinement before it was finally ready to be exhibited.
YOU'RE A FULL-TIME DESIGNER. WHERE DO YOU WORK AND FOR WHOM?
After concluding Mass Production of Happiness, I have joined both my elder sisters in our family business which my parents started about 35 years ago – Benel. I am currently immersed in the learning journey of office furniture manufacturing, its craft, processes, and the industry as a whole.
WHAT MARK WOULD YOU LIKE TO MAKE THROUGH YOUR WORK?
Honestly, I struggled a lot trying to figure out my identity as a product designer until I finally realised that for me, the end goal of a project isn't necessarily its function. It can also be the thoughts or emotions it stirs in the user. Take for example Mass Production of Happiness, the product isn't the apparatus itself but the happiness it brings when the user completes the ritualistic process.
ARE YOU CURRENTLY WORKING ON ANY NEW ART-BASED PROJECTS?
I have shelved some material experiments after deciding to focus on Benel, but I am sure I will revisit them at some point. It might make more sense to start one which is related to furniture, but I am still exploring!
WHAT ARE THE THINGS, PEOPLE OR IDEAS THAT MOST INSPIRE YOU?
I once came across a piece of reading in Architect Ettore Sottsass' book which inspired and completely enlightened me as a designer. It said: "I started to think if there was a reason for designing objects, it was in one way or another to help people live… to achieve a sort of therapeutic action, to make objects that stimulate the perceptions that each of us has or can have from our own experience."