Get Started: A beginner's guide to becoming an amateur home cook
We all need to start somewhere. In CNA Lifestyle's mini-series on activities you can do at home, we break it down step by easy step, with help from some experts. This week, it's all about cooking.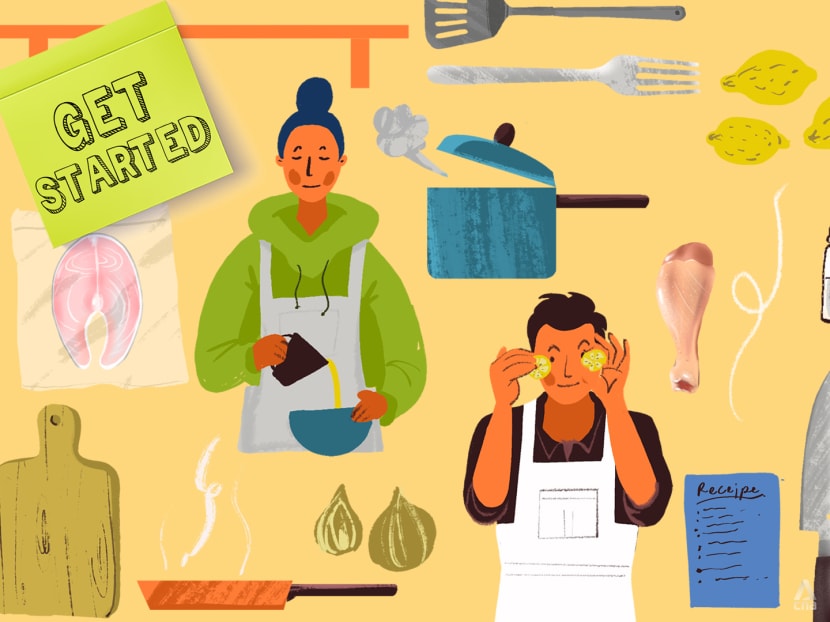 If this pandemic has got you tired of eating takeout all the time, maybe it's time to switch it up with some basic cooking skills.
Worried you're a complete novice? Fret not – we've got some expert chefs to reveal their hacks. Just follow these steps and you're on your way to becoming a kitchen goddess (or god).
1. ASSEMBLE YOUR EQUIPMENT
Consider these important items: A solid non-stick pan, a casserole pot and a knife.
"A non-stick pan would save home cooks a lot of time on cooking and cleaning. This would be very ideal, as your proteins would not stick while giving the food a nice char," explained Chef Jeremmy Chiam of Le Binchotan.
He added: "A good pot or casserole would be useful as well. For beginners, the all-in-one pot method is the best way to cook. It also involves less cleaning, and you can take your eyes off it while you get busy with other chores."
Meanwhile, Chef Nurul Ain Malek of The Nomads explained how a good, sharp knife will go a long way.
"A less than decent, cheaper knife may not stay sharp for long, which may result in you cutting yourself," she said. "Cooking involves a lot of knife skills, so practising with them will make the cooking process much easier and more efficient after a while."
2. INCLUDE THESE IF YOU'RE INTO BAKING
For the budding baker eyeing that sourdough bread or focaccia recipe, having a good weighing scale is a start, recommended Chef Nurul.
"The thing about baking is that you cannot just go off feel or taste. It involves a lot of precision, and a weighing scale will go a long way. Other equipment such as whisks, spatulas, jugs and mixing bowls are necessary basics as well. For baking breads and cakes, invest in a good mixer."
Chef Chiam added: "A KitchenAid mixer would be a good investment. They are costly, but they are very durable (his has lasted five years), and has many gadgets included such as a meat grinder. Bakers would need a decent oven, too."
3. ORGANISE YOUR KITCHEN AREA
When it comes to housekeeping, a messy kitchen reflects a messy mind, said Chef Nurul.
"Set up different areas for different food groups. Dried goods, spices, oils, equipment... organising is key as you will better remember where everything goes in the long run," she said.
"Labelling is helpful if you're forgetful. Personally, I like to keep my seasonings and condiments beside my stove for easier reach. Gathering all your ingredients before cooking will help you to be more prepared as well."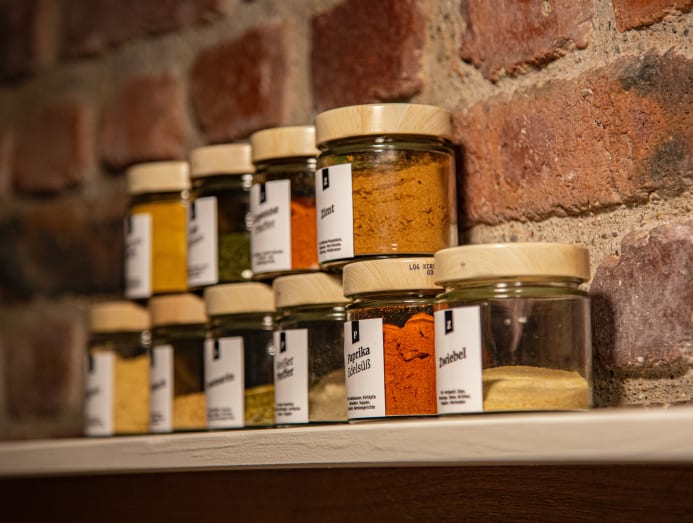 4. STOCK UP ON KITCHEN STAPLES
Regardless of the cuisine you're thinking of cooking, there are certain food items that we know to be universal to every kitchen. Staples such as salt, pepper and oil are recurring characters. Aromatic garnishes can also come in useful in many dishes, said Chef Glen Tay of Avenue 87.
"Personally, I will always keep spring onions, coriander and lemons in the house. They look good and taste great," he said. "They're used in many Asian dishes, and even though I don't always use them, I make it a point to always keep them in stock."
Chef Alex Phan, his foodie partner at Avenue 87, added that food items such as butter, onion and garlic are also as versatile as salt and pepper.
"They can be used in stir-fry, western dishes, or just dump it in a soup!"
5. PLAN WHERE TO SHOP FOR THE MAIN STUFF
Now that you've got your equipment and staple ingredients, you can strategise your bigger food items. Should you go to the supermarket or wet market?
While both have their advantages, the wet market environment can be overwhelming for amateurs, said Chef Chiam. "There is less hassle and the sellers might be friendlier at the supermarket. If you take a while to decide what you want to get, no aunties will be scolding you for holding up the line!"
He added: "If you want to play it safe, go to the supermarket. You can take your time to Google groceries you need, and you can get them all in one place. The wet market is an arena for after you level up."
6. LEARN HOW TO SPOT WHAT'S FRESH
You can buy your proteins and vegetables from either supermarkets or wet markets and they'll be of good quality. But if you want fresh seafood, go to the latter, said Chef Phan.
Once you're there, keep your eyes peeled. "To ensure freshness of ingredients bought, we look out for visual signs. So for seafood items like fish we look out for the eyes, the gills. For meat, is it releasing a lot of juices? Has it been kept in the blood for too long?" said Chef Phan.
His fellow Avenue 87 partner, Chef Tay added: "For meat, when we go to the market, it may look very fresh and nice on display in the humidity-controlled fridge, without the vacuum packaging."
He added: "However, when you take it home in the vacuum packaging, you might think, eh, just now so red, but now so brown? But the truth is, the meat has not turned bad. You just need to take it out of its packaging and let it dry out, give it some air to breathe. It will get back its reddish colour."
Here's a pro tip from Chef Chiam: Though most major supermarkets ensure excellent quality control, try to avoid going to the supermarket past midnight. The crowd might be thinner, but most of the fresh produce will be gone, as they only restock in the morning.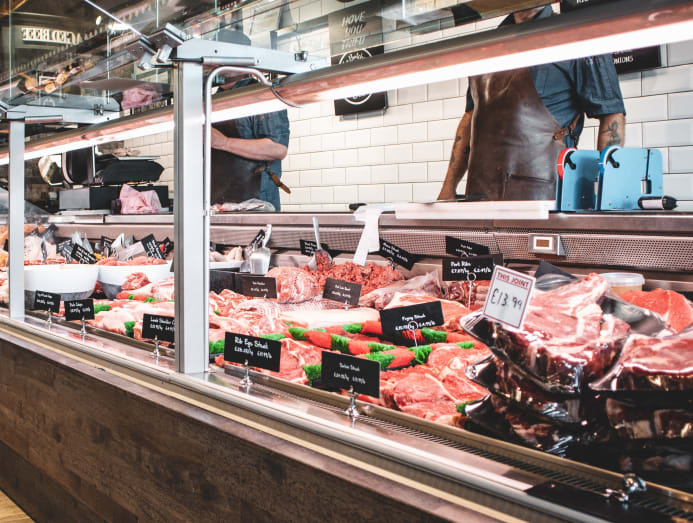 7. AVOID OVERSTOCKING AND KNOW HOW TO REPACK
We know you're itching to start cooking, but this part's important when you're building up your kitchen – keeping your ingredients safe to cook and eat.
To improve the shelf life of your food items at home, repacking is the way to go, said Chef Tay.
"Fresh fruits and leafy vegetables usually come in packets from the market. Re-pack them into boxes. Wash them first before putting them into the fridge," he said.
"Similarly for meats, if it's already vacuum-packed, don't open it. But if it's not, try to make it as air-tight as possible before putting back into the fridge. Otherwise, it will oxidise and lose its colour."
And although having a well-stocked kitchen might feel and look good, beware of the issue that is overstocking, which leads to food going bad before you can even use them.
"Anticipating what you're going to cook helps to counter overstocking. Or have a meal plan planned out for the coming week," said Chef Phan. "Try to buy ingredients that can be reused for many dishes as well."
"Or just invite your friends and family over and overcook, so that your friends can help you finish!" laughed Chef Tay.
8. DECIDE ON AN EASY ARSENAL OF DISHES
Okay you're all set. Now it's time to cook – but what?
Having an interest in a certain dish will make the learning process easier, said Chef Nurul. "Pick something that you like to eat and learn from there. Start with a simple recipe like aglio olio and practise perfecting it. After you've nailed it, you can then start to experiment with the dish, like adding more ingredients. Cooking at home should be fun, and shouldn't be a stressful situation."
For beginners, Chef Chiam also recommended all-in-one pot dishes such as beef stew, coq au vin, beef goulash and braised lor bak.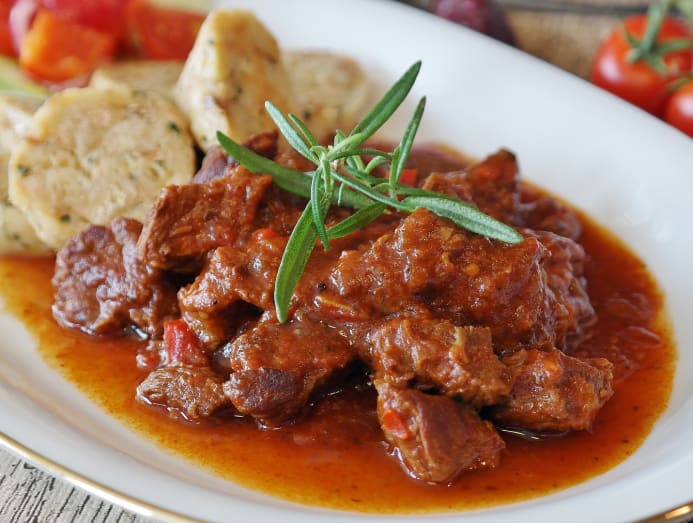 9. AVOID GOING ALL OUT TO IMPRESS – UNLESS YOU'RE READY
If you're looking to eventually level up and host the occasional guest or four, try to avoid preparing a brand-new dish.
"Hosting is a stressful situation as it is, so preparing a dish you're unfamiliar with will only add more stress," said Chef Nurul.
"If you're looking to impress in a communal setting, have four components in mind. First, carbohydrates like potatoes or bread. Second, a protein like fish, chicken or steak. Third, a vegetable dish like salad. Salads are easy to prepare and adds a touch of colour to the table. And the last component would be a dessert. You're good to go if you have these four components."
Much trial-and-error practise goes into perfecting a dish, but an amateur might want to avoid dishes like steak when cooking for bigger groups.
"If you're not a practised hand at cooking steaks, the timing can really screw up if you're cooking a few," said Chef Tay.
"The first guy has got medium-rare, the second has got medium and the next guy has got overcooked steak," he laughs. "It's hard to cook more than one steak at a time in a home kitchen, so it gets troublesome."
"I would recommend dishes baked in the oven." added Chef Phan. "Marinade the proteins, put it in the oven, and then just prepare some side dishes like a bit of vegetables and mashed potatoes."
And if everything doesn't go according to plan, maybe have drinks and snacks on standby.
10. DON'T FORGET TO ENJOY YOURSELF
We get it. Cooking can seem like such a chore sometimes, especially if you've had a long day in the (home) office, and all the energy you have left is for picking up the phone and ordering food.
But it doesn't always have to be a time- and effort-consuming activity, said Chef Nurul. Meal preparation is your friend, and will help you avoid spreading yourself too thin.
"If you have activities like work in the day, before leaving your house, cook some rice and keep it warm for dinner," she said. "You can chop up the vegetables the night before as well. So once you get home after a long day, you just need to cook without having to prep."
Chef Chiam added: "Take cooking as a way to destress yourself after a long day. I believe that everyone can cook. Taking the first step is hard, but just pick the dishes you like to eat the most and let your own creativity run free."
OTHER EASY CHEF HACKS
Clean as you go. After each activity in the cooking process (ie, chopping the vegetables), wash up the equipment involved. This helps to ensure a more manageable experience washing up at the end.
Always season your food just before serving. Add seasoning, taste the dish, then serve. Adding seasonings such as salt too early will cause the dish to be overtly salty, as reduction takes place during the cooking process.
Use a wet towel underneath a chopping board. This is to prevent the board from slipping or going sideways when you're doing the cutting.