How to stay cool at home: Heat-proof choices when renovating and furnishing your new place
How do you stay cool in Singapore's killer weather without blasting the air-conditioner? Here are some tips for new homeowners to help trim their electricity bills down the line.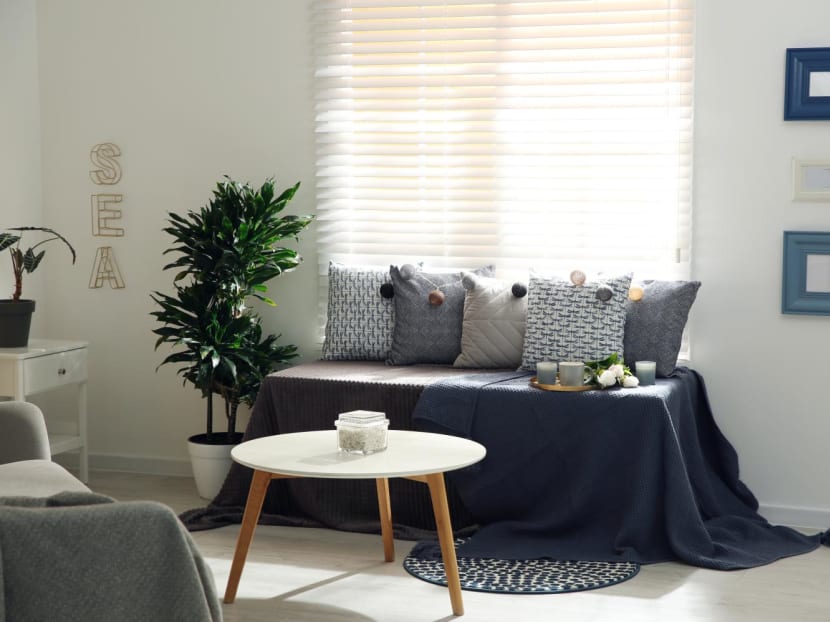 It's not the most wonderful time of the year in Singapore. Temperatures are soaring and nearly beat the country's 1983 record high of 37 degrees Celsius, while people seek refuge at shopping malls and public pools.
The National Environment Agency's (NEA) website tells us to set our air conditioners at about 25 degrees Celsius to save money, but that's a big ask when we start perspiring the moment we step out of the shower.
Tropical island life has its moments, but those who are here for the long haul will have to get creative without blasting our air-conditioners and hurting our planet and wallets. HDB has, and their plans to combat the "urban heat island effect" with silicon-based roofs and cooler paints are already underway. But as we hang tight for these experiments, the fortunate handful with new homes on the horizon can already start heat-proofing them.
Before fixing your new place, it's important to find out how suitable it is first – and that means figuring out the wind flow and which direction it faces.
A west-facing apartment is among a realtor's least favourite things. When the afternoon sun strikes, walls store heat and release it slowly over the course of the evening. A home that feels like a furnace isn't the warm welcome we asked for, and can affect our quality of sleep if the heat does not subside come bedtime. You don't want to be blindsided on this, so be sure to view the apartment at strategic hours outside of its "cooler" moments.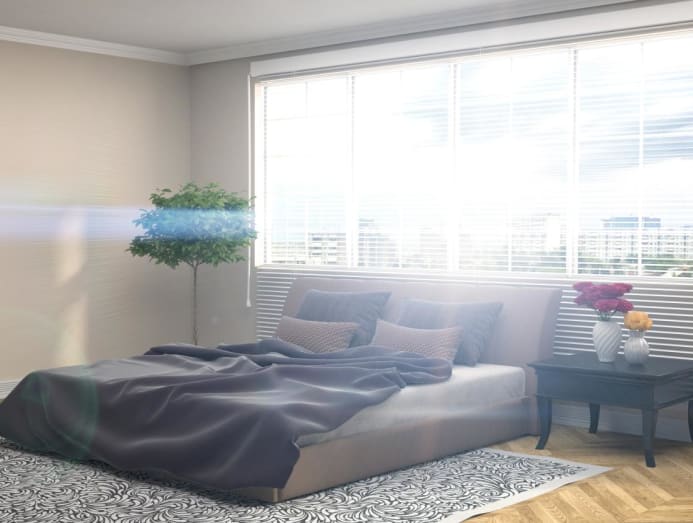 Of course, it helps if your apartment is located on a high floor with an obstructed view. Buildings near landed residences, for example, enjoy substantial wind flow that facilitates air circulation. But because this "dream" checklist can break the bank on our tiny red dot, the odds are stacked against us as the mercury continues to rise.
Here are some preemptive renovation and furnishing decisions that could lower indoor temperatures in the long term. Your future self will thank you for them.
VENTILATION BLOCKS
The first rule of creating airflow is to leave our doors and windows open. But as HDB flats are sometimes crammed too closely to one another for comfort, most of our doors stay shut. Bawling at a K-drama isn't the most glorious spectacle for neighbours and deliverymen passing through, but the price for privacy is often a stuffy vessel of stale air.
Ventilation blocks could be the answer. These walls air your living room and lend an industrial influence to your interior design, but feel free to swap them out for vertical wood slats if they're more on-brand. Collapsible room dividers are a less permanent, space-conscious alternative. They can be deployed at your whim and fancy, but retracted when the extra space is needed for hosting guests.
WINDOW TREATMENTS
Your windows are your first line of defence. Explore treatments like Low Emissivity (or Low-E) glass, which is coated with insulating material that prevents it from radiating light and heat energy, or double-glazed windows, where vacuum or inert gas – both of which are terrible thermal conductors – is wedged between two glass panes. All that science-y talk to say: Heat from outdoors will have a harder time infiltrating your home and sabotaging your air-conditioner's efficacy.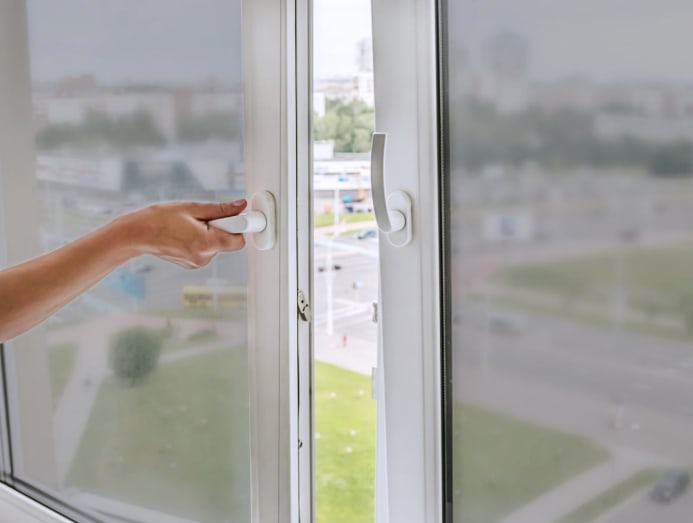 If your budget does not allow it, window films have proven to be a godsend for many homeowners, too. UV and solar films allow natural light but reject harmful rays, which bodes well for not just comfort and energy efficiency but also the lifespans of our skin and furniture. Some of them, like 3M's Night Vision Series, also offer the added benefit of privacy in the same way your handy screen protector keeps pesky peers away.
WINDOW SHADES
Now that you've got the window treatment down pat, what might be the choice covering? Material is the end game here, and the idea is to reflect harsh sunlight and radiate heat outwards. When shopping for curtains and drapes, look out for fabrics that have silver-coated or white PVC blackout backings. The equivalent for blinds would be metallised film surfaces.
An insulating material is most effective when placed closer to the heat source. While external installations seldom have a place in public housing and some condominiums, homeowners with balconies can double down with an outdoor roller or Venetian blind. They help you stay cool and your plants stay alive.
PAINT
You might have heard of HDB's piloting the use of heat-reflective paint in Tampines, which can apparently lower ambient temperatures by up to 2 degrees Celsius. But how can the rest of us – who know dark colours trap heat but not much else – optimise our paint jobs for thermal insulation?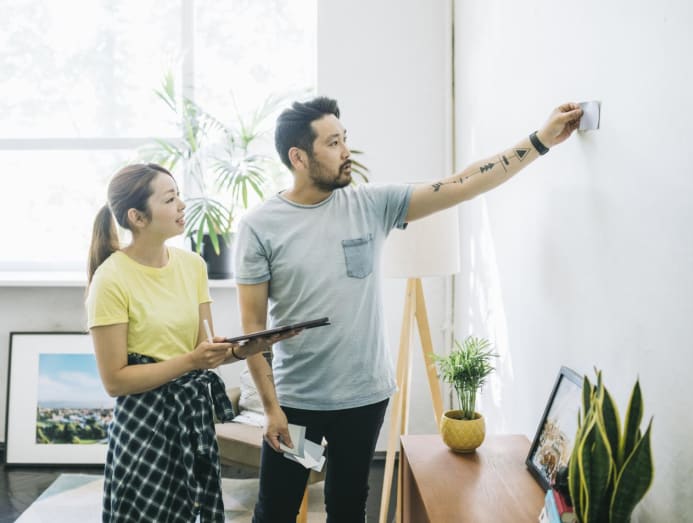 New players in the paint industry are changing the game. Gush, for example, is a local startup that claims to regulate humidity – among other functions – through non-toxic paint that absorbs and releases moisture effectively, ridding homeowners of the mould and mildew bothers it creates. You could also look into thermal insulation paint with ceramic microspheres which do exactly what the vacuum in double-glazed windows does – trap less heat.
SURFACES
Before flooding your interior designer's inbox with those Pinterest mood boards, remember that form does not always equal function. Since these are the very surfaces that store and emit heat, cooler ones – especially in the bedroom – could lower the indoor temperature in time for slumber.
The popular Japandi style, for starters, sometimes manifests as parquet and vinyl flooring that trap more heat. A home filled with wooden surfaces may be pleasing to the eyes, but you would feel far from zen when coated in a thin layer of sweat at all times. Surfaces such as marble, stone, or cement feel cooler to the touch and are no less stylish in the hands of a skilled designer.
Surfaces that directly bear the brunt of the sun, like balcony walls, could also give you grief. But this is the perfect excuse for plant-crazed homeowners to justify a vertical garden. Besides cooling your home, it also serves as a feature wall, an air purifier, and a welcome respite for the eyes after prolonged screen time. Now that should get your partner's buy-in.
FIXTURES AND FURNISHINGS
The content of your home is the final step of heat-proofing, and it's helpful to start with textiles. Compared to their synthetic, tightly woven counterparts, natural and breathable fabrics such as cotton, silk, and linen, as well as cellulose-based fibres like bamboo and Tencel trap less heat. Since a great deal of time at home is spent lounging, your choice of upholstery and bedding is equally deserving of attention.
In lighting, pick fluorescent and LED bulbs over incandescent ones. The latter may be affordable, but their use of tungsten wires radiates more heat. And, before jumping on the standing bladeless fan bandwagon, you might want to think twice. Ceiling fans may be old-school, but they circulate air more evenly and direct cool air downwards when set to spin counter-clockwise.
Finally, there's more to a smart home than digital locks and voice controls. Controlling motorised blinds and the air-conditioner remote lets you mobilise them whenever the capricious weather changes its mind and retreat to a relaxing crib every evening. And, if being in the air-conditioner leaves you wheezing through the night, a cooling mattress pad with adjustable temperature settings might prove to be a worthwhile investment.