What does it take to build a successful beauty brand in Singapore?
They dreamed of creating their ideal beauty product – and went for it. CNA Lifestyle picked the brains of seven local start-up founders to find out their secrets and what pitfalls to avoid if you want to follow in their footsteps.
Beauty junkie and sunscreen advocate Xenia Wong had her eureka moment when she began talking to friends about the importance of wearing sun protection.
"My friends felt there weren't any suitable sunscreen products that they enjoyed using, so they skipped it altogether," said Wong. "It made me start thinking and asking questions on what my dream sunscreen would feel like. This spurred my enthusiasm to create the perfect sunscreen that everyone would look forward to applying."
She went on to launch Sigi Skin, a superfoods-infused skincare brand, which, not surprisingly, includes a popular sunscreen that has since gone on to snag beauty awards.
Wong is not the only entrepreneur in Singapore to have launched a beauty brand in recent times. Spurred by their personal, or loved ones' skin woes, many have decided to create products to address specific gaps in the market.
For example, Ashley Yong created Two Halves, a brand of vegan skincare for sensitive skin to address her husband's rosacea while Charlene Ng of premium paediatric skincare brand A Tapir's Tale felt there was a market for more sophisticated formulations that are gentle enough for newborns yet still able to benefit the entire family.
These local start-ups often focus on a niche market such as Glowfully's "no nasties" beauty products that are suitable for Singapore's humid climate or feature star ingredients like Bskin's potent bee product.
But while it may seem like these start-ups have sprouted up effortlessly within just a few years, the founders say there is plenty of hard work and grit that goes into successfully launching a brand. They share their hard-earned experience and tips on how to go about building a brand – and caution would-be entrepreneurs on what potential pitfalls to steer clear from.
KNOW WHO YOU ARE SELLING TO
It is essential to know your customer from the start. When Ng was creating A Tapir's Tale, she "kept thinking of a specific person that my product would appeal to". In her case, this customer is a millennial and Gen Z female buyer who is well-informed about the latest and best skincare and does not want to compromise on that expectation of quality and efficacy for her own children. Today, these women comprise the majority of her customer base.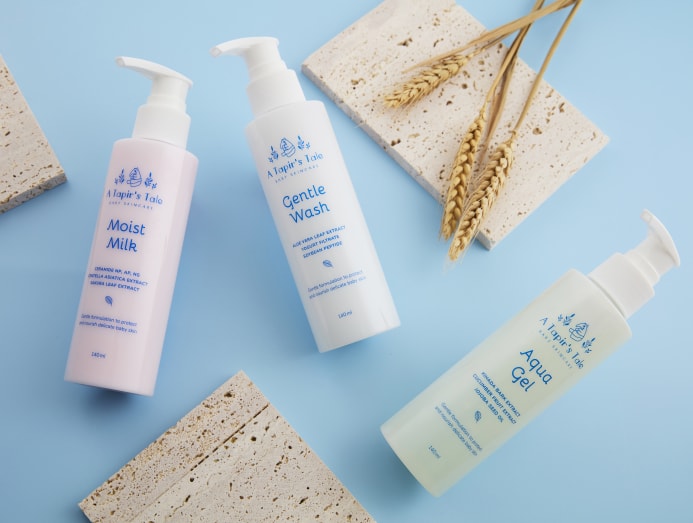 But realistically, one may not always get it right. This is why Sital Gill Phichitsingh, founder and business manager at e-commerce platform Powella and soon-to-launch skincare brand Kawamama, said it's essential to conduct focus groups to be able analyse one's product objectively.
"Get the branding set in stone from the onset as that sets the tone of voice and message and this is how you will differentiate yourself from others already in the marketplace."
CREATE A UNIQUE AND NICHE PRODUCT
Invest in creating your own formulations, instead of relying on ready-made products that some manufacturers may offer. "When I wanted to incorporate certain ingredients that had to be specially sourced, many told me it was not possible but it is important to not compromise on this aspect," said Wong of Sigi Skin.
She eventually found laboratories that came on board with her ideas and went on to incorporate hard-to-find ingredients such as the Maqui berry from Chile for the brand's Dew Potion.
Do know that this process often includes multiple rounds of testing and formula changes, so if you are hoping for instant gratification, the beauty business is probably not for you.
But it is worth it to stay the course. For Lim Ker Han, founder and CEO of high-performance skincare brand Heure, this took an entire decade because of the team's exacting standards.
"It took a team of the world's foremost scientists – every researcher held at least one PhD from the best universities – in A*STAR, one of the world's leading research institutes, to develop the proverbial key to unlocking the skin's front door," said Lim. The result – SPHR, the brand's star ingredient, is now used in every one of its products.
TEST YOUR PRODUCT – AND ITS PACKAGING
In line with today's consumer preferences, many start-ups are embracing a cruelty-free ethos and choose not to test on animals in the lab. "However, our close friends, family and colleagues are never spared," quipped Chia Su-Mae, founder of Bskin.
But that is not all, with much more to be done behind the scenes. Yong of Two Halves stressed the importance of conducting stability testing with the actual packaging. "Different packaging are catered for different formulations. Over time, some formulations with varying percentages of acids and vitamin C may erode into your product packaging which can result in damage and contamination," she said. "So, do add this step before you commit to a specific packaging."
MARKET YOUR PRODUCT TO GENERATE BUZZ
Yes, Instagram is a great way to get the word out, but you must have a strategy, or your efforts may amount to nothing. Pay special attention to the pre-launch period, said Sital, as this is when you can create hype and brand awareness. "Have planned Instagram content for eight to 12 weeks in anticipation of the launch of your product where you show them sneak peaks, do 'how-to' videos and have infographics to really solidify the importance of owning what you have to offer," she said.
It always helps to include useful content. "A consumer may not find the idea of a fragrance-free product appealing if they do not truly understand the reason why we excluded it," said founder Charlene Sim on Glowfully's products. "Hence, we focus on educating the consumers via Instagram and TikTok to bridge this knowledge gap."
CHOOSE YOUR BUSINESS PARTNERS WISELY
Yong emphasised the importance of understanding one's own skills and shortcomings, then picking partners who can value add and complement your working style.
Her mother, Jo Yong, who is Two Halves' consultant, has more than 25 years of experience in the beauty industry with luxury brands including Estee Lauder and Tom Ford Beauty. Her husband handles finance and sales while she oversees operations and creative aspects of the business.
"The entrepreneurship journey can be quite lonely and having business partners is always a good thing, as long as your work dynamics are complementary," she said.
To help stave off the possibility of a business relationship turning sour, Lim goes the extra mile by inviting potential partners out for a meal or drinks in addition to the normal pitches, presentations and proposals. He said, "This is in part to suss out a bit of who they are outside of the work proposals, in part to test the compatibility of any future working relationship."
KNOW HOW TO APPROACH STOCKISTS
As a new brand, working with stockists will allow you to reach a wider audience, but to secure the coveted shelf space, you will have to nail your pitch to them. "You should have a compelling pitch that explains what makes your brand unique and why their customers would be interested in your products," said Chia.
Do also read and understand the fine print when you sign an agreement. "Be clear about the terms such as payment terms, display requirements and amount of investment required, if any. Some may require that you invest in an extensive product display or hire a sales promoter," Chia added.
If this sounds like too much financial commitment for a fledgling brand that also has to juggle overheads, research and development and operational costs, online distribution channels are viable options too. Glowfully's Sim said, "For now, we keep mostly to online distribution channels to keep our overhead low, so that we can bring products to the market at an accessible price."