The rise of genderless beauty products: Do men and women really need different skincare?
In a world of diversity and inclusivity, forward-thinking beauty brands are making products for all. Here's what to know about this gender-neutral new wave to looking good.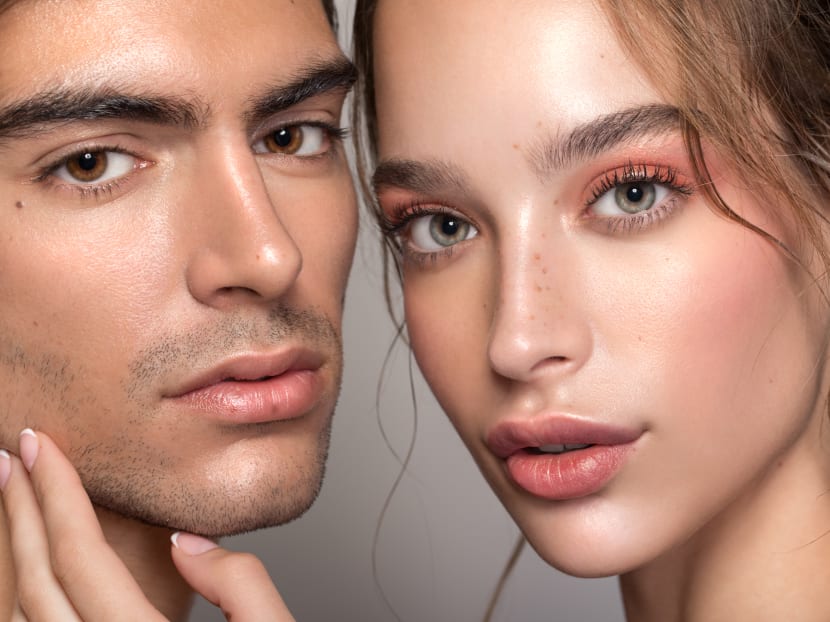 A bottle of floral-scented skincare encased in pink or ornate packaging, obviously targeted at women. A masculine jar of moisturiser with "Homme" emblazoned across its jet-black exterior.
These gender-specific products may soon make way for a new generation of skincare and makeup that is gender-neutral, both in terms of packaging and formulation, and which appeal to folks on the entire gender spectrum.
Of course, the idea of unisex beauty products is not entirely new. Remember Calvin Klein's CK One perfume for men and women, which launched to great fanfare in the 90s and continues to be popular today?
Or Aesop's cult favourite amber-hued bottles of plant-based skincare and bodycare that look like pharmacy remedies and have been genderless since the 80s?
These and other OG gender-neutral brands and products have championed the idea that men and women can use the same perfumes, moisturisers and face washes for decades, but there's now also a new wave of inclusivity that's sweeping the beauty world. With a large percentage of Millennials and Gen Z-ers – aka the beauty industry's next generation of power buyers and changemakers – recognising that gender is non-binary and made up of a spectrum, the idea of specific skincare and makeup for two different genders is being challenged.
Enter brands like Fenty Beauty, with the values of inclusivity, diversity and gender neutrality built into its brand DNA.
When her skincare line Fenty Skin launched in July 2020, superstar Rihanna tweeted: "Whoever told you skincare has a gender, LIED to you!" The first few Instagram squares at @fentyskin featured rappers A$AP Rocky and Lil Nas X, and more than a year later, the label's Instagram account features celebrities and influencers of all genders, colours and sizes patting toner serums onto their faces and rubbing scrubs onto their bodies, from bottles that are a pleasing lilac hue.
The metrosexual man who revolutionalised male skincare by actually using face wash? The husbands and boyfriends who have to be forced into moisturising? Perhaps they're a dying breed. In an enlightened world, a multiple-step skincare routine and some makeup isn't crazy, it's looking after yourself. And self-care and glowing skin? It's officially cool.
At face value, there are differences between the skin of those born male and female. The general consensus is that males have thicker skin that age differently from those of females, larger pores and higher levels of oil, thanks to the presence of testosterone. There was also the concern that male skin would be sensitised due to constant shaving. This led to products for guys that were lighter, and to make these more palatable to men, also smelled a certain way and featured masculine packaging. 
But those traditional notions are eroding. Good skincare is good skincare, and it's more important to find products that work for your skin type and skin concerns than those that supposedly work for your gender.
Here are five gender-neutral brands to get familiar with.

AESOP 
This cult Aussie brand is one of the OGs of gender-neutral skincare, and has been a trailblazer since its launch in 1987, eschewing fancy packaging and pretty models for apothecary-cool bottles and plain old brand love. Its understated and uniformed-looking bottles and vials look good in modern homes and its efficacious and luxe plant-based formulas address different skincare needs, not gender needs.  
From Aesop stores and counters. 
FENTY BEAUTY
Speaking to a new breed of consumers that value not just inclusivity and diversity in terms of product offering (50 foundation shades, anyone?) but also its messaging, Rihanna's Fenty Beauty and Fenty Skin came at exactly the right time. When you buy their products, you're not just buying skincare and makeup, you're buying into gender neutrality, diversity, inclusiveness and the idea that we are all the same, yet different in our own ways. And that's powerful.
From www.sephora.sg. 
MALIN+GOETZ
Started in 2004, this luxe New York-based brand has a hip line-up of gender-neutral face and body products featuring natural ingredients and minimalist packaging. The founders have said that the concept is inspired by when their grandparents shopped in local apothecaries, and how it was a simple experience that was unisex, with only one or two products needed to treat an issue. The brand, though, is resolutely modern, and also cruelty-free and sustainable, with facial cleansers, bar soaps, deodorants and other products for all skin types. 
From Sephora stores, escentials stores and Spa Esprit outlets. 
ALLIES OF SKIN
Established in Singapore, Allies Of Skin is making waves around the world as a modern, clean and clinical skincare brand with concentrated and high-tech formulation. Its minimalist, genderless packaging means the focus is on its impressive ingredients, such as peptides, lactic acid, superoxide dismutase and acetyl tetrapeptide-40, which help bring forth good skin, regardless of gender.

From www.sephora.sg and other retailers.

ONE/SIZE
The brainchild of Filipino-American YouTuber and makeup artist Patrick Starrr, who believes that makeup has no gender, and wants to challenge the stigmas surrounding men wearing makeup. His One/Size brand is a genderless beauty line that includes setting powders, makeup primers, tinted eyebrow gels, faux lashes, undereye patches and makeup remover wipes. As with skincare, buying makeup shouldn't be about gender, but what works for you.

From www.sephora.sg.