What they'll miss most about Jurong Bird Park: Staff recall their best memories from the last 51 years
The long-tenured staff spill on everything, from their favourite birds ("Maggie the hornbill was so protective of me, she pecked my wife") to missing "open spaces where you cannot see buildings, only the birds and exhibits".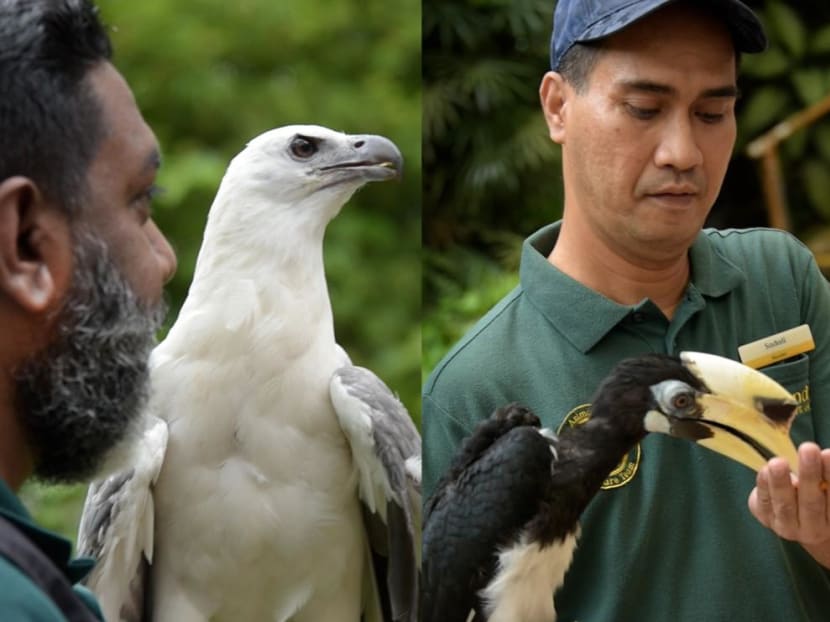 Ever since its doors first opened in 1971, Jurong Bird Park (JBP) has amassed more than its fair share of avian fans over its storied 51 years. It has also welcomed more than 41 million visitors over the years, many of whom boast nostalgic memories and genuine love for Asia's largest bird park.
But the closure of the beloved park on Jan 3, 2023 (exactly 52 years to the date) will most likely hit closest to home for the park's long-tenured staff who, though excited about the big move to a brand new home in Bird Paradise at Mandai Wildlife Reserve, can't help but feel bittersweet about the end of a chapter at a location that's been home to 3,500 birds across 400 species.
For Clarence Saw, there have been so many memories over his 34 years with JBP.
"One of my fondest memories working at this park must be when I got the chance to perform in front of the late Prime Minister, Lee Kuan Yew... (the late) President, SR Nathan... as well as the current Prime Minister, Lee Hsien Loong," shared the 59-year-old, who's senior manager for Animal Presentation, specifically for the Kings Of The Skies Show. "It was quite a moment for me to be able to perform in front of them here."
Since 1988, Saw has trained many birds to perform. But two of his favourite feathered friends in particular will always be part of some of his strongest memories at the bird park.
"One of the birds I had the most special relationship with was George, an Andean condor that is no longer with us. He was like a pet to me," he shared wistfully.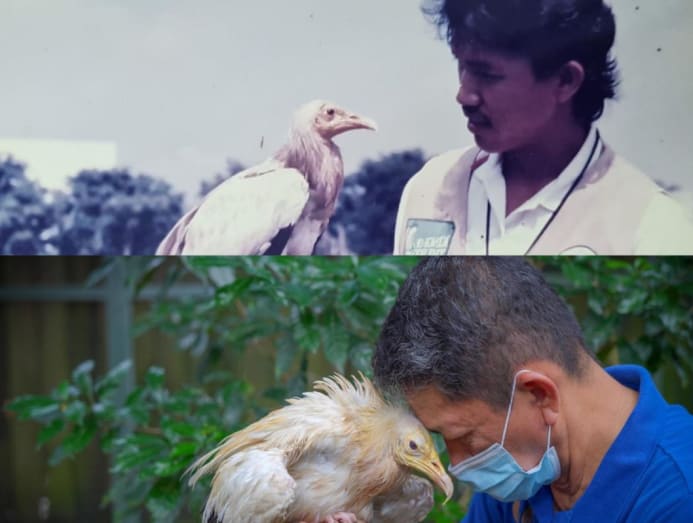 "And there's Rod, an Egyptian vulture (who had been part of the park since it opened in 1971)
We just lost him recently
. But the many years that I actually had the chance to work with Rod and spend time with him were great. He's a very wonderful bird. He showed me how intelligent birds can be, and full of personality."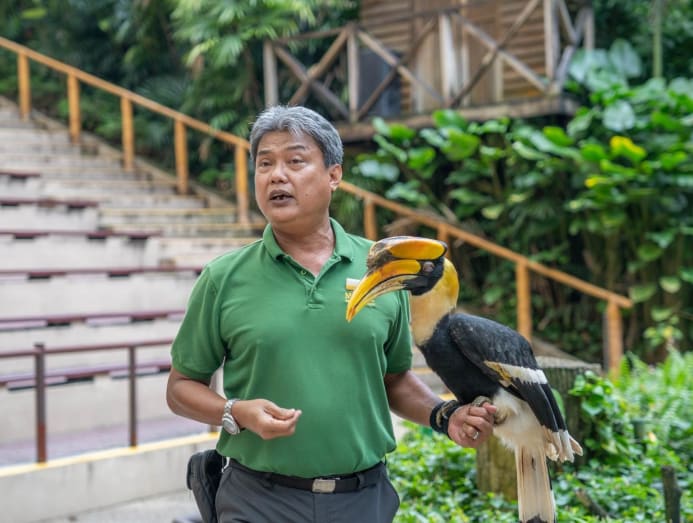 For Mohammad Saad Yahya, who's assistant manager for Animal Presentation for the High Flyers Show, the last 39 years at JBP have been nothing but significant and memorable.
"I took care of the hornbills for my first 20 years," he said with a smile. "I still remember I joined the bird park on Oct 3, 1983."
Saad shared that one of the things he'll most about the current location has to be the "ambience".
"Because back in the day, if you were in any part of the bird park, you cannot see any buildings at all. You can see only the birds and also the exhibits. And of course, the people that we work with," he said. "That is the thing that we're going to miss most."
Saad confessed he'll miss the natural environment here in Jurong, and is afraid that when they move, they won't be as close to nature as they are now.
That said, he's had countless good memories and career highs over his long tenure with the park, including the huge achievement involving black hornbills back in 1992.
"I was the first keeper to take charge of the hornbills when the black hornbill exhibit opened in 1990," he reminisced. "They sent us to Thailand to research about hornbills in the wild. And then we took that research back and tried to improvise on it here in the bird park."
He continued: "And we managed to do it! Not only did we manage to breed the first black hornbill under human care, but we also managed to then breed a few other species!"
Meanwhile, Chandra Mohan, who has been with the park for 22 years, has a slightly different but still fun favourite memory .
"Back then, near my current department, there used to be picnic ground which is not there anymore. It's a children's playground now. It's a very huge picnic ground and we used to organise soccer (games) every weekend with other departments," he shared with a laugh. "The guys from the other departments would come down and we would have a ball of a time back then. That's one of the memories that still stays in my mind."
For the 43-year-old manager for Animal Presentation at the Kings Of The Skies Show, the bird park also holds a special place in his heart because his uncle used to work there. 
"Honestly, I'm going to miss the location because I've been coming here since I was very young," he said, adding that he was inspired by his uncle who used to present the bird shows, which sparked his interest to work with birds.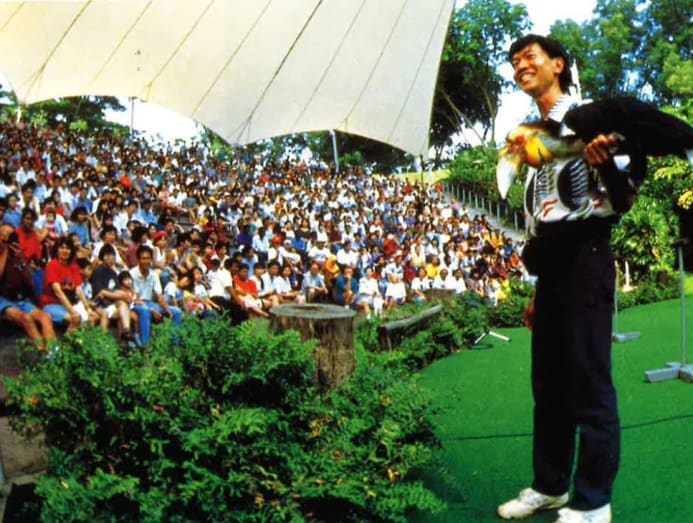 Another particularly special moment for Chandra was having the Philippine eagles come to the park.
"As someone who works with birds of prey, the opportunity to work with the majestic Philippine eagle doesn't come easy at all," he said. "I would say it's a once-in-a-lifetime opportunity and I'm very grateful that I got the opportunity to work with them. And I'm able to see them in person while being here at JBP."
As for senior keeper Sadali Mohamed Tali, who is currently taking care of endangered songbirds, his 22 years have been dotted with so many highs.
Singapore's iconic Jurong Bird Park will be closing on Jan 3, 2023, with its feathered residents eventually moving to the new Bird Paradise at Mandai Wildlife Reserve. CNA Lifestyle asked some of its longtime staff to share their best memories.
And like Saad, his favourite memory also involves hornbills. "I managed a successful release of a pair of oriental pied hornbills in the Istana and they even named the birds after me," he shared with pride. "The male was named 'Sada' and the female was named 'Lily'."
Indeed, Sadali confessed to having an extremely special relationship with all the hornbills at JBP. 
"I have to say that all the hornbills are my favourite because I really love working with them," he admitted with a laugh. "But I do have a hornbill – Maggie – that is actually very close to me. You can say she is closer to me than my wife at home. My wife tells me I've even mentioned Maggie's name in my sleep! And when my wife came to visit me at JBP, Maggie, who was so protective of me, pecked at her!"
Jurong Bird Park will be moving to a new home called Bird Paradise at Mandai Wildlife Reserve, joining the Singapore Zoo, River Wonders, Night Safari and an upcoming attraction called Rainforest Wild.