3 nights in Penang: Instagram art in the countryside, dreamy sunsets and a most unusual dinner date
Post-pandemic, CNA Lifestyle checks out what's new – including a modern cafe set in a durian orchard at Balik Pulau and a countryside theme park – without forgetting the irresistible charms of George Town and Batu Ferringhi. Oh, and we had dinner with a former Prime Minister's son, too.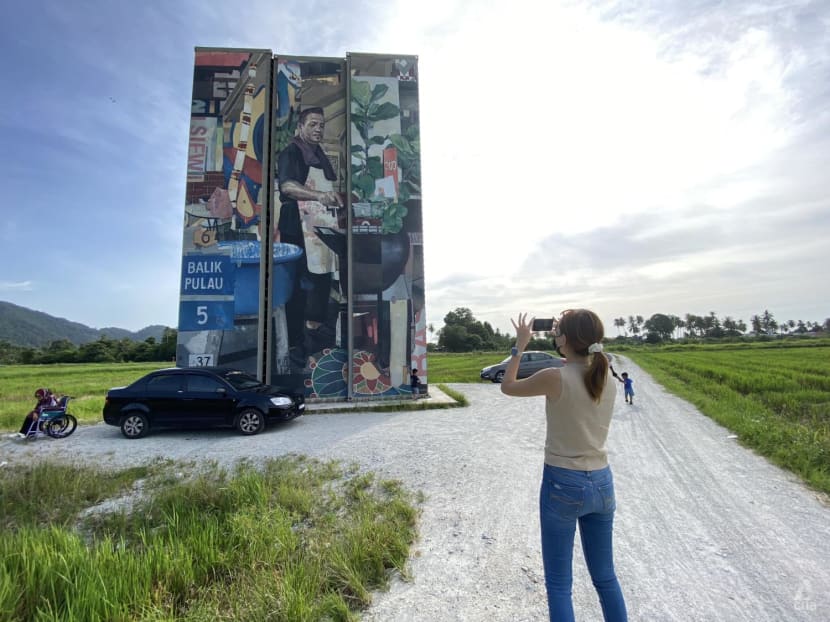 It was my first time in Penang, and I'd heard a lot about the friendly locals, the lively art scene and, of course, the delicious street food.
But what I didn't expect was to be surrounded by endless views of paddy fields – while posing for a picture with a lone white grand piano at that. I haven't got the faintest clue as to why it's even there, but it certainly felt like I was in a teleportation scene from some futuristic movie.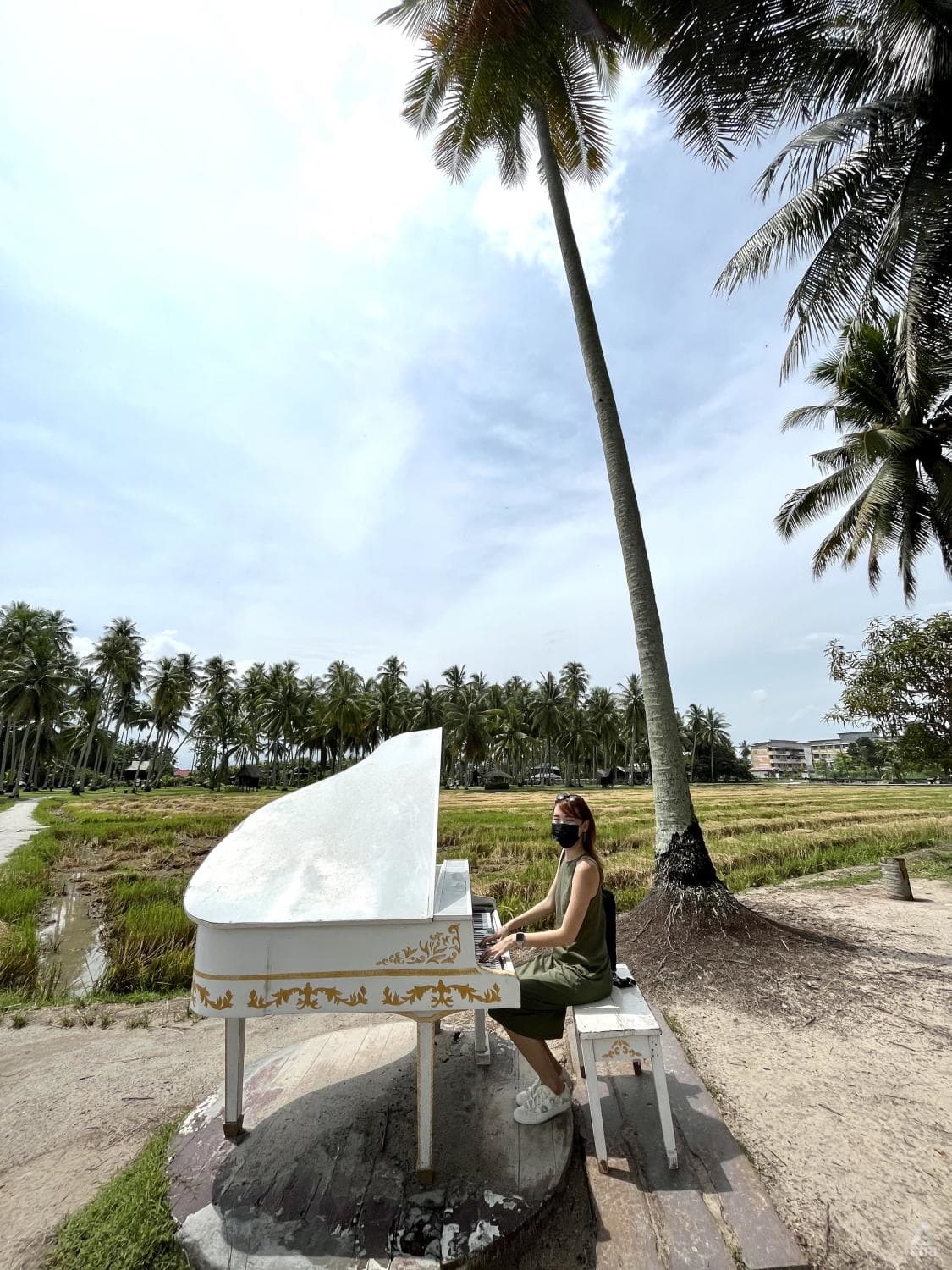 I was at Kampong Agong, a countryside "agro-park" surrounded by a grove of coconut trees and Instagram-friendly photo ops, including a swing and a huge man-made "sarang burung" or bird's nest.
The 25-minute drive north of Butterworth, which was on the mainland part of the Malaysian state, was an unexpected detour from that day's itinerary, but I was glad we came. It turned out to be a short but refreshing and idyllic alternative to Penang's more touristy spots, where one could rent a bicycle or have a picnic, or even go horse riding or do a farm stay.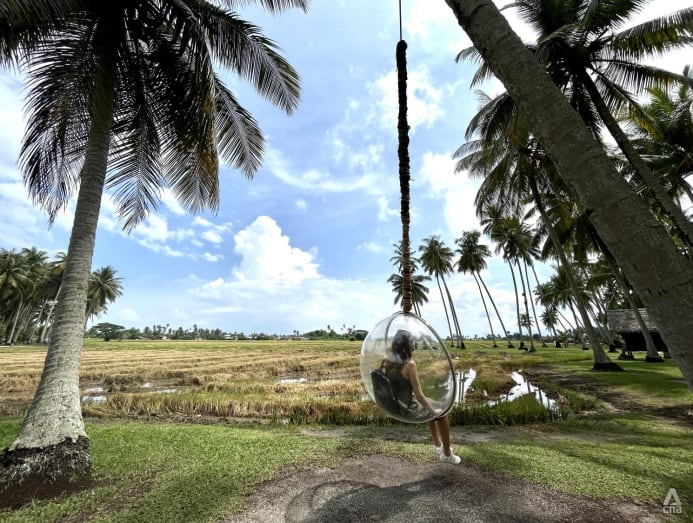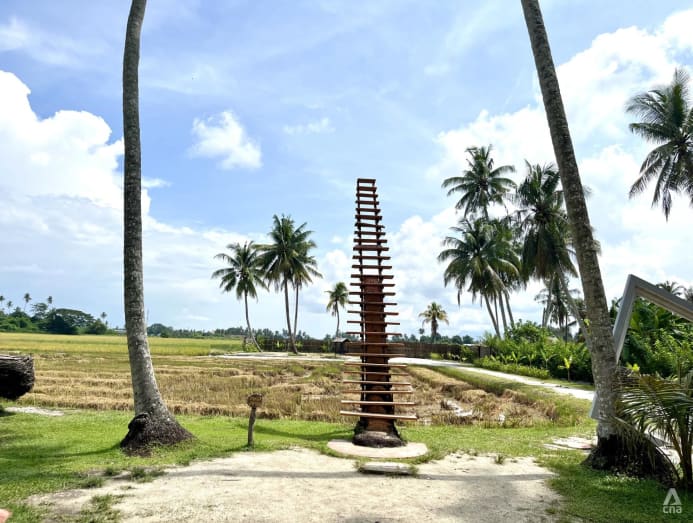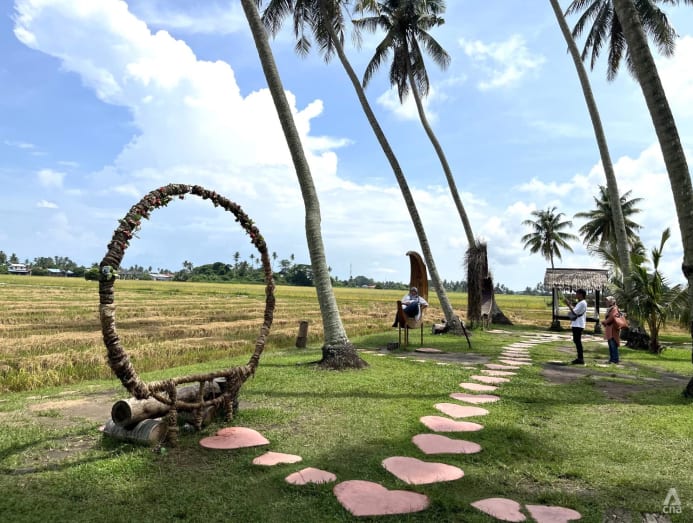 My tour guide Eng Seong remarked that the last time he came, which was prior to the pandemic, the place wasn't as developed. And I could tell he was impressed by the facelift.
Being a first-timer in Penang, I didn't know what was new and what wasn't, but I was equally impressed by what I had seen throughout my short trip.
BUTTERWORTH IN HALF A DAY: HISTORY AND ART 
Earlier in the day, we were at Butterworth Art Walk, where you can find a myriad street murals inspired by the local seaside community and British Malaya history, to name a few. I liked that the back alley neighbourhood was less touristy (you can take as many pictures without the judging eyes and restless crowds over at George Town on the island) and you could cover the area on foot in less than 30 minutes.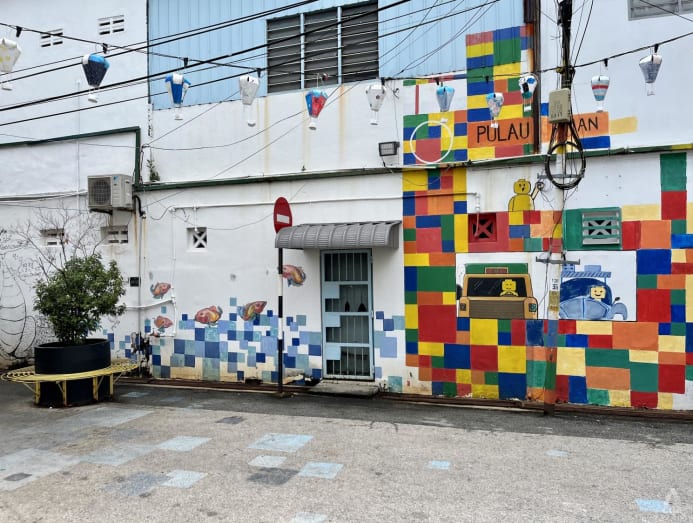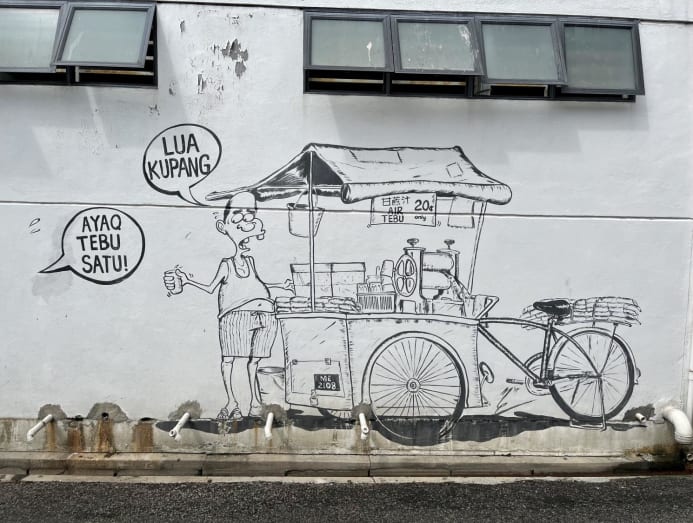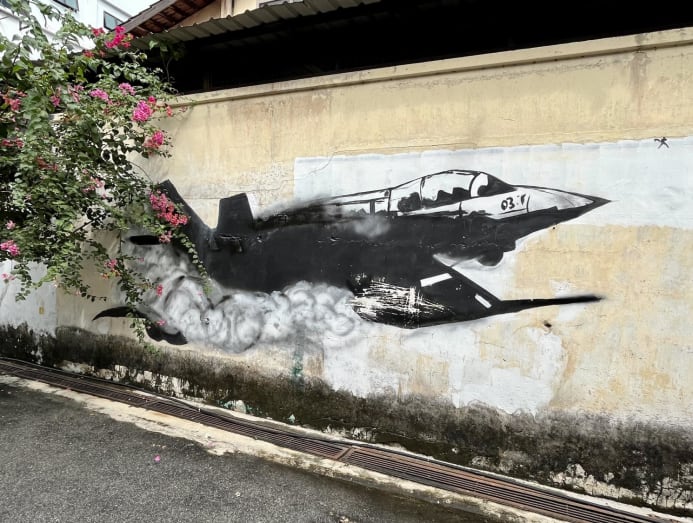 Nearby was the unmissable, gigantic 12m container art installation depicting a man hand painting a batik cloth. It was quite a sight to behold.
Highlighting the island's vibrant art culture and local identities, the installations were all part of the Penang International Container Art Festival, which comprised artworks found in five distinct locations, including George Town and Balik Pulau.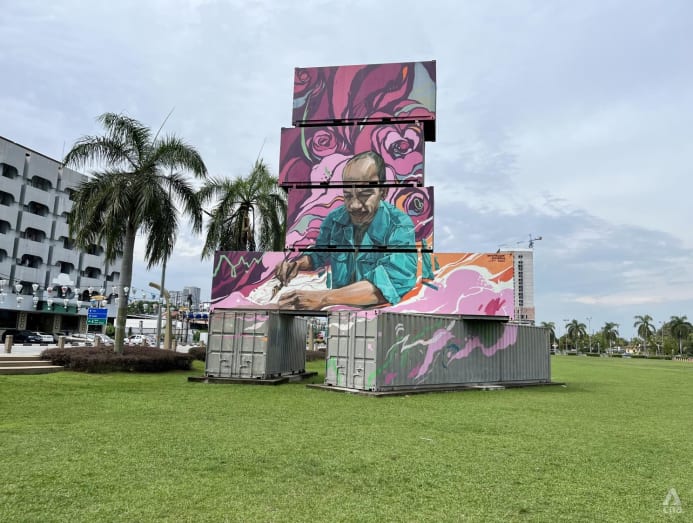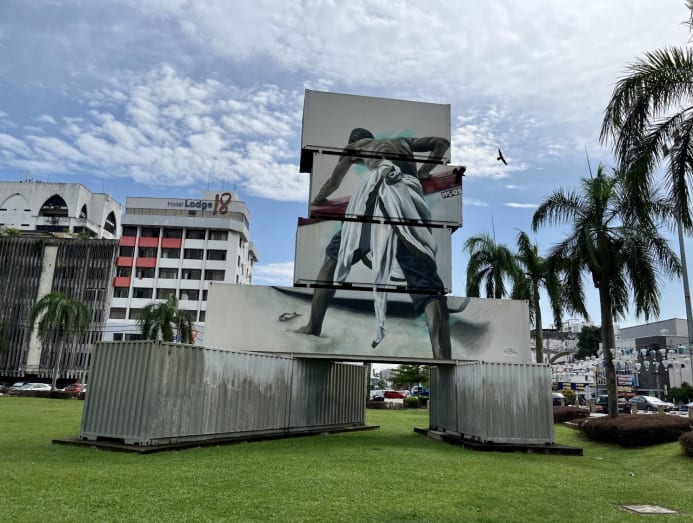 After working up an appetite art-hunting, we had some yam rice for lunch. I found out that it was one of Butterworth's specialities, so we headed to Kedai Kopi Chip Heng, one of the popular stalls in the area. The meal was accompanied by salted clear vegetable soup and mixed pork organs, which packed a punch.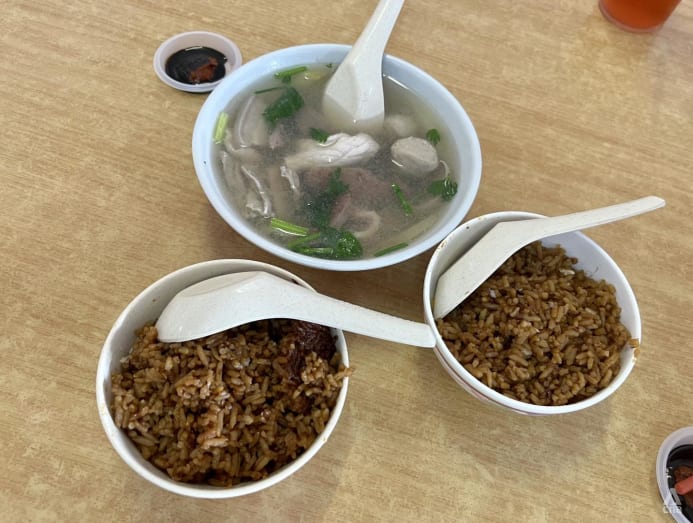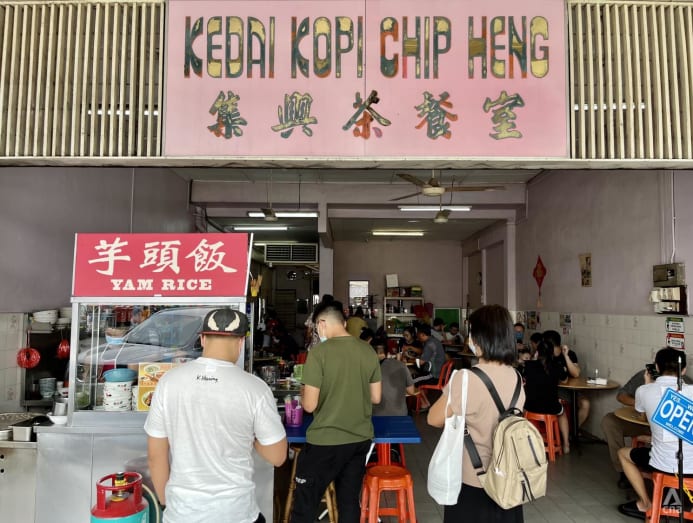 GEORGE TOWN: CHINA HOUSE, HIN BUS DEPOT AND HAWKER STREET FOOD
Butterworth's paddy fields and art were nice, but I'd been told you haven't really been to Penang without visiting its UNESCO World Heritage Site, George Town.
Once there, I couldn't help but agree – it's effortlessly charming, laid-back and unpretentious. And while new cafes have sprung up since the pandemic, I opted for a safe, classic since it was my first time. We decided to drop by China House, the longest running cafe in Penang, for a dose of caffeine and a large decadent slice of tiramisu cake, which the kind lady at the counter said was a crowd favourite.
It's easy to fall hard in love with the multi-venue place, which even had a bakery and a wine house. Upstairs on the cafe's second floor, you'll also find a wide range of quality souvenirs and trinkets, such as batik tote bags, paintings, crockery and more.
We also stopped by Ming Xiang Tai, a popular Cantonese pastry house, to pick up a box of delectable pastries. They can last for two weeks after purchase, which makes for great souvenirs to bring back to your loved ones.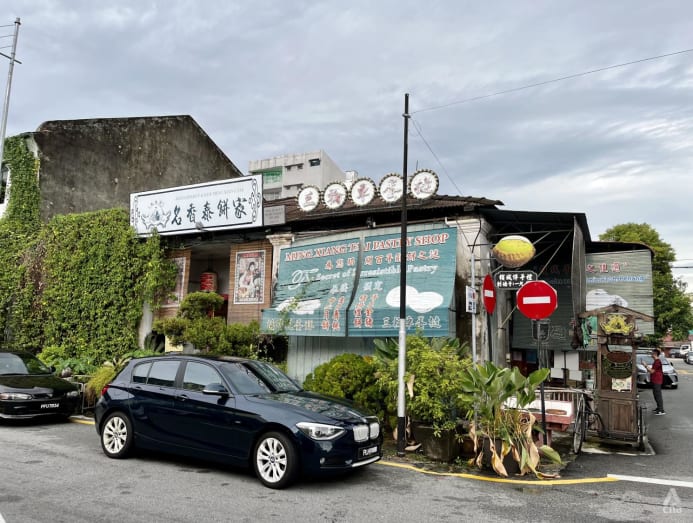 We later made our way to popular spot Hin Bus Depot. The 60,000 sq ft former bus depot is home to restaurants, bars and small businesses selling different types of stationery, gifts and crafts. There are also artist studios where they run photography and ceramic workshops, said Wanida Razali, the gallery manager.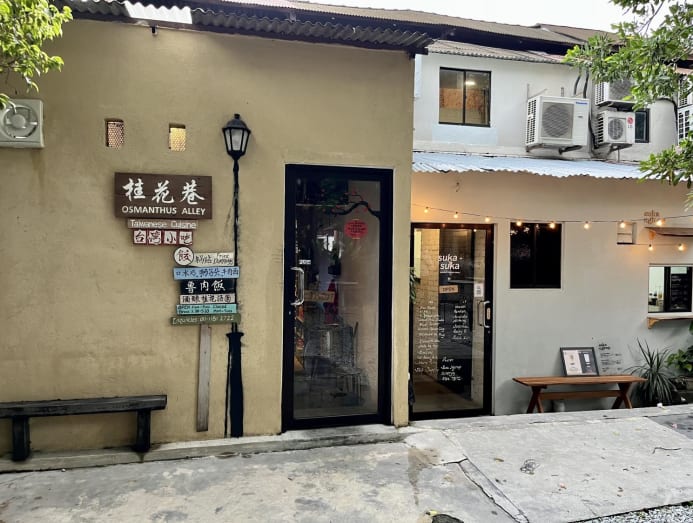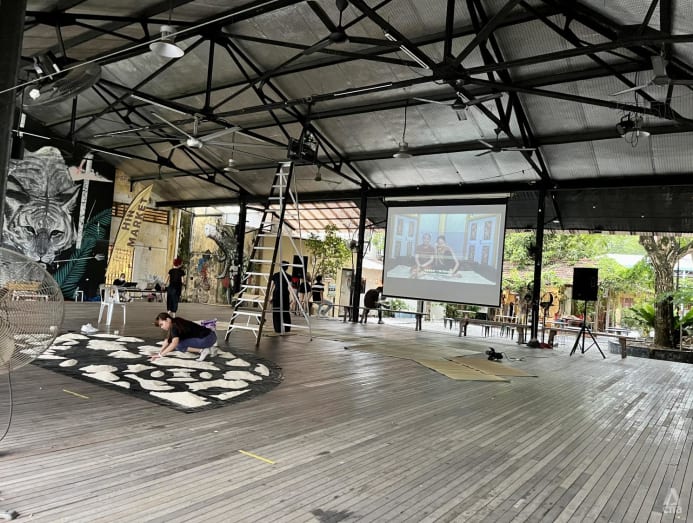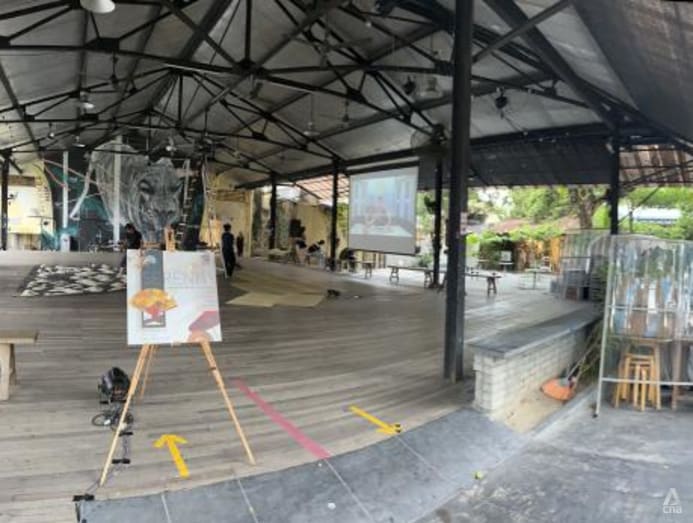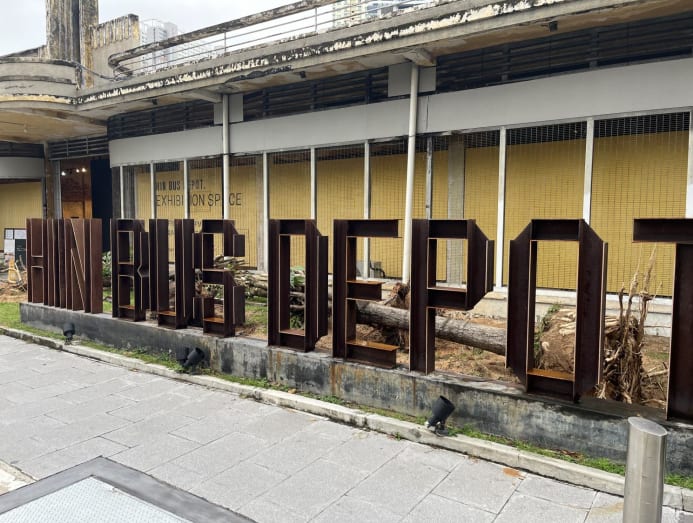 Wanida shared that an artist residency programme was supposed to be in the works, but it's been on hold since the pandemic. So at the moment, she's just trying get the exhibitions and gallery activities back on track. For instance, a new creative and digital coding space is slated to be ready by the end of this year.
What hasn't been put on hold, however, is Penang's delicious food. After that yam rice at Butterworth, I was looking forward to George Town's street food, and I wasn't disappointed. The hero dish was char koay teow (cooked over charcoal fire and with a duck egg instead of the usual chicken egg), while a bowl of ice-cold cendol and some ambarella juice, also known as buah kedondong, was a fitting end to the long day.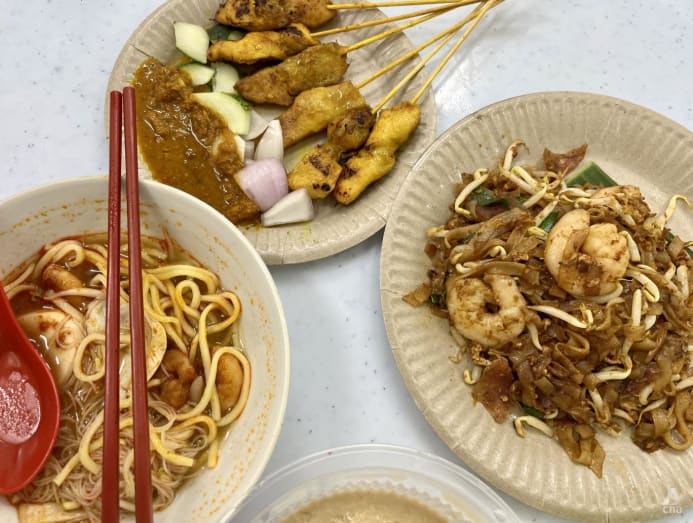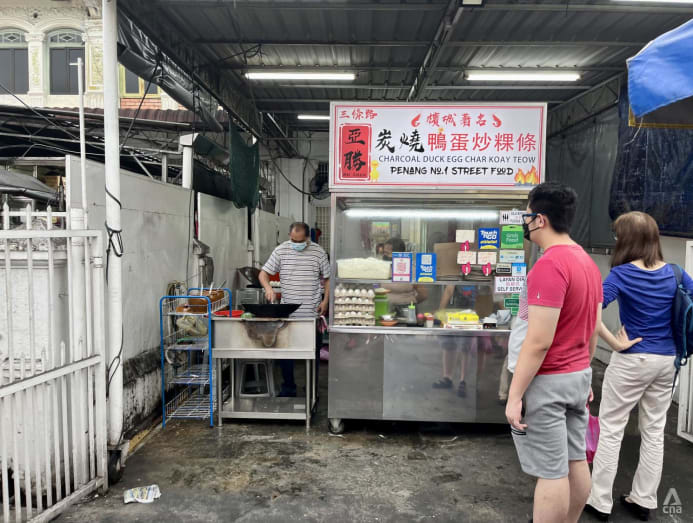 BASKING IN NATURE AND THEME PARK ADVENTURES
Knowing that there was going to be a lot of walking (and perhaps hiking) the following morning, I wore my long jeans, a sleeveless top (to bear with the heat) and comfy sneakers. We were going to Habitat Penang Hill for a quintessential rainforest experience bookmarked by locals and tourists alike.  
"So are we going to hike?" I asked Eng Seong, who laughed. "No, if we do that, it's going to take many hours. We are going to take the funicular train to reach the top instead."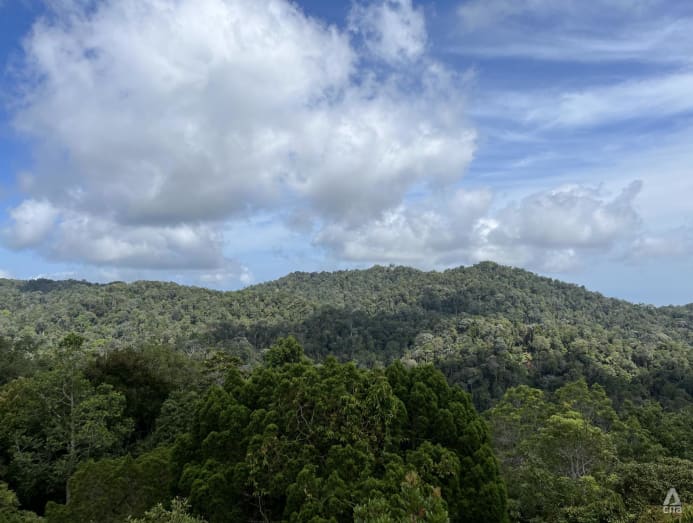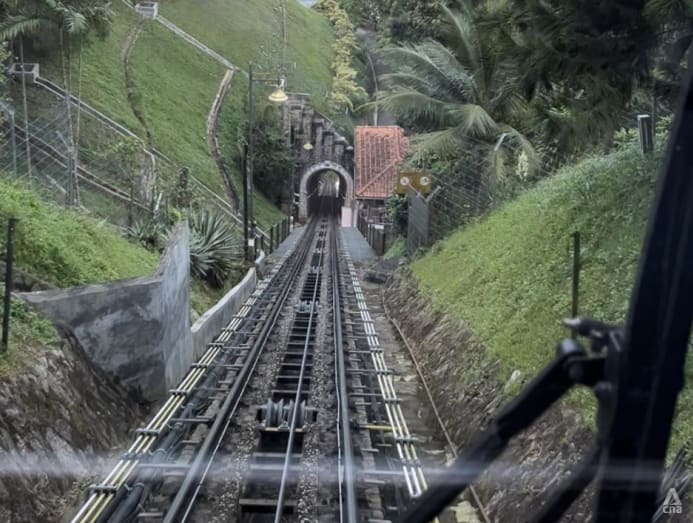 And we did so in style, with the best seats in the house – the trick was to sit right in front, which offered unparalleled views of the surrounding greenery and mountainous landscape.
When we reached our station, we still had to walk uphill for about 15 mins before reaching the highest viewpoint in Penang Hill, a treetop walk called the Curtis Crest. On a clear day, Eng Seong said, you can spot Penang Bridge and even Langkawi. 
If you are looking to grab breakfast or brunch in the forest, there's Kopi Hutan (the owners described it as the "highest cafe in Penang") where you can recharge with a hot cup of coffee, and a slice of cake or hearty sandwiches.
The cool air – or what one staff member jokingly called "the natural aircon of the hill" – made walking through the forest a lot more enjoyable as Eng Seong offered trivia about the plants we saw. 
"When you are lost in a jungle, you can find water being collected in this, and you can clean it a bit and drink," he said, gesturing at a flower with curved leaves. 
Pointing to a type of ginger plant, he urged me to hold it and shake my hands to collect the water. "It smells nice," he said. 
And indeed, it smelled like ginger soap, the kind you get to indulge in in spas, but better – and made me wonder if this has got anything to do with how scented shampoos were made.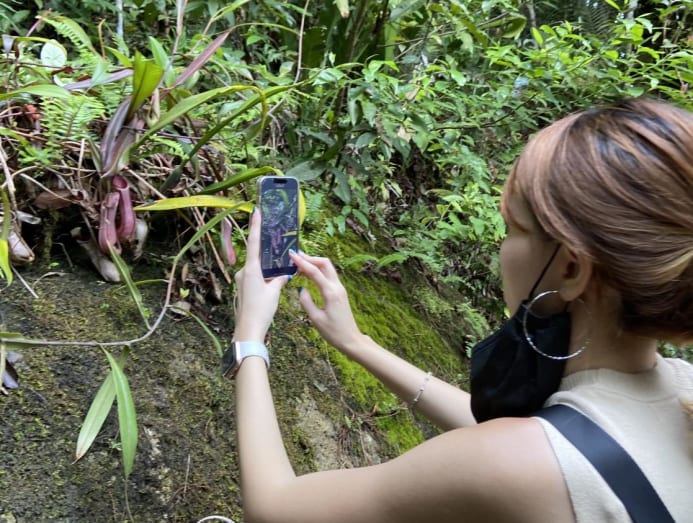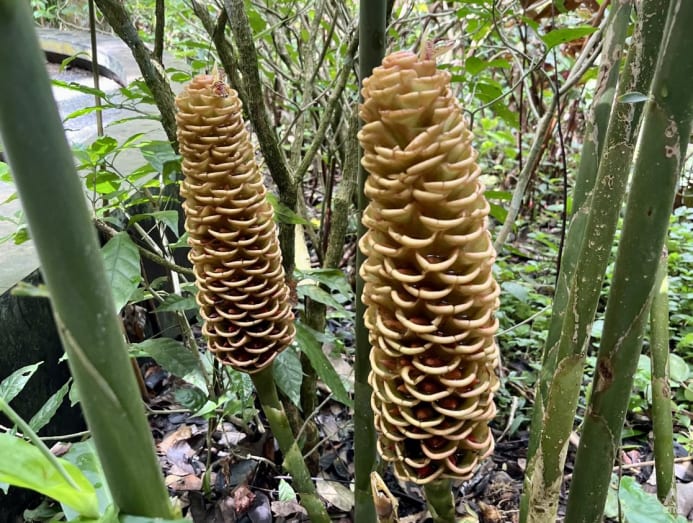 After the trip back down, we made a quick stop at a food truck in Tanjung Bungah for a snack. I could never say no to fried food and Hin Pin Pisang Goreng sells a range of fried snacks such as banana fritters, sweet potato and tapioca. It's been around for 50 years and you could certainly tell it was popular from the snaking queue despite the scorching heat (from the sun and deep-fry wok).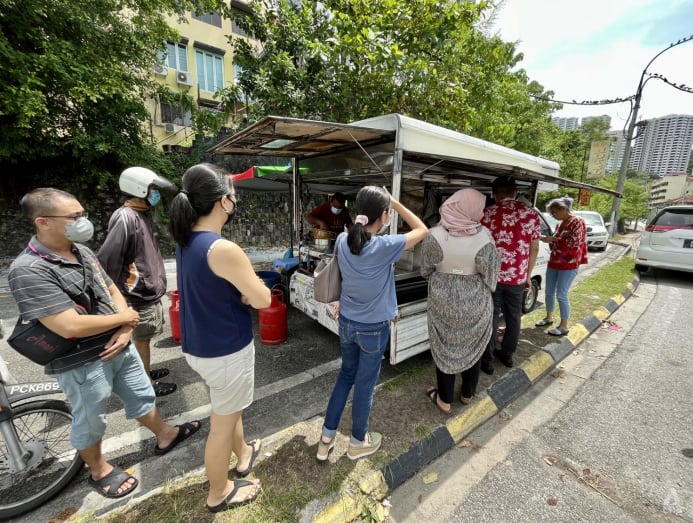 After discovering a newfound love for three-in-one fried ti kueh (which comprises chewy nian gao (rice cake) sandwiched in between slices of sweet potato and yam), I was off to a place where "growing up is optional".
Yes, that was what a signboard said at Escape Penang, an adventure theme park that claims to be home to the Guinness World Records' longest tube water slide (1,111m) and longest zip coaster (1,135m). The latter was a new addition, recently opening in May.
Loud screaming filled the air once we arrived at the park entrance. Helmi, an experienced staff member who's worked there for a decade, remarked how happy he was to see the crowds visiting the park again.
We were there on a weekday but the park was just as packed with families and thrill-seeking groups of friends laughing (and screaming) their post-pandemic stress away. 
Perfect for the adrenaline junkies, the activities were not for the faint-hearted. There's the jungle swinger, the slingshot (where riders get catapulted into the air at high speed), and a zip ride across the jungle. For those less inclined to such thrills, there's also a water theme park, featuring a wide range of options such as the speed racer, a children's water playground, and more.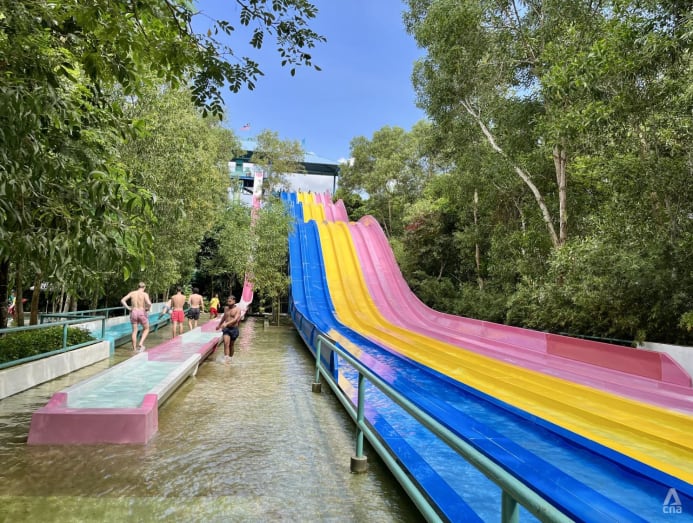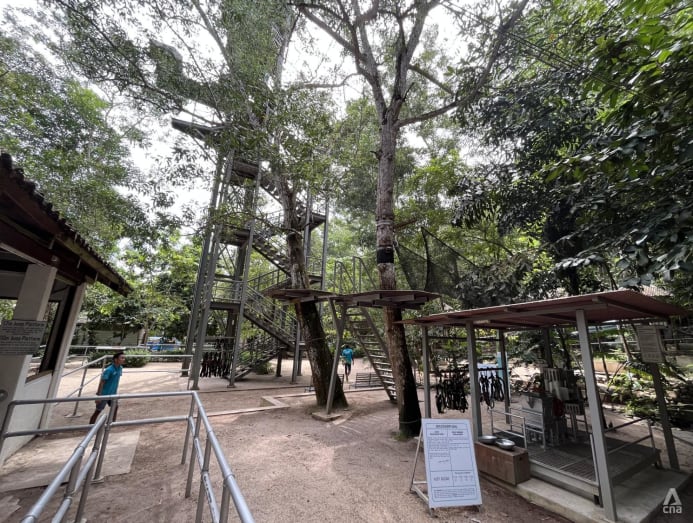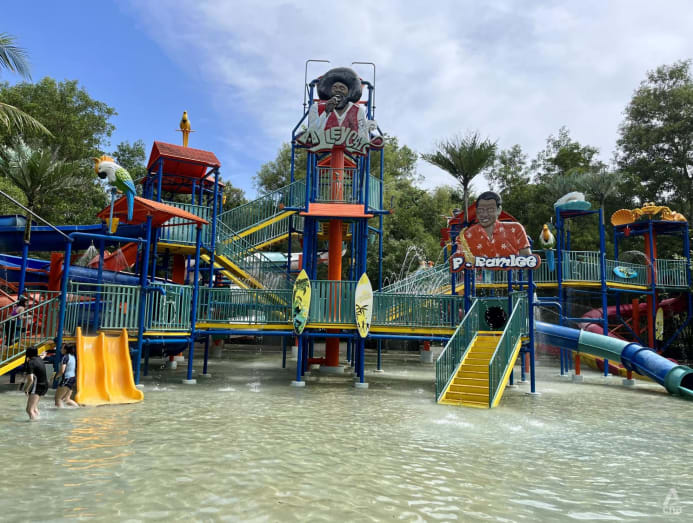 VISITING BALIK PULAU OR "BACK OF THE ISLAND" 
The last leg of our trip was dedicated to Balik Pulau. Located on the other side (it literally means "back of the island"), it's an up-and-coming destination for tourists to experience the rural life of Penang and then some.
We went to 2 Acres Cafe, a newly-opened modern eatery in the heart of a durian orchard. It was yet another new place that popped up post-pandemic, opening its doors in June this year. Here, you could have durians to go with coffee and pasta. And did we mention how Instagrammable the whole place looks, all decked out in stylish furniture and even a really cute hammock chair? 
After the durian orchard, we dropped by a nutmeg farm and a belacan factory. Over at the Chop Kim Hoa Belacan Factory, I got a glimpse of how fresh belacan (fermented shrimp paste commonly found in Southeast Asian recipes) was made. Comprising only two ingredients, shrimp and salt, the whole process of fermentation, grinding the mixture and packaging takes about two months. I didn't realise it was that time-consuming.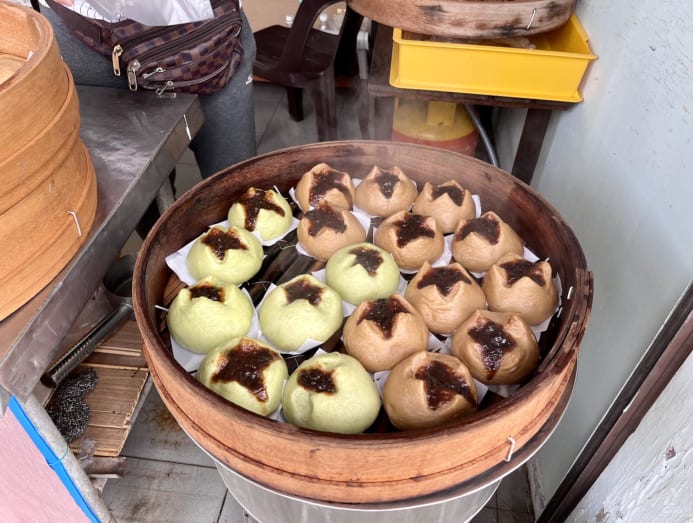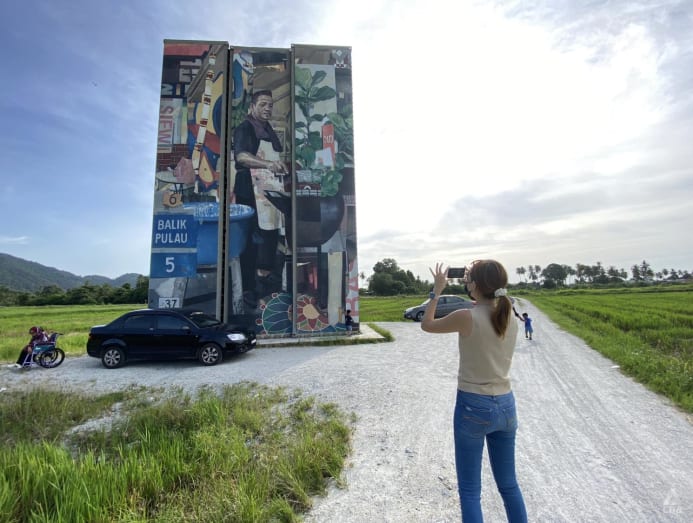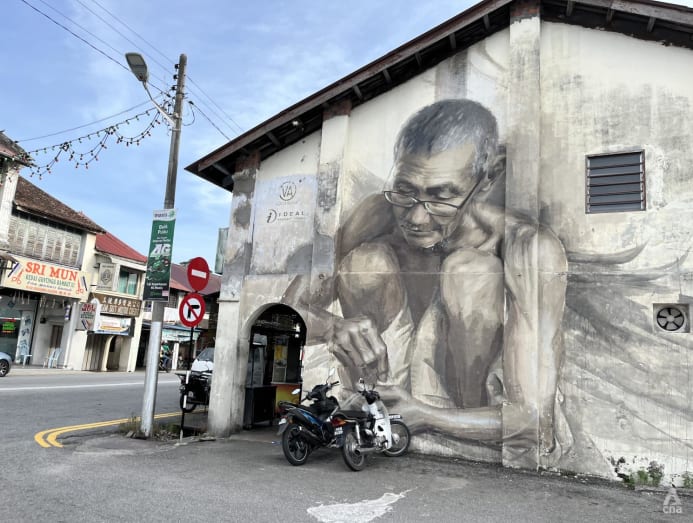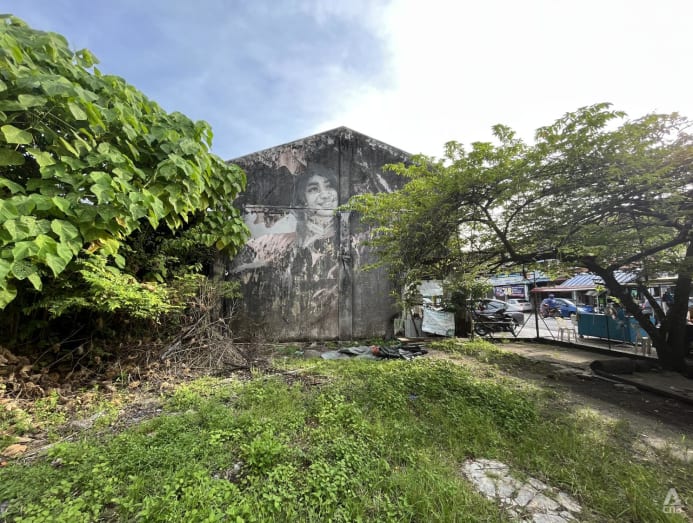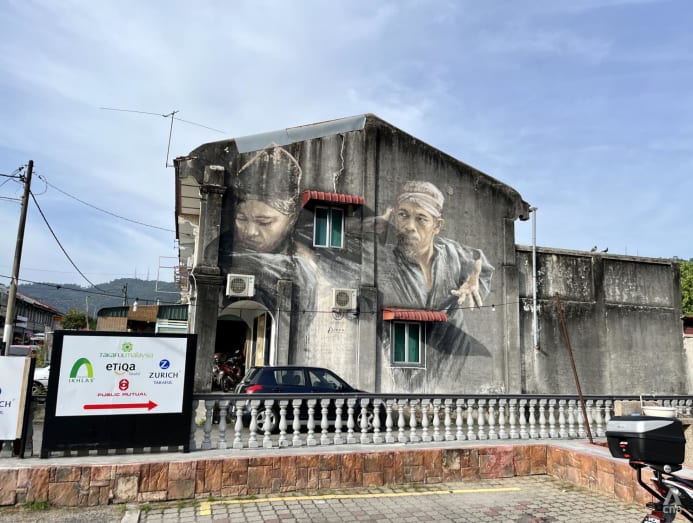 There was also time to chase after more "rural" art. Unlike the container art installation that we saw at Butterworth, the one at Balik Pulau looked more otherworldly. Imagine a giant art in the middle of endless greenery and paddy fields. If given more time, I'd probably have rented a bicycle or an ATV, which seemed like the best way to explore this part of the island. 
ENJOYING THE SUNSETS, DINNER STORIES AND AN UNEXPECTED ENCOUNTER
My first trip to Penang had been a short but enjoyable one. But it was on my last night where I had an encounter that would make it all that more memorable – and it had nothing to do with the great food, art and places I had visited.
During my stay at Shangri-La Rasa Sayang, which hosted this trip, I enjoyed exploring the resort's massive gardens and taking walks along Batu Ferringhi Beach, which had the dreamiest sunsets. There was also the nearby night market to visit, too.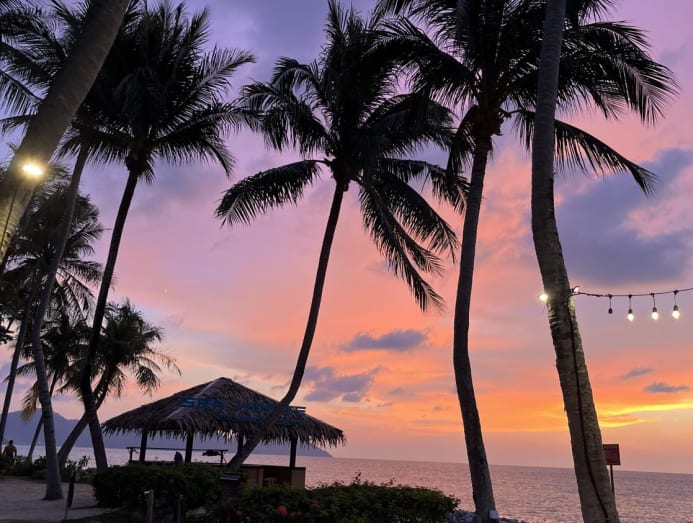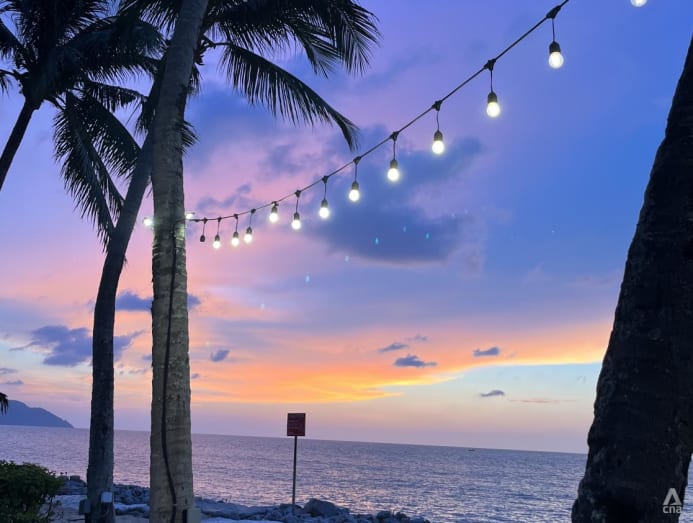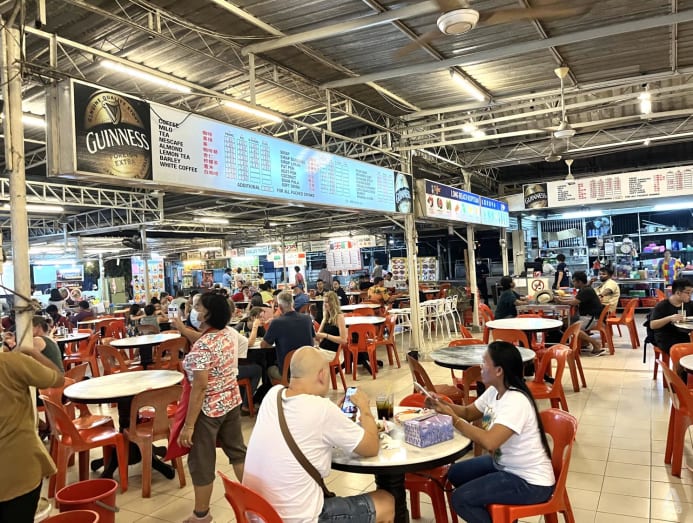 Throughout my stay, the hotel's director of communications, Suleiman, made sure everything was fine. And for my last dinner, he invited me to the hotel's Feringgi Grill & Bar, which supposedly has the longest-running bar grill in Penang. 
Suleiman, had a lot of stories to tell, including one about an 80-something German woman who would stay at the hotel for six months at a time to spend her winters. She used to come with her husband, but when he died in 1997, the woman continued the tradition, requesting for the same room, year after year. 
The hotelier, who's in his late 50s, also shared that he would be regularly invited to train the frontline staff at other Shangri-La hotels on Malaysian etiquette, specifically how to greet sultans. 
At some point, he talked about his late father, who I found out was a politician. "Have you ever considered becoming a politician then?" I asked casually.
"I didn't have the drive to be one," he answered, adding that his father didn't push him or his siblings to become one. 
Then, he said that my father (knowing I was an Indonesian living in Singapore) would definitely know who his father was just by looking at his surname. 
Intrigued, but too polite to whip out Suleiman's name card in front of him, I waited until after dinner and rushed back to my room. There it was: Tunku Abdul Rahman.
Turns out, I just had dinner with the son of Malaysia's first prime minister.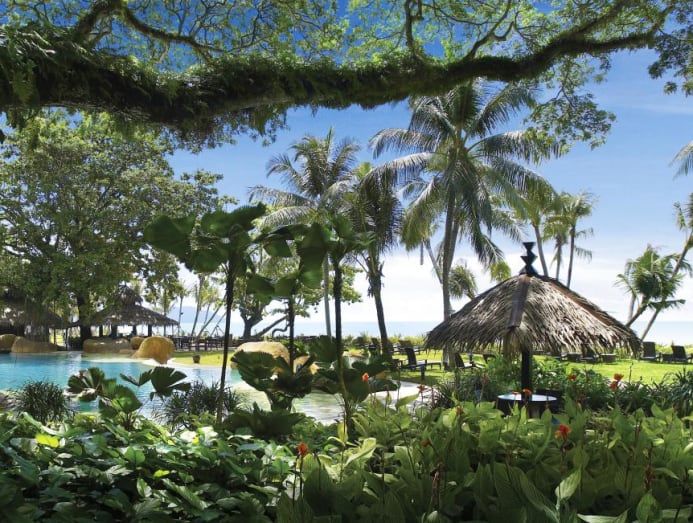 The next morning, while sitting on a sun bed in the gardens for the last time before my flight home, all I could think about was when I would be returning to enjoy more of what the island had to offer. It was my first time in Penang, but I'm convinced that it won't be very long before I'm back for the next adventure.
After all, who knows who I'll get to meet next?
CNA Lifestyle was in Penang at the invitation of Shangri-La Rasa Sayang.