At 'rock bottom', these women found boudoir photography – and themselves
Doing a boudoir photo shoot, whether in the nude, wearing lingerie or in modest wear, has given some women payoffs, from helping them reclaim their identity to healing from painful experiences, and memorialising their youth.
Tan Kai Hiang was anxious and depressed, and had been for four years following a divorce, when she first encountered boudoir photography.
"I was struggling really hard looking at myself in the mirror … It was a long road working through some deep pains. But at rock bottom, I discovered there was a girl deep within me that really needed me and wanted to fight for herself. 
"I felt really stirred to (do a boudoir shoot) to celebrate and honour that girl," Tan told CNA Women. 
Boudoir photography, named after the French word for a woman's private saloon or bedroom, is an art form believed to have originated in the 1920s. It has gone through several revivals over the decades, but generally involves women posing sensually against intimate backdrops, dressed minimally or in sexy costume.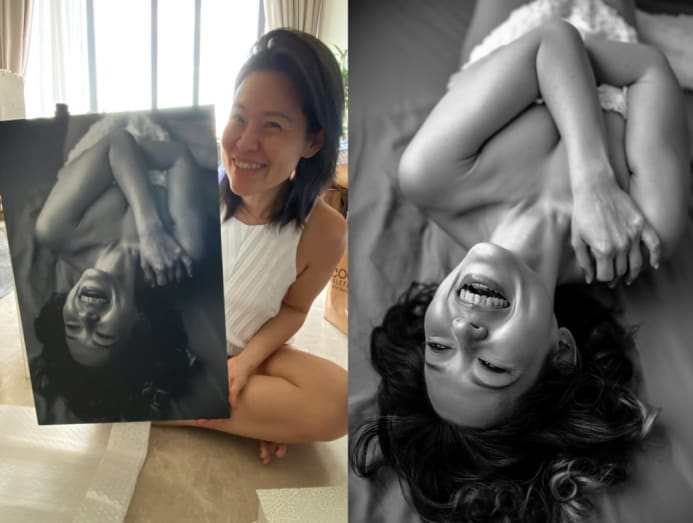 You're likely to have seen some of these pictures yourself. Boudoir photos have been used commercially to sell products from lingerie to makeup – even food. One of the biggest moments in boudoir photography is the now iconic scene in the 1997 blockbuster film Titanic, which saw actor Leonardo DiCaprio sketching his co-star Kate Winslet as she lay draped over a glamorous couch wearing nothing but a diamond necklace. 
A "HOMECOMING"
As with Winslet's character Rose, Tan was looking for a way to reconnect with herself after going through an emotional time. Six months after seeing other women's boudoir pictures online, she booked a shoot with The Pin-up Rebels, a company specialising in boudoir photography.
The result? Stylish images of her 47-year-old self with soft curls in her hair and a French manicure, with one showing her laughing as she clutches a single blanket against her body. 
"I was nervous before the shoot and had to talk to my girlfriends to find the courage to do it. Even at the start of the shoot it felt awkward and strange," said Tan. 
"But Mary (Cliffe, the founder and lead photographer of The Pin-up Rebels) guided me from start to finish – helping me decide what to wear, recommending places to buy lingerie and sharing self-care tips so I could show up to the shoot in the best mental and emotional place possible.
"During the shoot, she made sure it never felt rushed – we had time to ease into it, warm up and feel safe. In fact, during the photo-taking, we were laughing so much that it all seemed so easy. And after? I was so proud of myself!" Tan added. 
For Tan, doing the shoot felt like not only a homecoming, but a "bold recognition" of who she was in her own skin. 
"Most of us grew up being told that nakedness is not okay. Remember how when you were a kid an adult would go 'shame-shame' when they saw you naked? (Because of that) we grew up feeling less-than-adequate and distant from our bodies.
"Few of us know how to connect to our less-than-perky breasts, differently sized nipples, the extra bits (of flesh) under our arms, our stomachs that aren't flat like a model's or our too-curly or too-straight hair. We are so critical of ourselves," said Tan. 
"If more women could see how beautiful they are, we would be able to heal our inner critics and maybe the wounds that have festered for too long. As cliched as it may sound, this world will be kinder when we are kinder to ourselves," she added. 
If these words sound familiar – or even cliched – to you, it's probably because it's a sentiment that's being echoed around the world today as part of the body positivity movement – generally an acknowledgement of the differences in our bodies and the beauty of each. 
Embracing boudoir photography – and body positivity – doesn't require the shedding of clothes, as Nurul-Qursyiah can attest to. 
The 37-year-old also booked a session with The Pin-up Rebels recently, but unlike most clients, who shoot in various states of undress, Nurul chose to stick to her modest wear, including her headscarf. 
She doesn't think her choice of outfit detracts from what she feels is the true meaning of boudoir photography.
"'Boudoir' literally means bedroom, so it's about accepting and loving your body and who you are. It's about embracing yourself and the stories that your body tells, like the stories of your pregnancy and weight gain or weight loss, and the stories of your scars," said Nurul.
"To me, this shoot is about feeling sexy and comfortable where I am. And you can be comfortable in lingerie or you can be comfortable in your pyjamas," she added. 
Like Tan, Nurul aspired to reconnect with her identity – one she felt she had lost to motherhood. 
"I wanted something for myself. I used to be my own person before I became a full-time mum. A boudoir shoot seemed the perfect way to just be myself and capture the essence of my world," she told CNA Women. 
She had told Cliffe she "didn't want just a photo shoot because I could do that with a camera timer", so the two sat down to an interview where Cliffe learned what Nurul wanted to "memorialise" – what she missed about her "old life" and the things she wished she had time to do today. 
"I told her I wanted photos that showed me in my element, having a cup of coffee or just lying down doing nothing because quiet time is so precious when you have three kids, two of whom have special needs. These are the moments that matter to me and I wanted them to be captured," said Nurul. 
In one shot, she is sprawled across the bed in satin pyjamas bearing a bold hibiscus print. She's smiling at the camera and holding a vintage-looking book. And she is showing almost no skin. 
She told CNA Women she is happy to have been able to play a part in redefining the art form.
"Women who need to have their head covered for medical or religious reasons or those that aren't comfortable with wearing just lingerie, can do this too. I had asked Mary not to shoot from angles that might compromise my modesty and as you can see in the photos, she was amazing at showing me off in a manner that was natural – as if I were in my own bedroom," she said. 
Cliffe, who began studying photography more deeply after taking a photojournalism module as a mass communication student at Ngee Ann Polytechnic, has shot for more than 70 clients in Singapore since starting her boutique boudoir photography studio in 2019. 
Her clientele is extremely diverse, she said, among them an ex-refugee, a former sex worker, students, homemakers and CEOs. 
"The one thing they all seek? Their 'home'. They want to feel safe, seen and heard. They want the familiar comfort that allows them to be unapologetically themselves and accepting of who they are. 
"Some clients are on a healing journey, some are trying to forgive themselves, some want to embrace who they are in the moment and some want to celebrate a milestone or simply the fact that they exist," she told CNA Women. 
"Couples do it because it's an unconventional way of expressing their love for each other. And they learn so much about each other (in the process)," she added. 
Cliffe herself benefits from the healing nature of her work. After having watched her sister suffer from depression and attempt suicide, the 37-year-old determined she wanted to make a living doing "meaningful work" that involved her passion for photography. 
In fact, she specifically used the phrase "meaningful photography that helps people" when trawling the Internet for ideas, which led her to boudoir photography.
"I feel honoured that my clients trust me and feel safe to be themselves. They are placing their self-esteem and confidence in my hands. It's exciting to be able to help them reignite that confidence.
"Watching my clients transform from being shy and nervous in the beginning to becoming an impressive, 'magical' human is so gratifying. They should be proud of believing in themselves and showing up," she said. 
TO EMPOWER, NOT DESTROY
The rise in boudoir photography amid a season of "wokeness" – a state of heightened awareness, especially to social privilege and injustices – is interesting to witness. 
Body positivity, overcoming gender bias and ensuring women's safety are top-of-mind in today's society.
Photographers CNA Women spoke to said they have to pay careful attention to these issues, given the particularly vulnerable state their clients are in – both inside and outside of the shoot environment. 
Cliffe, who herself has been the subject of boudoir photography and considers it a "transformational" experience, wants to break apart the idea that this form of portraiture "objectifies women" or "sexualises the female form". 
Having seen some photographers "showcase their boudoir photos like trophies" and heard "horror stories" from clients who have been mistreated, she is also passionate about making sure that subjects of a boudoir photo shoot, many of them women, are safe and in control. 
"There is this misconception that it is to entice the viewer. It is not. It is about empowering the woman. These women should see themselves as robust and resilient humans in their photographs," she said. 
To allow such an experience to take place, safety measures have to be taken. 
For example, the client and photographer will both sign a non-disclosure agreement (NDA) stating that their photos will not be published or otherwise shared without their consent. Shoots are also conducted where the client feels most comfortable, whether it's in their own home or in a hotel room that both parties agree to book. 
During the shoot, the client and the photographer will typically be the only people present. 
"My clients usually come alone, but they have the option of bringing their partner or a friend. Otherwise, they can request for my makeup artist to stay in the same room during the shoot," said Andrew Lim, founder of photography firm Drewperspectives. 
These are quite typical of most photo shoots, but boudoir photographers take it a step further. 
Apart from the NDA, which also states that all client information will be kept private, Lim said he gives clients "full control of the camera".
"After every set of photos is taken, the client can go through the photos and delete whatever they're not comfortable with on the spot," he said, adding that extra measures such as this give clients "greater peace of mind so they can fully focus on the shoot and enjoy the process". 
Like Cliffe, Lim takes the time to get to know his clients. Before meeting face to face, he encourages clients to communicate with him via text messaging. During this phase, it feels more "anonymous" and so clients are "more open with what they want", he said. 
"People get more shy when meeting face to face so it's my job to get them as comfortable as possible. Before the shoot begins, I'll play their favourite music playlist and have a nice conversation with them to try and connect with them on a deeper level.
"I'll ask who it is they're doing the shoot for and why they've decided to do the shoot. It could be because they want to overcome an insecurity, mark an important milestone or explore a more sensual side to themselves. 
"Their answers would help me a lot, not just in knowing how to shoot them but in the words that I use with them. Boudoir photography is intimate – it's meant to empower at a time when clients are vulnerable. It's extremely important to be sensitive to every small detail and to know how to treat each client right," said Lim. 
Cliffe echoed this sentiment, saying that some of her clients come to her to heal from a previous negative experience in the photo studio. 
"I appreciate them sharing their stories and the opportunity to then photograph them because it helps them heal.
"The goal of boudoir photography is to empower and not to destroy."
CNA Women is a section on CNA Lifestyle that seeks to inform, empower and inspire the modern woman. If you have women-related news, issues and ideas to share with us, email CNAWomen [at] mediacorp.com.sg.