'Many mothers feel powerless': Coping with postpartum depression in a pandemic
Ahead of World Mental Health Day on Oct 10, CNA Women looks at this debilitating condition that new mums can face, made worse by COVID-19 restrictions and the lack of physical access to family and social support.  
Before the pandemic upended our lives, pregnancy – and the postpartum period – was already a stressful and life-changing event for women.
But add a global pandemic to the backdrop, and the extra stress and unexpected challenges that come with having a baby can take a significant toll on the mental health of new mothers.
According to a 2021 study by the National University of Singapore Alice Lee Centre for Nursing Studies, postpartum depression (PPD) is a debilitating condition on the rise, both globally and in Singapore, especially during the first year after childbirth.  
A mother with PPD would display longer and more pronounced symptoms of the "baby blues", such as feelings of hopelessness, sadness and severe mood swings. It can happen to both first-time mothers as well as those who've had children.
According to Healthline.com, while the "baby blues", which refers to a short-term bout of general anxiety, stress and sadness after birth, would typically go away after 10 to 14 weeks postpartum, PPD can stay on for months (or years) if not treated.
Comparing data from January to September this year against the same period in 2020, psychiatrist Dr Chua Tze-Ern, who's the head and senior consultant of Women's Mental Wellness Service at KK Women's and Children's Hospital (KKH), said the number of women who were diagnosed with PPD under KKH's Postnatal Depression Intervention Programme has doubled.
"Many women stay silent over their mental health struggles as they are afraid they will be judged as weak-minded or unfit mothers," said psychotherapist Silvia Wetherell, a certified perinatal mental health counsellor at Alliance Counselling.
Postpartum depression can have serious negative and long-lasting effects for both the mother and the child, she added.
The challenges of the pandemic have added to this. "The reality facing most families in Singapore is that they cannot get the practical and emotional support they would have available, pre-pandemic," said Wetherell.
There are also other unique challenges, such as the loss of income when a partner loses their job and increasing difficulties of working from home while juggling a newborn.
ANXIETY BEFORE THE BABY IS BORN
The stress that builds up during pregnancy may sometimes sow the seeds for PPD to occur after childbirth. 
For example, reading the news about the increase in local COVID-19 cases may cause anxiety levels in mothers to go up, said Wetherell.
Many women stay silent over their mental health struggles as they are afraid they will be judged as weak-minded or unfit mothers.
Another instance: The unpredictable availability of a doula (a person who provides support during pregnancy) to assist during delivery, Wetherell said, even though a couple may have spent weeks working on a birth plan.
Generally, on top of the characteristic stresses of pregnancy, women now have additional worries about keeping safe and well, said KKH's Dr Chua. "To avoid getting COVID-19, they may need to stay away from family and friends, and have fewer chances of enjoying shared meals and activities before their baby comes along."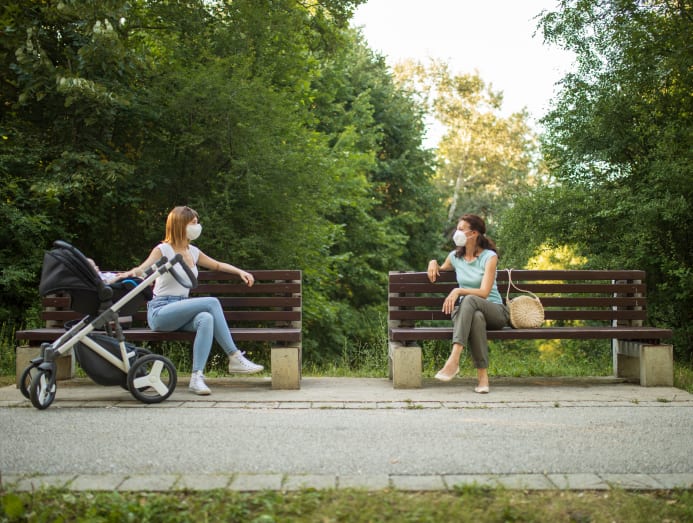 The resultant stress and isolation of these pregnant women may increase their risk of antenatal depression, which is in turn a major risk factor for postnatal depression, she added.
RESTRICTED ACCESS TO POST-BIRTH SUPPORT
No one could have anticipated the extent to which the COVID-19 pandemic would hinder a woman's access to postpartum help and support.
The unpredictable nature of the pandemic means many mothers can end up feeling powerless, said Wetherell.
"The use of confinement nannies, cleaners, extended family and friends to help with the baby, who play a role in the transition to motherhood has become very restricted," she said. 
Dr Chua explained that families living overseas, as well as confinement nannies that usually come from Malaysia, and foreign domestic helpers, would have had a harder time coming to Singapore.
And yet, these now-limited resources are important for new mothers to recover from depression, anxiety and post-traumatic stress, said Wetherell.
AN OVERWHELMING FEAR OF GETTING INFECTED 
This is a big worry for mums, who are also anxious about what being infected with COVID-19 would mean for their baby, said Assoc Prof Helen Chen, Head and Senior Consultant at KKH, on the Healthxchange website.  
"Some women have become so anxious that they have resorted to wearing gloves or masks – even at home – when attending to their baby," she said.
Other sources of stress, added her colleague Dr Chua, include social restrictions and home-based learning for school-going children, in which  families have to stay home together in high-stress situations for extended hours. 
Similarly, Wetherell told CNA Women that the most dominant theme she has observed in her clinical experience is the "compounded and crushing weight" of losses faced by mothers, referring to new mums missing things like not having a first month celebration or the lack of meet-ups to get out of the house and socialise. 
BREASTFEEDING DIFFICULTIES ARE A CONCERN
Stricter access to hospitals and social distancing measures in the community can affect a mother's access to breastfeeding support and resources.
A 2015 study in the Journal of Advanced Nursing found that postpartum depression may be more common in women who attempt to breastfeed but decide to stop due to difficulties such as pain, breast infection, low milk production and problems with latching.
While breastfeeding difficulties have not resulted in a rise of PPD cases, the pandemic has added a new dimension to the challenges, said Doris Fok, Lactation Consultant at the Department of Obstetrics and Gynaecology at NUS Yong Loo Lin School of Medicine. 
Not being able to get confinement help, said Fok, combined with a reduced number of visitors allowed in hospital-based lactation clinics, can create a new layer of stress and anxiety.
"Even more so now, there is a need for community-based lactation services," she said, adding that women can turn to the non-profit organisation Breastfeeding Mothers' Support Group for help.
GET ONLINE SOCIAL SUPPORT
Reduced access to physical and in-person support doesn't mean that new mums are completely cut off. Those who have gone online have benefited.
In April, the NUS Alice Lee Centre for Nursing Studies (NUS Nursing) released the results of a study that showed peer support, mostly through the use of WhatsApp, can help mothers guard against the baby blues and PPD.
The study is part of ongoing research to understand the long-term effects of a "large-scale peer volunteer programme" on mothers using a mobile app.
The study followed 138 mothers in Singapore who scored nine or above (read: high risk) on the Edinburgh Postnatal Depression Scale within the first few weeks of childbirth.
It matched the mothers to peer support in the form of 20 trained volunteers who had themselves experienced and recovered from PPD. 
The mums, who did weekly sessions with the volunteers over the phone or through mobile apps, expressed a "sense of gratification" and "had reduced negative feelings after continuous peer support".
"We found that new mothers who received the technology-based peer support had a 20 per cent reduced risk of developing postpartum depression, 9 per cent reduced risk of postpartum anxiety and 8 per cent reduced risk of loneliness at three months postpartum," said Dr Shefaly Shorey, an assistant professor at NUS Nursing, in the study.
Separately, telehealth services too, can work well for new mothers, especially if they prefer to stay home for a consultation during the pandemic.
Zoom calls can be very useful in lowering the threshold for new mothers to seek help as it may not be easy to leave a newborn at home to travel to the obstetrician's office for a physical consult, explained Dr Ng Kai Lyn, Consultant Obstetrician and Gynaecologist at the Advanced Centre for Reproductive Medicine (ACRM) Gleneagles.
"I have worked with many women who breastfeed during a counselling session or even change nappies when there is no backup carer for the baby," said Wetherell, adding that in-person sessions are still recommended for more complex and severe cases such as psychosis or those with suicidal thoughts.
"Sometimes all that is needed is an avenue for mothers to openly ventilate and talk through their emotions, and be told that she is not alone in this journey," added Dr Ng.  
LESS STIGMA OVER POSTPARTUM DEPRESSION
The prolonged pandemic has put a spotlight on mental health now more than ever," said Dr Ng of ACRM Gleneagles, saying that this has led to increasing awareness of PPD on social media.
When women (and their partners) recognise that PPD is an important issue, they have a lower threshold when it comes to addressing it, she added.
The pandemic has provided a less stigmatised path to discuss postpartum depression, said Wetherell. 
"Women who have experienced and recovered from PPD are more ready to share their stories, showing others that it is right to speak up about having symptoms and to actively seek care, in the same way as for any other illnesses," said KKH's Dr Chua. 
It is important to remember that early recognition is key. Tap on your social support network of family and friends, and if that doesn't help, speak to a trusted obstetrician for professional help, recommended Dr Ng.
"Seeking help is not a sign of weakness or being a bad mother," she added.
Where to get help:
National Care Hotline: 1800 202 6868
National Anti-Violence Helpline: 1800 777 0000
Samaritans of Singapore Hotline: 1800 221 4444
Institute of Mental Health's Helpline: 6389 2222
Singapore Association of Mental Health Helpline: 1800 283 7019
AIC Hotline (for aged and community care support): 1800 650 6060
Breastfeeding Mothers' Support Group: 6339 3558 
You can also find a list of international helplines here. If someone you know is at immediate risk, call 24-hour emergency medical services.
CNA Women is a section on CNA Lifestyle that seeks to inform, empower and inspire the modern woman. If you have women-related news, issues and ideas to share with us, email CNAWomen [at] mediacorp.com.sg.