Why it's so hard to lose weight after pregnancy – and tips on how to succeed
CNA Women takes a closer look at different issues regarding postpartum health and wellbeing. Next in our series: Experts demystify post-pregnancy weight loss, with tips on how to set yourself up for success.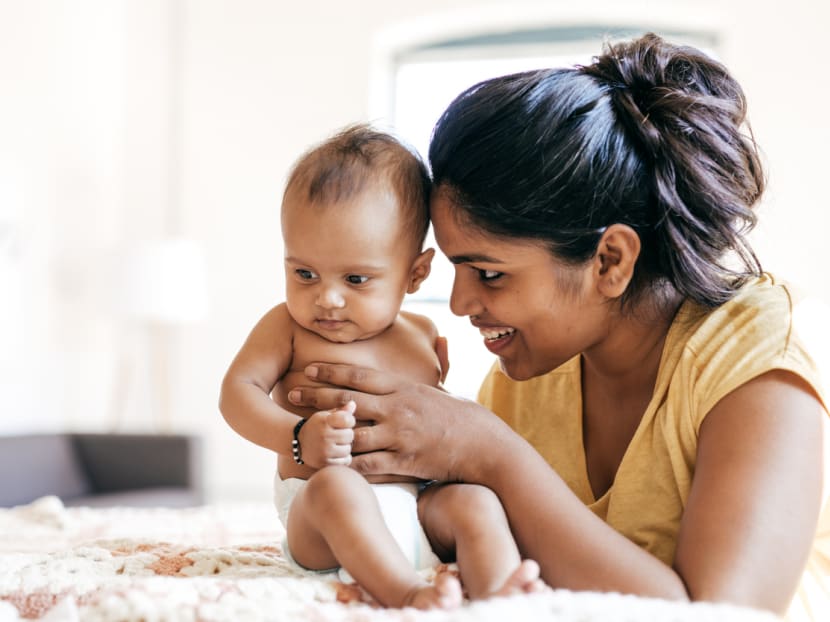 Do you worry about getting "back in shape" after giving birth? You're not alone. Returning to pre-pregnancy weight is a common and persistent cause of anxiety, but all is not lost. 
The keys to successful postpartum weight loss, according to experts, are to understand the basics, begin with the end in mind, commit to a slow and steady exercise plan, and maintain mental resilience.
We break these down and share tips on how you can set yourself up for success throughout the process. 
THE BASICS
Pregnancy weight gain is a natural and necessary phenomenon, said one expert, contributed to by the growing baby, the placenta and amniotic fluid. 
Weight gain is also due to the changes a woman's body makes to support the pregnancy, such as increased blood supply, uterus growth, increased breast tissue and fat stores, said Dr Ho Xin Yi, an associate consultant at KK Women's and Children's Hospital's (KKH) obstetrics and gynaecology department. 
During pregnancy, women may increase their daily caloric intake to support the baby's growth, which causes weight gain as well, she added. 
If you're thinking about resisting weight gain, don't – it's a crucial aspect of delivering a healthy baby. 
"Gaining the appropriate amount of weight in pregnancy ensures that your baby is of good birth-weight and also means that you do not have too much extra weight to shed after delivery," said Dr Ho.
And how much weight gain is appropriate? 
That depends on various factors including how much you weighed before the pregnancy, your health status and whether you're carrying a single baby, twins or triplets.
The recommended weight gain for women of normal body mass index (BMI), who are carrying one baby, is 11kg to 16kg throughout the pregnancy, with the bulk of it taking place in the second and third trimesters, said Dr Ho. 
"If you have a higher BMI, you are recommended to gain less pregnancy weight," she added. 
And once the baby has been delivered safely, it is "critical" that the woman try to return to her pre-pregnancy weight, unless she is underweight, Dr Ho said. 
According to Caroline Chua, a senior principal physiotherapist at KKH, the target weight loss after delivery should be 1kg to 2kg a month.
"Many studies show that if the excess weight is not lost from six to 12 months after delivery, it may stay with the woman for a long time. The weight gained from each and every subsequent pregnancy may accumulate, causing obesity, which poses various health risks such as heart disease and diabetes. 
"Going into a future pregnancy at a higher weight is more likely to put the mother and baby at risk of medical complications such as diabetes or high blood pressure in pregnancy," she said. 
Today, one in four women retain more than 5kg of their pregnancy weight a year after delivery, she added. Why is pregnancy weight loss such a challenge for so many women? These are the most common struggles, experts said, while sharing the best way to overcome them. 
STRUGGLE #1: EARLY, EXCESSIVE WEIGHT GAIN
One of the main reasons losing weight is a challenge for many women is excessive weight gain during pregnancy, particularly in the first trimester. This makes it essential for a woman to enter her pregnancy with the ideal outcome in mind, that is, healthy weight loss postpartum. 
"It is important to understand that very little to no additional calories are required during the first trimester," said Dr Ho, adding that many women struggle with this, especially those who cope with nausea by snacking, or overeat when they are fatigued.  
It is crucial at this stage for expectant mothers to focus on eating nutrient-dense foods, and avoid empty calories and desserts, she said. 
STRUGGLE #2: INCONSISTENT EXERCISE  
The second reason, according to Dr Ho, is a lack of self-care for the mum in the form of exercise. 
"Having a baby is nothing short of miraculous and joyous but it is also stressful. With such a big change in one's life, certain other priorities may be ranked less essential, especially for a new mother," said Dr Ho. 
Still, women should keep in mind that they need to prioritise their own health and to stay fit so they will be able to cope with new challenges physically, mentally and emotionally, she said. 
However, women should not attempt to jump straight into a strict exercise regimen after giving birth. 
Resuming pre-pregnancy exercise should be "gradual and varied according to the individual", said Chua.
"Losing weight and returning to pre-pregnancy fitness and shape too much or too fast may delay your recovery," she said, adding that excessive weight loss may also lead to a decrease in milk production. 
Chua said women can exercise at least three times a week for the first six weeks, but each session should be limited to five to 10 minutes. Only after six weeks can they begin to slowly work their way to 30 minutes per session. 
Those who have had a caesarean delivery or have co-morbidity issues – which can include medical conditions like asthma and diabetes – should check with their doctor before starting their exercise routine, Chua said. 
Mothers who breastfeed should also do so before exercise to avoid the build-up of lactic acid in the breast milk and to prevent discomfort during exercise due to breast engorgement. 
These are the types of exercise you can do during the first six weeks, according to the physiotherapist:
Walking
Abdominal tummy tuck (avoid sit-ups and crunches as this may be detrimental to your back because your pelvic floor and abdominal muscles are not strong enough at this point)
Pelvic tilt
Pelvic floor muscle exercises 
Recommended types of exercise after six weeks:
Walking
Swimming
Low-impact aerobics
Pilates
Yoga
Fitball
Aqua exercise
Abdominals, including curl-ups and obliques
Recommended types of exercise after four months:
Sports
Jogging or running
Moderate to high-impact aerobics
You could say that such exercises seem basic, even for those who did not have a workout routine before their pregnancy. But women still struggle. 
Aqilah Norazman, a fitness and nutrition coach with nearly a decade's worth of experience working with women postpartum, said the most common struggle among her clients is their inability to stick to an exercise routine or adhere to nutrition habits. 
They "constantly look back and compare (themselves) to how they used to be pre-pregnancy," said Aqilah, who runs fitness studio 1-Habit Coaching. 
Such "constant comparison can lead to a lot of mental blocks that stop them from adhering to the tasks they need to carry out to achieve their goals", she said. 
For those who struggle with committing to a disciplined diet and exercise routine, coaches like Aqilah can be helpful. 
Clients will be put through an in-depth assessment and consultation, during which they can "share stories from their pregnancy" and have an "open chat" about their nutrition habits and struggles. 
"It is important for me as a coach to remember that every pregnancy is different and all of these women would've gone through a very different experience pre-, during and post-pregnancy, so the (session) is so important to establish what they've been through and where they want to go postpartum," said Aqilah. 
Depending on their goals, clients may then begin strength training to help rebuild their neuromuscular system, build strength and lean muscle, and increase metabolism, said the trainer. 
This guided training may be paired with cardio sessions, customised by the coach, that they can do at their own time. 
"I also recommend recovery work like yoga, stretch mobility and Pilates to help them regain confidence moving in their own skin and help them be in tune with their natural movements," said Aqilah. 
STRUGGLE #3: POOR DIETARY HABITS
According to Aqilah, these are the nutrition guidelines that most postpartum women can observe to promote weight loss: 
Slowly and steadily increase protein intake to help curb cravings and hunger.

Choose, as much as possible, to eat wholegrain carbohydrates.

Learn how to listen to hunger cues to help you eat mindfully.

Don't count calories or start a diet. Instead, work on changing nutrition habits one at a time, focusing on the easiest first.

Try not to restrict yourself from any food as it has the potential to "backfire". Instead, work on achieving a balanced diet that is made up predominantly of fresh and whole foods, while mindfully treating yourself with your favourite foods.
STRUGGLE #4: UNABLE TO BREASTFEED
"If there is no medical contraindication, breastfeed!" said Dr Ho.
It helps mothers lose weight quicker because the body burns approximately 500 more calories daily to produce breast milk, helping your body achieve the calorie deficit needed for weight loss. 
Breastfeeding also produces the hormone oxytocin, which helps the womb contract, reducing the risk of postpartum haemorrhage.

It is also well known, according to Dr Ho, that breast cancer and ovarian cancer are less common in women who have breastfed, and that the protective effect increases the longer you breastfeed.  
Despite its benefits, many women do not breastfeed or do so for a short period only because of difficulties such as being unable to get the baby to latch properly and trouble maintaining supply. In such situations, they are advised to speak to their doctor or get help from a lactation consultant, said Dr Ho. 
Ultimately, Dr Ho said, a woman should be able to return to her pre-pregnancy weight if she is diligent about weight loss by maintaining an exercise regime and sticking to a healthy balanced diet, and if she has good support from family and friends. 
However, there remain many barriers that may influence a woman to act otherwise. 
"Should the weight gain persist, she should consult a weight management specialist that can help provide medical insight and come up with an intervention plan.
"In some instances, there could be an underlying medical condition that is resulting in the weight gain, for example, thyroid conditions," said Dr Ho. 
CNA Women is a section on CNA Lifestyle that seeks to inform, empower and inspire the modern woman. If you have women-related news, issues and ideas to share with us, email CNAWomen [at] mediacorp.com.sg.