The Singaporean artist who dreams big – from giant bunnies to huge blocks of ice
Evoking memories and emotions from melting ice and whimsical inflatables, Dawn Ng's impeccable savoir faire is an inspiration for many women.
In partnership with Louis Vuitton.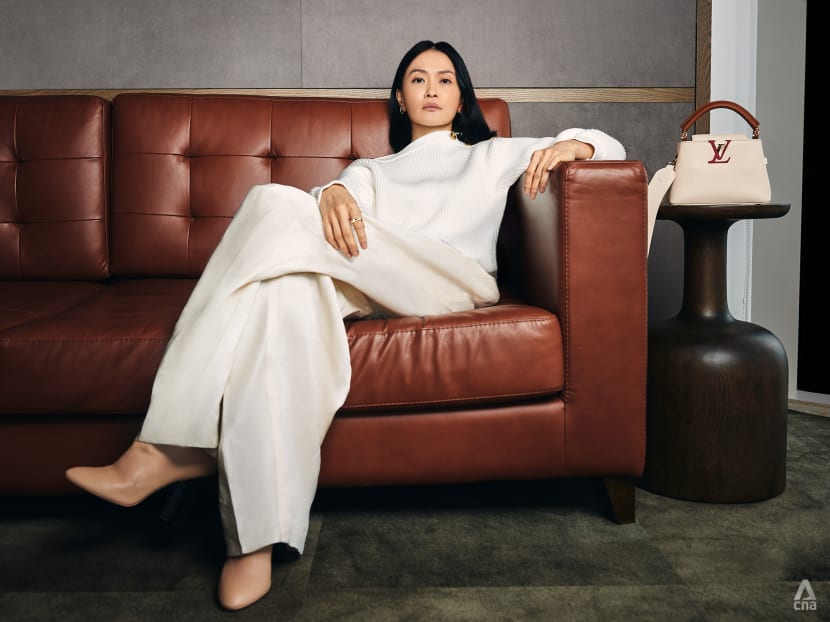 When it comes to first impressions, many of Dawn Ng's artworks certainly make an impact – because of their sheer size.
For instance, Walter, her 2010 series of guerrilla installations of a giant inflatable bunny across various locations in Singapore, is undoubtedly one of her most iconic creations. Others may recall admiring Perfect Day, a 2014 light installation of the Chinese idiom "feng he re li" while enjoying a cocktail and a bite at the Loof rooftop bar at Odeon Towers.
More recently, for her well-received Into Air solo exhibition held in January at a former ship repairs factory, she created, melted and evaporated large 60kg coloured ice blocks and documented this process via photographs, film and painting.
Beyond making a visual statement, these creations are also imbued with deeper meanings.
"I was interested in the craft of telling stories, be it in the form of a narrative, object or visual from a young age," said Ng.
For instance, the Walter series, which popped up across Singapore's heartland, was a nostalgic yet humorous commentary on the country's landscape, while the Loof installation was a throwback to how Chinese-Singaporeans learned to start their Mandarin essays with this idiom, which means a breezy, beautiful day. A reminder, perhaps, of a time when all narratives started with a perfect day.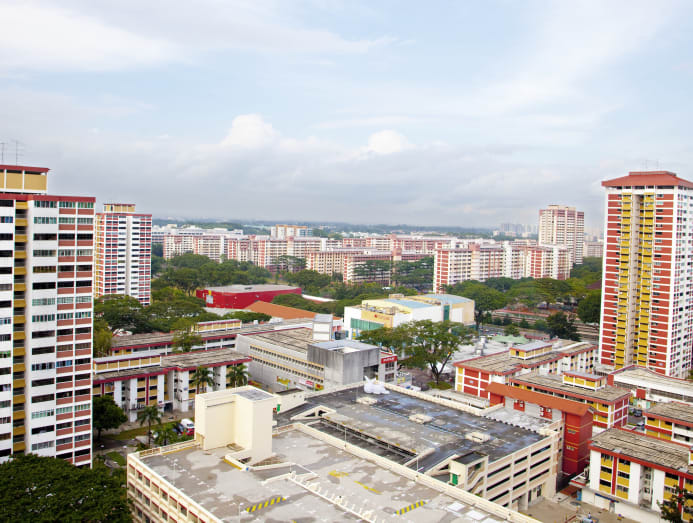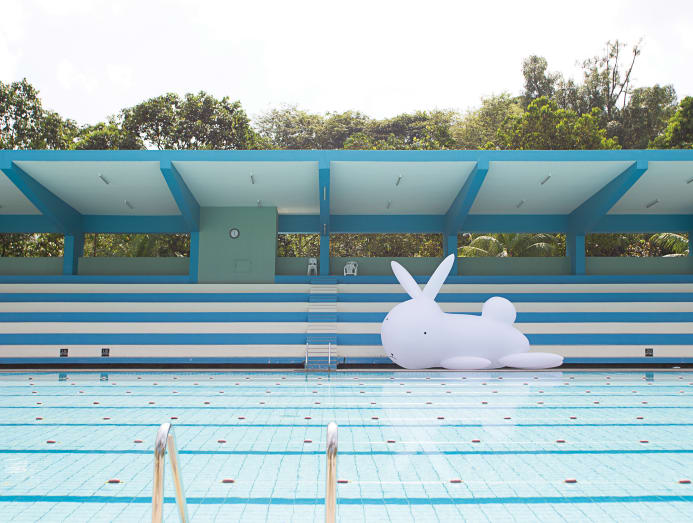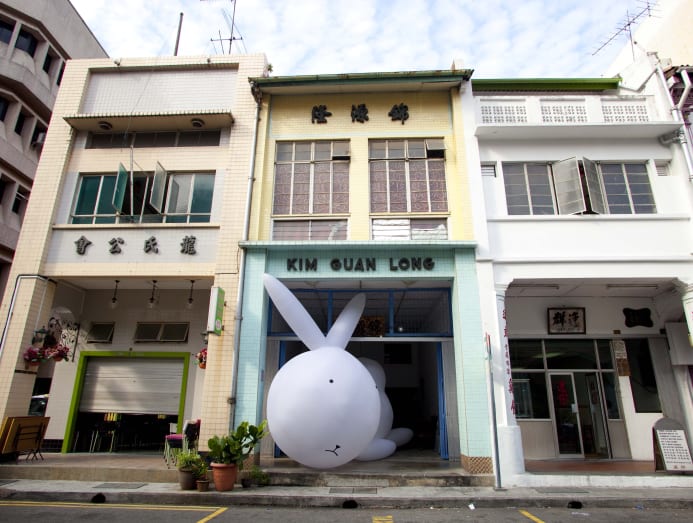 The bittersweet emotions that these works evoke are a central tenet of the acclaimed visual artist's practice, which focuses on the concepts of time, memory and the ephemeral.
The large scale of the works not only represent Ng's feelings, they can also be interpreted as embodying the universality of the themes she conveys through her art.
"Certain works possess this larger-than-life scale probably because I am always desperately trying to tell a story so much bigger than myself," said the 39-year-old, whose work has been acquired by the Singapore Art Museum and exhibited at the Musee d'art contemporain de Lyon in France.
"I often feel things in such a tsunamic, crushing way that it only seems right the works bear a mass, which echoes that volume of emotion."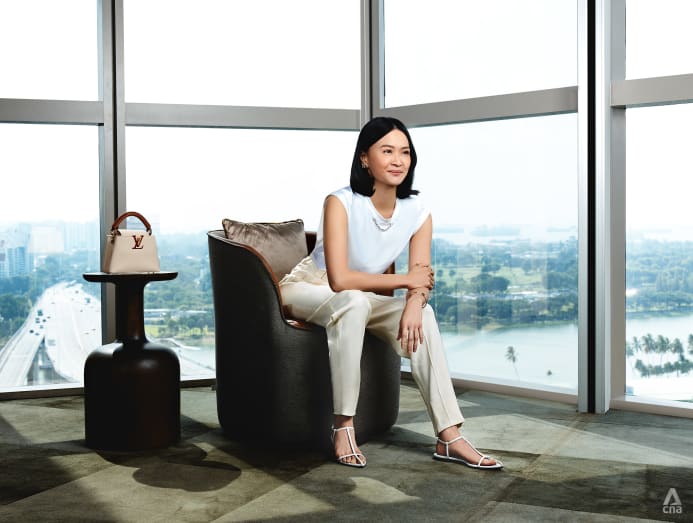 To effectively convey the stories she wishes to tell, Ng does not limit herself to a single medium. Instead, she works across a breadth of mediums, which includes sculpture, photography, light, film, collage, painting and large-scale installations.
"Throughout my practice, I have never stuck with a specific medium for the very reason that I believe each idea informs the manner and material in which it comes to life, not the other way round," said Ng, who has held solos in Art Basel Hong Kong and the Art Paris Art Fair, and shown in Sydney, Shanghai, Jakarta and New York.
Her starting point is often an observation which she finds compelling and, over time, this "interest" evolves into a deep investigation.
For example, her ongoing series Into Air started in 2018 when she first became fascinated with the idea of the ephemeral quality of ice, which begins to melt once it is out of the freezer.
"What started out as a benign curiosity about holding time in an ephemeral object like ice, grew into a full-blown obsession with creating and documenting the disintegration of large sculptural blocks of frozen pigment," said Ng, who also concluded an Into Air solo in Seoul, South Korea, this year. "Ice is a perfect material to me because it cannot last."
It took her three years of laborious research and experimenting to gain mastery over the medium of ice and to learn to capture its disintegration in a poetic way via photographs, film and painting.
To showcase the sculptural quality of the pigmented ice, each melting block is photographed from multiple angles at regular intervals. From this database of images, Ng carefully curates just a few images that convey the fleeting beauty of the ice blocks.
And to create the large abstract paintings that were a part of the exhibition, she gathered the melted mass into large vats and lay cotton paper over the surface to allow the coloured pigments to form topographical blooms and textured tributaries on the paper as the liquid evaporated.
She is currently in the middle of an intense seven-month cycle of freezing pigments in her studio and filming the blocks in a continuation of her work on the Into Air series. Having the time to work on this demanding process, she said, has been one of the positive side effects of the past year.
"The production process for this series is technically intensive, and this year of lockdowns was the perfect time to hole up and delve deeper into different forms, techniques and pigment control," she said.
Pandemic pending, there are plans for solos in Sydney and London next year, she added.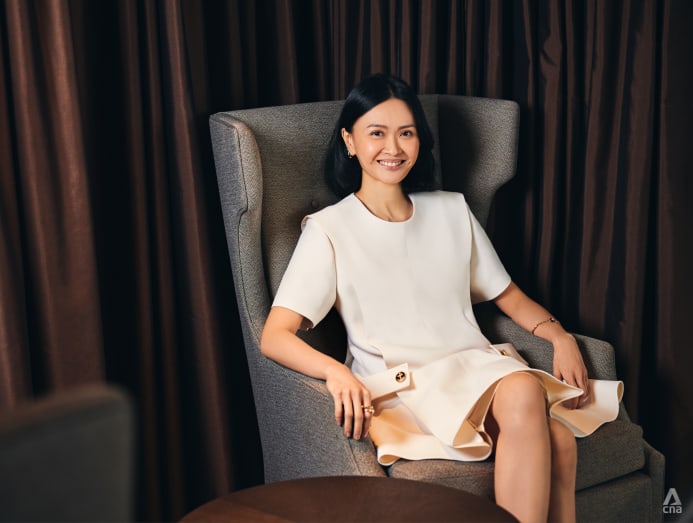 In a society that tends to value financial success, Ng observes that this aspect can be a challenge for artists, ranging from upstart capital to achieving consistency and stability later on in their careers.
She said: "The old, canonised definition of success or what you could and should be in Singapore was starched and stifling. Many leading entrepreneurs and creatives in my generation had a head start in finance, law and engineering, then reinvented themselves in their late 20s."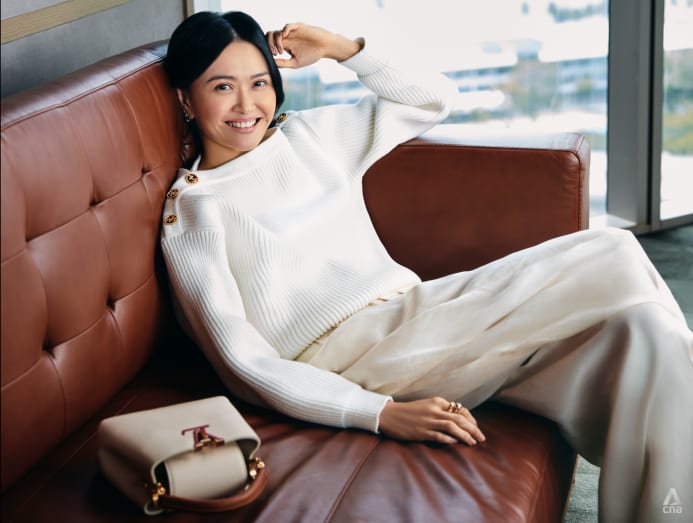 Ng herself worked in design and advertising in her 20s and used her savings to fund rental, research and production for the first five years of her practice. She said: "Things have reached a good balance now but I pour everything I make back into the studio – that is the only way I believe that work grows in experimentation, finesse and scale."
Reflecting on how society has evolved over the years to become more receptive of a more diverse range of callings, she said: "Singapore may still not be the most natural incubator of creative renegades, but boy, have we come so far."
To empower her own four-year-old daughter to pursue her own passions, Ng focuses on inculcating a sense of independence and strong work ethic in the toddler.
"I know it sounds strange, but I feel I empower her by making things a tad more difficult for her instead of easy. It starts from the little things. For example, she gets to choose whatever activity she likes to do, but I prefer that she does most of it on her own – even if she does not know how – and finishes it," she said.
"I care that she made the effort and she didn't quit when she got stuck. I believe that is the engine, which will drive any interest she has beyond a mere dabbling or hobby."
Ng leads by example, tirelessly putting in the hours at work. "I am at the studio seven days a week because I want to be. It is both a discipline and a meditation," she said.
Her family's support, she said, is what makes this endeavour possible. "My husband and daughter respect my commitment and I am grateful for that kind of alignment, because it allows me to go hard and then go home."
Today, as a sought-after artist, she is an inspiration for those who wish to follow their hearts. Her goal is clear. "Just to be simple, living proof that doing what I do is possible and real," she said.
Photography by Alvin Teo, styling by Lena Kamarudin, hair by Junie Tan and Charlene Tang, makeup by Lolent Lee using YSL Beauty, photography assistant Samuel Foo, fashion assistant Muhammad Sadiq. Art direction by Jasper Loh, produced by Penelope Chan and Shalini Selliah.  
CNA Lifestyle and Louis Vuitton celebrate extraordinary women in this series, along with the spirit of the house's iconic Capucines bag.
CNA Women is a section on CNA Lifestyle that seeks to inform, empower and inspire the modern woman. If you have women-related news, issues and ideas to share with us, email CNAWomen [at] mediacorp.com.sg.