This 65-year-old fashion model is leading Singapore's grey revolution
Ong Bee Yan has a thriving post-retirement career as an in-demand fashion model while running a hip cold brew coffee business – she's an unconventional breath of fresh air inspiring women with her versatility.
In partnership with Louis Vuitton.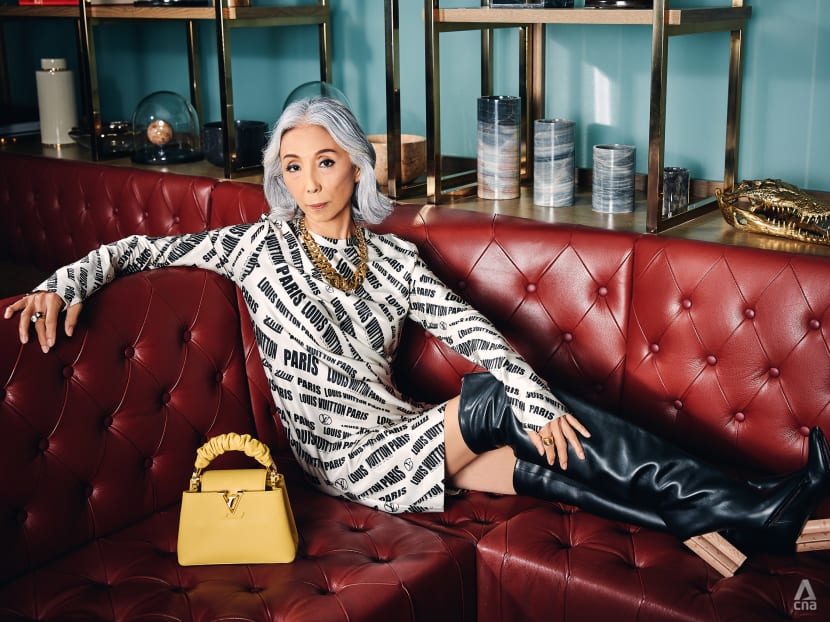 As an introvert, Ong Bee Yan never imagined she would ever become a model. But in 2019, when a young Singaporean designer scouted her to be part of a brand campaign, Ong decided to bite the bullet.
"I am camera shy but I thought to myself, if a stranger has so much faith in me, why should I doubt myself," said Ong, 65.
With her eye-catching silver hair and aura of unflappable cool, the photo shoot with Graye Studio caught the attention of others in the fashion industry.
Soon, modelling offers began to stream in and since then, she has participated in shoots for brands including UOB and IT Cosmetics.
She has also been featured in publications including Her World, Today Online, Mothership and even the cover of Harper's Bazaar Singapore.
"I decided to face my fears, get out of my comfort zone and challenge myself. I told myself to embrace my age instead of letting it restrict or define me."
Indeed, this can-do attitude has taken the ever-versatile Ong on many adventures at a stage in life when many others prefer to take it easy after retirement.
In late 2016, the former graphic designer decided to launch a cold brew coffee business, 1degreeC, with her husband Richard Koh when the latter was retrenched following a company restructuring exercise.
Besides overseeing the nuts and bolts of the business, such as working in the kitchen and dealing with day-to-day operations, she also relished the opportunity to interact with the younger generation.
"Cold brew coffee is a millennial drink so the question was, how do we reach these people?" she said. The answer – social media.
At that time, as she did not know much about Instagram, she worked with her son's friend to boost the brand's social media presence.
Along the way, she learnt a thing or two about creating content, from taking good photographs to writing catchy captions.
When the time came for her to take over the brand's Instagram account, she realised she already had the basics down pat. "What is most rewarding is that I get to meet young people, collaborate with them and learn from them," she said.
These days, Ong also has her own Instagram account @grey_evolution, where she shares snippets of her life such as family meals and outings with her grandchildren, as well as behind-the-scenes snaps of what goes on at photo shoots. It is one way she advocates for an engaged and active retirement lifestyle.
"I hope to encourage seniors to get out of their comfort zones, challenge themselves and prove that old dogs can learn new tricks," she said.
She is in part motivated by her own experience of caring for her mother, who had dementia. "It was a privilege but it was also painful. I could see that her memory was fading and she eventually could not remember me. I do not want my spouse or children to go through that," she said, noting that since she launched 1degreeC, she has noticed that her memory has improved.
Besides staying mentally active by taking on an array of different activities and challenges, Ong is equally conscious about staying physically fit. She makes it a point to do strength and weight training twice a week (see her do a four-minute plank on Instagram that would put many younger women to shame).
"I keep fit and active because I do not want to confine myself. I am 65 and still alive, I still have lots to contribute and lots to do," she said.
Ong and her husband are also big on upcycling as a way to care for the environment. They pick up what others might consider "junk", such as picture frames or furniture and restore them to give them a second life.
Additionally, she is currently working on making foot scrubs from 1degreeC's used coffee grounds and is hoping to involve special needs young adults or their parents in this process.
As an animal lover and proud owner of four stray cats, she gives back to the community by buying kibble for animal feeders who care for stray animals, to help ease their financial burden. She also supports animal charities such as Hope Dog Rescue, Cat Welfare Society or Animals Asia, donating half her modelling fees to these causes.
Contributing to her pets cause inspires her to keep going with her modelling gigs. While she still gets butterflies in her stomach before every assignment, one of the techniques this self-professed introvert uses to make it work is to rely on her "alter ego" on set.
"I 'zone out' and I am a completely different person because if it had been me, I would probably have been as stiff as a robot," she said with a laugh. "But I always say a prayer before I start and I tell myself to do my best because I have already accepted the assignment and I cannot let these people down."
It certainly helps that she has an equally adventurous attitude towards fashion. "I have always loved to dress up but I am not a shopaholic so modelling is the perfect way for me to be experimental. I just tell myself to project confidence in what I wear," she said.
In the future, Ong says she hopes to share some of her knowledge by conducting workshops on skincare, makeup and styling for seniors.
"If you look good outside, you will feel good inside," she said. "I would also like to conduct skills workshops like soap making. These are relevant in the market as young people are buying such products, so it could help people make a living out of it."
As always, this go-getter is firmly focused on her goal. She said: "I hope my journey and life experience will encourage others who might be fearful to just go for it and to do what they want to do. Age is just a number, do not let it define you."
Photography by Alvin Teo, styling by Lena Kamarudin, hair by Junie Tan and Charlene Tang, makeup by Lolent Lee using YSL Beauty, photography assistant Samuel Foo, fashion assistant Muhammad Sadiq.  
CNA Lifestyle and Louis Vuitton celebrate extraordinary women in this series, along with the spirit of the house's iconic Capucines bag.
CNA Women is a section on CNA Lifestyle that seeks to inform, empower and inspire the modern woman. If you have women-related news, issues and ideas to share with us, email CNAWomen [at] mediacorp.com.sg.