W Series champ Jamie Chadwick dreams of becoming the first female driver to race in F1 in nearly 50 years
Two-time W Series champion Jamie Chadwick is close to clinching her third championship title at the Singapore race this weekend. We chat with her on driving for Caitlyn Jenner's team and her F1 ambition.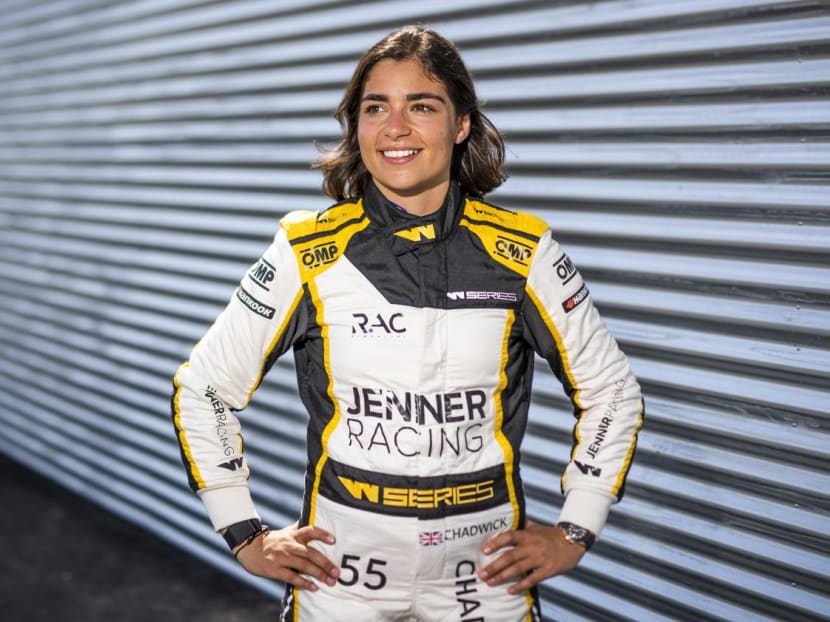 She's already won two W Series championship titles and this weekend, Jamie Chadwick could clinch her third in Singapore.
That would, effectively, make it a hat-trick for the 24-year-old, who took the championship at the inaugural W Series in 2019 and again last year. The 2020 edition was cancelled due to the COVID-19 pandemic.
The W Series is a free-to-enter championship that provides equal opportunities for women and eliminates the financial barriers that have historically prevented them from progressing to the upper echelons of motorsport. 
What's also unique about the W Series is that its drivers are selected purely on their skill and ability, and the series' cars are mechanically identical, which means that W Series races and championships are won by the most talented drivers, rather than those with the wealthiest backers.
And since 2021, the W Series has been a support race of Formula One, with the W Series racing alongside eight Grand Prix weekends on the F1 calendar this year.
This is also the first time the W Series comes to Asia – and it will be Chadwick's first time racing on the Singapore track.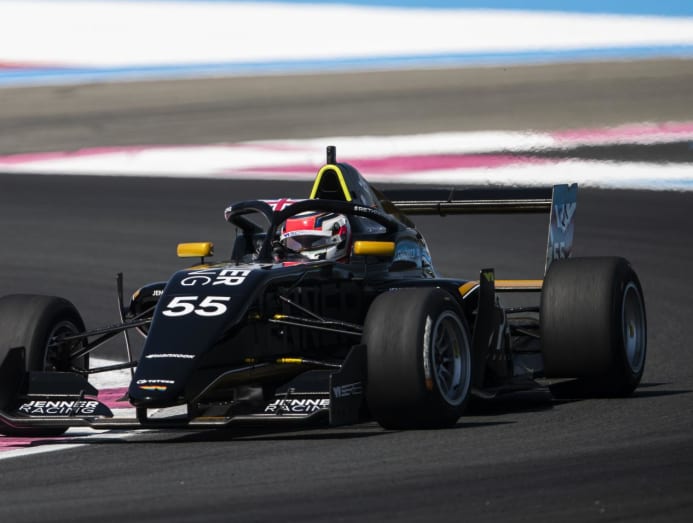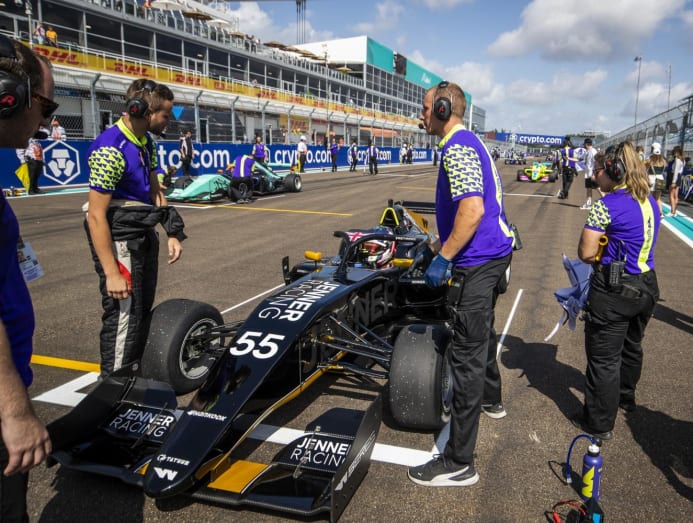 "Last year, it went all the way down to the wire, to the last race (of the season), so it was a bit tense and it was quite a tough battle in the end," she recalled.
Chadwick is already leading in first place with a wide margin this season, "but anything could happen," she told us during a chat in the lobby of the hotel she's staying at here in Singapore.
The British driver is being a tad humble. She's having a stellar season so far driving for Jenner Racing, which is owned by Caitlyn Jenner.
Presently leading the pack with 143 points to date, Chadwick is miles ahead of her second- and third-place contenders that each have 68 points. And if she wins the Singapore race, Chadwick automatically takes the championship title for the entire 2022 season, ahead of the remaining four races in Austin, Texas and Mexico City.
"This is probably the most excited that I've been for a race. It's one of the coolest circuits, and it's my first time racing here so it's pretty special. But it's a tricky one as it's a street track so it's a tough one to try and prepare fully for, but I've done quite a bit of simulating work so hopefully I'll know my way around. I just have to focus on doing the best job here – I could win the championship here," she said.
What is it like working with Jenner, the world-renowned Olympic gold-medal winning decathlete?
"It's different from any experience I've had before. Having a team boss like Caitlyn – who's a huge name – coming into the W Series shows where the race is at in terms of the kind of exposure it's getting right now," Chadwick shared. 
"Caitlyn has a huge background in sport so as a mentor figure, she's someone who understands the sport and the athlete mindset she has is really cool, so her advice is really useful," she added.
RACING TOWARDS THE F1 DREAM
In the history of Formula One, there have only ever been five female racing drivers who have entered a Grand Prix, but only two who have ever qualified and raced in one. The last one was Lella Lombardi in 1976.
Chadwick hopes to be the third.
"For every young driver, the pinnacle of the sport is Formula One. I love the competitive nature of the sport; the speed, the adrenaline factor that comes with racing. There's still a lot I want to achieve in the sport, and Formula One is the ultimate goal," she declared.
Chadwick is well on her way.
In addition to driving for the Jenner Racing team in the W Series, she is also part of the Williams Driver Academy, as a development driver for the Williams Racing F1 team.
"They have a roster of drivers that go out on the feeder series, from Formula 2 down to Formula 4. So with their support, the ultimate goal is getting into a Formula 1 car with them," she shared.
Interestingly, there are no technical rules that prohibit women from competing in F1. Yet, it's been almost half a century since the world witnessed a woman driver starting on the F1 grid.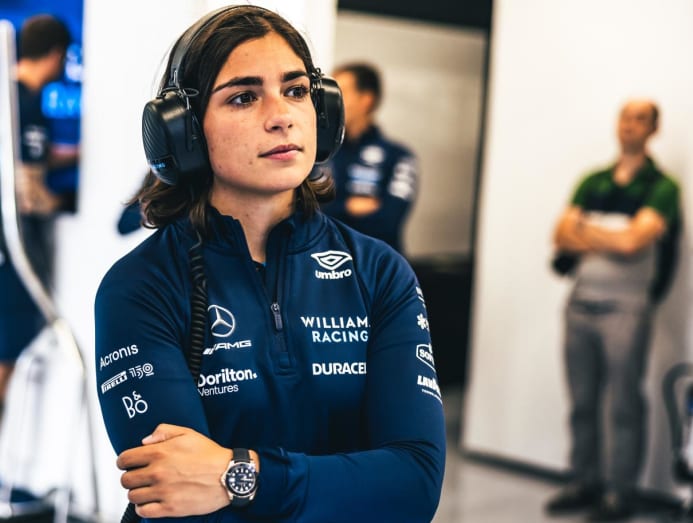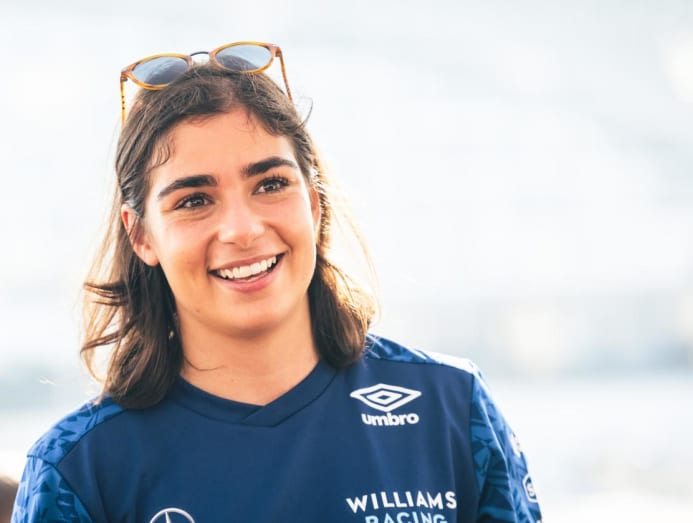 Chadwick puts it down to the perception of Formula One being a male-dominated sport, which it is, and to good ol' statistics.
"It's still heavily a male-dominated sport, and we're not seeing an even split of young girls getting involved in motorsports. There's one (female) to every 50 male race car drivers, and there are only 20 spots on the F1 grid so the chance of them filtering through is slim," she theorised.
This is why the W Series is such a welcome and celebrated initiative globally.
"Most female racing drivers in the world are all working to be a part of it. Having more women get involved at a younger age, and having more women at the top level of the sport, not just in driver roles but overall, will hopefully help promote the sport amongst a new generation of women," she said.
Her advice to young girls keen on following in her footsteps?
"Try it and if you enjoy it, there are so many more opportunities now; it's such a great sport to be a part of. Gender aside, don't let anything stop you. There may not be many women in Formula One right now, but I really do see it as possible," said Chadwick.
She's the one to watch this race weekend, as an inspiring role model and instrumental figure in driving positive change – in motorsport and beyond.