After losing 3 pregnancies, a mother is now helping other women cope with grief
To mark Baby Loss Awareness Week (Oct 9 to 15), pregnancy loss coach Vernessa Chuah shares her story with CNA Women – including finding out at 12 weeks pregnant that her baby's organs were growing outside its body.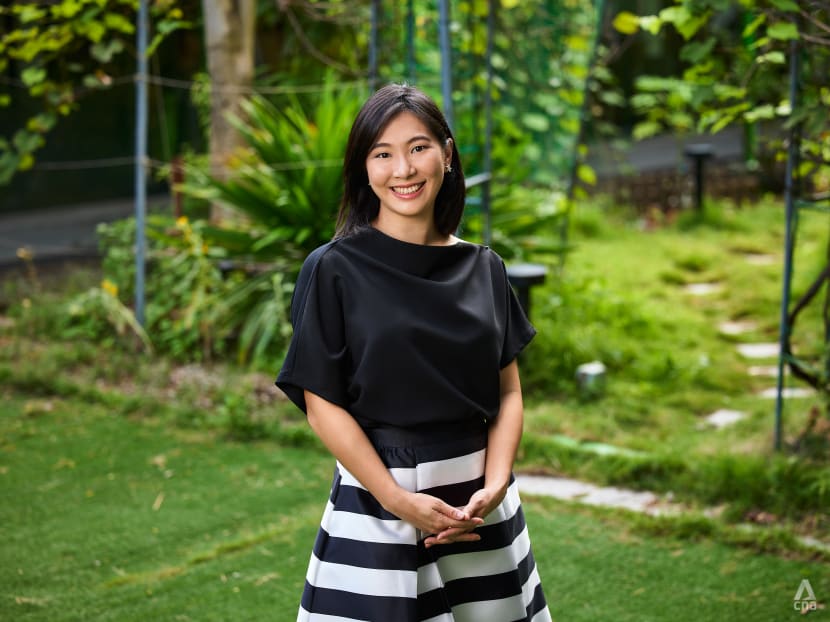 When we first decided to meet mother and educator Vernessa Chuah to tell her special story, she suggested we meet at her office.
Located at 10 Winstedt Road near town, Mindful Space is where the 35-year-old mumpreneur has been curating yoga classes and wellness workshops for parents and children since 2019.
But this year, it's become an even more meaningful place for Chuah. Since January, she's been leading a pregnancy loss circle there, a support group that aims to help grieving parents process their loss and share their emotions. 
In the same month, Chuah, who has lost three pregnancies, also started offering one-to-one pregnancy loss coaching to help others cope with their grief.
In line with Baby Loss Awareness Week, which runs from Oct 9 to 15, CNA Women settled down in a well-lit room at Mindful Space where aerial yoga classes were normally held, and listened as Chuah opened up to share a piece of her heart.
HER FIRST PREGNANCY LOSS
"The first loss happened when I was much younger, when I was 18. I had really bad stomach pain after a hiking trip," she recalled.
Thinking it was menstrual bleeding, she sat on the toilet bowl for hours before deciding to head to the hospital. 
There's still a lot of stigma and shame when it comes to having a miscarriage and/or abortion.
"The next day, they broke the news that I had a miscarriage," Chuah said, adding that although she was heartbroken, she didn't want to tell her parents and tried to cope with the pregnancy loss herself.
It was only after she started leading pregnancy loss circles that she realised there were other women who kept the "dark secret" of having a miscarriage and/or an abortion, even after they had become mums.
There's still a lot of stigma and shame when it comes to having a miscarriage and/ or abortion, she said. 
"There's also the fear of getting scolded and nagged at," said Chuah, adding that looking back, her mum would have supported her during the miscarriage if she had told her then. 
THE LACK OF UNDERSTANDING IN COPING WITH LOSS
The years passed and Chuah went on to complete her studies overseas, and got married in 2014. She became pregnant that same year, when she was 29. 
The pregnancy, she said, was unexpected because she suffered from polycystic ovary syndrome, a hormonal disorder that makes it harder for sufferers to get pregnant.
The couple went for an 8th week pregnancy check and all seemed fine, she recounted. But at her 10th week checkup, her doctor found that the baby's heartbeat had stopped. 
It's a loss, she was told.
It got her wondering: What did I do that caused it? What else can I do? And where do I go from here?
The doctor and nurses seemed rushed, Chuah recalled, and they "didn't have much time to comfort me" or explain how the miscarriage happened.
Neither was time given to explain the process of the dilation and curettage (D&C) procedure to "clean" out tissues and content from the uterus after the pregnancy loss.
It almost felt like (the baby) didn't matter, and that was traumatising.
She said the lack of empathy, combined with her doctor's poor communication skills, made the whole experience painful and confusing. 
"It almost felt like (the baby) didn't matter, and that was traumatising," Chuah shared, adding that she was crying non-stop while her husband held her in the hospital. 
'SOMETIMES LOVE MEANS LETTING GO'
When she found out that she was pregnant again in 2016, Chuah was over the moon.  
Wanting a successful pregnancy, she quit her job as a university lecturer, moved back to her mum's place from her marital home and literally followed all the "dos and don'ts" of pregnancy.
Not wanting to share the news until she had cleared her first trimester, she remembered going to her gynaecologist for a checkup on the 12th week.
"Usually he was quite chatty and bubbly, but all of a sudden, there was an awkward silence," she said.
"At that moment, I felt like I already knew what was coming."
After doing a more thorough check, her doctor broke the news to Chuah and her husband: The baby's organs – the intestines, stomach and liver – had formed outside the foetus' abdominal cavity.
It was a birth defect called omphalocele, where the foetus' abdominal organs and intestines protrude through the belly button area.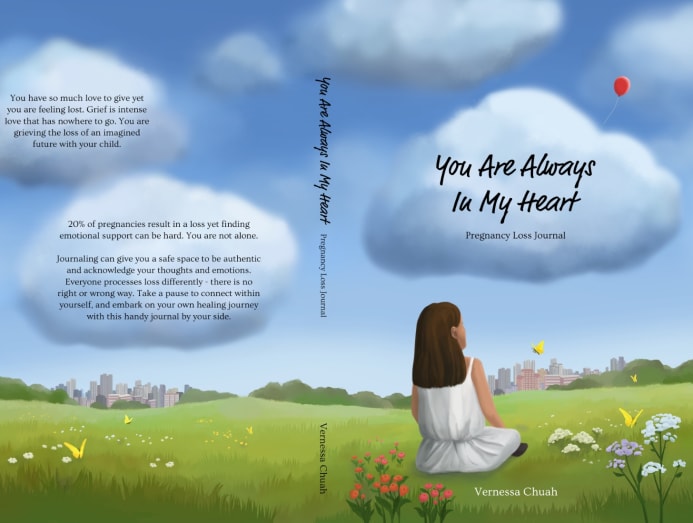 According to the MedlinePlus website, "During development, the intestines and other organs (liver, bladder, stomach, and ovaries and testes) develop outside the body first and then usually return inside." In foetuses with omphalocele, whose cause is unknown, these organs remain outside.
What did I do that caused it? What else can I do? And where do I go from here?
Chuah's doctor explained that the foetus' abdominal organs would usually be inside the abdominal cavity before 12 weeks. 
Babies with omphalocele can go on to a live birth but would have to undergo surgeries to "push" the organs in and "close" the abdominal cavity.
Her doctor told her that after birth, the baby may also need to be on tubes for a while, and sometimes, would not be able to survive for long.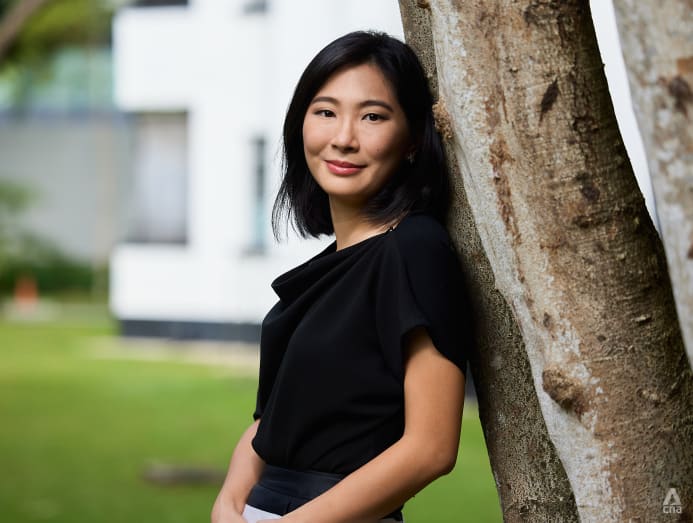 He gave the couple two options: Let go of the pregnancy before the 20th week, which would be in a month's time, or, decide to keep the pregnancy, and if the foetus survived, be prepared to manage the complications he'd mentioned. 
It was a difficult decision to make, and yet, the couple had to make a choice – and quickly.
After immersing herself in research and finding out more about the success stories, Chuah and her husband decided to keep the baby.
But when she told her doctor, he hinted that it may be "wiser" to let the baby go. 
"With the complications, given that the baby's stomach and liver were outside, combined with the fact that the baby's heart may not be able to remain in position till full-term (because it was only at 12 weeks), the doctor suggested letting the baby go," Chuah told CNA Women. 
As the organs were not inside the abdominal cavity, the baby would also not be able to do basic things after it was born, like pooping, peeing or digesting food, Chuah added. 
Now in her 14th week of pregnancy, she began to re-think her decision. 
Chuah's father advised her husband that "sometimes, love means letting go" and perhaps it would be easier to do so earlier rather than later.  
Her mum also pointed out that the couple would also need to be financially prepared to support their child medically and perhaps 24/7, and that Chuah herself may not be able to work because of it.
"I was also thinking if anything should happen to one of us as parents, then who would take care of this child? Are we bringing more suffering to the child?" she recounted.
"If it's an unplanned loss that God decided to take away, that would be much easier than me needing to make the decision to take the child's life away."
She remembered crying a lot, and in the end, the couple made the very difficult decision to let go.
The doctor told her that because she had had two D&C procedures for her previous pregnancy losses, he wanted her to deliver the foetus naturally. 
He explained that as the womb gets thinner with each D&C procedure, doing another would make it harder for Chuah to get pregnant later on. 
The termination procedure was planned for the 16th week and involved inserting a needle through her womb to stop the baby's heartbeat.
"The whole procedure was one week long because after (the injection), it would take the body one week to realise that the baby was 'gone' before it needed to be delivered," Chuah explained.
On the day of delivery, the labour took 19 hours. The baby was not able to come out of the birth canal smoothly because its organs were outside its body.
It wasn't the delivery that was painful, she said, but the immense guilt and grief that came with making the decision. 
MOVING FORWARD WITH LOSS, GRIEF AND TRAUMA
By the time she became pregnant again in late 2017, Chuah had decided to do things differently. 
Despite doing all the dos and don'ts for my third pregnancy, a loss still happened, she said. "This time, I was going to live the life I wanted to live. If it's meant to be, then it will be mine."
She found out she was pregnant four days before she and her husband were due to leave for a 10-day hike in Nepal.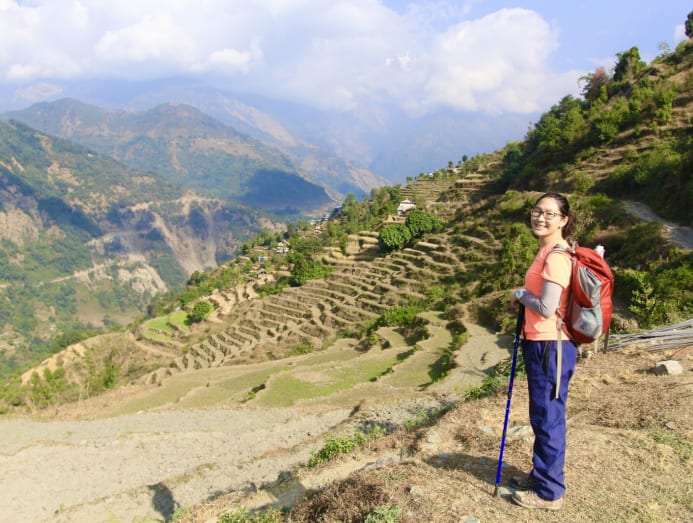 "I was like, oh no! But you know what, I am just going to live my life the way it is," said Chuah, adding that she consulted with two different doctors for advice.
The doctor said that she could go hiking but not above 10,000m as the air would be very thin and she would need oxygen for the baby. 
This time, I was going to live the life I wanted to live. If it's meant to be, then it will be mine.
The couple decided to change their hiking route and cut the trip to seven days instead.
"This pregnancy, which turned out to be a success, is where I had a change in mindset," said Chuah, adding that she "literally lived her life", which included attending a wedding in Japan and going to the Philippines on a work trip.
"I was also much happier," she said.
She had a healthy pregnancy and gave birth to her daughter Elvanna in 2018. 
Losing three pregnancies has shaped the way she sees pregnancy and motherhood.
"It made me realise that every birth is a miracle. I am super grateful for what we have now," Chuah said, adding that each loss strengthened her relationship with her husband.
"You will see someone's true colours during a crisis, and that's how I see how much he cares, so I try not to take him for granted," she added. 
"I have also learned my worth as a woman and wife. Even if I don't have a child, he still loves me for who I am."
HELPING WOMEN TO GO THROUGH LOSS  
Chuah's experience led her to explore an approach called ontological coaching that would help her raise awareness about pregnancy loss. 
She wanted to help women cope with the grief and trauma that came with it, and fill the gaps in emotional and psychological support for those who had experienced pregnancy loss.
It made me realise that every birth is a miracle. I am super grateful for what we have now.
Specifically, she wanted to become a pregnancy loss coach, to change how women view grief and help them move forward with hope.
While pregnancy loss coaches are more commonly found in Western countries like Australia, she wasn't able to find one in Asia. 
Part of her research, which she started in 2019, included reaching out to Dr Anupriya Agarwal, a senior consultant obstetrician and gynaecologist at Advanced Centre for Reproductive Medicine (ACRM) Gleneagles, to help women find more holistic support after a pregnancy loss, which included fertility support.
Every grief journey is different.
"We are already harsh inner critics of ourselves, so all these little things (such as why and how a pregnancy loss could happen) add up," Chuah said. 
Dr Agarwal explained to her that 15 to 20 per cent of human pregnancies end up in a miscarriage and 90 per cent of these are due to a chromosomal abnormality in the foetus. 
Having a pregnancy with too many (or too few) chromosomes is reportedly the main cause of miscarriage.
"Since the cause of the abnormalities is often not known, for want of any other person or circumstance to blame, women often blame themselves," Dr Agarwal told CNA Women. "The first question they always ask me is: Did I do anything wrong?" 
Chuah came across a course on ontological coaching, which unlike many coaching courses that focus on the language and brain, focuses on the emotions and body as well. 
It was exactly what she needed, she said.
The difference between counselling and ontological coaching is that in the former, psychologists look at what happened before giving advice. In the latter, there's no need to "fix" the problem or give solutions.
"It is more about asking questions, acknowledging and accepting that the loss did happen – and moving forward with the grief," she explained.
Neither is ontological coaching about "reflecting her own experience and emotions" on other women.
"Just because I have been through three (pregnancy) losses, it doesn't mean I fully understand how others are going through it, every grief journey is different," said Chuah.
The pregnancy loss circle and ontological coaching, both of which Chuah started in January as part of Mindful Space, provides a "holding space" for women going through pregnancy loss so that they can be "authentically them". 
It entails a minimum of six one-to-one sessions for pregnancy loss coaching (which may sometimes include parenting and life coaching), usually held outdoors at the Singapore Botanic Gardens. Each 90-minute session costs S$180 and comprises 30 minutes of creative arts such as drawing or journaling, followed by 60 minutes of sharing.
Citing the book The Body Keeps The Score by Bessel van der Kolk, Chuah said that when a traumatic thing happens to us, the left brain shuts down. The result of that is we're then not able to express ourselves verbally. So we have to rely on non-verbal communication, like drawing or journalling, instead.
So far, she has completed about 80 hours of coaching time with her clients. 
While she acknowledged that being a pregnancy loss coach would mean that she's got to "hold emotions" for other women, she loves her job.
"Seeing the shift in women gave me light," smiled Chuah.
"When people ask how many children I have, I'd say: Three angel babies and one earth baby."
"Sometimes I constantly ask what's the best version of myself that I want to show them? I feel that they are still watching."
CNA Women is a section on CNA Lifestyle that seeks to inform, empower and inspire the modern woman. If you have women-related news, issues and ideas to share with us, email CNAWomen [at] mediacorp.com.sg.