The Singaporean giving 10,000 unwanted items a new lease of life at her vintage shop
CNA Women speaks to By My Old School founder Rebecca Wong, who shares the story behind her vintage shop – and explains why shopping for old things could be a way of embracing retail therapy sustainably.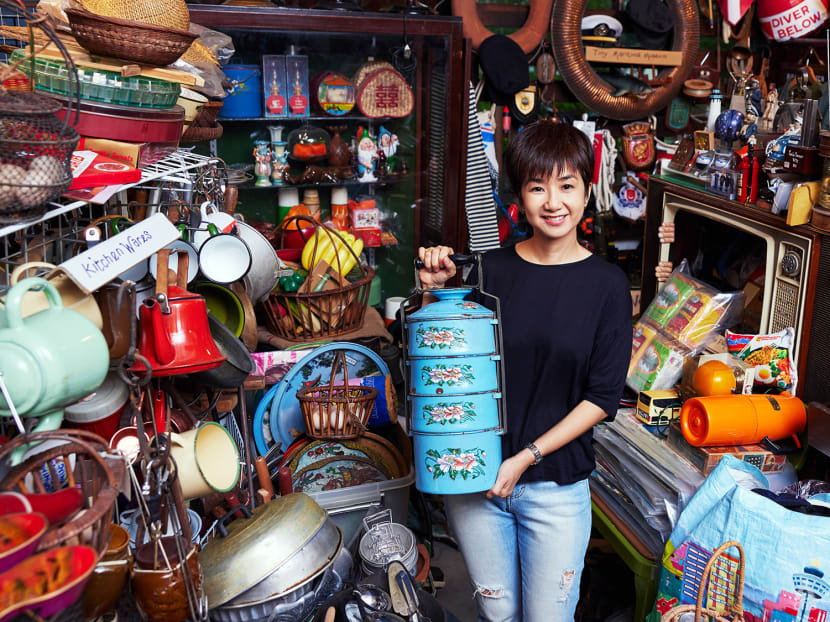 Two years into the pandemic, e-commerce has taken on a life of its own. Homebound and grounded, many of us seek the thrill of new experiences with our shopping carts. We cycle through shopping sprees, spring cleaning and then more shopping sprees, keeping factories and incinerators well alive.
Rebecca Wong understands the love for things. On the surface, the 44-year-old vintage shop owner seems like the last person on earth to tout the "less is more" rhetoric.
Her shop By My Old School is the very epitome of maximalism, with objects stacked upon objects as far as the eye can see: Mementos from Singapore's past, nautical collectibles, antiques, photographs, toys, books, typewriters, cooking tools and jewellery.
Yet for all her 10,000 collectibles, not a single tree has been newly cut or a new piece of plastic thoughtlessly created. This is because Wong's very business is about saving pre-loved items from the incinerator and landfills, and giving them a new lease of life.
Vintage shopping, you could say, is one of the few remaining ways to embrace retail therapy sustainably.
FINDING GEMS AMONG JUNK
Collecting runs in Wong's blood. Her father Winston Wong, 74, is also a collector. Together, father and daughter have saved countless items from second-hand dealers and families.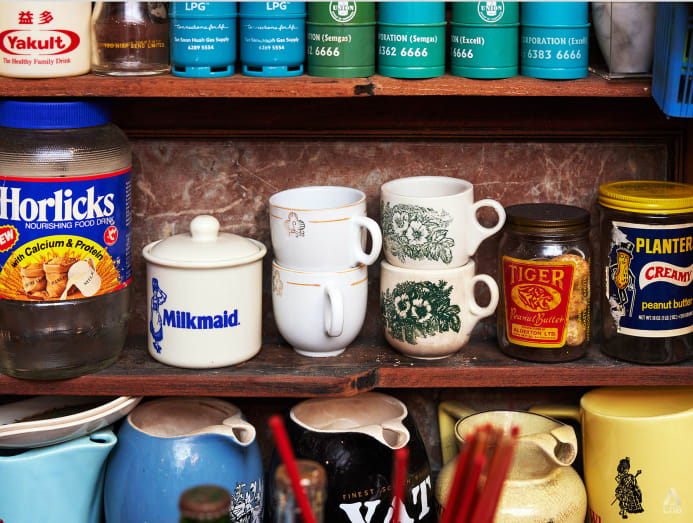 "You find the most interesting things in old homes when people are clearing their parents' and grandparents' stuff," she said.
Before they started the shop 10 years ago, the duo kept their collection at home, occasionally running garage sales on weekends. Wong was then a senior writer at an interior design magazine and her father, a civil servant.
However, when a shop unit near their old home at Normanton Park became available in 2011, it seemed as though the stars had aligned. While still retaining their full-time jobs, they founded a vintage shop together.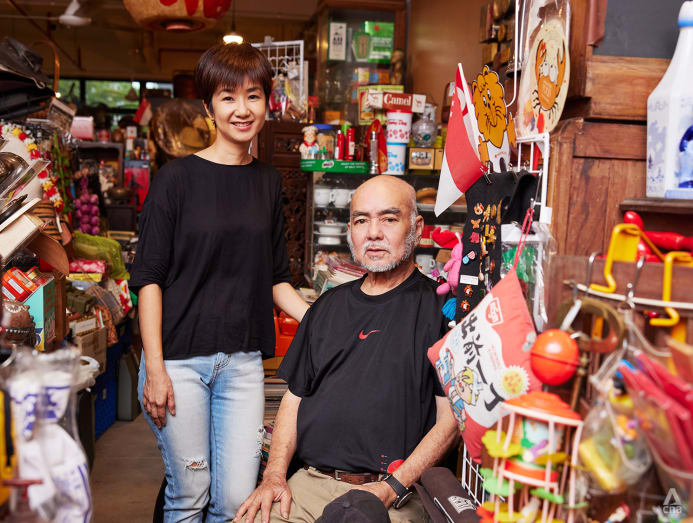 The name By My Old School was inspired by a line from a Beatles song, Good Morning, Good Morning.
"When you think about your old school, it always comes with very fond memories of what you do after school, the places you walked past and hung out," said Wong.
Having since shifted her shop to Commonwealth Drive, today, Wong's collection spans from the 1940s to the 1990s, encompassing the memories of many generations of Singaporeans.
Among these you'll find: A wooden daching instrument used to weigh cargo such as grain, rice and livestock at warehouses along the Singapore River; a vintage mould of the iconic Marie biscuit; Shanghai Diamond clocks that used to hang at our grandparents' houses; classic kopitiam cups; vintage jewellery; and out-of-circulation products such as aquamarine powder used to whiten clothes in the past. Items are priced from S$0.50 to S$5,000.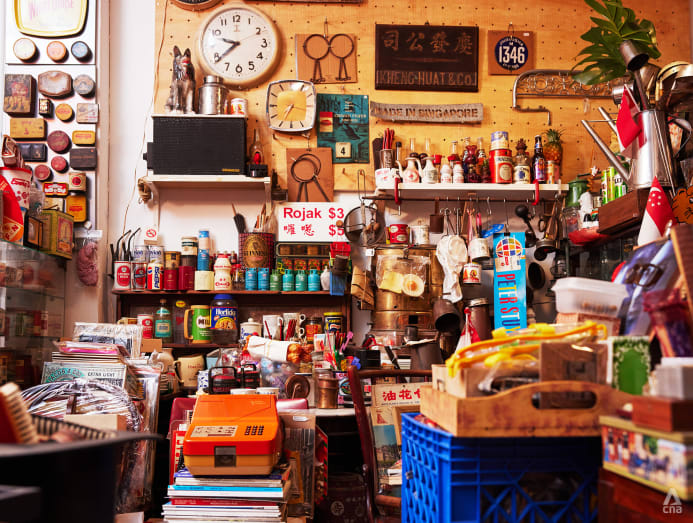 Wong knows her extensive collection intimately. You could point to almost any item and she would be able to give you some interesting tidbit on when it was created, or how it was used or made.
Though she left her editorial job in 2016, her experience as an interior design writer and editor has certainly helped. She brings to customers an eye for home decorating, suggesting creative ways to upcycle vintage items for modern homes.
What should one do with a long wooden daching? Why not suspend it above the bar counter and hang plants from it?
What about this Russian copper deep sea diving helmet? Put an LED light inside and you not only transform it into a lamp, but a statement piece and talking piece, she suggested.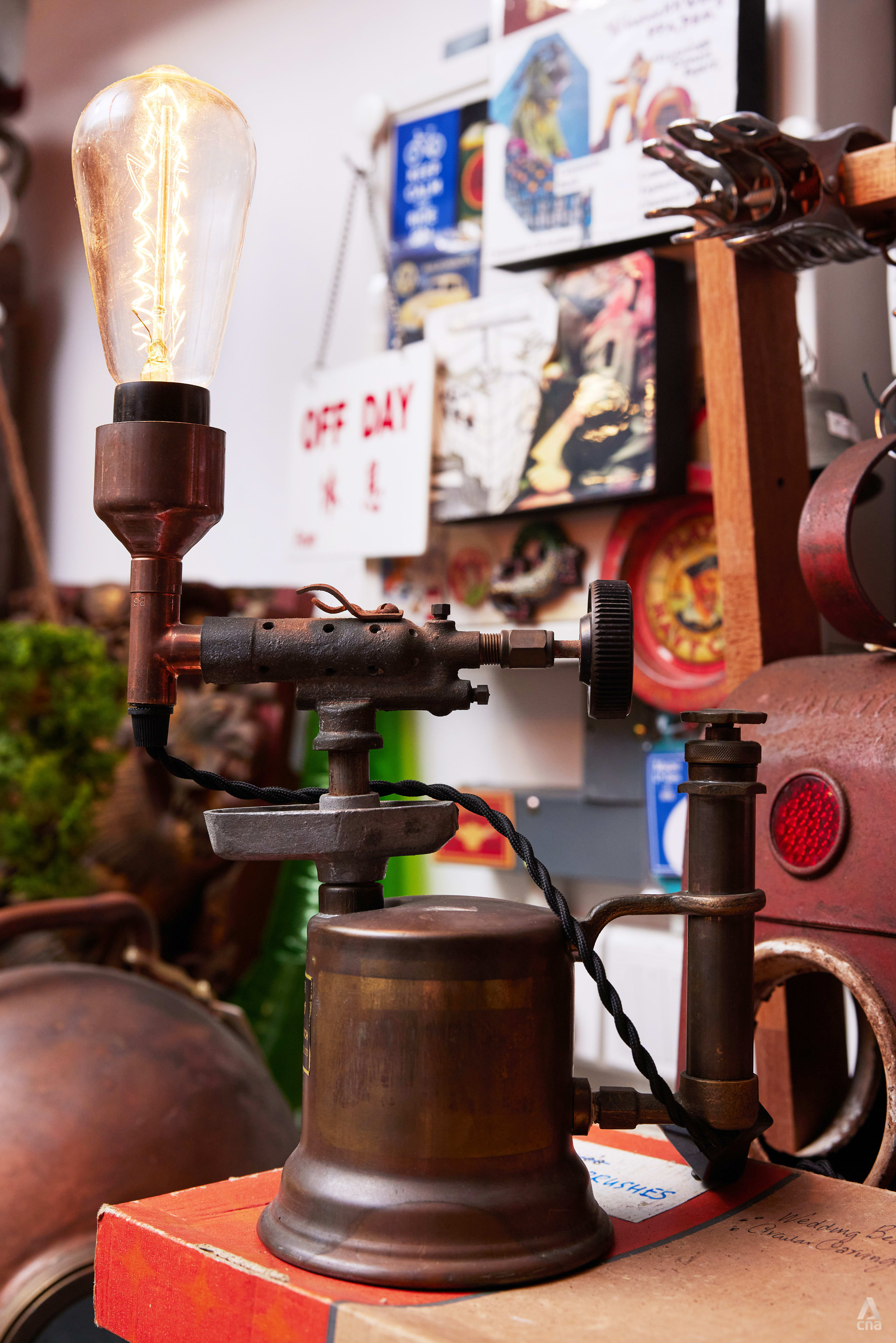 "You can make something creative out of a lot of old stuff. There is a real need for places where these things can come to the market again instead of being thrown away and incinerated," she added.
THE BEAUTY OF VINTAGE
Wong finds great beauty in things that bear the mark of time. "Part of the charm of vintage things is the patina. Many natural materials such as brass, wood, copper and leather actually look better as they age," she said.
"Vintage items are also unique – usually we only have one of its kind, so after we sell it, it's gone."
Another key factor is craftsmanship. "A lot of things made in the past, such as typewriters and cooking tools were made to last; not to be discarded.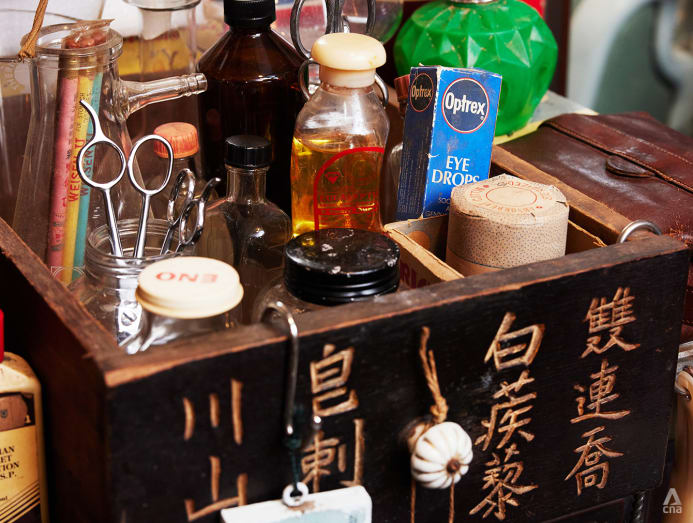 "Because these were things people depended on to make their living and raise their families, they were generally made with a lot more care. Many are even handmade and hand-welded," she noted.
"In the past, they'd give you almost a lifetime guarantee. That's the beauty of vintage – you can use it forever. It is more sustainable," she added.
"Today, many items are mass produced and badly made. People just want to sell you things that you would throw away after two years and buy more so you are constantly consuming."
Wong also lovingly restores many of the vintage items in By My Old School.
For instance, to make old brass items shine, she soaks them in assam water (used to make curry) before giving them a good scrub. The acidic water softens the dirt and loosens the grime. This, she said, is safer for us and the environment than using chemicals.
For electro plated nickel silver (EPNS) tableware, she uses a sanding block to remove surface tarnish.
For more complicated repair and restoration work such as re-upholstery, and broken clocks, gramophones and telephones, she ropes in a rolodex of professionals.
A CLOSER CONNECTION WITH OBJECTS
If you ask Wong, the problem is not that we love things too much, but that we don't love them enough.
Sustainability need not be about denying ourselves the things we love and pursuing a minimalistic lifestyle. It can simply be developing a closer connection to each and every object we buy and own.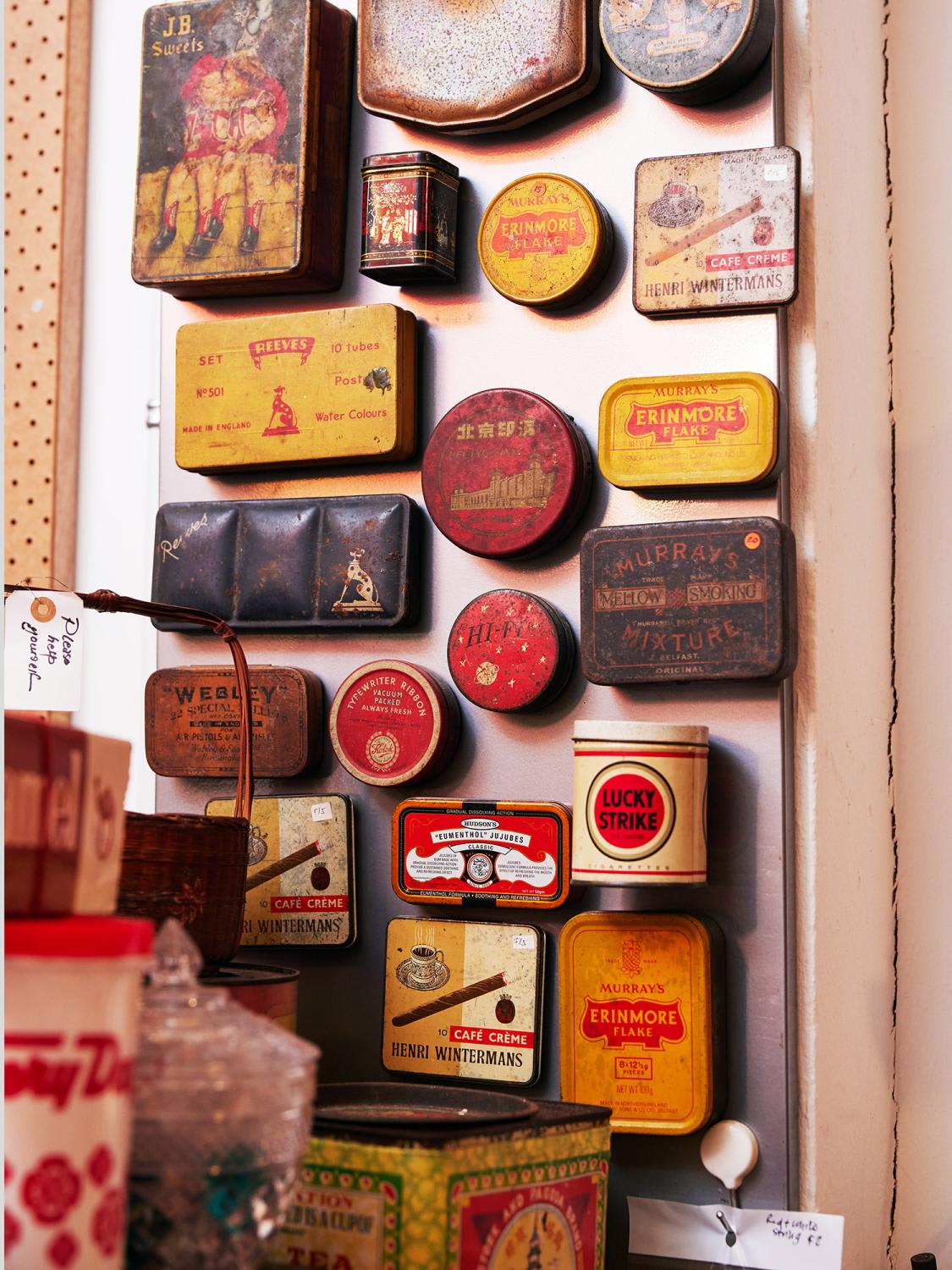 According to Wong, our satisfaction from purchases is so fleeting because of how detached most online shopping experiences are.
"The shopping experience is getting more and more impersonal. You can buy something online from anywhere in the world without stepping into the shop, meeting anyone or knowing much about how the product was made.
This does not give you much satisfaction because you are mindlessly consuming without valuing the things you consume," she said.
Vintage shopping, on the other hand is about the "thrill of the hunt" and "looking for treasure" among what some may consider junk.
"What inspires me are the stories behind each item, how they were used in the past, and the connection between people and the things they own."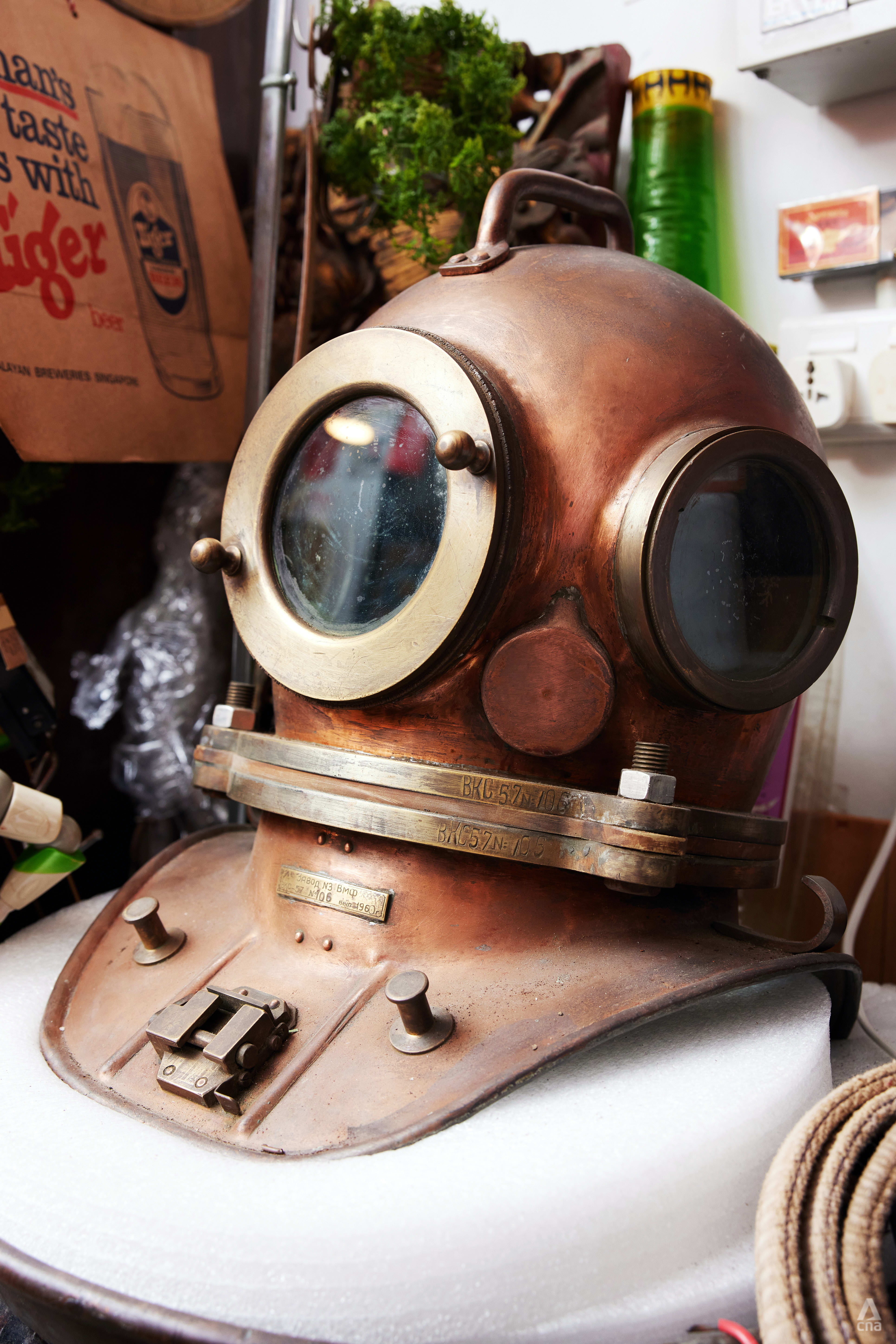 Some of Wong's customers have found items that their grandmothers or parents used to own. By sheer coincidence, her family friends even found their old family photo dating back to 1963 among By My Old School's archives.
"Every collector that comes through our door is looking for specific things. They can't tell you what it is, but they know it when they see it. It is kind of beautiful – the idea that these things are waiting for their owners."
However, she added that precisely for that reason, running a vintage shop in land scarce Singapore is challenging. Shop owners need enough space to keep things for a long time before the right person comes for it. Wong supplements her income with freelance writing.
"I understand that vintage is not everyone's cup of tea – there are people who don't want to pay for something old. They want new things," she said.
However, she urged consumers to be open to alternative sources of shopping instead of constantly pursuing new things.
"Buy something that has already been produced. Often you will find that the quality is better than many new items," she said.
"Look for the experience, not things – the material, craftsmanship and story behind the object; not just newness."
With conscious consumption, Wong reckoned retail therapy need not burden the earth with more junk.
"If we shop in a responsible way to our environment, we can instead save 'junk' and still enjoy well-made things," she said.
By My Old School is at Block 115A, #03-24 Commonwealth Drive. It is open only by appointment at the moment. Call 9879 2088 or contact the shop via Facebook at https://www.facebook.com/Bymyoldschool/
CNA Women is a section on CNA Lifestyle that seeks to inform, empower and inspire the modern woman. If you have women-related news, issues and ideas to share with us, email CNAWomen [at] mediacorp.com.sg.