'I wake up in a different country': What it's like to work on a cruise ship – and be in charge of all the fun
Bonnie Bai is the second youngest cruise director at the Royal Caribbean Group. She tells CNA Women what it takes to spend more than half her life at sea and be the most visible person on a ship carrying thousands of passengers.
She throws themed parties. She hosts game shows. She makes sure your laser tag or escape room game runs smoothly. She even conducts language classes. 
Bonnie Bai is a cruise director with the Royal Caribbean Group and her job is to make sure there are no boring moments onboard. 
Bai told CNA Women she has always had the heart of an explorer. As a little girl, she had her head buried in fashion magazines belonging to her tailor mum and dreamt of attending fashion shows. She even toyed with the idea of becoming an archaeologist. 
Her mum was enthusiastic about her daughter doing fashion design but less so about the idea of her youngest child digging around on an ancient site. 
In the end, Bai didn't pursue either of those dreams. She did herself one better. 
HOME AWAY FROM HOME
Life as a member of a ship's crew is unlike any other. 
For one, every time Bai leaves her home in China, she knows she won't be back for months – typically four. When she arrives for work each time, it's to a different set of colleagues. 
Not being able to apply for random days off means she often misses out on special occasions like birthdays and weddings. But for Bai, it's a small price to pay for living a life that feels like one long vacation.
"When you're on a cruise, the ship itself is a destination. It's not just transportation. When you're sailing, you have time to get to know the people around you. The guests and even the crew are from different cultures and have so much life experience. So every single day, you're hearing new stories and gaining new perspectives," she said.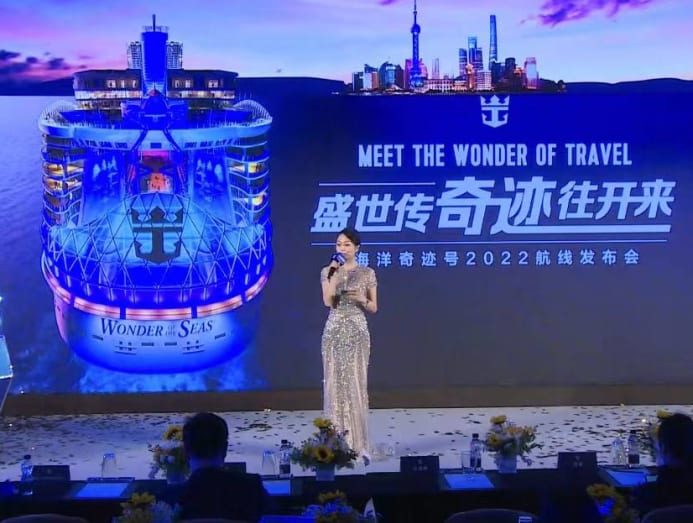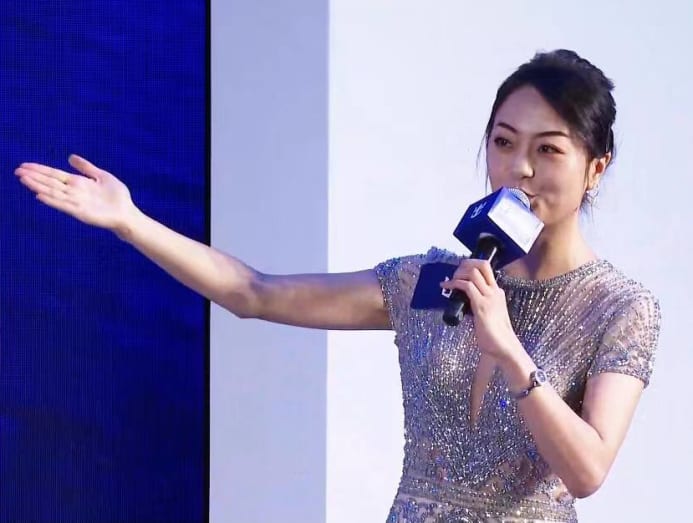 "It's what makes this industry so special and unique. It keeps your mind totally open," she added. 
But what she loves most is the experience of being transported from place to place while she is asleep. 
"Every single day when I wake up and go to the open deck, I'm either in a different city or country. That's incredible for me. You just go to sleep and the ship keeps moving, and when you wake up … the people, the surroundings, the culture and the environment have totally changed," she told CNA Women. 
Does she ever miss home?  
"When I first started out, I felt insecure about being so far away from home because you think about how much less flexible it is than a land-based job. But once you settle into your routine and really get into the day-to-day operations, time flies by very fast," said Bai, who is a Chinese national. 
It helps too, to get to know her guests. On one of her more memorable cruises, Bai spent more than three months with roughly 100 guests who had opted to sail with the Quantum of the Seas ship throughout its global odyssey in 2015. 
"The home port for that cruise was Shanghai, so I started conducting Mandarin lessons. When we stopped at Chinese-speaking cities, guests would come back from exploring and tell me how they were able to communicate in basic Mandarin. If I couldn't leave the ship, they would bring back food and other souvenirs for me. 
"I particularly enjoy talking to older guests because they have so much wisdom. I remember one woman in her 70s who told me that for every two dollars I earn, I should spend a dollar to reward myself and save the other dollar for a rainy day. 
"I still keep in touch with some of these guests!" she added.
Bai also communicates regularly with her loved ones. It's the 21st century after all and the Royal Caribbean has the "fastest Internet on the high seas", she claimed. If there's an emergency at home, Bai can take a flight out from the next port. Besides, as cruise director, she can invite family members to come along with her – for free.
"So you see: The job can be challenging but it's also rewarding," she said. 
WHAT DOES IT TAKE?
At 31, Bai is the second youngest cruise director in the Royal Caribbean Group. She doesn't think it's anything to shout about.
"I even have teenagers on my team, such as this one dancer who is only 18 and fresh out of college. Then I have musicians who have been working on ships for 40, even 50 years. 
"So I don't think age matters much. It's more about the value that you bring," she said. 
Bai has certainly earned her stripes. 
She joined the company eight years ago after completing her Master's degree in hospitality at The Hong Kong Polytechnic University. By that time, she'd already built up some working experience, having interned at The St Regis Hong Kong and with the Shenzhen Tourism Bureau. 
Her early years with the Royal Caribbean were spent working as a member of staff within the cruise division, which exposed her to the "smaller aspects of the guest experience" such as conceptualising and hosting events. She was later promoted to activities manager. 
Today, Bai has the gargantuan task of being the face everyone sees the most on the ship, from guests to crew. She greets and mingles with guests in person, appears in their stateroom TVs for the morning programme, and hosts all the entertainment shows – approximately 28 a week – and parties.  
Before being assigned the role of cruise director, Bai had been tasked to work on three "global odysseys" – voyages that see a single ship out at sea for months at a time. 
"When you participate in such challenging projects, it expedites the learning process. It can take 20, sometimes 30 years for some of my other colleagues to experience this but in Asia, we have such a great market that I've been able to experience it in such a short time. And it has prepared me well for my role," she told CNA Women. 
Incidentally, higher-ranking crew are also "striped officers", said Bai, who – as head of the cruise division – wears three-and-a-half stripes on her crisp white uniform. She doesn't wear it much, however – as a kind of celebrity on the ship, she has her own wardrobe of costumes and gowns.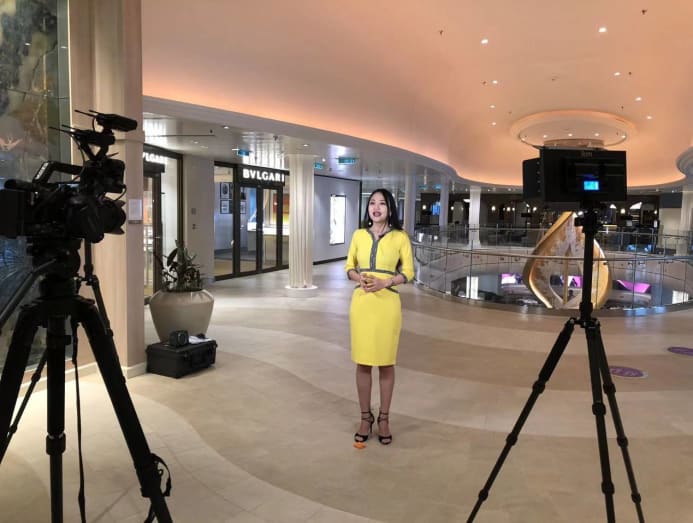 So what does it take to do her job well? Passion – a lot of it. 
"You're the one opening and closing the show. You're always in the spotlight. You have to be able to carry yourself well, no matter what happens. You must have the energy to raise the vibe of the place. And to have that kind of energy, you need to have passion," said Bai. 
"When you have passion, you do your work with sincerity. Guests can feel that. And you also have to be good with people. They have to feel welcome," she added. 
If all that sounds exhausting, that's because it is, which is why Bai has trained herself to always live in the present moment. 
"My mantra is 'carpe diem' or 'seize the day'. When I'm onboard, I embrace the rhythm of ship life and when I'm on vacation, I will focus on winding down and spending as much time as possible with my family," she said.   
With the little time she has to herself onboard the ship, Bai likes to be by herself in her cabin on the lower deck, doing what she describes as nerdy things like reading and writing. In fact, Bai has a book out in China, written in Mandarin, called Chasing Dreams 100,000 Miles Around the World, which chronicles her adventures out at sea. 
"In it, I share my unique experiences as a Chinese working in a transnational, multicultural environment; my personal advice for other young people looking to establish themselves in the workplace; and the process of discovering what one values as an individual in work and life to truly become our best selves," she said. 
Bai believes she's at the peak of her career but there's one dream she still harbours: Becoming a mum.
"I'm thankful for the equal working environment on board, but life out at sea is still not conducive for starting a family," she said.
But Bai is hopeful. When she next gets vacation time – she typically gets two months off after four months of working and spends the time at home with her family – she plans to freeze her eggs. 
She will consider marriage when she "encounters (the) right person". 
When that time comes, she believes that she can figure out an arrangement that can accommodate both the demands of cruising and motherhood with Royal Caribbean, "as it has done for my female colleagues who are working mothers".
CNA Women is a section on CNA Lifestyle that seeks to inform, empower and inspire the modern woman. If you have women-related news, issues and ideas to share with us, email CNAWomen [at] mediacorp.com.sg.