These housewives, retirees and grandmothers volunteer to give hospital rehab patients 'makeovers'
After a debilitating illness or traumatic accident, few give much thought to a patient's physical appearance – but this group of women volunteers believe that basic haircuts, shaves and grooming can lift a patient's mood and self-esteem, and many have dedicated decades of their lives to doing it.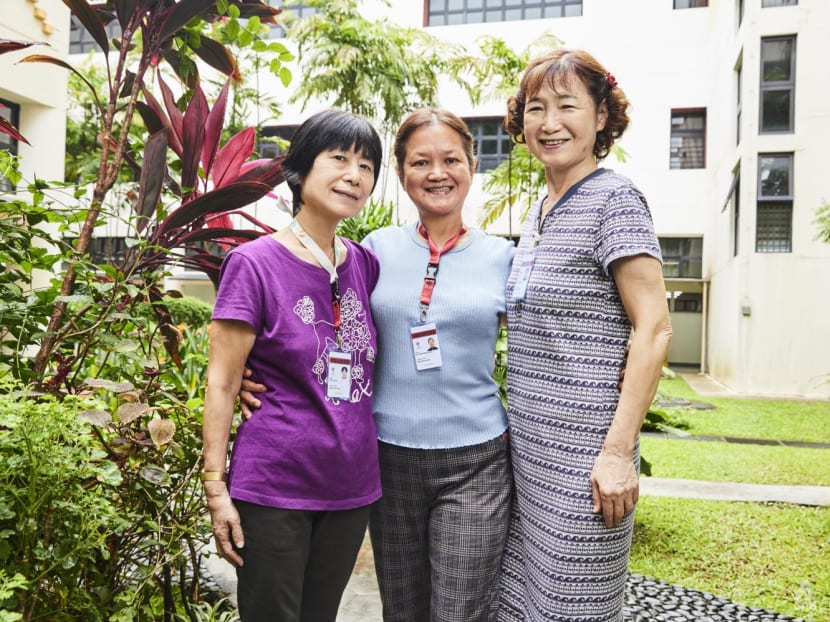 When you think of patients recovering from stroke, or other debilitating illnesses and injuries, the first thing you might think about are functional needs. What sort of medical care and physical support do they need? Do they need help with daily activities such as moving around, feeding themselves and going to the toilet?
Few people would think about patients' appearances. That, however, is precisely what Sakura Groomers, an eight-women volunteer group, does.
Consisting of homemakers, mothers and grandmothers who have been the primary caregivers in their own families for most of their lives, they understand instinctively that care goes beyond functional needs.
Indeed, a bit of basic grooming not only keeps patients clean, but also gives them dignity, confidence and hope during their recovery journey.
For the past 30 years, these volunteers have gone to Tan Tock Seng Hospital Rehabilitation Centre at Ang Mo Kio-Thye Hua Kwan Hospital to spruce up its long-staying rehab patients.
Some are stroke patients with difficulties managing activities of daily living such as eating, dressing and walking. Some suffer from orthopaedic disorders such as amputations and fractures. And others are recovering from brain injury and spinal cord injury as a result of accidents.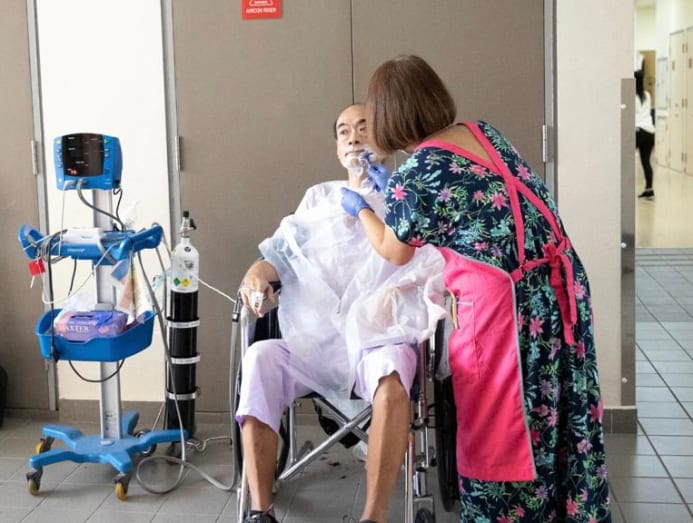 Every Tuesday at 10am, these volunteers cart their mobile grooming station to the corridor on level 3 of the hospital. With a few basic tools such as scissors, electric hair clippers, combs, shavers and talc, they work their magic on wheelchair-bound patients, giving them a spiffy haircut, clean shave and nail trimming.
UNIQUE "CUSTOMERS", UNIQUE CHALLENGES
Each year, hundreds of patients pass through the hands of the Sakura Groomers. These women, however, are not professional hairstylists.  
A bit of history: Sakura Groomers was originally set up by Japanese homemakers and expatriates from The Japanese Association Singapore in 1993 to offer patients recreation activities such as creating artwork and singing.
But after meeting with rehab patients, many of whom are unable to groom themselves, these women decided to offer grooming services instead. Though predominantly Japanese, today, this group includes Singapore and Taiwanese women as well.
Some have volunteered for decades. Japanese homemaker Mieko Inotsume, 69, for instance, has been with Sakura Groomers for 22 years.
In her youth, before marriage and kids, Inotsume used to be a hairstylist in Japan. So when her kids grew up, she decided to use her haircutting skills to bring a little cheer to those in need.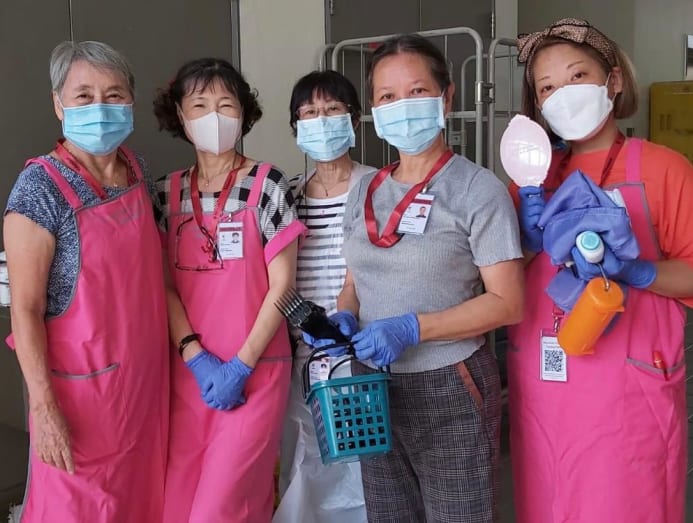 Not all volunteers are hairstylists like Inotsume though. Many, such as Singaporean retiree and homemaker Amy Koh, 70, and Japanese retiree and homemaker Yukie Toyota, 68, had never cut hair before joining the volunteer group.
Toyota learnt some basic haircutting skills from YouTube tutorials. However, by and large, these volunteers picked up most of their haircutting skills from senior volunteers on the job.
Learning to cut hair on the job is no mean feat. Volunteers need to be deft with scissors and hair clippers, have a basic understanding of hair type and texture, and also be able to understand what patients want, and deliver it in around 15 minutes without standard salon equipment such as a wash basin, hair dryer and other styling tools.
"Sometimes, younger patients will show me photos of celebrities and ask for exactly the same style," said Inotsume.
"I would explain to them that we are just volunteers, this is not a salon and there is no shampoo or dryer here, so it is really hard to achieve that. Sometimes, they would be unhappy."  
Cutting the hair of rehab patients on wheelchairs also comes with its own set of unique challenges. This is because many patients are recovering from serious injuries, including head wounds and head surgery, so volunteers have to be extra careful around these injuries when cutting patients' hair.
"Some patients are also bedridden, so we have to go to their ward to cut their hair. For such patients, we need two volunteers. We will usually get the nurse to help us move the patient to a 45-degree sitting position. One of us will then help to hold the patient so that he is comfortable, and the other will cut his hair," Koh said.
IT IS "HEART" WORK
Volunteers for Sakura Groomers do not always get much thanks for their work. "We often meet unhappy patients. Because they are not healthy, their spirits can be quite low," Koh explained.
"We are prepared for that when we go into the hospital, so we won't be angry if they scold us.
"We know we are there to cheer them up, so we don't expect them to thank us and make us happy. If patients are in a bad mood, we work as a team and step in to help one another calm patients down," she added.
I give patients small happiness, but they give me great happiness.
Toyota said that sometimes, patients would flare up if the haircut falls short of their expectations.
"When I was still a new volunteer, I cut the hair of a young man who suffered from an accident. This patient had a nice sideburn and requested for a touch-up. But his hair was very hard and curly and I hadn't cut such hair before," she recounted.
"When I helped him trim his hair, I cut a bit too much of his sideburn, and he was very angry. Although I apologised many times, he wouldn't listen.
"Fortunately, a senior volunteer intervened and reassured him that his hair would grow back. Although he was still unhappy, he calmed down a little," she added.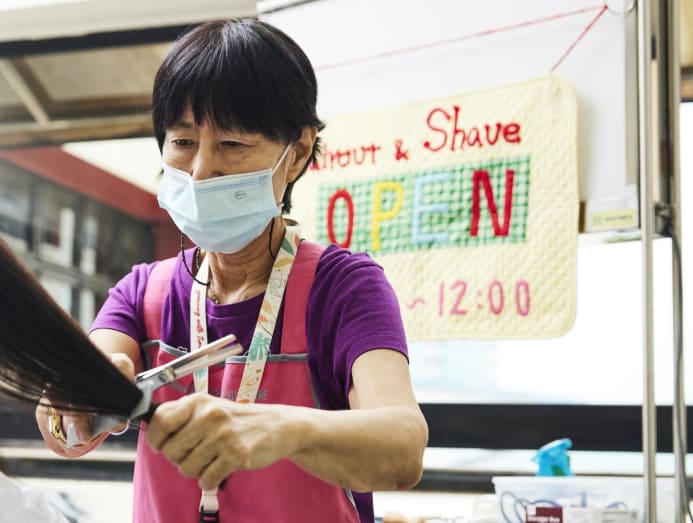 Most of the time however, a patient's bad mood has nothing to do with the volunteers or the haircuts.
"I remember cutting the hair of a 16-year-old patient who had just met with an accident and suffered from head and leg injuries. The hair on half of her head had been shaved off before her head operation. She still had long hair on the other half of her head, so it was very messy and did not look nice," Koh recalled.
"She cried when she came in so we did our best to make her hair look nice. I also comforted her that hair would grow back again, and told her to take good care of her injury because once she was discharged, she could go to a salon for a nice hairdo. She calmed down and stopped crying," Koh said.
GIVING IS ITS OWN REWARD
The volunteers agreed that being able to help patients in the dark moments of their lives is immensely rewarding. "I give patients small happiness, but they give me great happiness," Inotsume said. 
Inotsume also often finds herself inspired by patients. "I still remember a young man I met about a decade ago. He was in his 30s then, and had been in an accident and lost both legs.
"Yet he was always cheerful and strong, and he was always smiling. I was very moved by him and wanted to learn from his attitude," she said.
These inspiring experiences give the homemakers, retirees and grandmothers new meaning and purpose in their lives.
"After I retired, I learnt acrylic painting and tai chi at a community centre, but I did not find it satisfying. Spending my time watching TV and YouTube, and playing games also felt meaningless. Volunteering at Sakura Groomers gives me a chance to learn to cut hair, improve myself and give some small happiness to somebody else," Toyota said.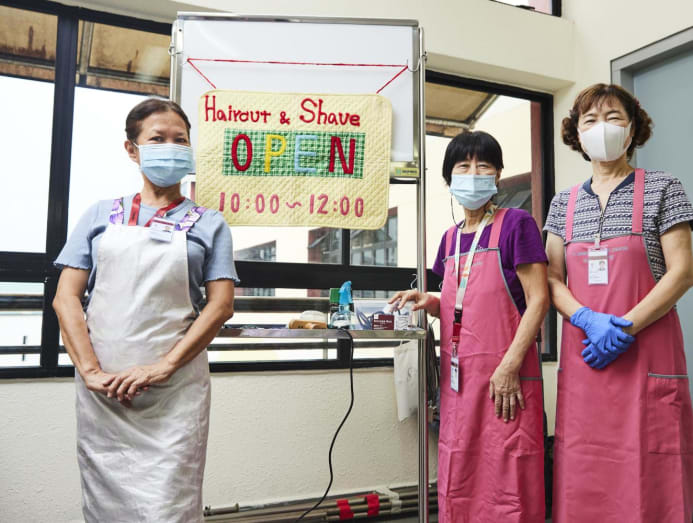 Koh agreed. "In my 30s, there was a welfare association below my house so I always met people with disabilities sitting on wheelchairs. They were very lively but I felt that they really needed someone to help them do things they could not do for themselves. I also saw signs around the association calling for volunteers, but I was working then and didn't have time for volunteering," she recalled.
"I told myself that when I stopped work, I would volunteer. So I was very happy to have a chance to volunteer in my 50s. I feel like this is my direction. When I meet patients in low spirits, even though I am not a hairstylist, I try to neaten their hair up and console them.
"Seeing their happy faces at the end of the session has kept me going for more than 10 years. I believe that as human beings, we should help one another," she said.
CNA Women is a section on CNA Lifestyle that seeks to inform, empower and inspire the modern woman. If you have women-related news, issues and ideas to share with us, email CNAWomen [at] mediacorp.com.sg.