This 48-year-old single mum with schizophrenia is a delivery food rider and a mental health ambassador
After years of struggling with schizophrenia, trauma and grief, Amy Kang found empowerment as a delivery food rider, a job that allows her to take care of her health, be a mental health advocate and spend time with her 15-year-old son. She shares her journey with CNA Women.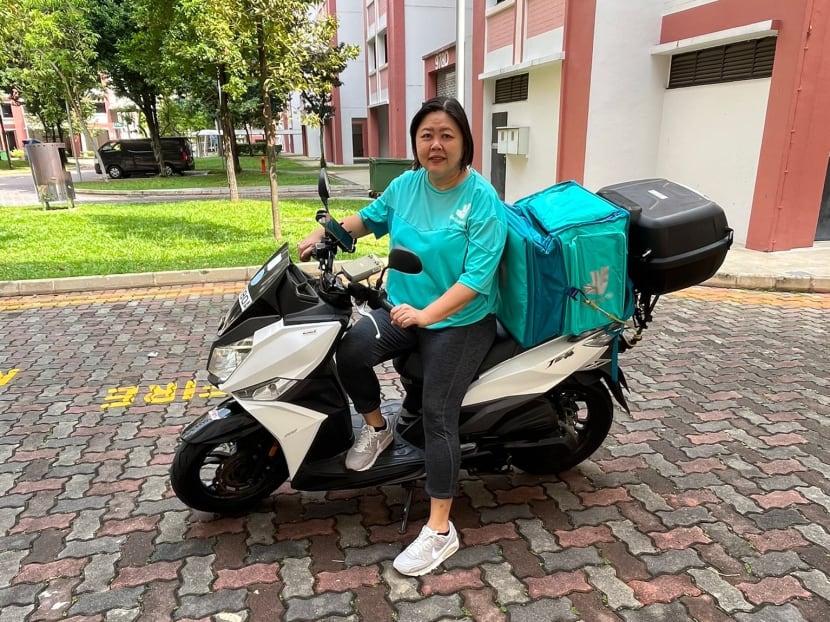 The first time I heard voices in my head, I was 19. It was 1994 and I was studying business administration at Singapore Polytechnic (SP). I didn't know it at that time, but it was a sign of schizophrenia.
As part of my co-curricular activity, I went on a camping trip to Pulau Ubin with my friends. At one point, they were teasing me and that made me upset – that was when voices in my head told me to start screaming.
I couldn't control myself. I knew I was screaming but things seemed to happen in snippets. Everyone thought I was possessed. I was in a daze and everything was so confusing. 
Even after I calmed down, the voices in my head were still there. I was sent home immediately. When I got home, I stayed in my room. My parents were very worried, but we didn't talk about it.
Months later, when I was on the top floor of the business block at SP, the voices in my head returned. They told me to take the potted plant by the railing and drop it from that height. They told me it was the right thing to do, and I believed them.  
Before I realised what had happened, two police officers were with me. I told them I was a princess. To convince me to go with them, they said they would be taking me to a "castle". 
The castle turned out to be the Institute of Mental Health (IMH). I was admitted for a few days, and the doctors told me what I had: Schizophrenia.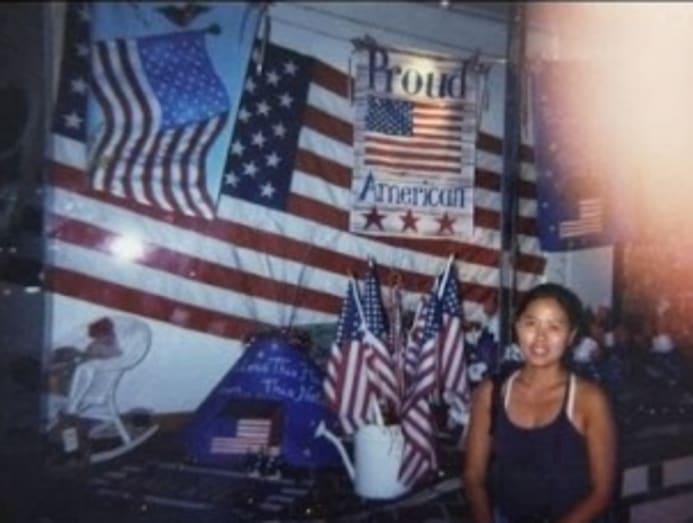 I am now 48 and the voices in my head are still there sometimes. They tell me to do ridiculous and even dangerous things, like jumping off a high floor to fly or to start throwing heavy things around my house. 
It's a little sad when I think of how I must rely on pills to keep me sane. But it's necessary to keep me healthy.
Since that first admission to IMH, I go for checkups every three to six months, and get medicine, which I take regularly, to keep my schizophrenia in check. 
There was a time, years ago, when I thought I didn't need medication. But just within three days of not taking it, I began to laugh and tear uncontrollably. It's a little sad when I think of how I must rely on pills to keep me sane. But it's necessary to keep me healthy. 
BEING WITH FAMILY WHILE BATTLING SCHIZOPHRENIA
In my teens and 20s, life was messy. I managed to graduate with my diploma but things at home were hard. My parents had little money and they would fight almost every day. But they, especially my late mum, did all they could for me.
Whenever I had to be admitted to IMH, my mum would close her hawker stall at Mountbatten early and travel all the way to the hospital just to bring me lunch every day. She never judged or questioned me. She would also remind me to take my medicine.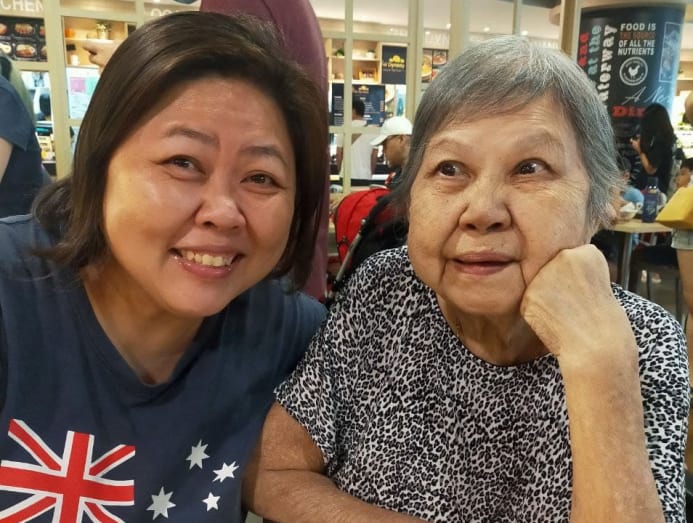 When I was 28, my father committed suicide. At that time, I didn't realise I was traumatised and grief-stricken – that was the beginning of a bad downward spiral for me.
Because of my schizophrenia, it was hard for me to keep a full-time job so I worked different part-time jobs to support my mum, sister, and two brothers. At different times, I was a ticketing crew member at Universal Studios Singapore, a cashier at a cafe, and a clinic assistant. I was willing to do whatever work I could find.
Two years after my father's death, In 2005, when I was still grieving for him and looking for a stable job, I got married. I was drawn to my husband as I admired him. He had an entrepreneurial spirit. At one point, we worked as property agents together, and I even helped him in his hawker business selling fish soup. 
However, a few years into the marriage, I realised that our relationship was not working out. We had no stable plan, and we didn't communicate well with each other.
In 2008, I got pregnant with my son. It was one of the best things to happen to me, yet, I could not be the best mum to him. 
I had many medical checkups, I spent a lot of time at work, at whatever job I had at that time, and his father and I argued a lot.
It's why I owe so much to my late mother. While I worked, she took care of my son until he was six years old. 
It took time to fix my absence, but we got closer and formed a stronger bond.
My son grew very close to his grandma and they had a very loving relationship. If not for her, my son would not have known a mother's love. And I would not have been able to learn how to love him as much as I do. 
When he was entering primary school in 2015, even with my struggles, I started to save money so I could take him on short overseas trips and enjoy activities with him. 
Though I couldn't give him a lot of time, we were together. It took time to fix my absence, but we got closer and formed a stronger bond.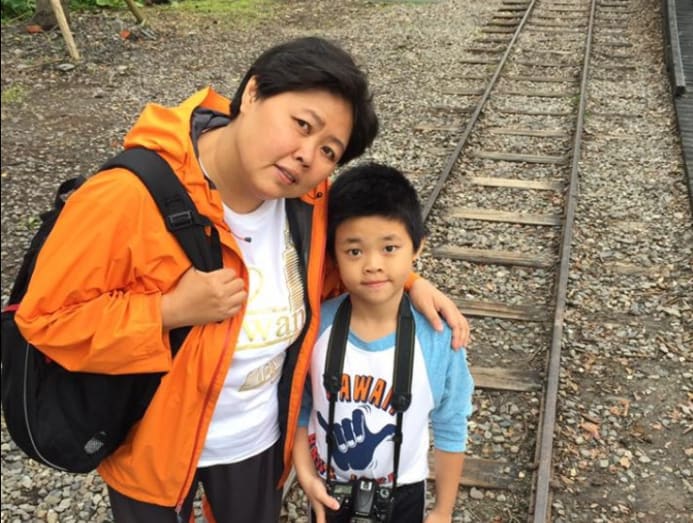 CHOOSING BETTER PATHS FOR MYSELF
I experienced some of my lowest moments in 2018 and 2019. My husband and I were no longer talking. When we did talk, we would fight. I also struggled with my part-time jobs and during some periods, I was jobless. 
On some days, it was hard to even wake up. I felt out of control. My schizophrenia got worse. I hallucinated more, I had trouble thinking, and my eyes would roll up to the right. I wanted to just lie down and forget the world. 
When I told my doctors about this, they gave me a new set of medication which was very helpful, but I still felt down and sad. 
That year, I came across a Facebook post that changed my life. It was for the Caregivers-to-Caregivers (C2C) programme by Caregivers Alliance Limited (CAL), a non-profit organisation that supports caregivers of persons with mental illnesses. 
The programme saved me. It helped me better understand my mental illness and how I could take care of myself – because I am my own caregiver. 
While visiting IMH helped me medically with my schizophrenia, the C2C programme helped me socially and emotionally. I became more sure of myself and I felt that there was hope for my future – I did not feel so down anymore.
The counsellors helped me realise I experienced grief and trauma in my younger years; it felt like a heavy burden was lifted off my shoulders.
As I went for C2C sessions, I also discovered more about counselling and therapy. I decided to try a session at MindCare, a community mental health service under Ang Mo Kio Family Service Centre. It was eye-opening.
The first time I spoke to the counsellors, I shared my troubles about my schizophrenia, my marriage, and being a mother. The counsellors helped me realise I experienced grief and trauma in my younger years; it felt like a heavy burden was lifted off my shoulders. I remember breaking down in tears.
In 2019, I got a divorce. Some may perceive it as a sad event, but for me, it was a relief. 
I was more outgoing by then and I was invited by CAL to give talks to schools and organisations about my schizophrenia and how I dealt with it during difficult periods in my life. 
I no longer felt so ashamed of my struggles. It inspired others and I feel joy in helping others. To further support people like me, I became a mental health ambassador at the National Council of Social Service. I was able to share my experiences and help normalise conversations surrounding mental health conditions.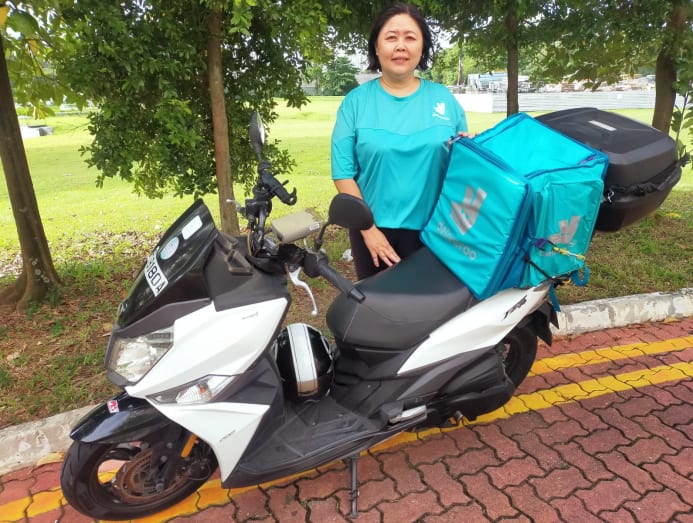 In 2019, I also started working as a food delivery rider. I no longer wanted to jump in between too many jobs so the role has been good for me. 
The best part of being a delivery rider with Deliveroo was the flexibility. I could balance work and family. I could make time to be with my son or attend programmes with CAL. 
When my mum passed away in 2021, I was able to tend to her funeral and mourn her properly. Without having to let go of work, I got to spend quality time with my family, including being there for my son who had lost his grandmother.
Being a food delivery rider also helps me with my schizophrenia. It allows me to focus better and clears my head. Because I can choose when to take orders, when I'm sick, I can just stop and continue another time. 
In Deliveroo, I feel safe. I have my work 'kakis' (Malay for close friends), who do deliveries with me. They're very fun to be with and they understand what I go through with my condition and family. 
Deliveroo also has an in-app live chat for riders to contact the rider support team. It's good for riders who struggle to finish their order when they get lost or become unwell – I take my medication regularly but this support is something I would need if my schizophrenia symptoms show up. 
Though I don't earn much, being a food delivery rider allows me to prioritise time with my son and family, and improve my condition. When I accept more orders, I earn more and can provide better support for my son.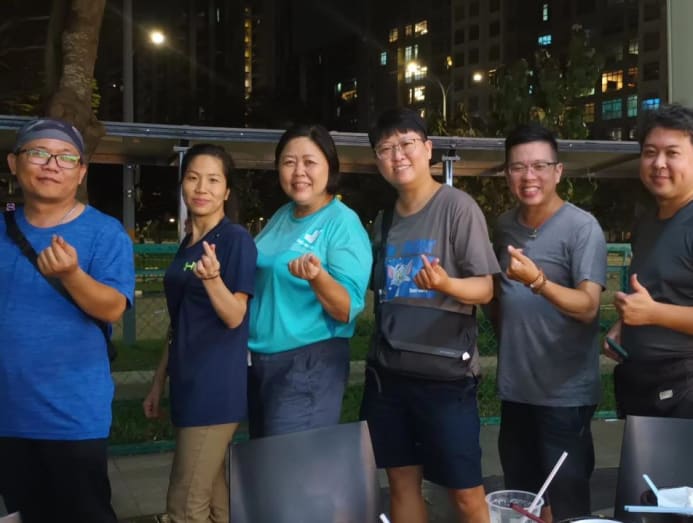 Today, I still struggle with my mental health and my past. It's hard to look back at some memories without crying. There are a few tough days when I feel like giving up. Not every day is smooth.
But I think of my son, and I feel stronger. And even though I cannot spend time with my late mum, I work and volunteer for causes that I think will make her proud. These roles allow me to help others like me, and Mum would be happy about that.
Where to get help:
Samaritans of Singapore Hotline: 1767
Institute of Mental Health's Helpline: 6389 2222
Singapore Association for Mental Health Helpline: 1800 283 7019
You can also find a list of international helplines here. If someone you know is at immediate risk, call 24-hour emergency medical services.
CNA Women is a section on CNA Lifestyle that seeks to inform, empower and inspire the modern woman. If you have women-related news, issues and ideas to share with us, email CNAWomen [at] mediacorp.com.sg.