The couple behind Forest & Whale wants to combat single-use plastic in Singapore's 'dabao' culture
CNA Lifestyle's Design For Good series under Creative Capital features recipients of DesignSingapore Council's Good Design Research initiative. This week, read about husband-and-wife team, Gustavo Maggio and Wendy Chua, and their efforts to create sustainable takeaway containers.
In partnership with DesignSingapore Council.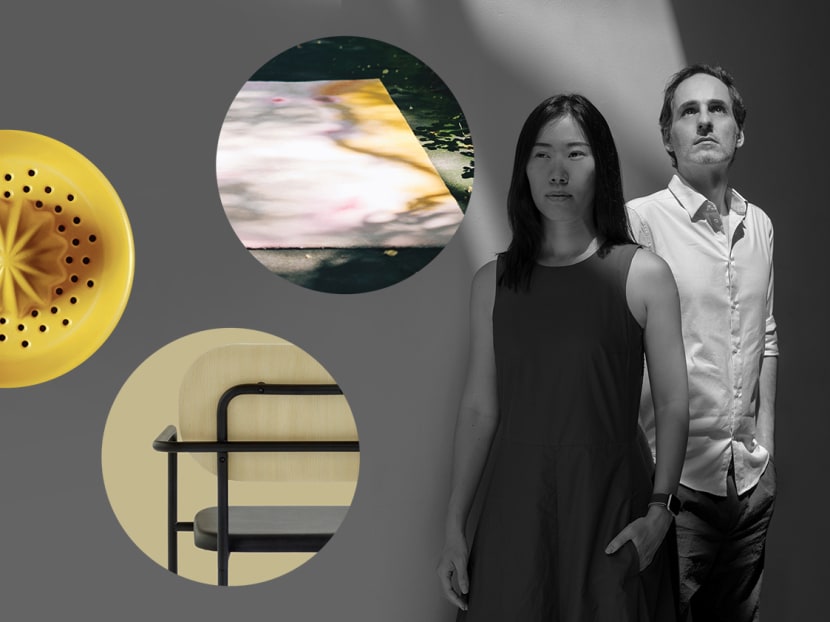 As someone who does takeaway coffee on a daily basis, I am in love with the KopiCup produced by Gustavo Maggio and Wendy Chua. This double-walled reusable cup is inspired by the condensed milk cans that double as takeaway coffee containers generations ago.
The cup is just one of the products this Singaporean and Italian-Argentinian couple has designed through Reuse Lab, a spin-off of their sustainability-driven design practice Forest & Whale. And Reuse Lab is a recipient of the DesignSingapore Council Good Design Research grant.
Another idea that the couple has considered, while looking for new and sustainable alternatives to current takeaway containers, is an edible container made from wheat husks.
CAN YOU TELL US HOW YOU BOTH MET?
Maggio: It was 2005. I was living in Barcelona and Wendy was finishing her studies in Singapore. We both took part in a design competition organised by Electrolux and were among those picked to present our projects in the grand final in Stockholm. We met there, together with designers Gabriel and Sebastian.
Chua: We bonded over the experience and the four of us met up again the following year in Andorra to ski together. We thought if we could play well together, we could work together. That was how we started our first design collective Outofstock.
CAN YOU TELL US MORE ABOUT OUTOFSTOCK?
Maggio: We started it in 2006 and named it Outofstock as we all met in Stockholm. While we have closed that studio, we still have projects developed under that design collective with some companies. These days, we work on new projects under our recalibrated practice that focuses on sustainability as either Forest & Whale or Reuse Lab.
Chua: We concluded Outofstock in 2015. By then, Gustavo and I had become life partners and we were shuttling between Singapore and Buenos Aires while running our practice with international clients.

In many ways, Outofstock was a big experiment and I am glad we took it on as young ambitious designers. Back then, it was uncommon to run a design collective with co-founders based in different cities. But we saw that as a strength rather than a flaw, allowing us to work across different time zones and to reach out to international clients.
In many ways, that set the foundation for our current way of working and living, where we see ourselves rooted in Singapore, Buenos Aires and now, Berlin. This distance also helps us to love and appreciate our home ground Singapore more.
HOW HAS THE PARTNERSHIP BEEN?
Chua: We don't pretend to be experts and are still trying to figure out our way as we go along. But work and life can interweave and like many couples who work together, we have to find the best way to do so.
That means giving each other creative space to explore what inspires and drives each of us. We are in the same little boat sailing towards a common goal. Sometimes, we need the freedom to take a small canoe and paddle off to explore different islands on our own. Sometimes, we go along and support each other in our individual endeavours. This space – creative, mental and physical – is key to working well in the long run.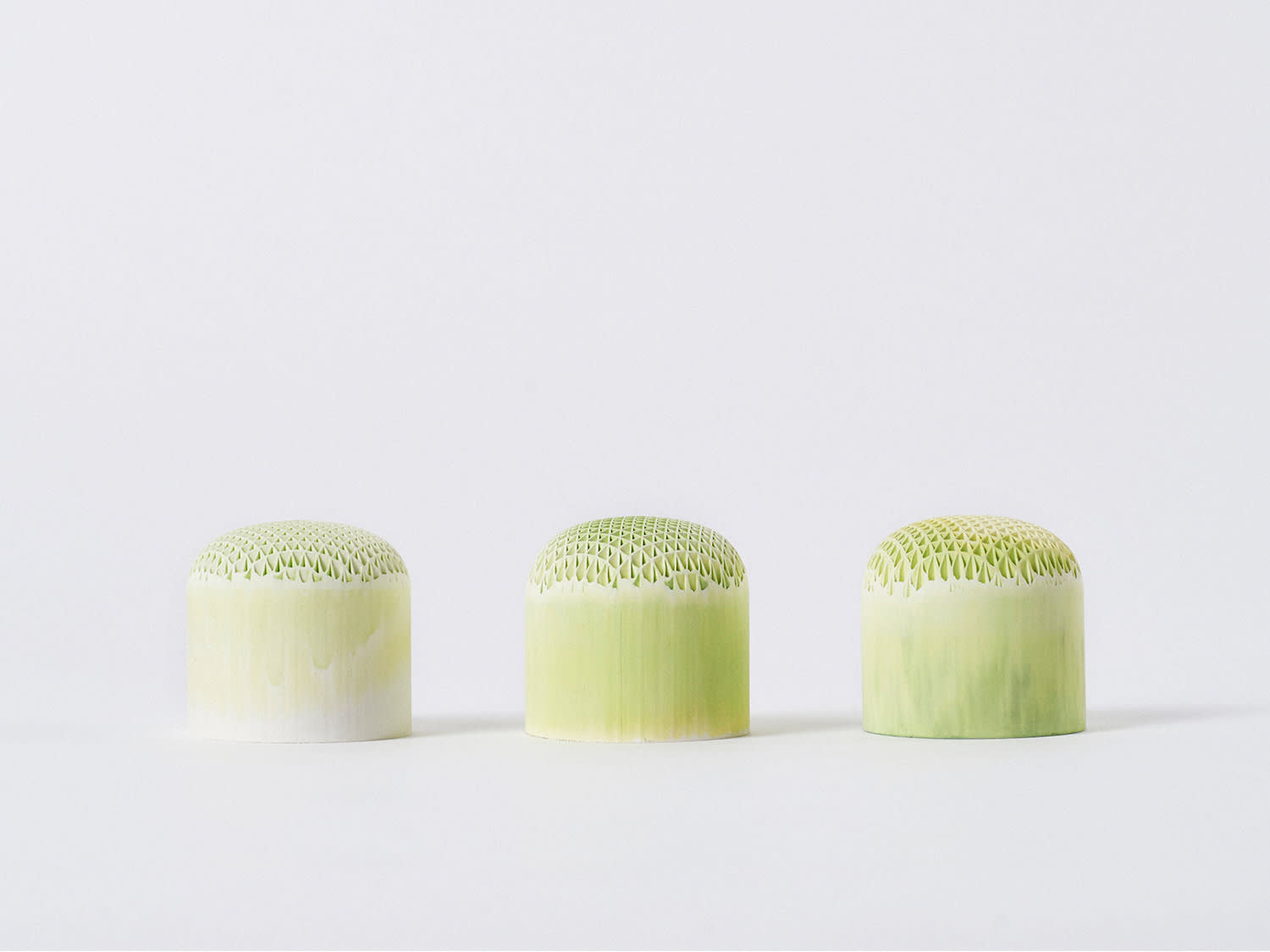 TELL US ABOUT STARTING FOREST & WHALE AND HOW DIFFERENT IS THIS PRACTICE?
Chua: 2016 marked new beginnings for us. We got married and were travelling in Puerto Madryn, Patagonia. We saw southern right whales migrating from Antarctica to mate and birth their young. It was a mind-blowing experience when a mother whale swam up and peered at us with her huge, wise eyes, while her baby played around the boat.
At that point in time, we were getting disillusioned with the furniture industry; it was becoming like fast fashion and designs meant for longevity were seldom marketed as such. We began to talk about how we can close the gap between the skills we have and the change we hope to see in the world.
Thinking about the tropical forests of Singapore and the whales reminded us of our vulnerable existence. We conceived Forest & Whale as a practice to focus on sustainability through the lens of design. We wanted sustainability both in circular design processes and inclusive communities, and we are committed to this through our design research and advocacy, participatory design methodologies, exhibition curation and design education.
WHO DOES WHAT IN FOREST & WHALE? HOW DO YOU SHARE THE RESPONSIBILITIES AND PROJECTS?
Maggio: We each lead different projects and work with our teams to develop ideas and designs. We usually have a few creative sessions to define the essence of the project, and brainstorm initial ideas and possible design directions.
Chua: As designers, we are often taught to respond to market needs. Recalibrating our practice meant giving up certain projects that no longer aligned with our vision, while building up the confidence for the type of work that drives us.
We have three spheres of practice that we operate within. We are design educators who practise, so the museum and education work that came along gave us the perfect platform to curate exhibitions and craft narratives about the speculative futures that we are walking towards.
At the same time, our collaboration with participatory theatre Drama Box has led to projects that are rooted in ethnographic studies, community engagement and participatory placemaking. We work closely with marginalised communities on service design and community building. Our clients include Rainbow Centre and Lien Foundation with whom we focus on communities of people with disabilities and seniors with dementia.
In the third sphere, we dig deeper into our industrial design background to investigate products and services that can be innovated upon or improved with circular design methodologies. That led to the creation of Reuse Lab, a design research laboratory that reduces single-use plastics.
While we both work closely together in all three spheres, you could say that Gustavo's main interest lies in circular product development, while I am drawn to research, education and community co-creation.
YOU STARTED REUSE LAB LAST YEAR. WHY DID YOU CHOOSE TO CREATE DESIGNS THAT TACKLE THE "DABAO" THEME SPECIFICALLY?
Chua: Our baby was born just before the pandemic and as young, working parents, we had no time to cook. Naturally, we ordered food deliveries a lot. At the same time, the pandemic has accelerated e-commerce and the proliferation of food delivery, resulting in a mountain of waste from disposables.
This project came out of our frustration of wanting a sustainable alternative even as we order food deliveries. Seeing the rise of a circular reuse model in which containers are shared in the system, we wondered if the containers could be better designed to fit our local hawker food?
As a descendant of a third-generation hawker myself (my uncle still runs my grandmother's stall in Hong Lim Food Centre), basing our research on the hawkers, whose voices are often the least heard, was the most natural thing to do as a product designer.

Moreover, circular design practices are not new nor are they a western concept. Our ancestors knew these practices well. For instance, we were super intrigued by how sustainable life used to be in the past. People used simpoh ayer leaves and opeh bark to wrap food for takeouts as well as reuse condensed milk tins for coffee takeaways. We wanted to uncover some of that old wisdom and incorporate it into new product solutions that can better suit our needs today.
Maggio: We wanted to find reusable solutions that could work for hawker food, which most locals order and eat. Conceived under Reuse Lab, the KopiCup and Everyday Box were designed for the BYO movement and food-delivery platforms respectively. The designs incorporate the knowledge of product design, system design, waste management, environmental policy awareness and the technical engineering for manufacturing.
ARE ANY OF THE IDEAS GOING TO BE PRODUCED COMMERCIALLY?
Maggio: That is our goal since we see the value in the products we have designed. We have been using the two prototypes of the KopiCup for the last four to five months, and they have been super convenient to carry around for our daily coffee.
We are currently taking pre-orders for the KopiCup (the pre-order prices are discounted) and plan to produce the first batch of 10,000 pieces later this year. Anyone who is interested can get in touch with us.
WHAT ROLE DO YOU THINK GOOD DESIGN SHOULD PLAY IN BUILDING A MORE SUSTAINABLE FUTURE?
Chua: Designers need to be conscious of the products we create and the impact they have on society. We have to ask ourselves honestly if a product needs to exist. And if it has a reason to be produced, how can it be made more sustainably? How can we consider its entire life cycle? What are the social impact and cultural mindset shift that goes beyond the product?
REUSE LAB IS SUPPORTED BY A GOOD DESIGN RESEARCH GRANT. DO MOST DESIGNERS HERE FEEL SUPPORTED OR IS THERE A LOT MORE THAT NEEDS TO BE DONE?
Chua: Designers in Singapore are incredibly fortunate to have the support to pursue projects that may be ahead of the market or industry. That is critical for any design capital to be at the forefront of ideas and innovation.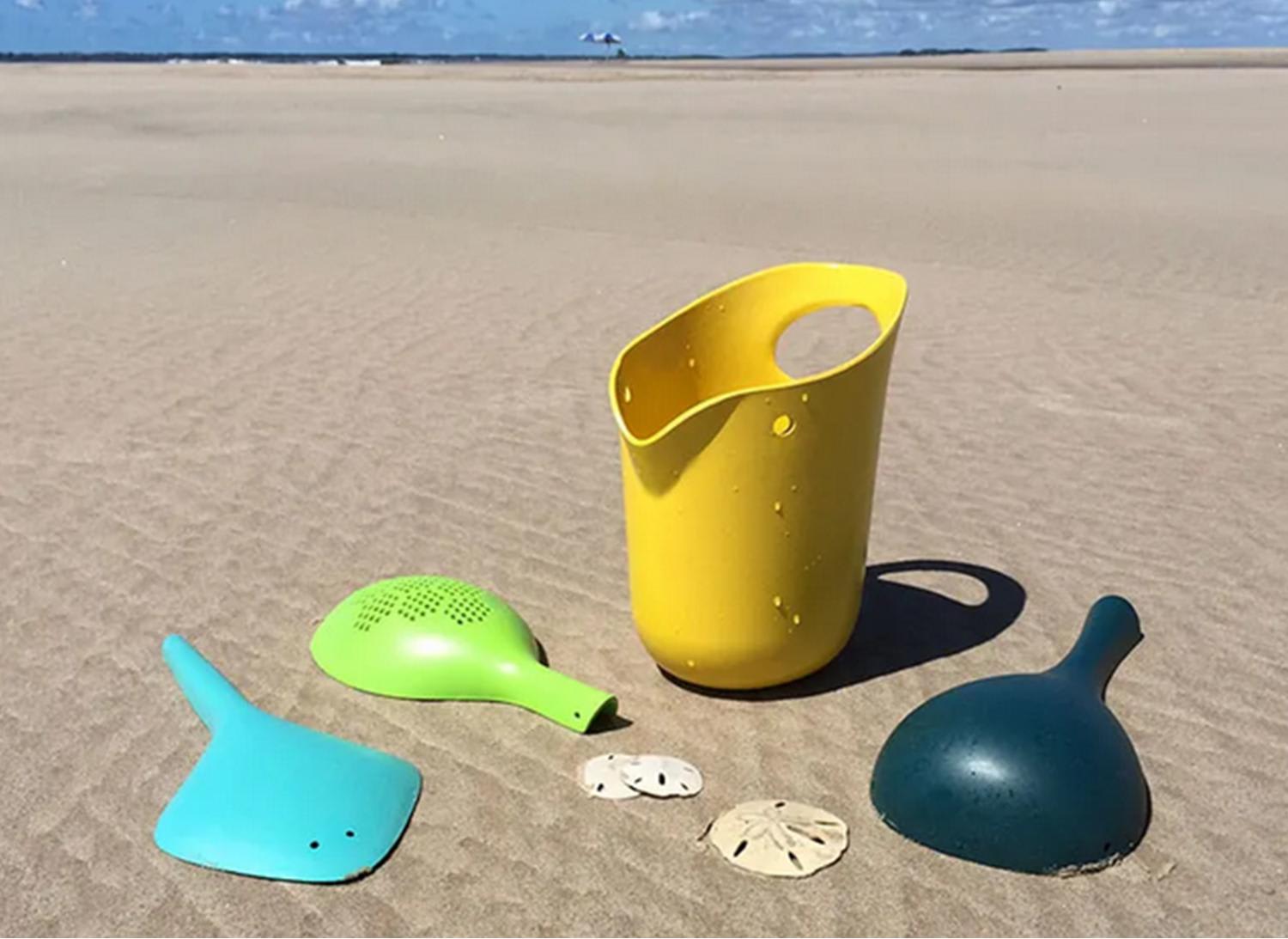 WHAT ARE YOU WORKING ON NOW THAT WE CAN LOOK FORWARD TO?
Chua: We have been thinking a lot about the invisible threats in the world today, from the airborne viral particles of the pandemic to air pollution, from radiation fears of a potential nuclear war to the current energy and food crisis.
Living in Berlin and being closer to the Ukraine crisis has been sobering. We are curious about what we really need to live a good life. What is a good life? Or more precisely, what are the essentials of a contented good life? We picked up the books of John Seymour lately, who led the self-sufficiency movement in the 1970s. Perhaps, we will be illuminated by the ways of the past.
Maggio: Back in the 1980s, my parents, who were medical doctors, had to escape the capital of Buenos Aires and ran a farm in the country while they practised in a nearby hospital. They had to learn how to rear horses and harvest linseed. A self-sufficient life is not so incredibly far from the imagination. When the need arises, that may be the best way to live.
WHAT WOULD BE THE DREAM PROJECT?
Chua: We are absolute cosmic dreamers who follow the development of Mars exploration and the recent launch of the James Webb Space telescope that seeks to uncover the beginnings of our universe.
Until now, the design for space exploration and habitats has remained highly engineered, efficient and pared down. But as humans become an interplanetary species, we wonder how we would design life on another planet. That would be the dream project.
DesignSingapore Council's Good Design Research empowers designers to design for impact through research and experimentation, supported by funding and a wide network of knowledge partners. Read more.