Creative Capital: This man runs 'Singapore's best and coolest barber shop'
This CNA Lifestyle columnist has been going to The Golden Rule for seven years. Here, he chats with the owner about music, cycling and the local barbering community.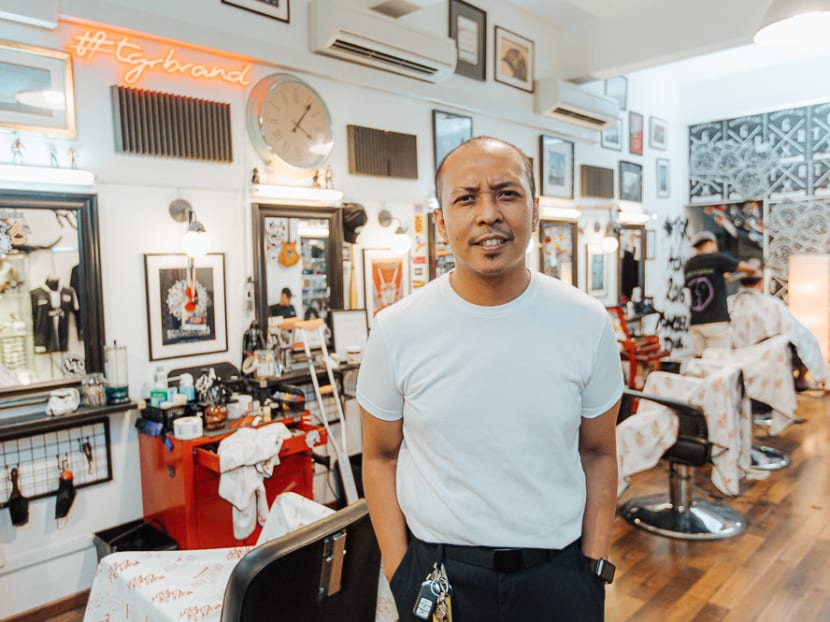 I am incredibly biased, but I am going to say that the best and coolest men's barber shop in Singapore is The Golden Rule located on Race Course Road.
I've been a customer there ever since they first opened in 2014. My 10-year-old son has also been going there for his haircuts over the last four or five years.
The team there has always impressed me. Not only are they skilled, they're genuinely all really cool, generous and passionate people. I've always been very impressed by how nice they've been to my eldest. At the height of the Pokemon GO craze, two of the barbers actually sat down and gave him a tutorial, explaining all the tricks and tips to levelling up in the game – none of which this non-game-playing dad knew.
At the helm of The Golden Rule is Aryan Siswanto Kamsani, who prefers to go by Yanto. Yanto founded the shop with fellow barber Mohamed Jay Anudin (Jay).
The shop itself is as cool as the barber's, with electric guitars and custom bicycles adorning the walls. Yanto has even expanded from their original shop, taking over an additional unit, which is used as both a salon and a retail brand for products that he loves and does collaborations with.
A lot of it – given a newfound love for cycling – is cycling-related.
When I reached out to chat with Yanto for this column, I discovered he was also in the midst of a songwriting competition. This 38-year-old entrepreneur is also an experienced musician and music producer, and is currently one of the 12 finalists in Projek Lagu, a competition on Suria.
HI YANTO, WHEN AND HOW DID YOU GET INTO BARBERING?
I started hairstyling in 2002 before I ventured into barbering in 2010. I found my calling in barbering when I started to style my bandmates' hair when I was doing music and realised I'm very fascinated with men's hairstyles and how I can experiment with it.
IS IT A DIFFICULT SKILL TO MASTER?
Yes! It's definitely a difficult skill to master as it take years to understand different types of hair and head shapes – and which head shapes may or may not suit a certain hairstyles.
WHAT GAVE YOU THE IMPETUS TO OPEN THE GOLDEN RULE?
Apart from sharing my craft in barbering, the biggest push to open The Golden Rule was my family. I also wanted to have the freedom of sharing my creativity and concept in the form of a brand.
WHY RACE COURSE ROAD?
The nearest "hype" place at that time was Arab Street and we realised that we didn't want to be in a place surrounded by a lot of other barbershops and salons. So we looked into Race Course Road, a place full of cultural identity and a touristy place no less. Plus, let's not forget about all the good food around the area! But we are really glad that ever since we opened, there have been a few hipster cafes that have also opened up around the area.
WERE YOU ALREADY BUDDIES WITH JAY? DID YOU WORRY THAT OWNING A BUSINESS TOGETHER WOULD CHANGE YOUR FRIENDSHIP?
I knew Jay when he was a colleague in an another barbershop before I started The Golden Rule. In fact, Jay was an apprentice at that time. I helped in guiding him throughout his apprenticeship there and realised we shared a lot of things in common. Our vision, our music choices and lot of things seems to be aligned. Of course, I won't deny initially there's some questions that arose like what if things happen and might affect the friendship, but seven years down the road, our trust and bond have never been stronger. Sometimes, you just have to trust the process!
I LOVE THE CAMARADERIE WITHIN YOUR TEAM. WHAT DO YOU DO TO KEEP EVERYONE TOGETHER AND MAKE SURE EVERYONE GETS ALONG?
I try to run the company like a family unit. Less corporate regimens and less stressful protocols to follow. Like how you are at home. Like, if you are going to be late for dinner, then you inform your family via WhatsApp. Same thing with TGR, I allow everyone to feel like a family creating a mutual understanding and respect with one another. Naturally, the bonding helps to create smooth relationships between them.
ARE ALL OF YOUR BARBERS ALREADY TRAINED WHEN THEY COME TO YOU OR DO YOU DO A LOT OF TRAINING?
Ninety per cent of my barbers started off as apprentices seven years ago and were trained by us.
WHAT WAS THE HARDEST PART OF ESTABLISHING THE BUSINESS?
Sustaining good service provided by the barbers. They have to be consistently excellent. And retaining clients. Making sure they become loyal and finding ways to ensure that they keep coming back to your barbershop.
TO DATE, WHAT HAVE BEEN THE BEST THINGS THAT HAVE HAPPENED TO YOU BECAUSE OF IT?
Being the only Singaporean barber to be selected for SEA Wahl artistic team. Wahl being an international brand and to be selected to be part of the team, I'm honoured to be recognised on an international level for what I have accomplished in my barbering career.
WHAT IS ONE THING YOU KNOW NOW THAT YOU WISHED YOU KNEW WHEN YOU STARTED THE BUSINESS?
The importance to diversify and think ahead. Competition is everywhere. When we first started seven years ago, there was not much competition. During that time, I should have thought ahead on what can make us stand out from the rest of the barbershops. We should have already been planning towards creating the brand as a lifestyle brand, concentrating on retail or other business areas which we can leveraged on to diversify and grow the business.
MEN'S BARBERING BECAME REALLY TRENDY A FEW YEARS BACK. DO YOU THINK THIS TREND IS WANING OR JUST CONTINUING TO GROW?
From my personal opinion, I feel that this industry will continue growing. At this point of time, what I see is that all barbershops are still working to stay on trend. A lot of barbers are posting really interesting content on their social media feeds and this is helping to keep what we do relevant.
HOW MUCH ARTISTRY AND CREATIVITY GOES INTO A GREAT CUT?
A haircut itself is a form of art. Sometimes, a client can be unpredictable, so it is important to instil your art and creativity to ensure the cut is aligned to what the client wants. The final product has to reflect not just what you have envisioned for the client but has to also satisfy him and meet his own expectations. So I would say it takes a lot of artistry, creativity and expertise to ensure a great cut.
HOW CONNECTED ARE THE CITY'S TOP BARBERS? FROM AN OUTSIDER'S PERSPECTIVE, IT LOOKS LIKE THERE IS A REAL COMMUNITY. IS THIS CORRECT?
Actually, I would say that there isn't really a community yet because the barbering industry in Singapore is still new and small. However, I do hope it will emerge so that the barbering industry will have some kind of support and we can help one another in the form of better training, marketing or even human resources.
TELL ME ABOUT YOUR LOVE FOR MUSIC AND MAKING MUSIC.
Music has always been my first love. Everything that I do in my work still revolves around my love for music and pop culture. Even the name The Golden Rule was adopted from a song by an alternative rock band from Scotland, Biffy Clyro. Music and making music is how I destress. When I write songs, it feels like I am working within a medium in which I can truly be myself.
SHOULD I ASSUME BICYCLES IS A SIMILAR PASSION OR IS THAT MORE RECENT?
Bicycle is a new hobby that I introduced to the barbers so we can cycle together – it's all part of our corporate bonding. With the COVID-19 situation now, cycling has also allowed us to spend time together and create a healthy lifestyle. Killing two birds with one stone, so why not?
HOW HAS THE PANDEMIC AFFECTED THE BUSINESS?
We did see a reduction in our bookings due to the pandemic. Less tourists, more people working from home thus they didn't see the need to maintain their hair. Also, some people are just worried to be in public places and therefore might avoid places like barbershops and salons for now.
FINALLY, WHAT IS THE VISION FOR THE GOLDEN RULE?
To make The Golden Rule the leading men's grooming empire in town.