This Singaporean tufting artist can turn anything into a rug – and is popular for her pet portraits
In this week's installment of Creative Capital, meet Rachael Wee, who left a job in graphic design to start her own tufting studio, Habichl. 90 per cent of her commissions are pet portraits. Oh, and also, Sam Smith follows her on Instagram.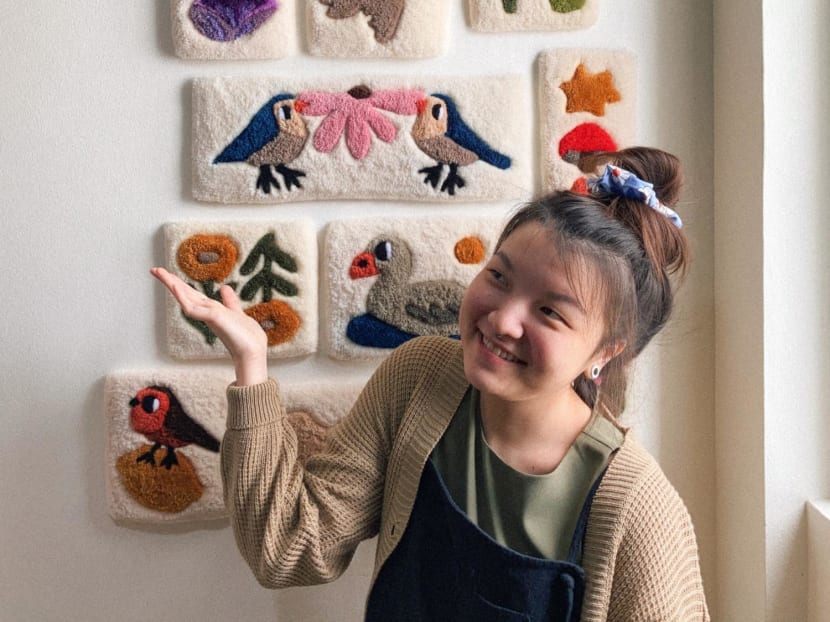 Last week, we met a multi-talented crafter who, among many pursuits, teaches tufting. This week, I'd like to introduce you to tufting artist Rachael Wee.
Through her studio Habichl, this 31-year-old former graphic designer and mural artist sells ready-made tufted rugs, wall hangings and coasters, and also accepts commissions.
Interestingly, the vast majority of her commissions are of pets.
HI, RACHAEL. DO YOU THINK YOU HAVE ALWAYS BEEN A CREATIVE PERSON, EVEN WHEN YOUNG?
Not really! Looking back, I was never really interested in academic pursuits. However, growing up in Singapore, I had to dedicate the majority of my time to my studies. There weren't many options for exploring art available to me then. It was only much later that I found art again – after I graduated and enrolled in a polytechnic, where I had more time to explore different mediums and experiment. I'm a huge believer in learning new art mediums. I think my hobby is hobbies! Tufting happens to be my current creative project and something I'm passionate about.
HOW DID YOU FIRST DISCOVER AND GET INTO TUFTING?
I came across tufting videos online in December 2020 after I left my full-time job due to burnout, and it intrigued me a lot. I told myself that if, after a couple months, I was still contemplating it, I'd look into getting supplies for real, as the capital needed to start was quite a sum. It proved to be all I could think about. I was constantly reading articles, learning from how-to videos on YouTube, looking for suppliers, and researching materials and techniques. So, I decided to take the plunge in March 2021, and the rest is history!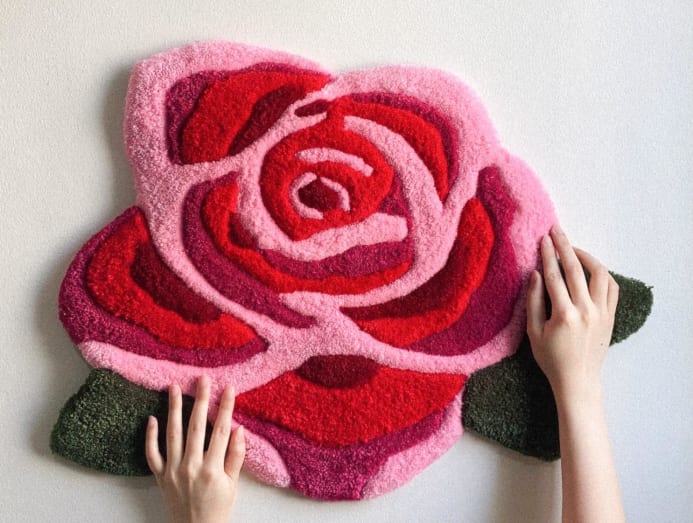 YOU HAVE A BACKGROUND IN COMMUNICATION DESIGN AND MURAL PAINTING. CAN YOU ELABORATE MORE ABOUT THAT AND YOUR PROFESSIONAL CREATIVE JOURNEY?
I studied communication design in school, and during that time I was working several part time jobs. Back in uni, my best friend introduced me to her friend who was hiring, and so I became a gallery sitter for a non-profit mural painting company. I had opportunities to take part in community art programmes and through the company, I gained mural painting experience. I was eventually able to conduct on-the-spot 10-minute painting lessons for basically anyone, from young children to aunties and corporate folk at community events. It was through this non-profit that I met my close friends, and after we left, we started our own mural collective in 2016 called Hardly Studio Environment. We painted during the weekends as all three of us had day jobs. As mentioned, I left that day job in 2020 and shortly after, discovered tufting.
WHAT ARE THE MORE RECOGNISABLE MURALS THAT YOU'VE DONE, OR CONTRIBUTED TO?
Most of the murals done under Hardly Studio were painted in private spaces. For example, we did a rooftop one for Hmlet, a play area wall for one of Maple Bear's locations and community canvases for Tote Board Singapore during an event at Gardens by the Bay. The biggest one that is open to the public is at Margaritas in Dempsey. We painted for Margaritas while they were undergoing a huge renovation, and our work is up there on their walls and pillars.
HOW LONG WAS IT BETWEEN GETTING INTO TUFTING AND SELLING PIECES AND TAKING ON COMMISSIONS?
It took about five or six months. During that period, I did a lot of practicing – getting used to the machine, learning how to streamline my processes better, a ton of trial and error plus crafting new designs and testing them, and seeing how they react with external elements like water. It was only after a certain amount of practice that I felt comfortable enough to start selling my work.
WAS TUFTING A SKILL YOU FOUND EASY TO MASTER?
When I first received my machine, I was surprised at how heavy it was! It took a while to get used to holding it up for long periods of time. My friends who have participated in tufting workshops all lament it's an arm workout. But honestly, I think anyone can pick up a machine and tuft after some guidance, which is what makes it so addictive. It's a bit like painting, I suppose. Anyone can paint, but it takes years of constant practice to develop an art style and perfect techniques. I'm still learning, but I would say I'm happy with my current work and methods.
IS HABICHL YOUR FULL-TIME GIG?
It is! After I quit my full-time graphic design job, I've been pouring all my efforts, and a lot of my soul, into being a full-time artist. I've always wanted to create art and sell my works, and it is through tufting that I've realised this goal even more deeply. I know it's not easy being an artist in Singapore, which is why I'm constantly inspired by other artists and makers who are perfecting their craft, and paving the way for the rest of us. Their existence gives me a lot of motivation to continue doing what I do.
DID YOU START SELLING READY-MADE PIECES OR COMMISSIONS?
I did both. I saw commission work as a way to challenge myself while making new designs and to help develop my artistic style more. Commissions are bespoke and it's always fun tufting a special memory for someone.
WHAT WAS THE FIRST COMMISSION YOU UNDERTOOK? HOW DID THE CUSTOMER FIND YOU?
My very first commission was from one of my friends who wanted a customised version of an existing design I tufted. At that point in time, I was really into drawing faces and instead of a happy, smiley lemon, she requested a disgruntled, frowny one, hands on hips and all. It turned out really cute and I'm glad my first custom piece went to her.
WHAT HAS BEEN THE HARDEST PART OF RUNNING A CREATIVE BUSINESS?
I think emotionally, I didn't realise how lonely it could feel to be a self-employed solo artist. Since the majority of the work I do is done at home, it can get pretty quiet, and that's when I realised finding community was more important than before. I began to appreciate each interaction even more, and started to form friendships with other artists online. Sometimes it can feel daunting to go through all the work on my own, but after sharing my experiences, many people have reached out to say that they feel the same way. It's a comforting feeling to know we're all going through the same thing.
AND WHAT HAS BEEN THE MOST SATISFYING?
Seeing pictures of my work in spaces and getting repeat customers! Little love notes left by customers at my checkout page make me smile a lot. After my most recent shop update in September, I sold almost all of my new designs and had a little gratitude cry, so probably that, too. Knowing that there are people out there who want to adopt my work is mind blowing, and all the effort and sacrifices are slowly starting to make sense.
One small thing that also comes to mind is that musician Sam Smith follows me on Instagram. He started following me in March and it's so amazing to think that he's interested in what I do.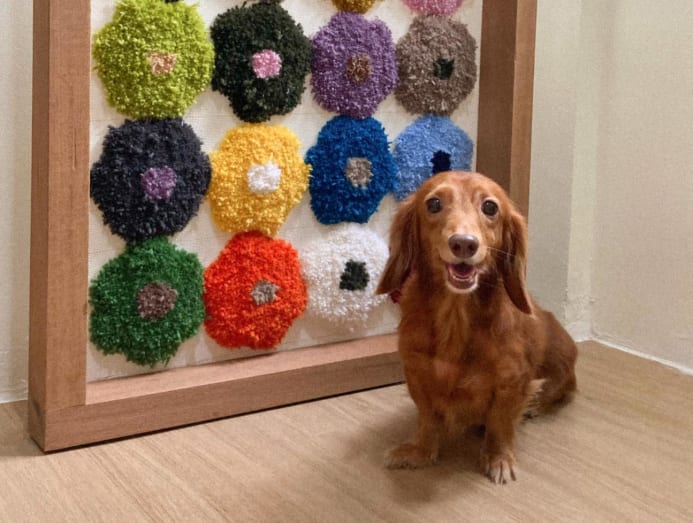 HOW LONG IS THE PROCESS OF CREATING A PIECE? CAN YOU WALK US THROUGH THE PROCESS?
How long a tufted piece takes mostly depends on how large and how intricate it is. Large pieces can take about a week from start to finish.
I have three stages to my process: Designing, making and finishing. I start with creating a design and usually make a couple of changes before I'm happy with it. After designing comes the making stage, where I prep my frame, trace or draw my design and then tuft it. At the last stage, I take the piece off the frame, glue it down and add a backing. And finally, I trim and clean up line work to make the design really pop.
There are other aspects to this whole shebang, such as taking photos and videos while working and of the final piece, managing my online store, shopping for materials, upgrading equipment, creating brand identity and packaging. It's a long process but I enjoy it immensely.
WHO ARE YOUR CUSTOMERS? HAVE YOU FOUND YOUR WORK ATTRACTS A CERTAIN DEMOGRAPHIC?
I actually have no idea as most of my work is sold online, so I've never met any of my customers, unless they're my friends! I think perhaps whenever I have my first pop-up, I may be able to meet some of them if they do come down to visit.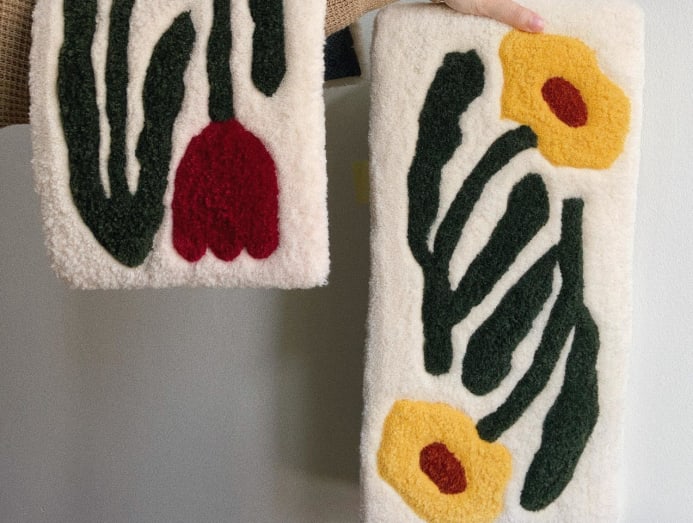 DO YOU SELL MORE RUGS THESE DAYS OR SMALLER PIECES?
I was pleasantly surprised at the reception of my latest rug drop, which consisted entirely of wall hangings. They nearly sold out within three hours. It was a huge deal to me as I'm unsure of what to expect with each new launch. The days leading up to a store update are nerve racking and each time I wonder why I do this to myself, but then I do it all over again! I tend to move in phases. Previously, I focused on floor rugs, and then I did coasters, and moved onto wall hangings. I think the beauty of having your own small business is being able to decide what you'd like to put out creatively and expand upon.
HOW DURABLE ARE YOUR RUGS? ARE THEY MEANT TO BE ART PIECES OR CAN PEOPLE REALLY WALK ALL OVER AND USE THEM?
The wall hangings I've made are meant to be art pieces, but some of them double as coasters, too. I don't think art always needs to have function – it's nice to just look at something and appreciate it for what it is. I have a floor rug I made for myself, which I do step on, and so far it looks pretty good still! The floor rugs I make can take foot traffic but, being handmade items, they are best for an area with low foot traffic to ensure longevity. Ultimately, it's up to the customer how much walking they'd like to do over their pieces.
DO YOU GET REALLY QUIRKY REQUESTS? ARE THERE SOME THAT YOU REFUSE?
I'd say 90 per cent of commission requests I receive are of pets! I've gotten a couple of requests for pets that have passed, as bereavement gifts. For those particular ones, I feel honoured to be given the opportunity to immortalise a pet, but also kind of sad because my mini dachshund, Riley, recently became a senior dog and I can't imagine losing her. Earlier this year, I made my first recreation of a photo, in which a shiba inu is happily sitting on a grass patch – that was a project I loved, too. I've only ever had to decline commissions when I'm not able to accommodate a larger piece as my frame that supports tufting is of a certain size.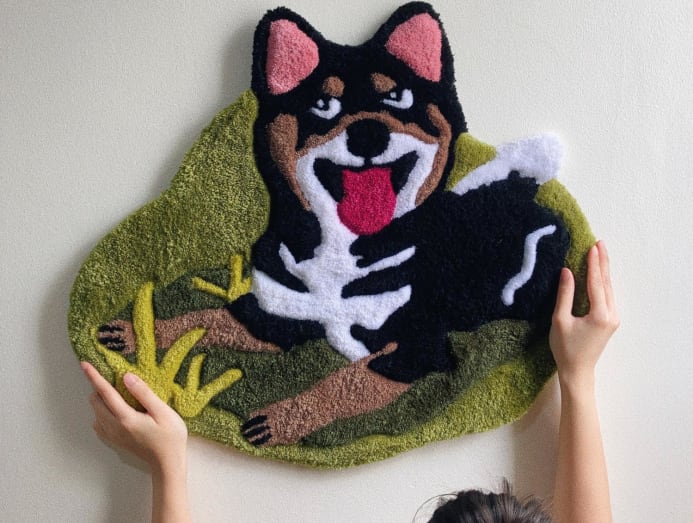 WHAT WOULD BE THE DREAM COMMISSION?
Probably getting a brief along the lines of, "Please make the largest rug you can of anything you want and I'll reimburse you properly." I think being given artistic freedom is one of the best things any artist appreciates.
WHAT ARE YOUR PLANS FOR HABICHL? WHAT CAN WE EXPECT AS YOU GROW?
That list is long. I think before being a textile artist I'm still an artist at heart, and I'd love to venture out and explore my creative voice. I'm still going to be tufting and I aspire to continue making art, but perhaps turn those designs into stationery or home goods one day. We'll see!