Transforming a 4-room HDB flat into an edgy 'post-apocalyptic' home
CNA Lifestyle's Making Room series looks at small homes with big transformations. While most homeowners hide or disguise the bomb shelter, this couple wanted their flat to look like one.
Married couple Shanmugaraj and Maheswari are an adventurous duo who work in science and engineering. So, inspired by their worksite visits, they gave their interior designer Rey Tan of Er Studio an unusual renovation brief for their 1,001 sq ft four-room HDB flat in the Canberra neighbourhood.
It had to be "post-apocalyptic industrial". Also, "environmentally-conscious" and with "sustainable furniture" as well.
"We don't feel it's very out of the norm, because it's who we are," explained Raj. "The whole industrial theme is about sustainability, which ties in with the environment."
While most homeowners hide or disguise the bomb shelter, this couple's home looks like one. It's an industrial, grungey and eco-friendly space where they can grow plants, tinker with their archery equipment and show off their love of movies.
The end result is a truly idiosyncratic home that resembles an air raid shelter or doomsday bunker, thanks to its stainless steel-clad front door, grey concrete walls and floors, cinderblock features and industrial-style fittings – think exposed pipes and air-conditioning cassettes and ducts, oversized switches and utilitarian-looking steel pendant lamps.
Even the home decor accessories look rough-and-ready: Shipping hooks and weathered-looking chairs in high-contrast colours such as red, yellow, blue, orange and black.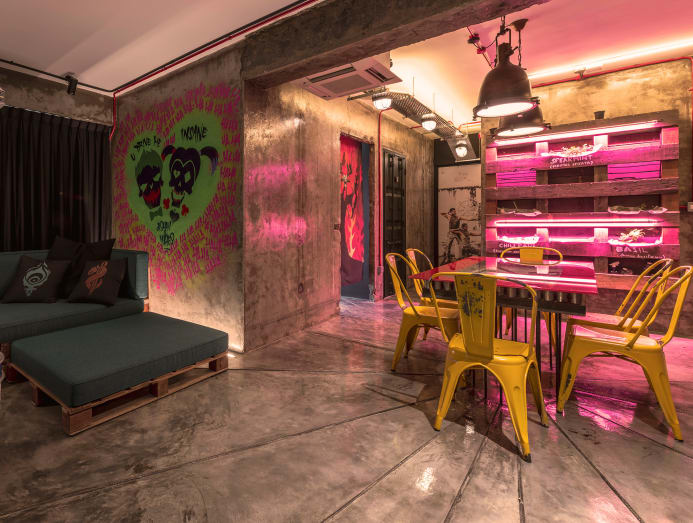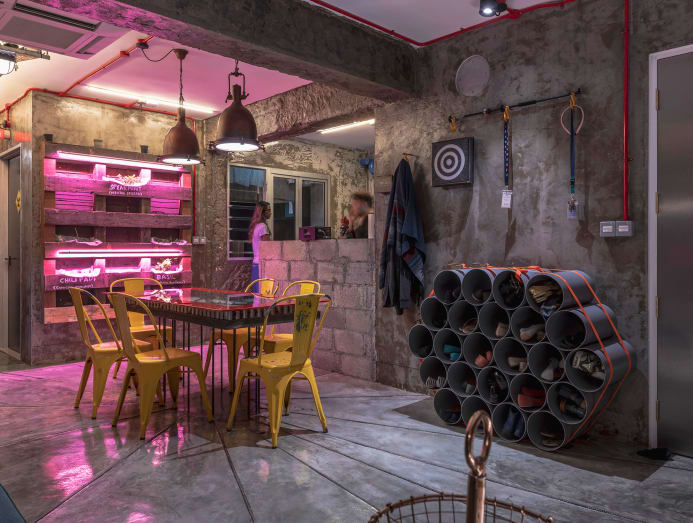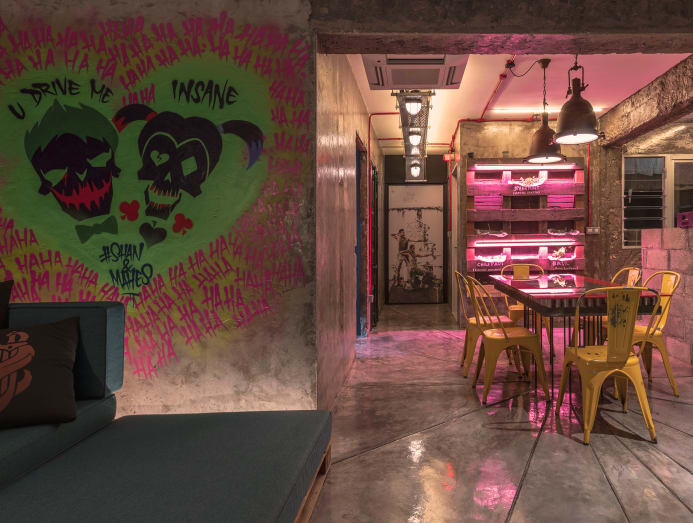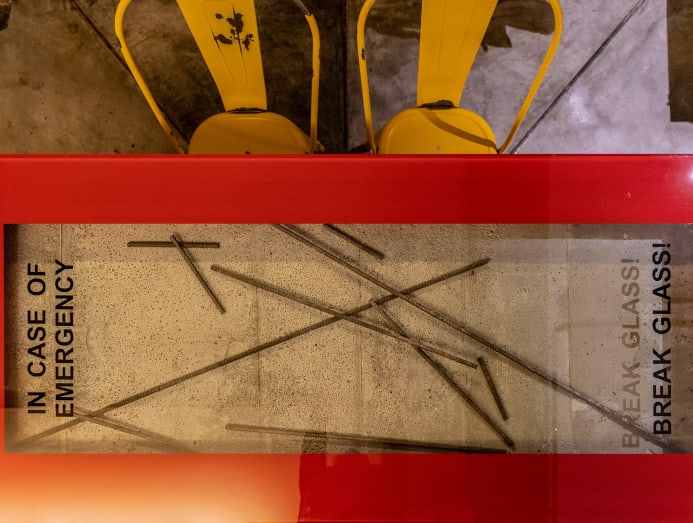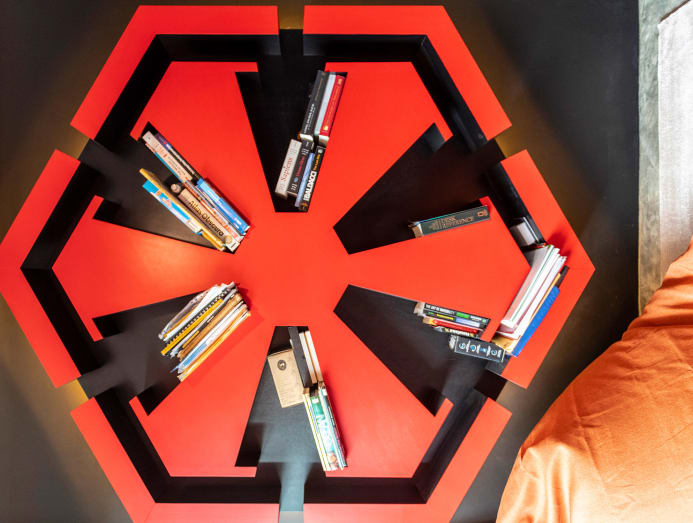 To keep costs low, the couple chose a DIY approach in designing some of their furniture.
"My concept is, anything with a moving part that is prone to failure will fail eventually at some point or other. And if it fails, then you need to replace or repair it," said Raj.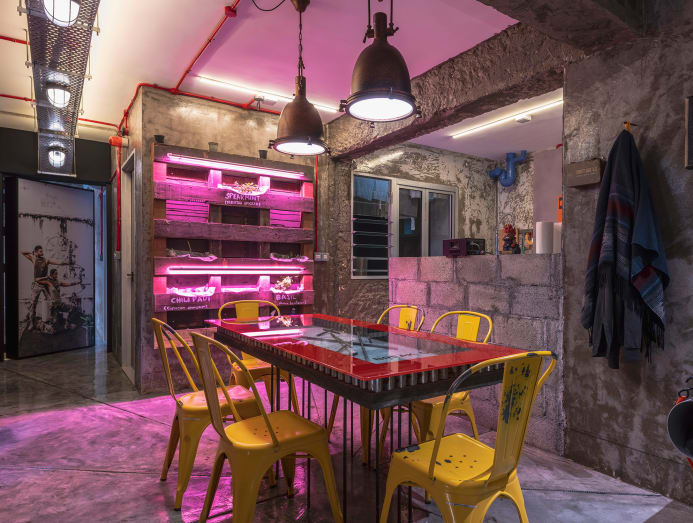 So, to minimise wear and tear, the couple opted for a customised dining table that's literally built into the apartment.
Its legs, made of steel rebar typically used in building construction, don't just support the tabletop but are are encased within the poured concrete floor in an eye-catching radial pattern.
The tabletop itself is a talking point as it resembles an elongated fire extinguisher box, as it's topped with a red-framed glass panel that bears the words "In case of emergency, break glass". Six sturdy steel dining chairs in distressed yellow paint complete the dining area.
Any doomsday prepper worth his salt knows how important it is to have your own food supply, so right outside the stainless-steel-clad kitchen (which looks more like a makeshift science lab), is a vertical planter made out of wooden pallets, where edibles such as chilli padi, spearmint and basil thrive, thanks to rows of grow lights.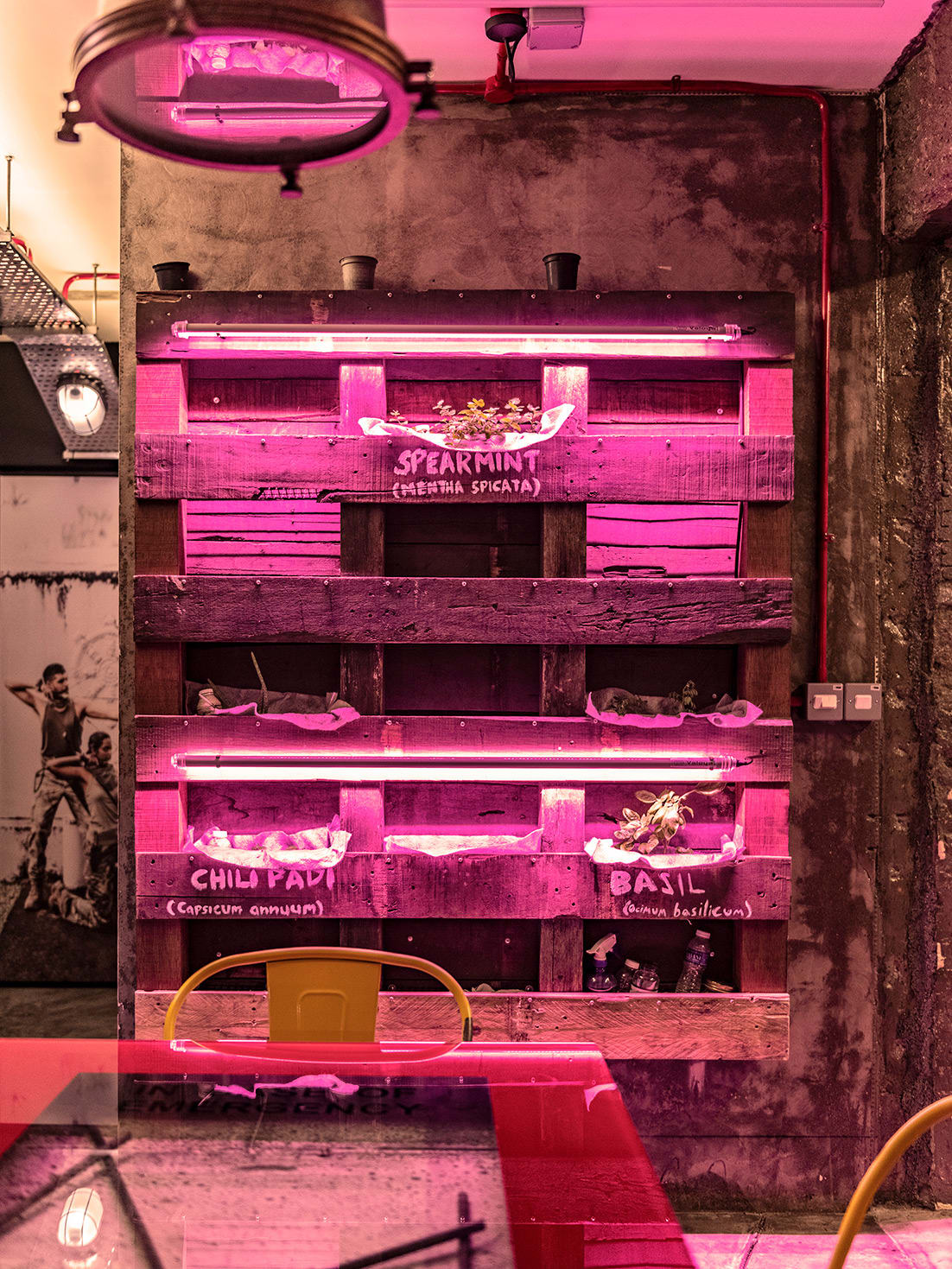 The wall right next to their front door is fitted with three big, yellow shipping hooks hanging from oversized bolts. Not only does it express the theme of their home, it also serves a practical purpose "for hanging stuff that we use on a daily basis when we go in and out of the house (such as house keys and headphones)," said Raj.
It's also a good spot for target practice – the couple are avid archers and martial arts enthusiasts, so there's a blowdart target board hanging there.
Below this is a stack of cut grey PVC pipes secured with orange straps – it's as eye-catching as it is practical; a low-cost and ingeniously effective shoe storage solution.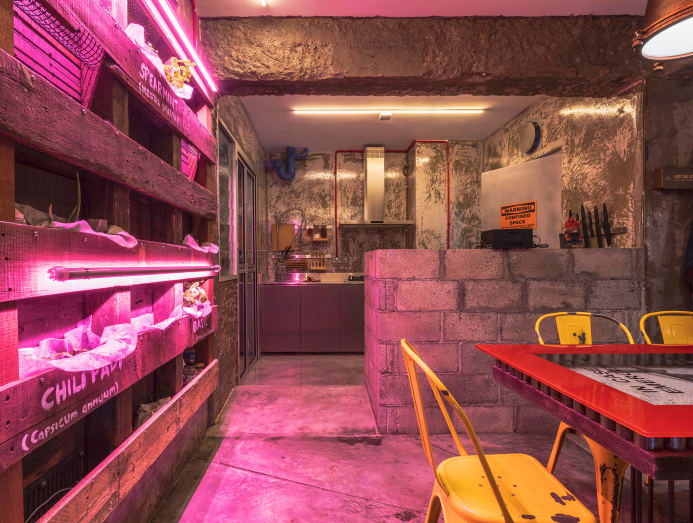 For the living room, they fashioned an L-shaped sofa out of industrial wooden pallets and topped it with made-to-measure daybed cushions in rugged denim.
Instead of buying a regular coffee table, they opted for a trio of authentic stainless steel chemical drums, complete with the kind of scary-looking warning labels you'd expect to encounter in a toxic chemical plant.
"We wanted to use something that could be repurposed and used for multiple uses as well instead of just for aesthetic purposes," said Raj of the metal drums.
By placing round two-tiered stainless steel baskets within them, they become a handy place to store lots of snacks and other items the young family might need close by for movie nights.
Better still, it's easy to stash them out of sight when not in use, just like the giant projector screen which rolls up overhead.
The couple also wanted to pay tribute to their favourite film genres.
"I grew up watching all these dystopian films. The superhero thing is quite cliche these days so why not just go for something out of the norm," mused Raj.
As such, a liberal sprinkling of cinematic influences and iconic villains' motifs imbues their already edgy-looking apartment with even more personality and character.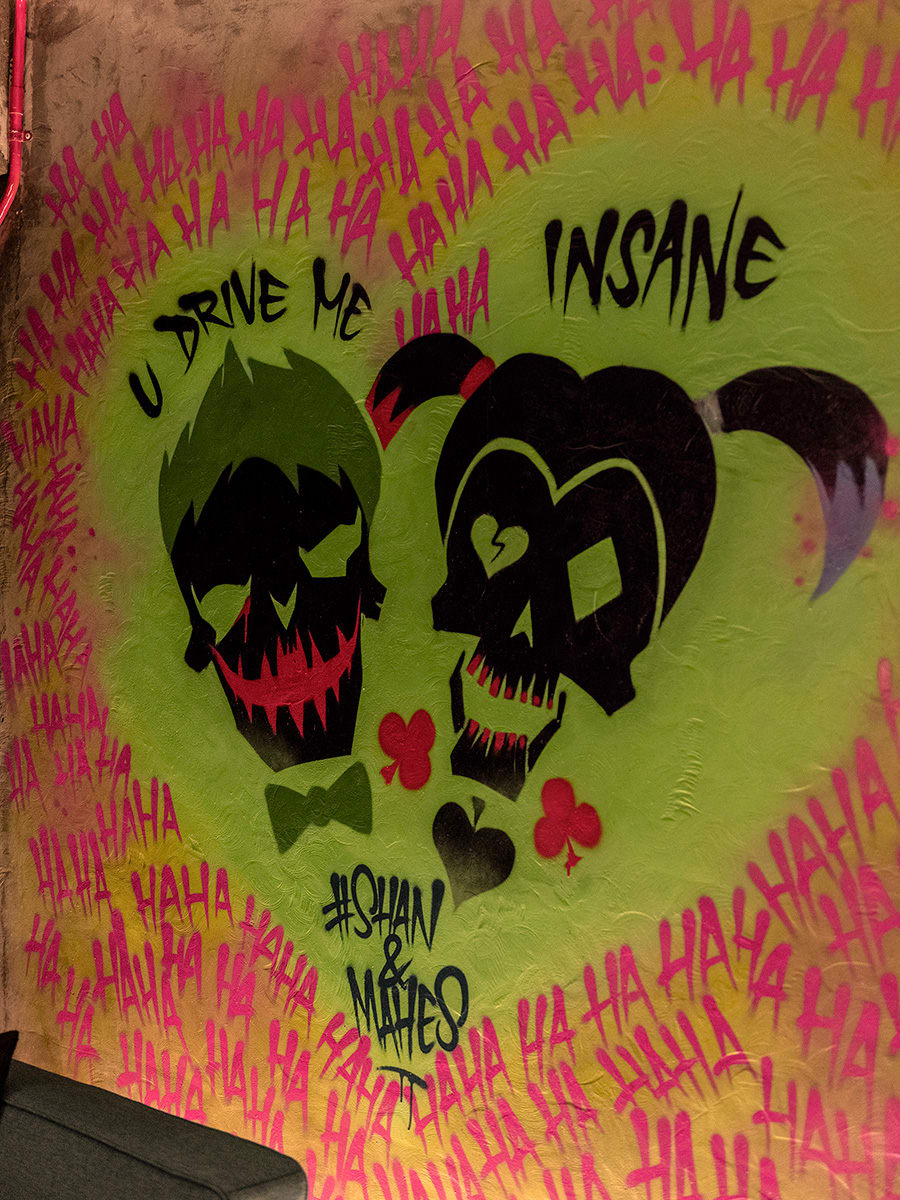 For example, a Suicide Squad-themed mural in neon green and pink spans the entire wall between the living and dining areas. Featuring The Joker and Harley Quinn enclosed within a heart shape and captioned "You Drive Me Insane", it's cutely dark and wildly romantic at the same time.
Another dystopian detail within the apartment is that some rooms are missing doors.
"If you have a door, the first thing that will always give way is the hinge," Raj noted. So, several doors were replaced with curtains, which are easily maintained and customised to suit their mood.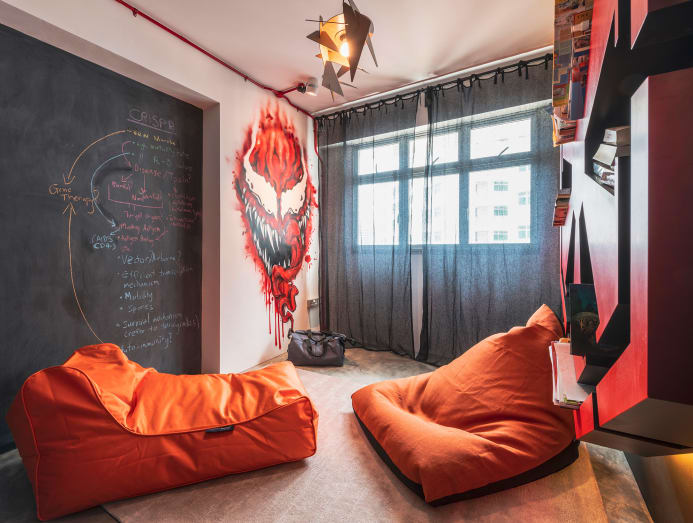 One of the bedrooms was transformed into a family den. A mural of sharp-toothed Marvel Comics villain Carnage decorates one wall, while opposite it is a bookcase shaped like another villain's logo.
The remaining walls are covered with black chalkboard paint – useful not only for work calculations, but for their young son Amaran's own doodling.
"If we have anything in our minds, we just come inside and start scribbling on the wall," said Mahesh. "So it's a very good place for us to just let loose everything and have our minds go wild." Or, they can just chill out on one of the orange beanbags lying around.
A Decepticon container door leads to the adults-only room that's used for storing their archery equipment. The room is also a workshop for repair and restoration work, as well fun projects such as painting their tabletop board game figures.
An oversized photo portrait of the couple dressed in their archery gear, turns out to be a secret door that hides their master bedroom. Built-in compartments on the back of that "door" mean it also serves as a storage unit.
The master bedroom is also all done up in concrete. They opted for an open-concept wardrobe system made out of cast-iron pipes for that raw, edgy industrial loft look.
A platform bed creates additional storage space for their folded clothes, while a sheer canopy overhead adds a touch of softness and sensuality.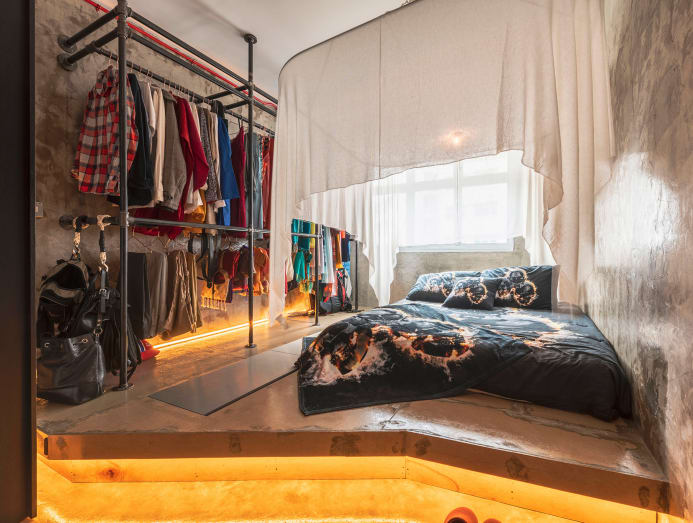 "Everyone wants to live in a dream home but they're just very afraid about escalating costs and you're going to be living here for a big portion of your time. But to us, it was, 'You know what, we're going to live here. Let's just do this," said Raj.