Squid Game in a village, Myeong-dong blues: A first-timer's visit to South Korea via VTL
The land of K-pop, K-drama and kimchi beckons with the opening of the vaccinated travel lane – and CNA Lifestyle's Khoo Bee Khim gets her first taste of South Korea.
In partnership with Korea Tourism Organization.
If I had to choose one Squid Game challenge easy enough to save my life, it would be the one with dalgona candy. Patience and precision would be my motto. Licking, my killer move.
I recently had the chance to give it a shot in Yongin after riding several hours by coach from Seoul. We crossed the Han River and once freed from the city's grinding traffic conditions, the landscape seemed to sigh with relief. We drove past fields left to fallow, to breathe before the next crop planting. Autumnal bursts of crimson and gold dotted the road as Nature put on a show of colours.
The setting for my personal Netflix moment with a piece of brittle candy: A Joseon-era village of charming thatch-roofed houses. But despite having that haunting Squid Game soundtrack blasting from a nearby portable speaker to help me channel Lee Jung-jae's character, I was no Player 456. I broke not one, but two, dalgona candies. So much for my licking strategy.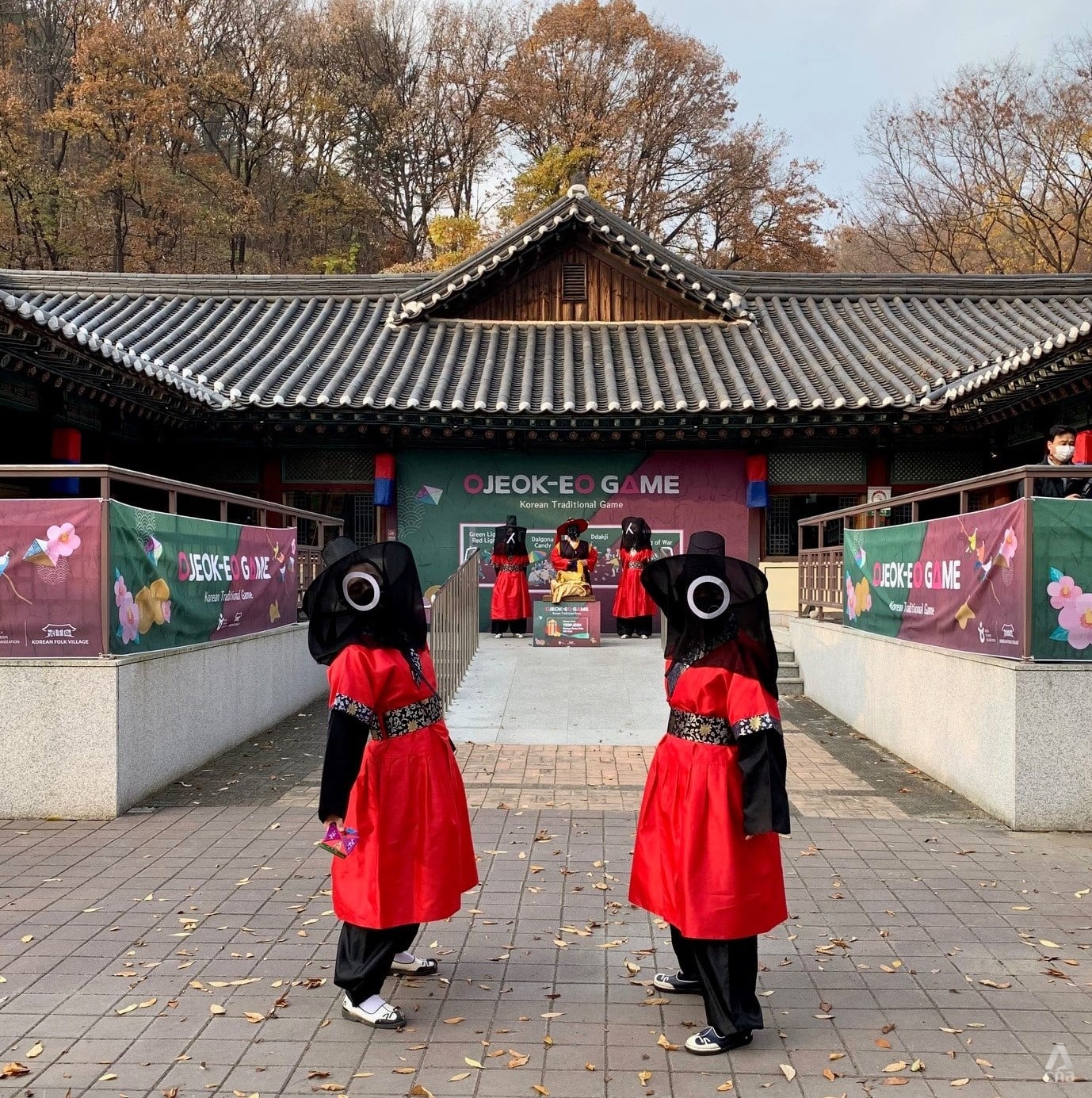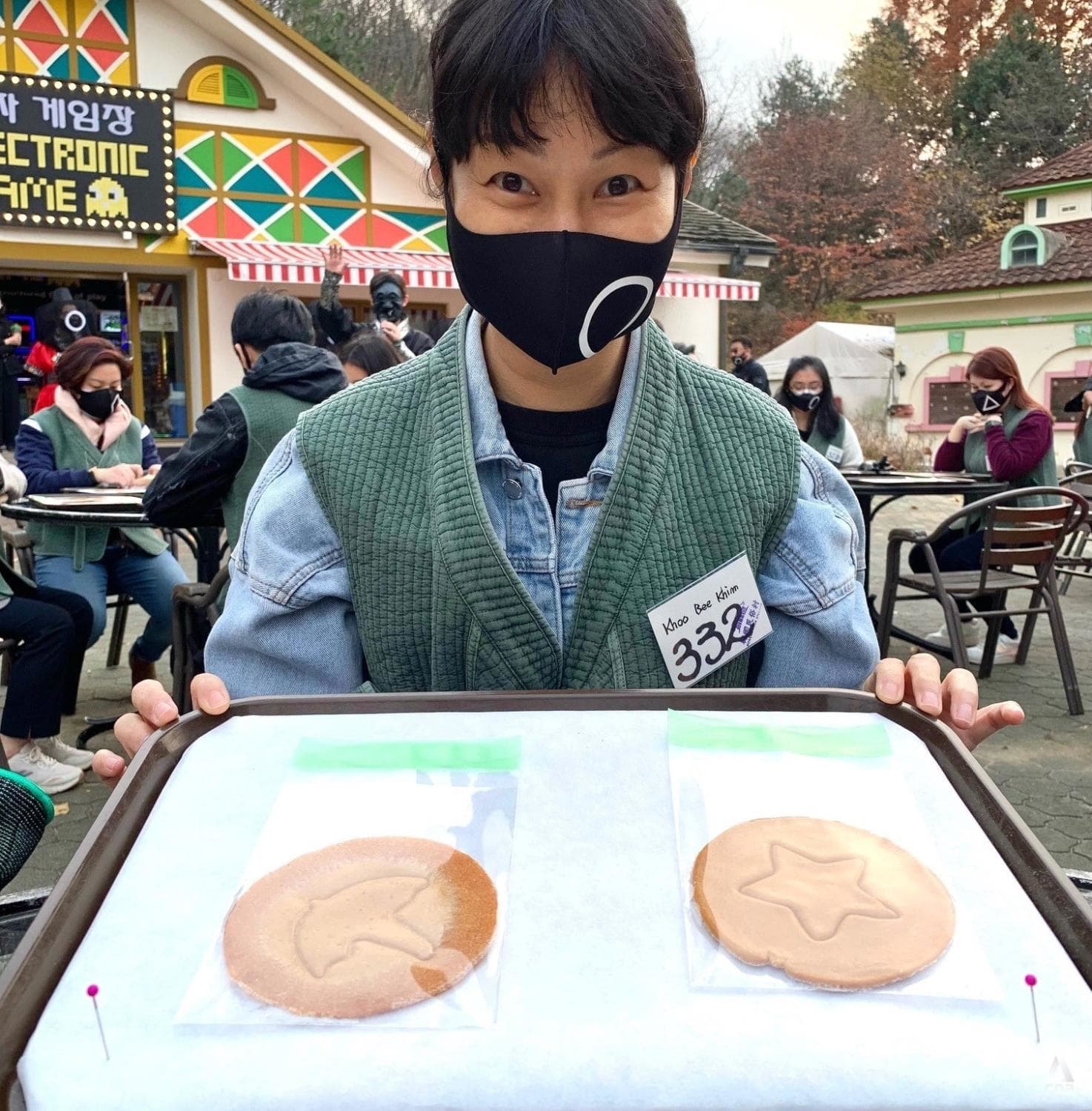 FIRST TIME IN KOREA FOR FIVE DAYS
My visit to the Korean Folk Village was part of a whirlwind five-day tour hosted by the Korea Tourism Organization.
As one of the first Singaporean visitors to take advantage of the vaccinated travel lane scheme (VTL) to the country since the pandemic began in 2019, I had mixed feelings. I would finally get the chance to experience South Korea for the first time. But I was also aware that the global COVID-19 situation was still in a state of flux.
True enough, the discovery of the Omicron COVID-19 variant in late November caused a tightening of borders in many countries.
In a matter of a few days just this past week, South Korea announced a mandatory 10-day quarantine on arrival, regardless of vaccination status. It was subsequently clarified that those travelling under the Singapore-South Korea VTL scheme are exempted from this.
Then, it announced the need to show vaccine passes at a range of venues, including restaurants and cafes, while private gatherings were reduced to six in the greater Seoul area, and eight outside of it.
I count myself fortunate to have visited before all of these. Back in Nov 15, it had actually felt rewarding to finally clear the paperwork and walk down the jet bridge at Changi Airport after two years of no travel, the floor bouncing a little to the footfall of the 120 passengers, of which 45 were us Singaporeans.
Even the loud thumps from underneath the plane as the landing gear retracted and the whooshing noise as the plane took off sounded oddly nostalgic.
But what reminded us that these weren't ordinary times were the Korean Air flight attendants in PPEs and masks, masked passengers, and the longer-than-usual immigration checks that took our group more than two hours to clear.
And of course, there were the PCR tests. You have to get swabbed before and after you fly into South Korea. Then, rinse and repeat before and after you fly back to Singapore. The one we did at Incheon International Airport was pretty quick. By about 12.30pm, we were already ensconced in our hotel rooms, waiting for our PCR test results like nervous PSLE students.
EVERYTHING WAS FAIR GAME
Once I got my "golden ticket" aka the negative PCR test result, which arrived via email in the late afternoon, I was officially cleared to mask up (taking heed of the usual precautionary measures such as hand sanitising and social distancing, of course) and explore South Korea.
Everything was fair game to this first timer such as the Korean Folk Village. It wasn't just Squid Game challenges (including ddakji, tug of war, and Green Light, Red Light) we got to play; we also had a little taste of tradition (red date drink, anyone?) and history from seeing the staff in traditional Joseon-era garb instead of pink hoodies.
Another place where we had some hands-on experience with tradition was at Sumi Village in Yangpyeong, where we got to make jjinppang or steamed bun.
The risen dough was pre-prepped for us to wrap up portions of rustically made red bean paste. Not as easy as how our ajumma made it look, her wizened fingers expertly pinching and rolling the filled dough into smooth, soft orbs. But oh, how comforting each bite of the yeasty, soft bun tasted after 25 minutes in the steamer.
Before heading into Seoul itself, we had a little tour of Incheon, which many Singaporeans regard as just an airport city for transiting through.
That wasn't what it looked like to me after a visit to the Incheon Art Platform, with its red-brick warehouses repurposed into 22 studios for resident artists. They also serve as very Instagrammable backdrops. And at this time of the year, you won't be short of golden gingko leaves to frame your pictures.
Right next to the art complex is the Open Port Area or Gaehangjang. Our hosts must have heard how adverse Singaporeans are to exercise on vacation for they arranged for these pimped-up, Victorian-styled electric carts to drive us around.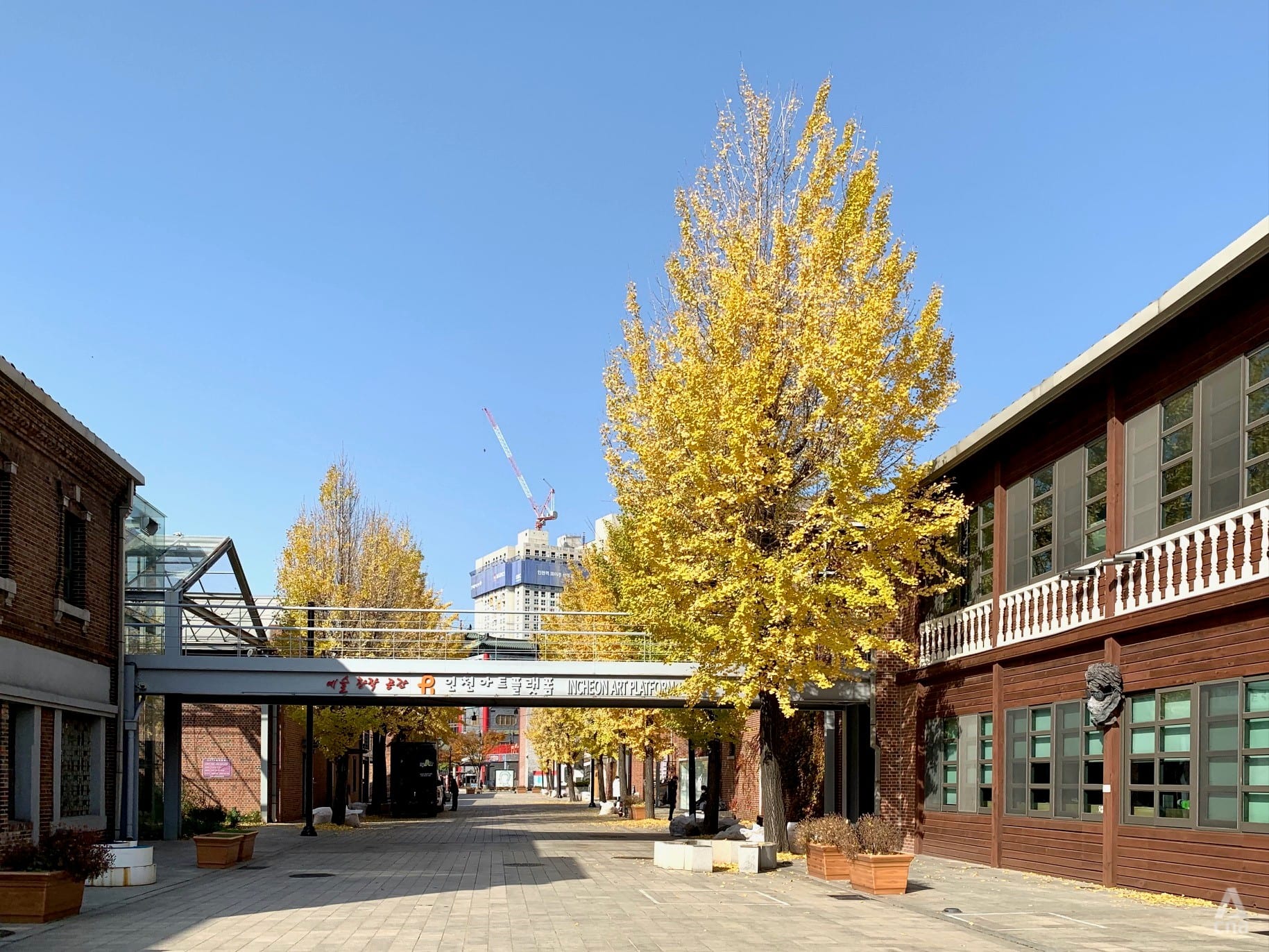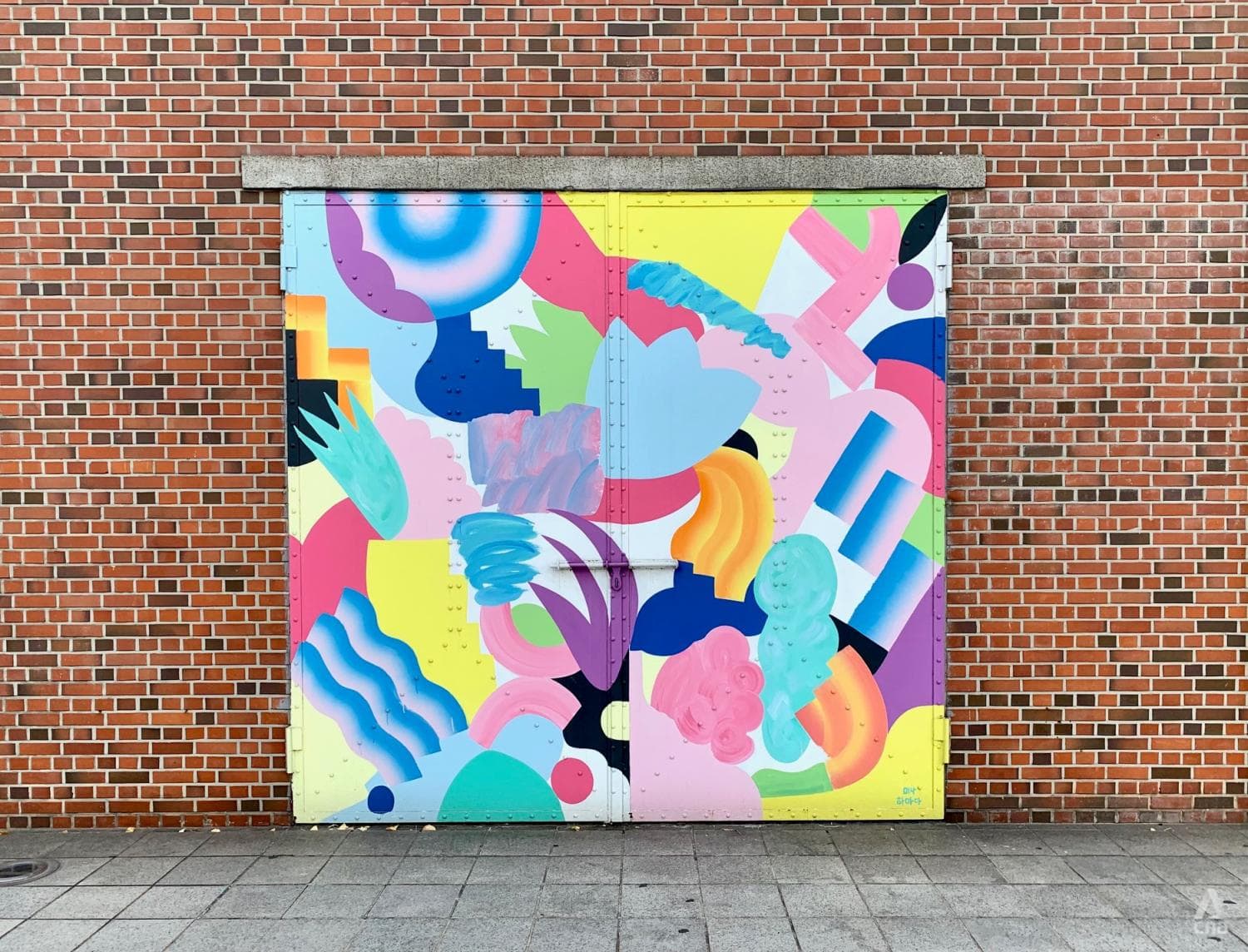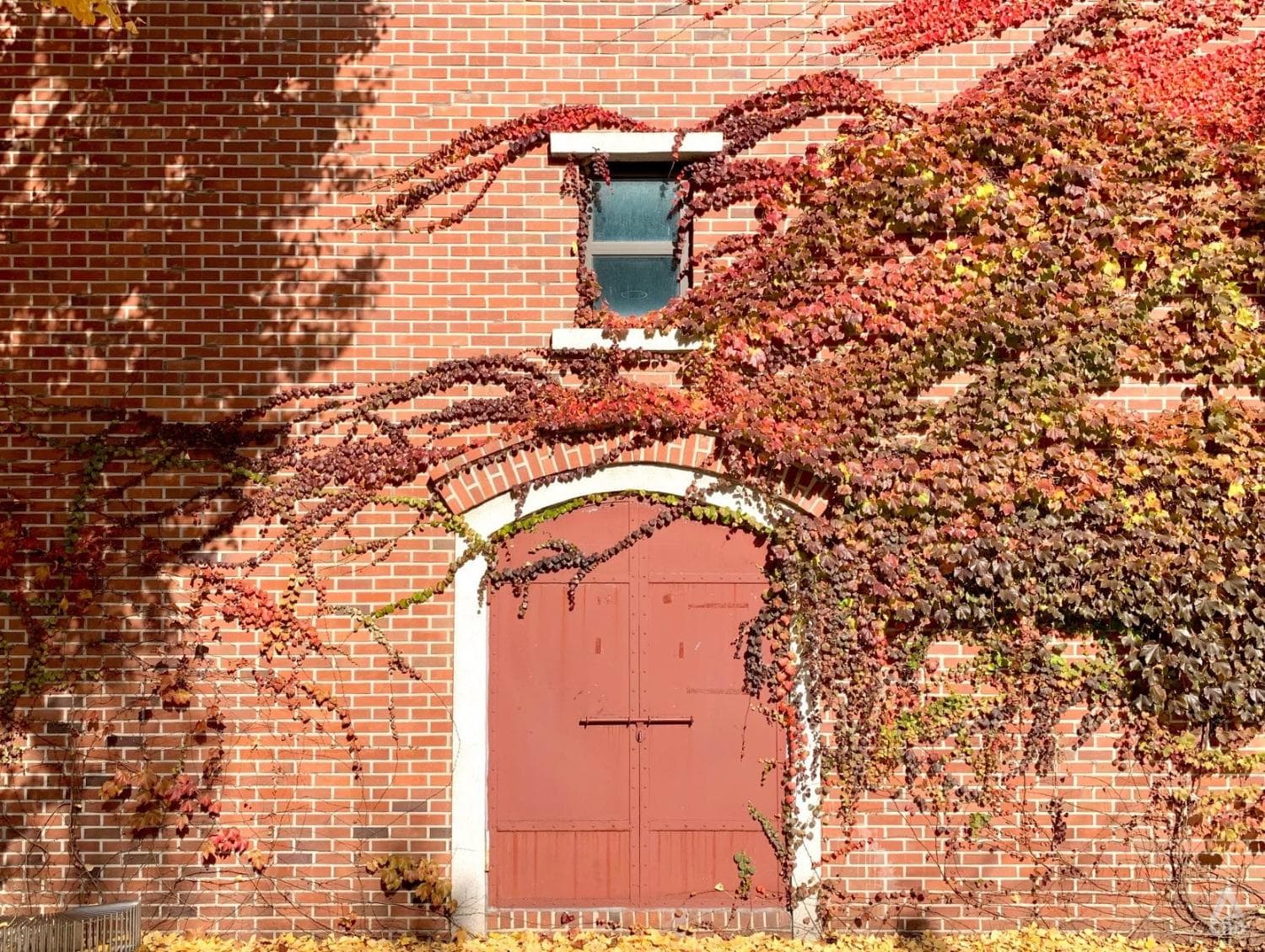 As our mini convoy of carts trundled down the historical, narrow streets, we saw a mishmash of European, Japanese, Chinese and Korean building styles – reminders of the area's historical connections to the rest of the world since the 1890s.
MYEONG-DONG S-O-S?
One of the things I was asked by colleagues and friends to check out was the famous Myeong-dong shopping district. Was it really dead quiet as we've seen in YouTube videos?
Pre-COVID-19, hardcore K-beauty shoppers would turn up with empty suitcases, fill them up with products and load them up onto the plane. Its streets used to throng with shoulder-to-shoulder crowds as both locals and tourists jostled for street food vendors hawking bungeoppang, gimbap, hotteok and hweori gamja to name a few.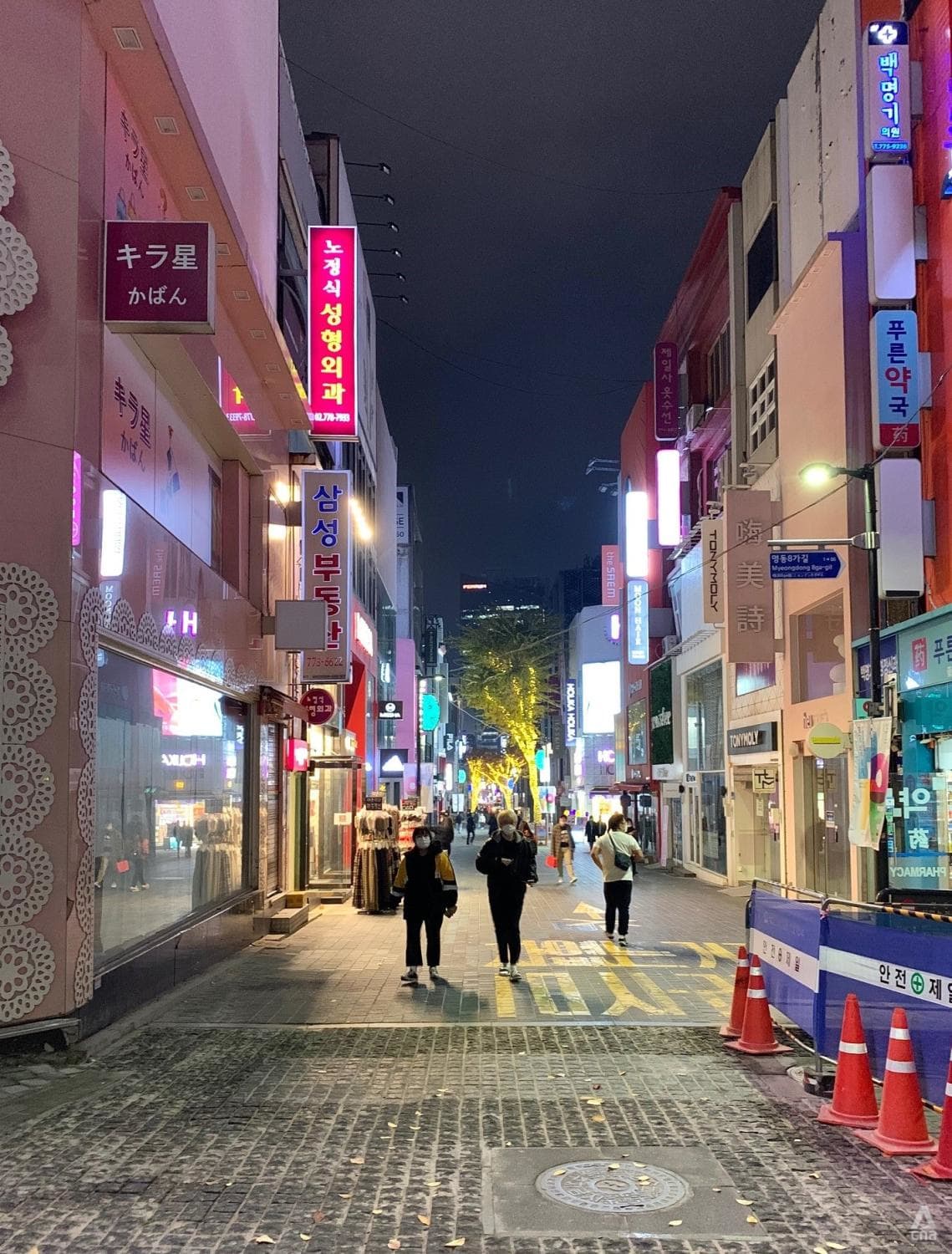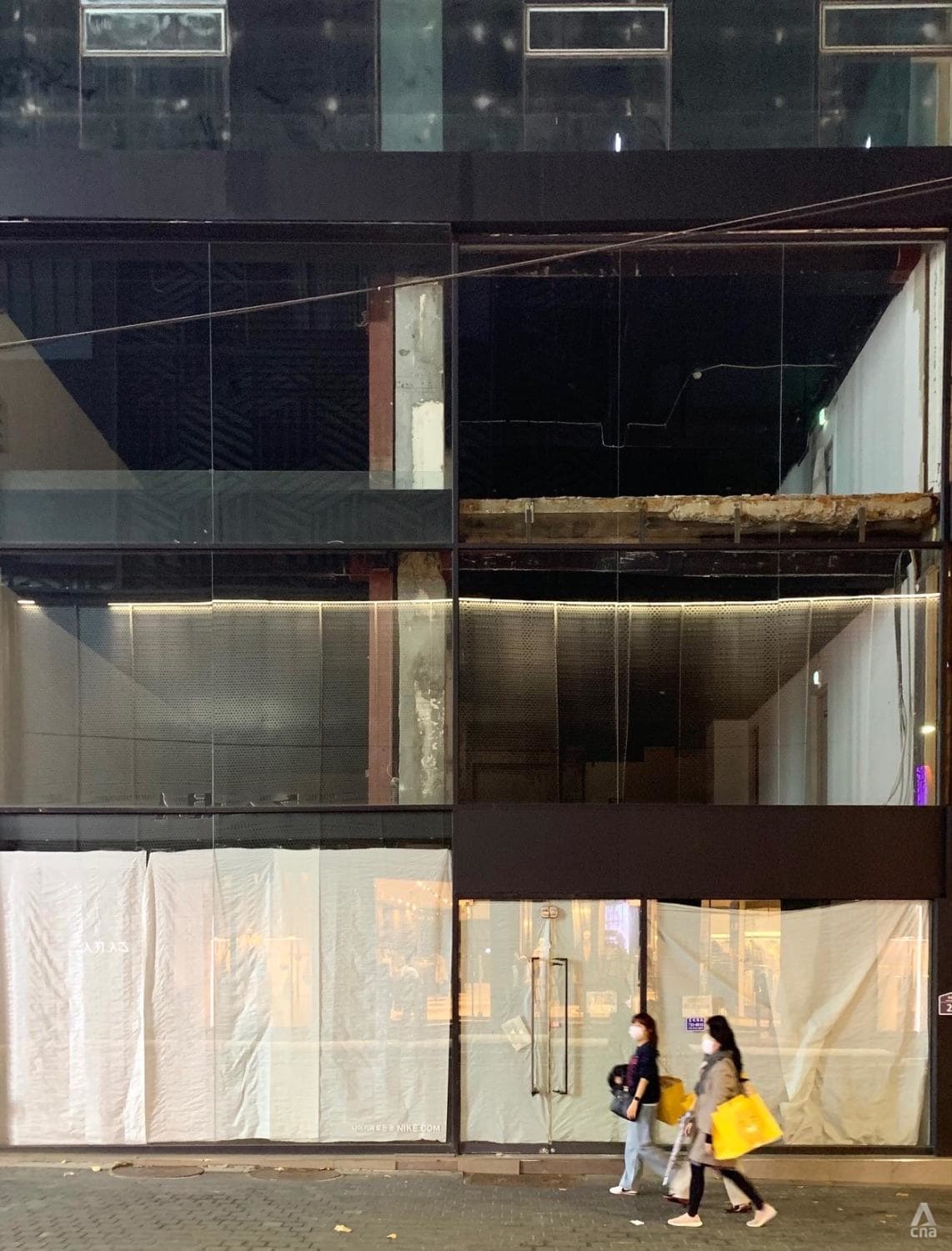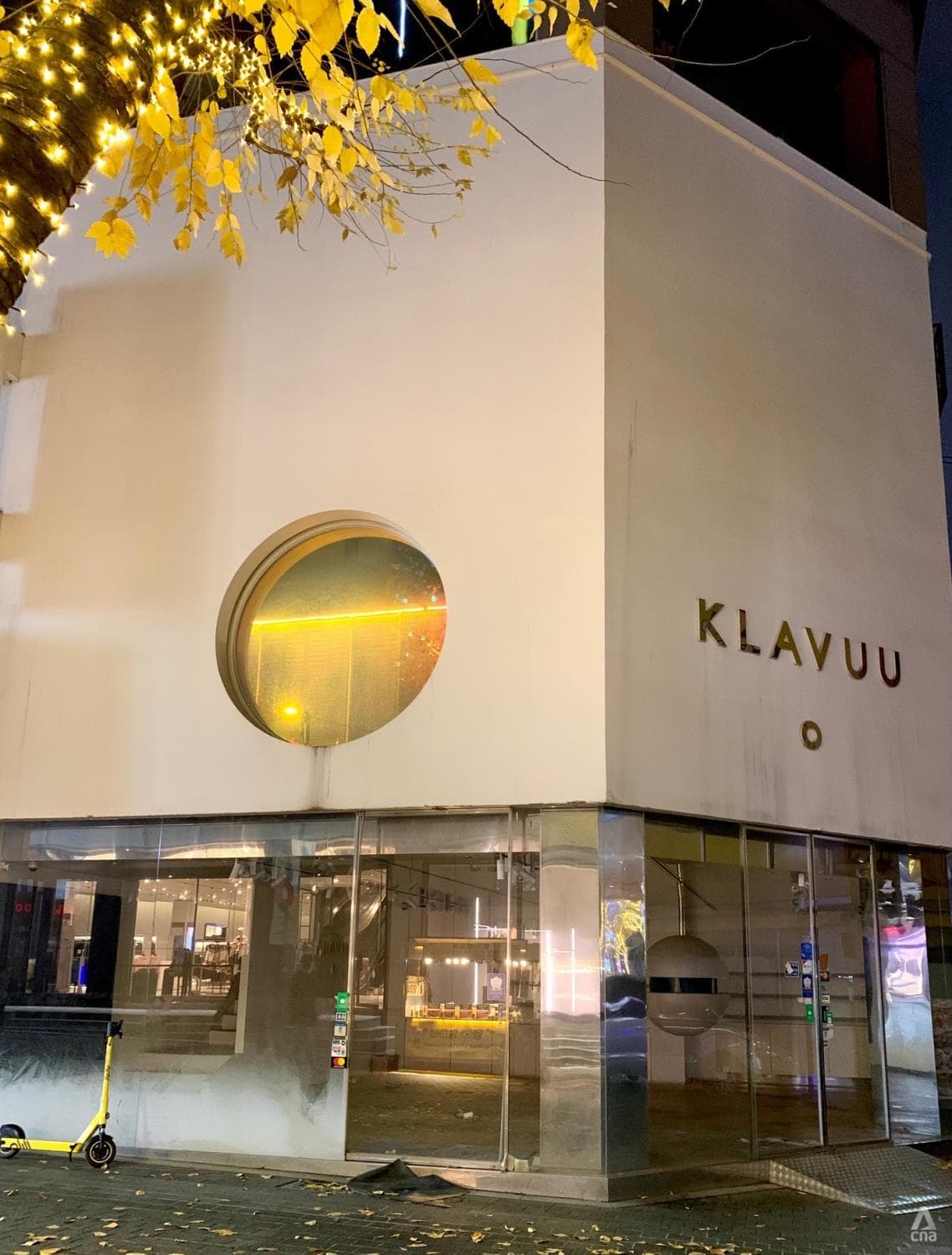 It was past 8pm on a weekday when we arrived at Myeong-dong. The area did seem like it had taken a hit during the pandemic. Yes, it was a weekday but we didn't expect to see just a lone busker playing his guitar.
Shops that have survived closed at 8pm instead of the usual 10pm. In fact, it might be easier to list down the businesses still in operation than those that seemed to have permanently shuttered. Save for the smattering of standalone shops selling fabric masks and Squid Game paraphernalia, there wasn't much to browse.
ESSENTIAL APPS FOR GETTING AROUND
These free apps can help you to get around South Korea more independently. Others are essential for you to download:
Quarantine-Report Self-Check: This app appears to work only if you download it using South Korea's network. You need it to update your temperature and health status daily.
KakaoTalk: It's the preferred messaging app in South Korea. You can also use it to hire private cars.
Naver: This will help you to navigate as Google Map doesn't work well here. The downside is, it often requires the addresses to be in Korean.
Subway Korea: It's the equivalent of our MRT app that shows you the stations and lines.
Google Translate: Useful when you're trying to figure out the street signs and names to get to your PCR centre.
RETAIL AND FOOD THERAPY
Thankfully, that wasn't the case in the city centre. To this first-timer, the famous metropolis was still abuzz – the malls had decent crowds, retail enclaves still offered interesting buys, and yes, you could still chance upon the occasional BTS pop-up while on the hunt for cafes to explore.
Seoul isn't short on mall experiences and the newest kid on the big city block is The Hyundai Seoul, a modern retail space with plenty of room to navigate (great for social distancing) and the most whimsical aesthetics.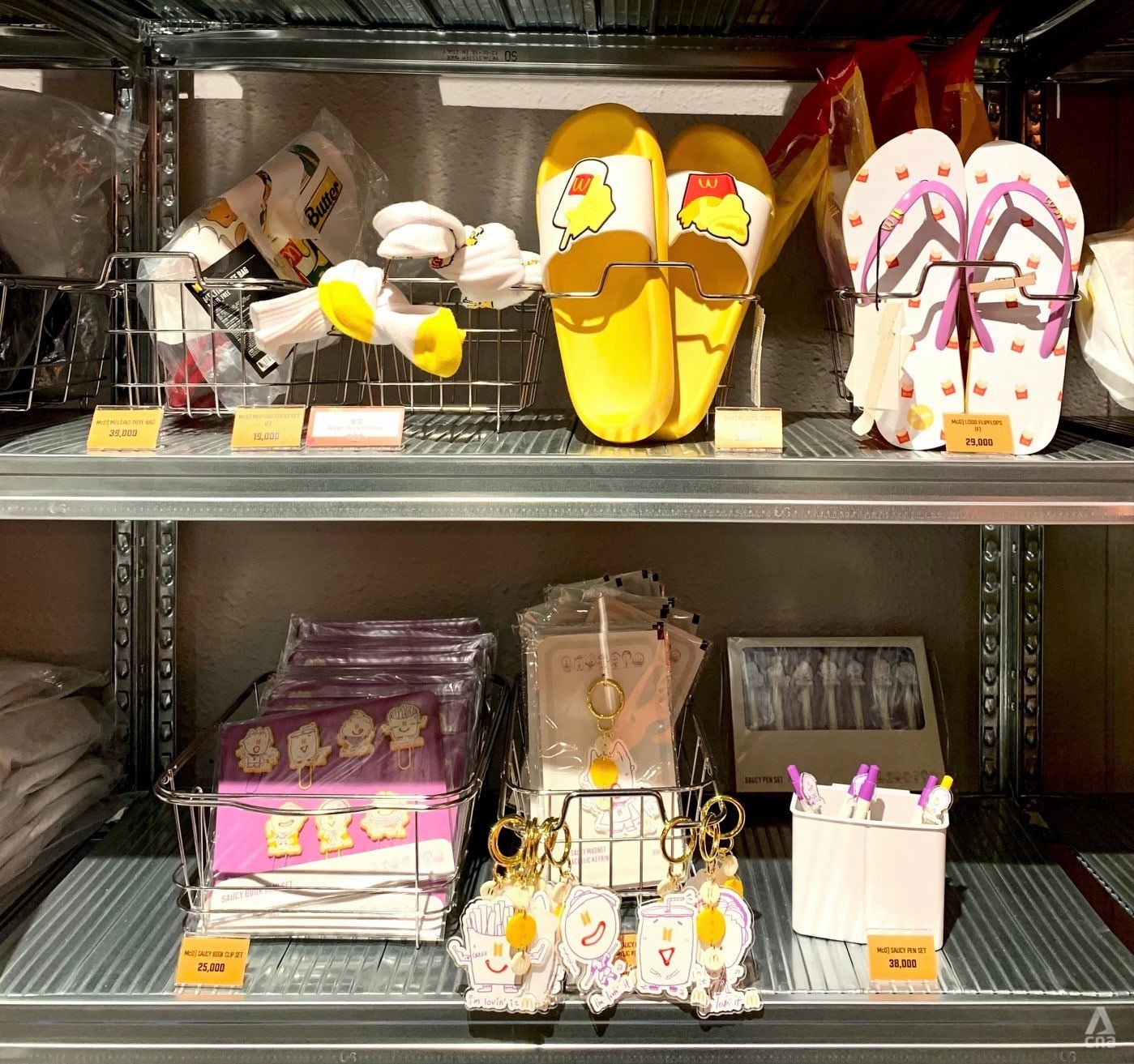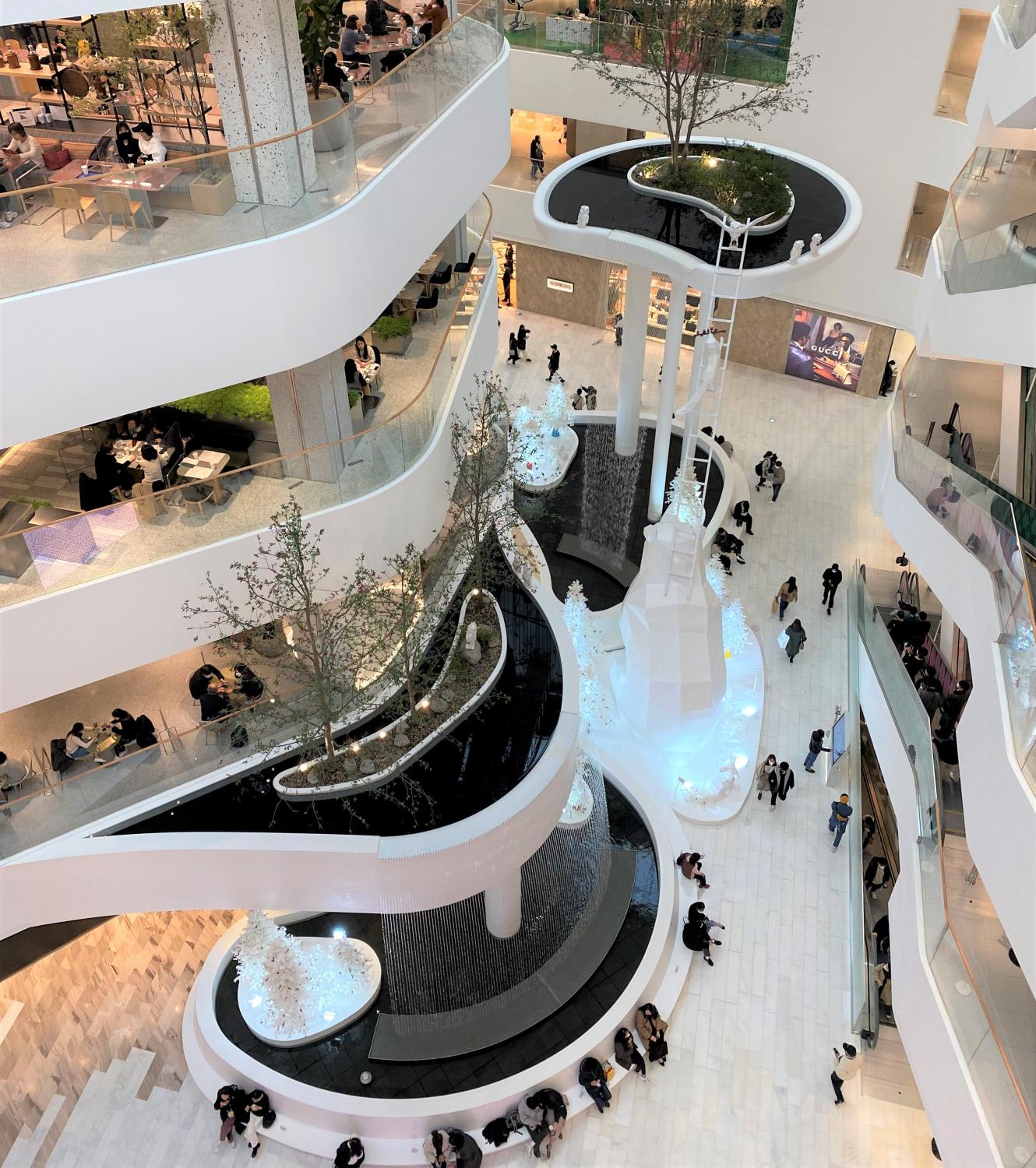 If you're looking for smaller retail venues, there's Seongsu Yeonbang, an enclave that houses small, lifestyle brands such as Thingool, Index Caramel (an artisanal sweet shop), Arc N Book, some F&B outlets and even an entertainment space on the rooftop.
That area was just minutes away from Cafe Onion, which was located in an industrial area that wouldn't look out of place in, say, Defu Industrial Park.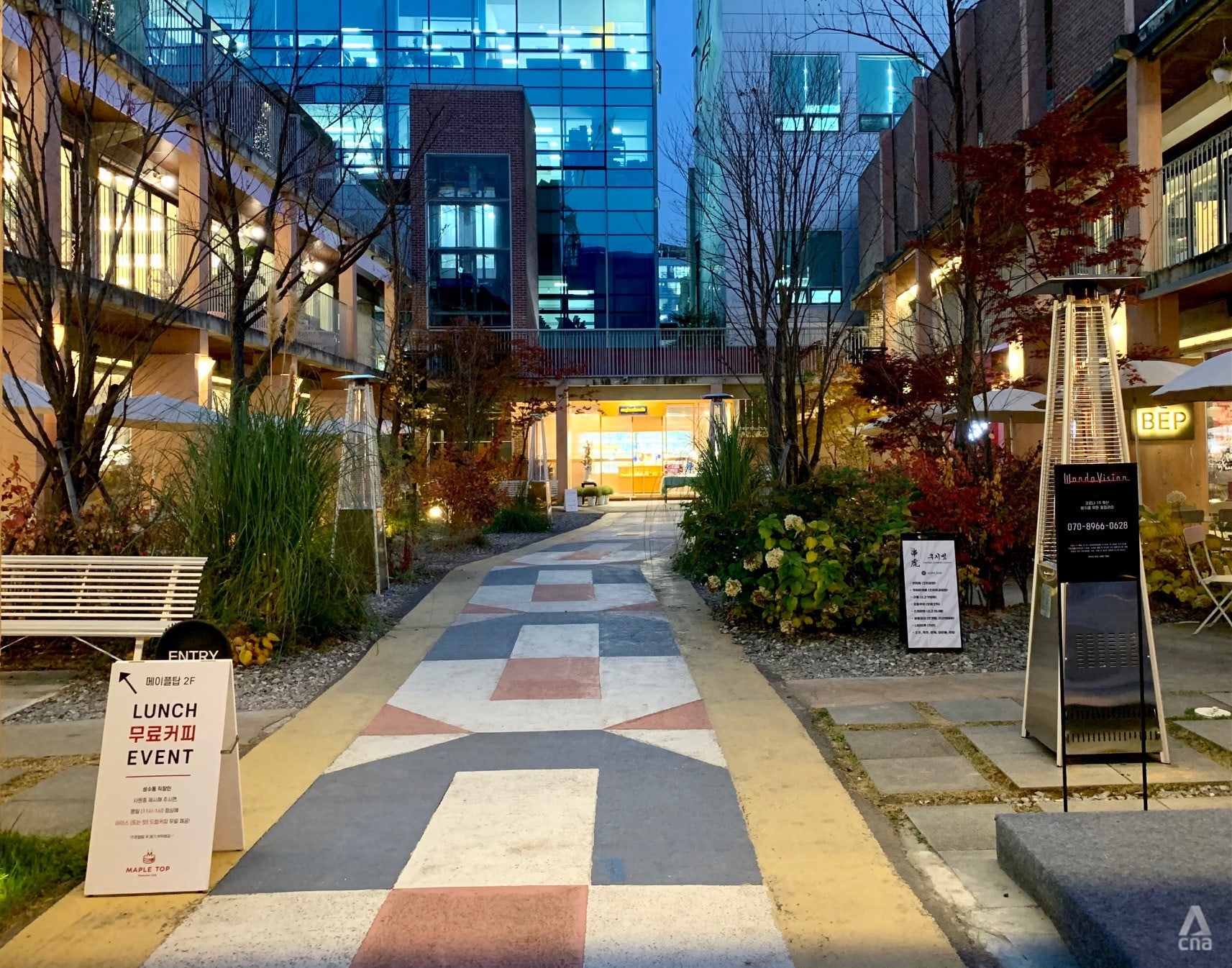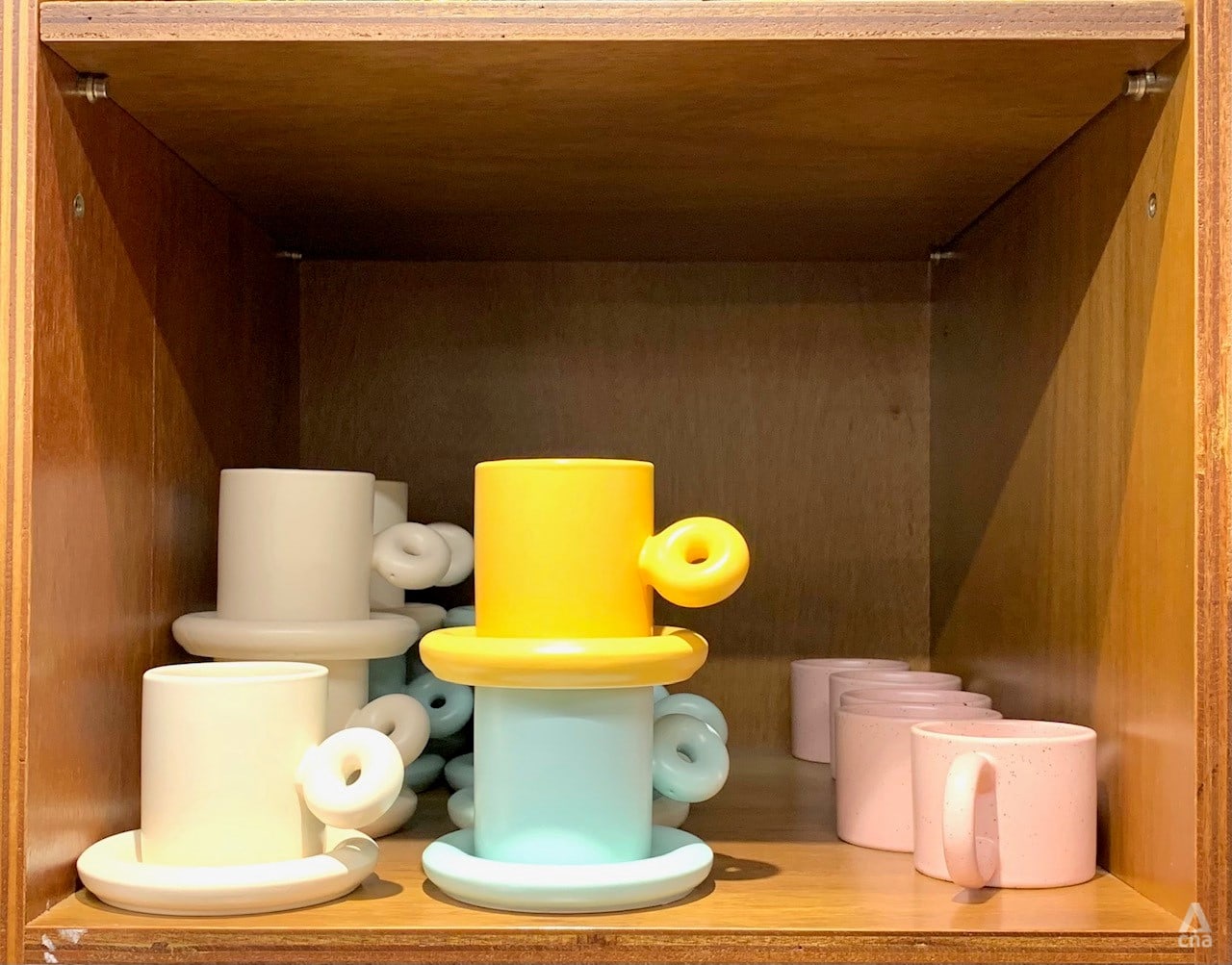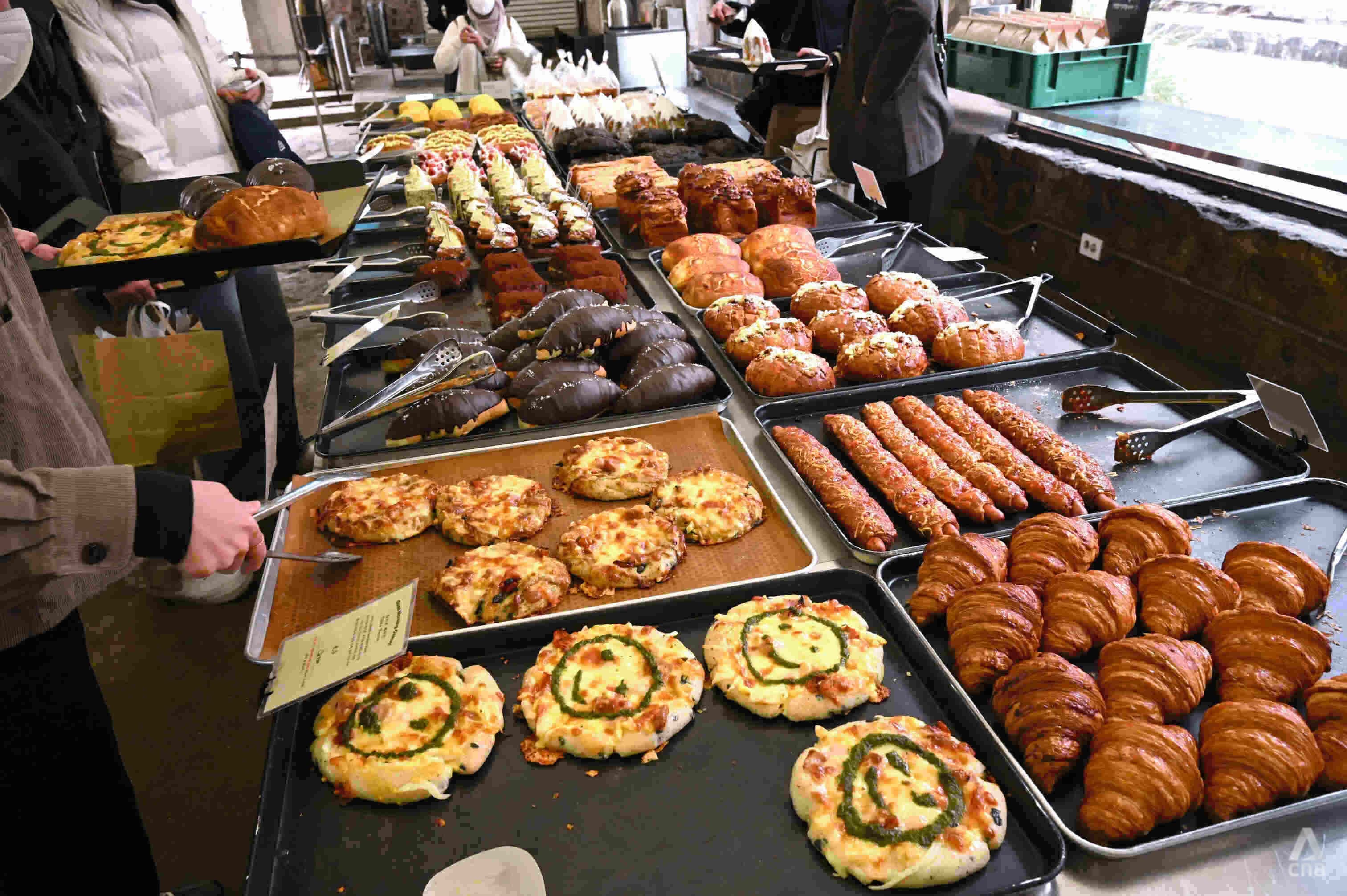 RICE AND EVERYTHING NICE
While retail therapy and cafe-hopping might be on a lot of people's itinerary, I was more excited to try out Korean food in Korea. There had to be more to the cuisine than fried chicken, BBQ and whatever's on offer in the restaurants along Tanjong Pagar Road.
This was rice country as I was proven, and there were many delicious ways of enjoying it. In Incheon, just outside Wolmi Theme Park, I chewed on skewered rice cakes grilled till they blistered and puffed up. The boss handed me a cup of tteokbokki as a free sample as I was paying him. More rice.
Over at our first dinner at Pinetree Seafood Kitchen, also in Incheon, I had sungnyung, a Korean after-meal digestive created by pouring water or tea over the scorched rice layer sticking to the bottom and sides of the rice pot.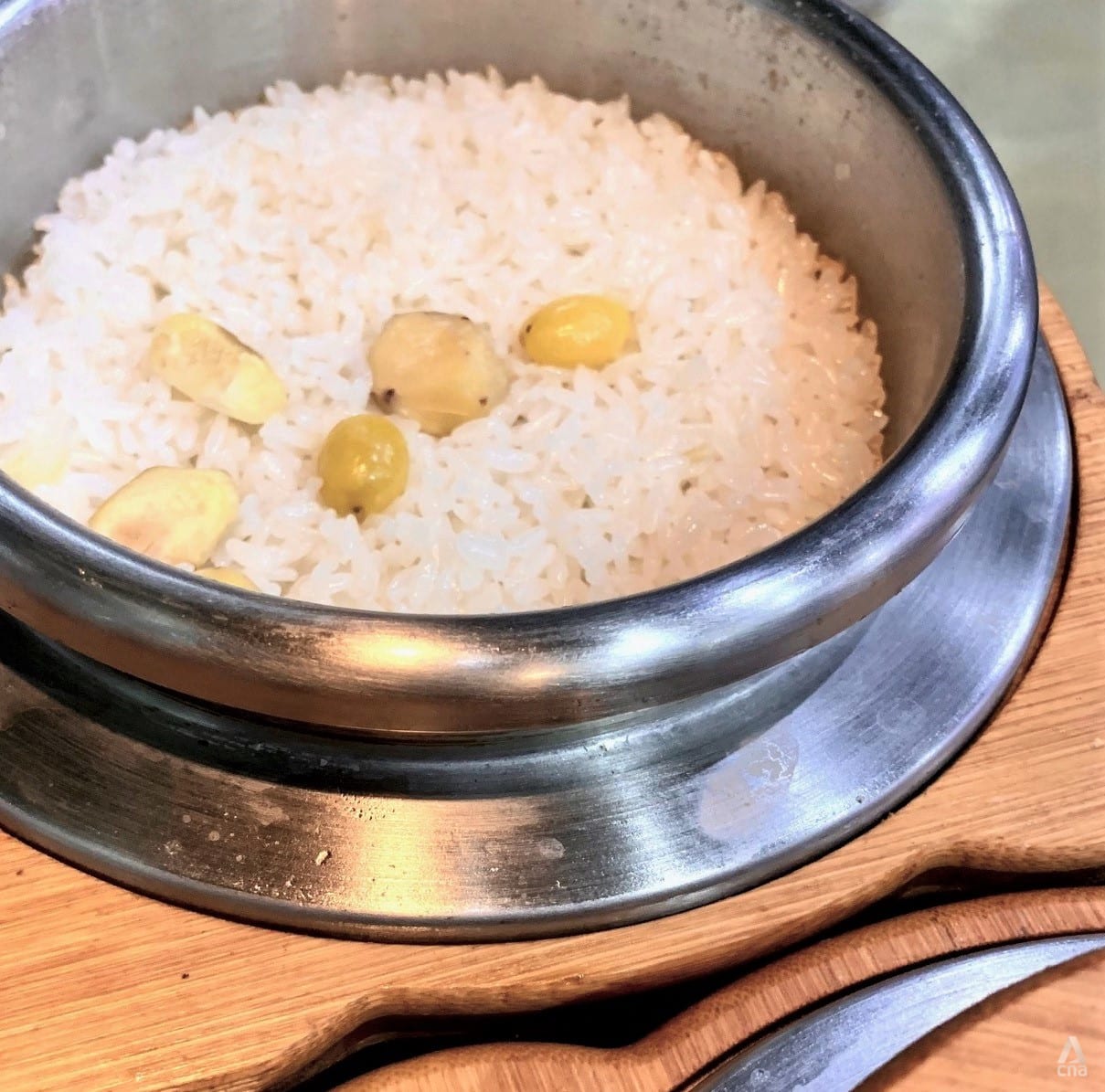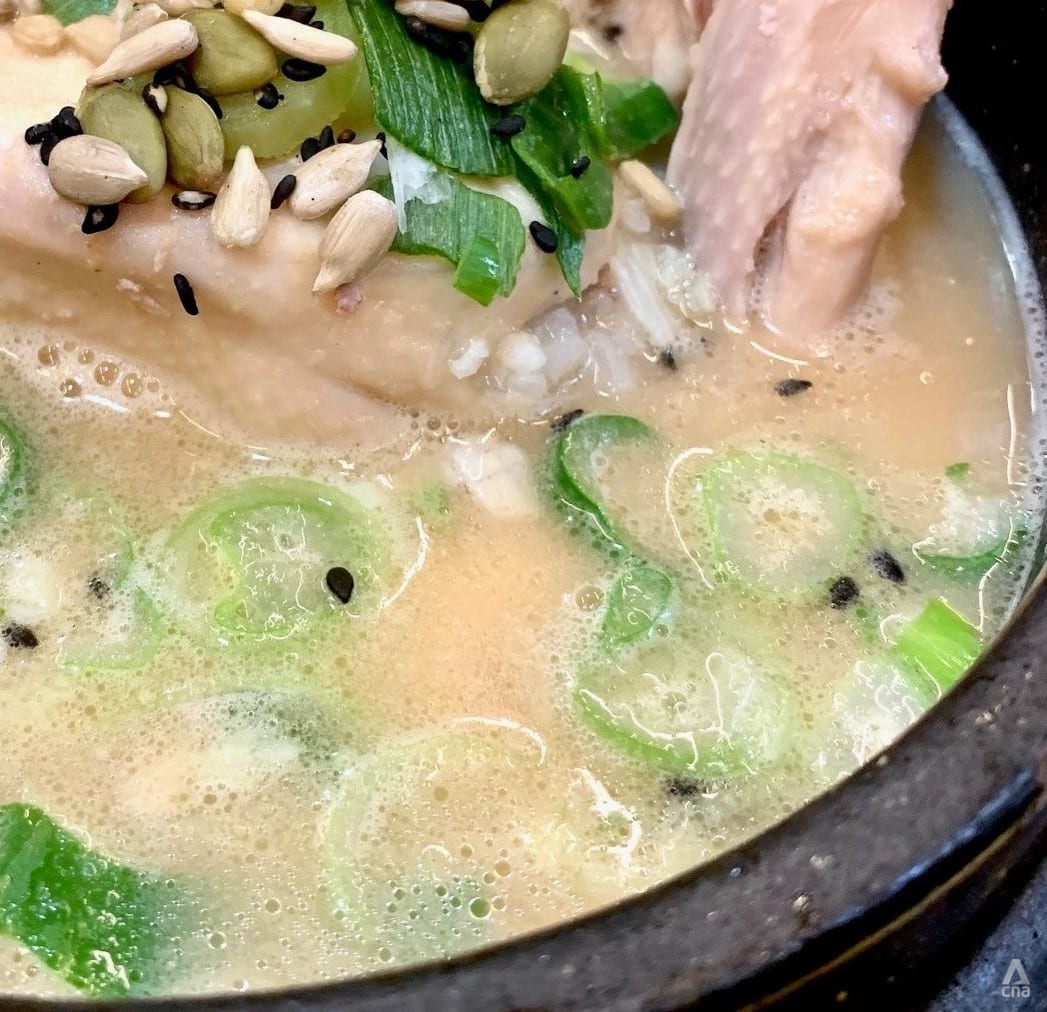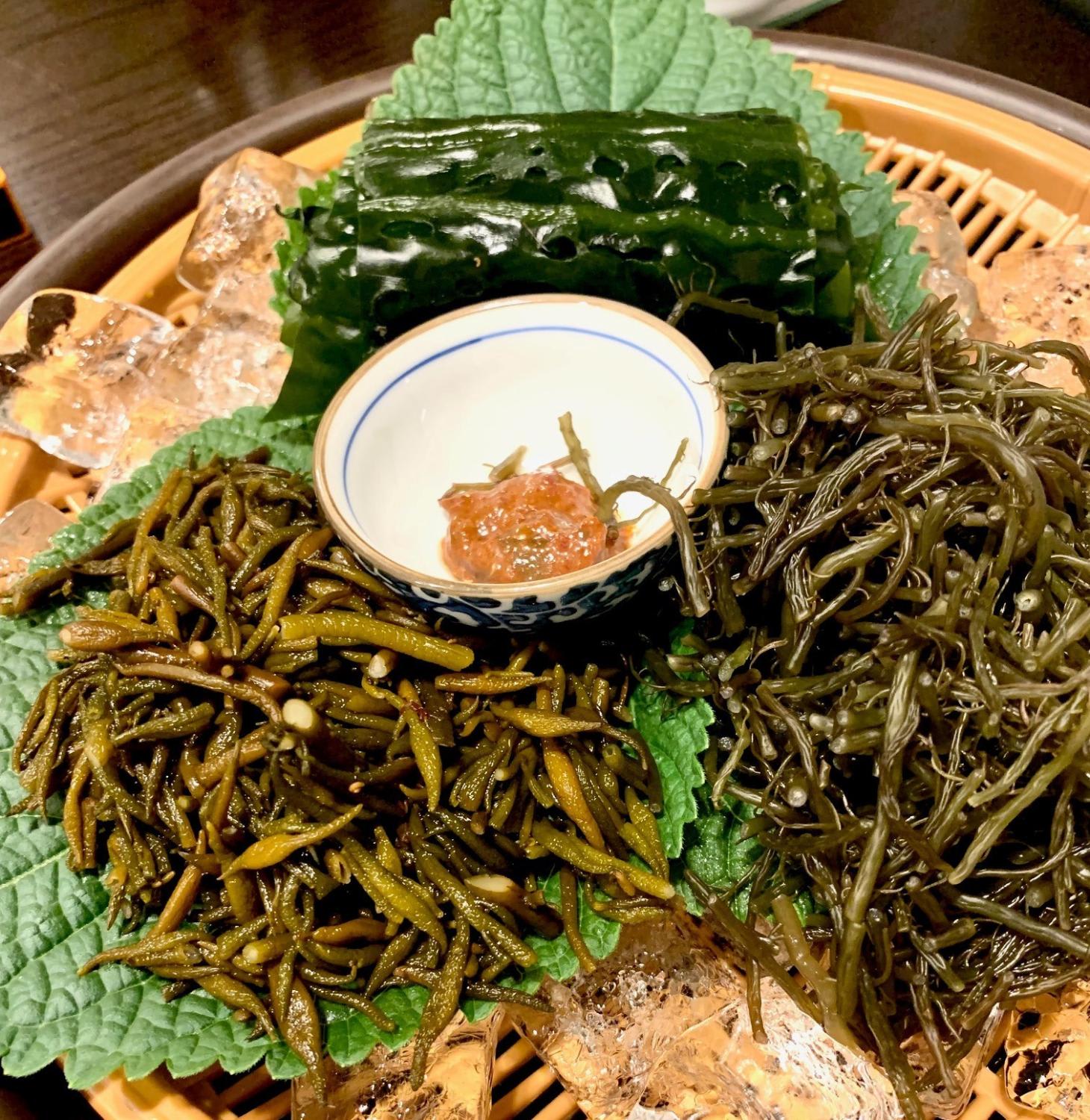 Even the ginseng chicken soup from Tosokchon Samgyetang in Seoul came with a whole bird stuffed with ginseng, gingko nuts, red dates, and of course, rice. You pour the accompanying ginseng wine over the chicken, prep a little dish of salt and pepper, and dab it on the tender meat. Sublime.
I don't know if it's a case of the grass is greener on the other side, or in this instance, the fried chicken is crispier on this side of the DMZ. But eating and drinking felt more convivial and freer.
It could be, in part, thanks to the more relaxed limit of up to 10 people per group in South Korea (this was before the announcement on the reduced group size). Or the missing ingredients, all along, were serendipitous connections and soju to gunbae with.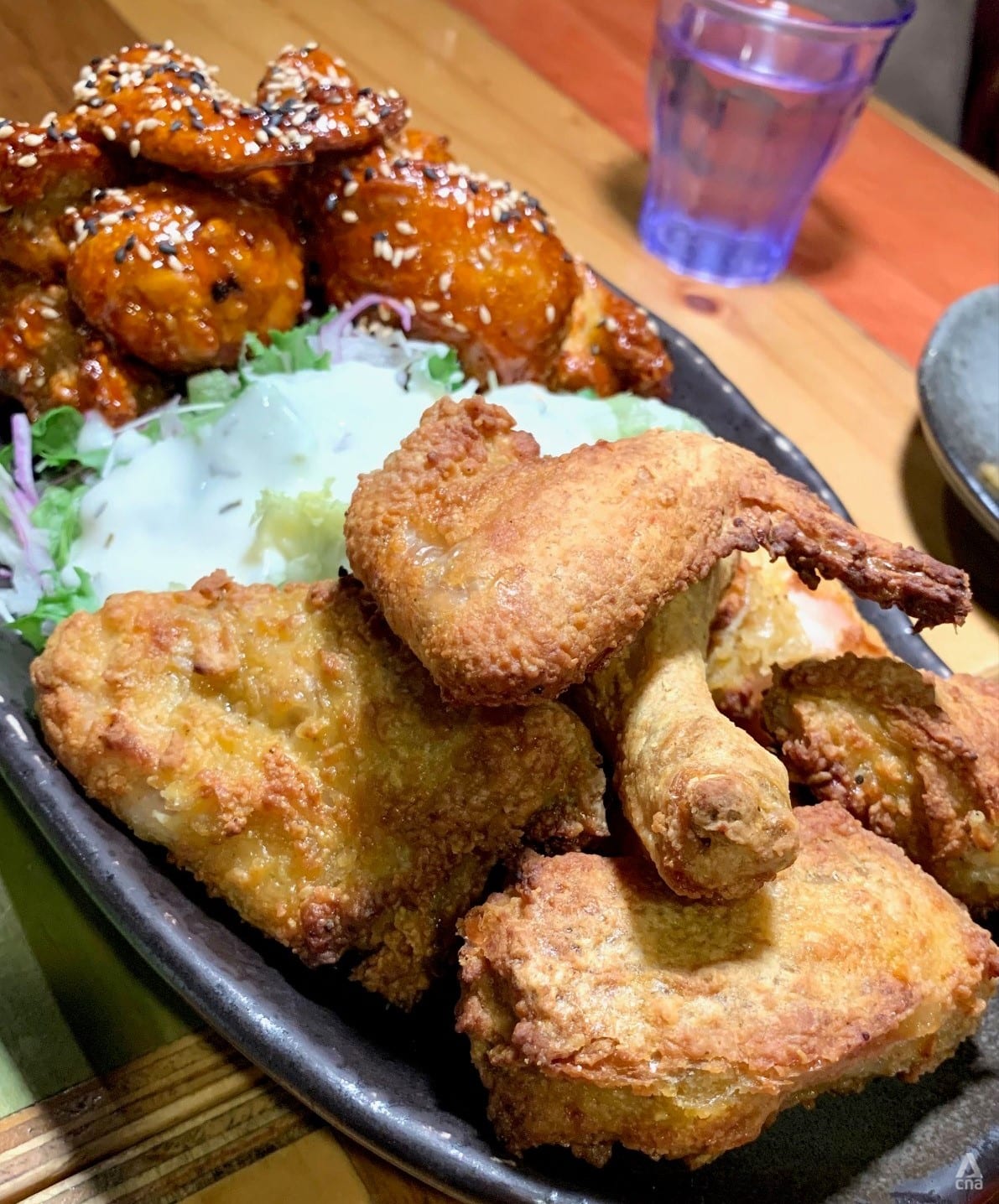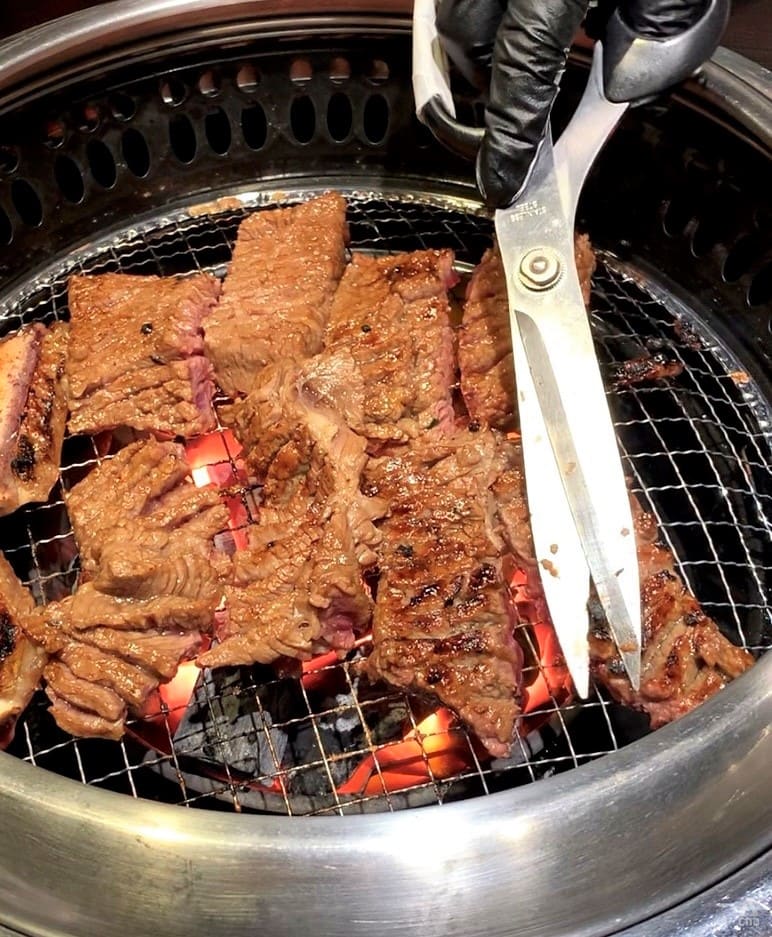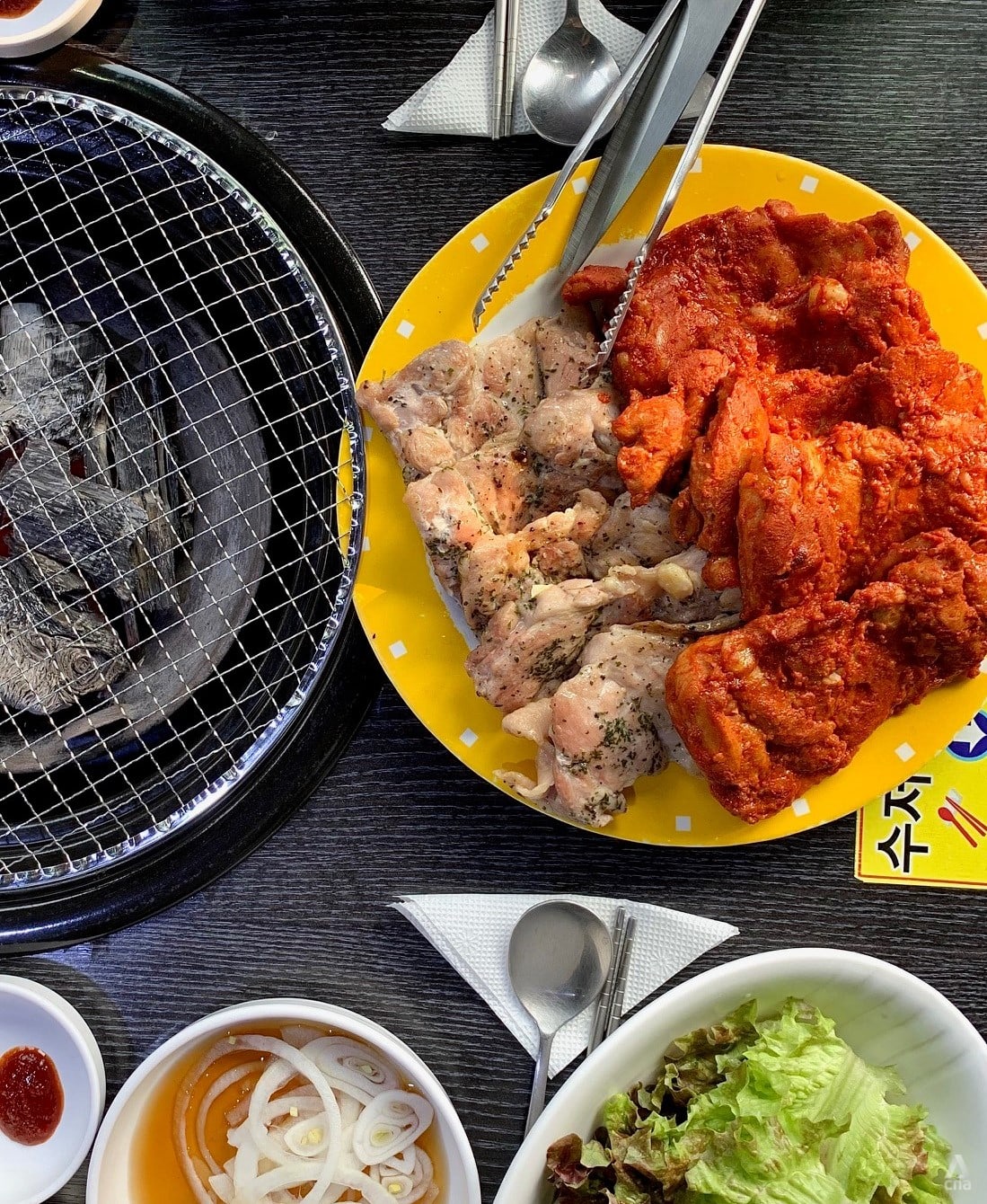 Who misses South Korea? Time to take down notes for when you'll eventually decide to travel – here's a quick look at some of the things that await you, from heritage experiences to checking out popular K-drama locations. (In partnership with Korea Tourism Organization)
ONE FINAL HOSPITAL TRIP
A visit to the hospital while abroad, in ordinary times, would spell trouble. But in this pandemic that we're still grappling with, such a trip is mandatory for a pre-flight PCR test.
In my case, it was off to Kangbuk Samsung Hospital to get my throat and nose swabbed. The locals accompanied us there and even so, we took a few missed turns before locating the test centre in the basement. You'll also have to make another trip to collect the physical copy of the test result.
The flight home was a bit of a deja vu, from the check-in process at Incheon International Airport (which also took a while) to landing at Changi Airport (another PCR test, of course).
But no matter. I was able to hop into a taxi and go home right after the swabbing. Then, with an email alert the next morning declaring me COVID-19 negative, my first South Korea experience was done and dusted.
Let's hope the next time I'm back, things will be better – a busier Myeong-dong and a chance to finally ace that dalgona candy challenge.
CNA Lifestyle was in South Korea at the invitation of Korea Tourism Organization.