Accidents, life-threatening illnesses, severe infections – this A&E nurse fights to save lives every day
Emergency department nurse Ho Soo Ling, who is one of the winners of this year's Nurses' Merit Award, reveals what her most staggering moments on the job have been and what those times have taught her about death and life.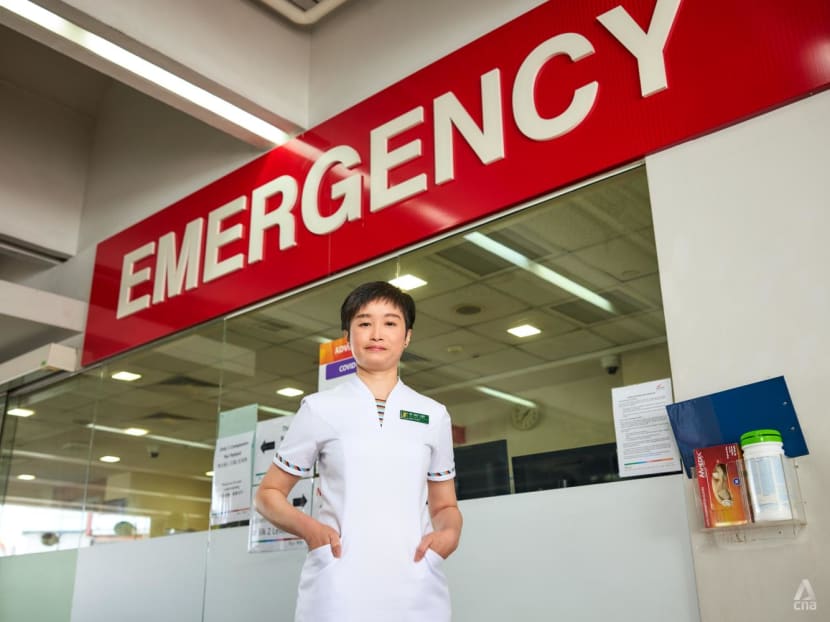 It was 10am or 11am on a regular morning in February this year. While the rest of Singapore was slowly getting into the swing of the workday, nurse clinician Ho Soo Ling started to receive a series of urgent calls from the Singapore Civil Defence Force (SCDF).
There had been a fire at an industrial building in Tuas and the Emergency Department at Singapore General Hospital (SGH) was to be on standby for casualties.
Within an hour, burn victims filled the Emergency Department. "Initially, we were expecting three, but eight casualties came through the department at the same time, and they were all very badly burnt. Some of them were in so much pain that they couldn't move; they couldn't even scream," the 46-year-old recalled.
It was a scene of such great horror and chaos that it would unnerve even the stoutest of hearts. But Ho and her colleagues did not allow themselves even a moment's pause.
They sprung into action, resuscitating patients who were hanging by a thread, inserting tubes down their throats and into their windpipes to assist with breathing where necessary, and administered painkillers to ease their immense suffering. Then, they immediately arranged for the patients to be sent straight to the operating theatre or intensive care unit.
A DAY AT THE EMERGENCY DEPARTMENT
As an Emergency Department nurse, Ho and her colleagues are usually the first to receive patients of fire, accidents, strokes or other life-threatening or infectious diseases, whether in the dead of night or in the early morning.
Some people think that as an Emergency Department nurse, I have no emotions when facing death, but that is not true.
While it's a job not many would have the stomach for, it felt like a natural fit for Ho right from the start – even as a child, she found that she was not afraid of blood. So after her O-Levels, she took a diploma in nursing, and began working at the SGH Emergency Department. She has remained at her post for 26 years.
"The Emergency Department is quite unique. You may begin work with a peaceful shift, but you won't know what will happen an hour later.
"Sometimes you can get a disaster, accident or a few emergencies back-to-back, with five-minute intervals. When there is an influx of cases, it can be very action-packed. That is what drew me to the department in the first place," she said.
"Unlike ward settings where you can only care for the number of patients you have beds for, here, at the Emergency Department, patients can come in, stop coming in, and suddenly come in large numbers. For example, if you have a lorry accident in the early morning on the expressway and the vehicle flips over, there might be 12 to 13 patients coming in at the same time," she said.
One common road accident that Ho often sees involves elderly women in the early mornings. "Many of them are on their way to work as housekeepers or cleaners … when they get hit by cars while crossing the road.
"Since the elderly are especially fragile, they may suffer from head injuries such as concussions or internal bleeding, or multiple fractures to the hip, shoulder and wrist, and the loss of a lot of blood. It is very sad," Ho reflected.
Sometimes, the SCDF or private ambulances bring patients in. For less severe cases, patients may also walk-in on their own. In some cases, they may even be evacuated by Republic of Singapore Air Force (RSAF) helicopters from Pulau Ubin or cruises.
Ho's job is to ensure that she and the 15 nurses she supervises are on standby and operationally ready to receive and manage all kinds of emergencies.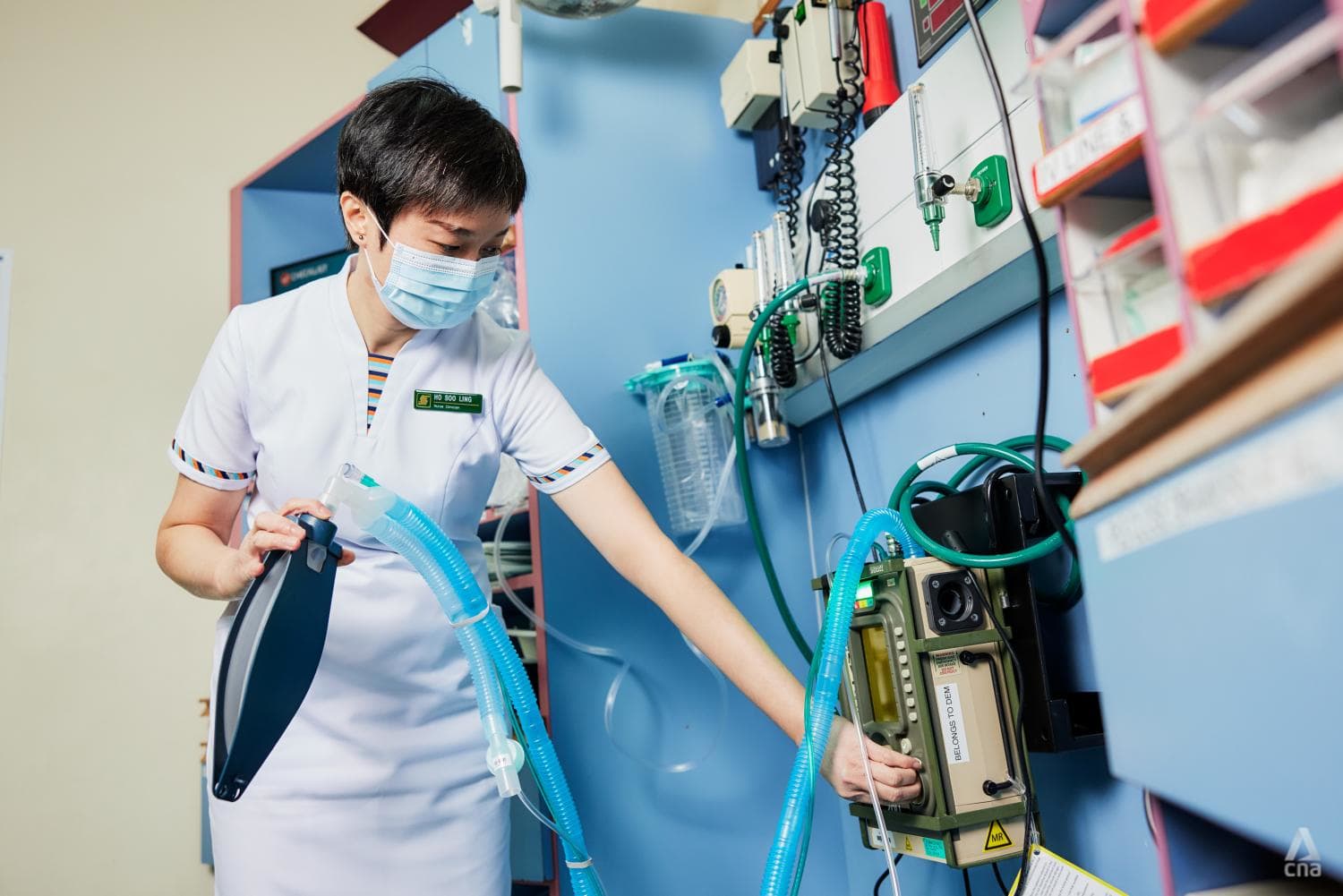 "It is not like TV shows such as Scrubs or Grey's Anatomy where you always have gunshot or stab wounds. We see a wide range of patients from emergencies to non-emergencies," she said.
"Thirteen per cent of our cases are resuscitation and critically ill cases such as heart attack, acute stroke and trauma cases from accidents; 67 per cent are major emergencies where the patient is unable to walk. The remainder includes minor cuts, fractures or illnesses such a chronic cough," she noted.
"In critical cases, we look at the ABC – airway, breathing and circulation. Is the airway open? Is the patient breathing? Is the heart pumping? Does the patient need CPR or tubes," she said. "We need to quickly assess the patient, find out their problem, medical history and drug allergy, and place the patient according to priority."
Priority one and two cases will get immediate care, while priority three or non-emergency cases will join the queue, Ho explained.
She administers painkillers, performs quick first aid to stop any bleeding, and orders any necessary tests such as X-rays to check for fractures, or ECG (electrocardiogram) to check for heart attacks, which is one of the most common causes of fatalities, she said.
HIGHS AND LOWS OF SAVING LIVES
Unlike nurses in other departments, Ho's interaction with patients as an Emergency Department nurse is fleeting.
"After unconscious patients leave the Emergency Department and are admitted into ICU in a critical state from conditions such as stroke or a life-threatening sepsis infection, I won't know how they are," she explained.
"So sometimes when patients I've nursed before in a very critical condition come in again, I am very happy to know that they have recovered from their major illness and are now coming in for a minor complaint such as diarrhoea or vomiting," she said. This gives Ho's job a sense of continuity.
Not all patients make great recoveries, however. Ho said sometimes patients may die in the Emergency Department, which is why the department has a medical social worker on standby to counsel loved ones through their loss.
Severely burnt patients, in particular, tend to have a poor prognosis. "Sometimes, they come in in a conscious and alert state, and may be talking to me, but because of smoke inhalation, their lungs may be badly affected and their airway may be obstructed and swelling. I often learn that they have passed on a few days later and that makes me feel very sad," she said.
It is not like TV shows such as Scrubs or Grey's Anatomy where you always have gunshot or stab wounds. We see a wide range of patients from emergencies to non-emergencies.
Ho shared that after working as an Emergency Department nurse for more than two decades, she still struggles with death. "Some people think that as an Emergency Department nurse, I have no emotions when facing death, but that is not true," she admitted.
One group of patients that particularly affects Ho are children. "Recently, a baby girl was brought in unresponsive while I was on night shift. I worked with five nurses for an hour to try to resuscitate her," she recalled.
"We pumped medication through a tube and through her veins to try to stimulate her heart back to life, intubated her, and performed manual CPR, but we could not bring her back to life.
"The medical and nursing team were quite badly affected, and many of us, including me, cried discreetly after that. It was heart-breaking to know that this baby was taken away before she even had the chance to see the world," she added.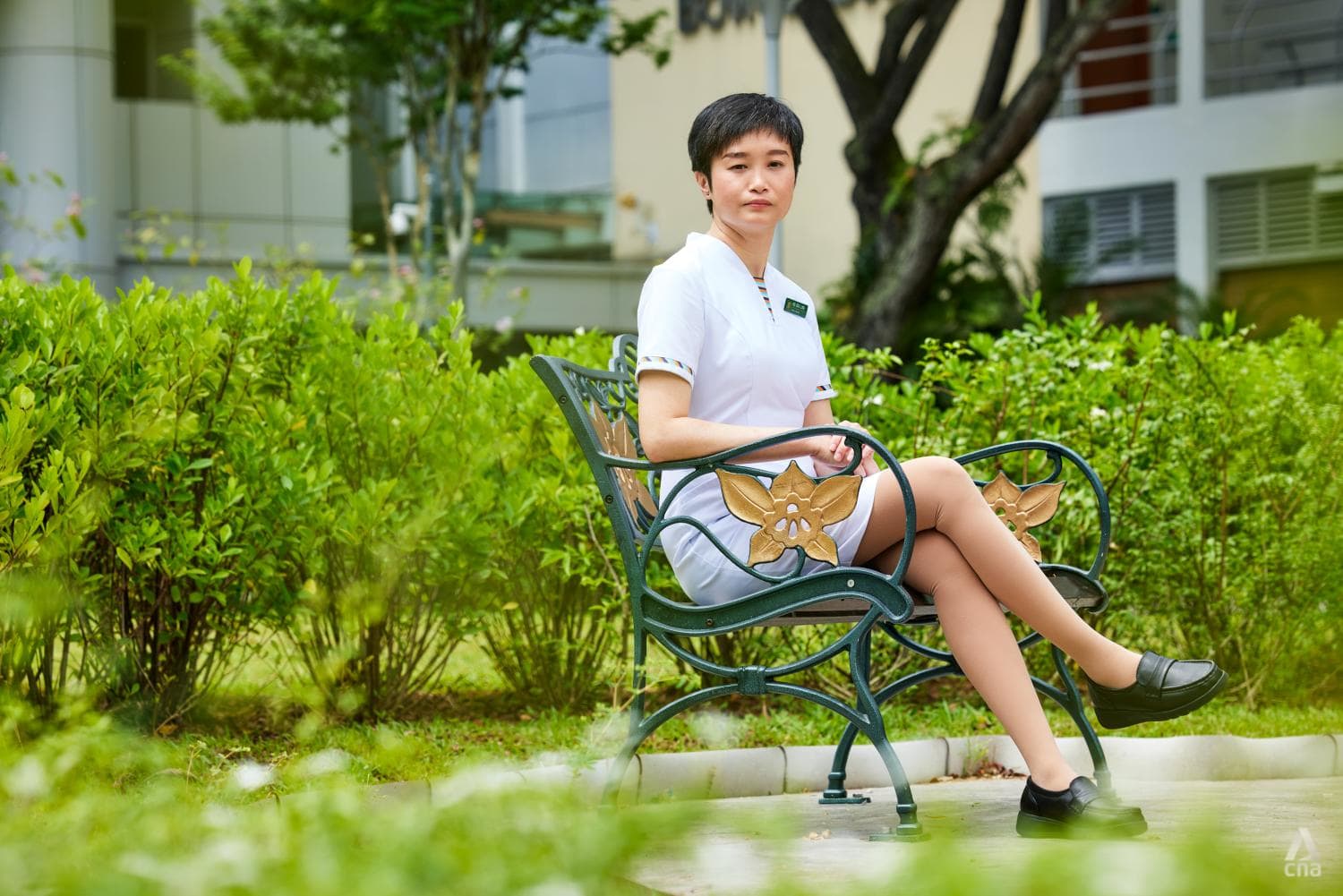 Facing death on such a regular basis has also prompted Ho to contemplate her own life. "When I first joined nursing, a patient around the age of 50 came in with stroke. When his wife visited him, she was devastated because she had just seen him in the morning, prepared breakfast for him and seen him off, but with a sudden unexpected turn of events, he was now half paralysed," she said.
"It was a touching scene. But it also made me realise that life can be very random. You can be very healthy and just collapse while walking in the park. Accidents and illness often cannot be predicted," she added.
It is also one of the reasons why after 26 years in a high-stress Emergency Department role, Ho continues to find deep meaning and fulfilment in her work.
"Being an Emergency Department nurse has taught me to cherish life more. I want to live life to the fullest, help whoever I can and make sure my life is meaningful because we cannot choose when we will leave this world," she reflected.
CNA Women is a section on CNA Lifestyle that seeks to inform, empower and inspire the modern woman. If you have women-related news, issues and ideas to share with us, email CNAWomen [at] mediacorp.com.sg.