Jobless, broke and diagnosed with Stage 3 breast cancer at 36, this woman turned her life around
Fired from her job with no money to pay for treatment, this breast cancer survivor beat the odds, made a full recovery and rebuilt her life and health. She shares her heartbreaking experiences with CNA Women and tells us why breast cancer was a wake-up call for her to start anew.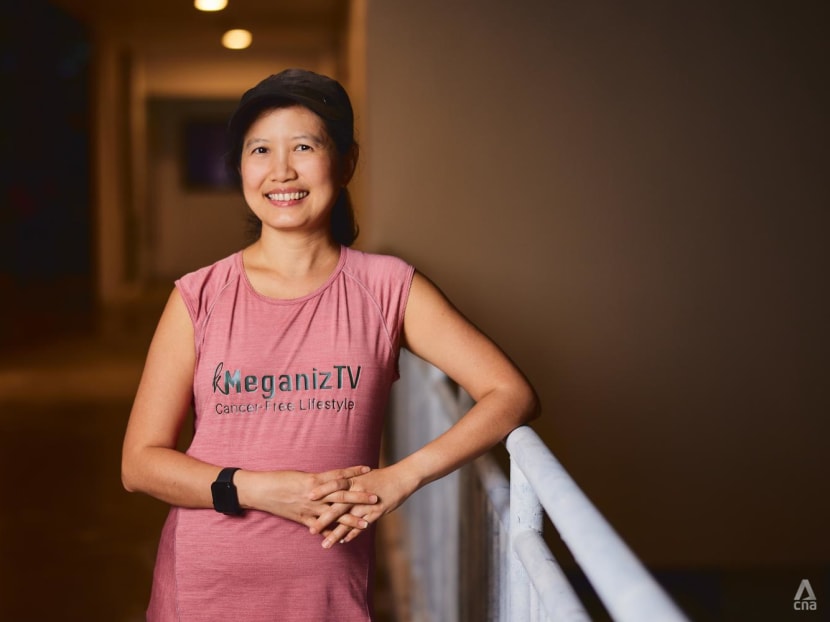 What strikes one most upon meeting Katherin Meganis Phang is her down-to-earth manner and natural warmth. Coming from a large close-knit family from Jakarta, Indonesia, the 41-year-old Singapore permanent resident has simple dreams. She wishes to find someone she loves and build a family with him.
All this seemed to come to an abrupt end when she was diagnosed with Stage 1 breast cancer five years ago at the age of 36. Her treatment plan included chemotherapy, which would likely affect her fertility, as well as a mastectomy to remove her breast.
Afraid she would not be able to afford the medical bills and that these treatments would dash her hopes of building a family, she initially rejected medical treatment to seek natural healing. By the time she finally came around four months later, her cancer had progressed from Stage 1 to Stage 3.
Forced to confront her greatest fear, Phang underwent chemotherapy, lumpectomy (breast-conserving surgery) and radiotherapy.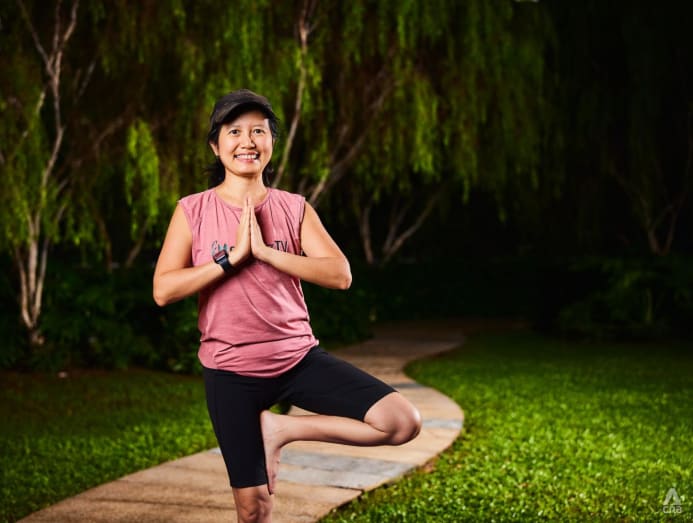 From denial, to helplessness, anger, hope, and finally gratitude, Phang shared the vast spectrum of emotions that she experienced in her recovery journey in hopes that it will inspire others no matter their personal struggles.
HOW HER WORLD CAME CRASHING DOWN
It was a Monday morning no different from any before it. As Phang was showering, she discovered two small lumps no bigger than five-cent coins on her left breast.
Even though she immediately feared it might be cancer, she made her way to work, worrying all the way there. "I was so overcome by stress that I fell off the escalator at the MRT station and hurt my leg," she recalled.
She made it to the office with her bleeding leg but the bleeding didn't stop. Upon suggestion from a colleague, Phang went to Raffles Hospital to treat her wound. However, she did not mention the lumps or her cancer fears to the medical staff.
Almost a week later, she confided in a friend who is a nurse. Her friend examined her breast privately and suggested that it may be due to hormonal imbalance because Phang was having her period. Nonetheless, she advised her to consult a doctor if the lump did not resolve after her period.
The lump remained. Phang however hesitated in seeing a doctor. She was worried about money.
"I didn't have any critical illness insurance and knew I couldn't afford the medical bill. So I initially thought about buying a plan, and waiting six months before seeing a doctor. But when I shared my plan with my close friends, they urged me not to wait. They told me that my life is more important than the insurance," she recalled.
At first, I was in denial. I didn't feel sad or afraid. I behaved as though nothing had happened. I couldn't believe this was happening to me. I just felt disconnected and numb.
So after delaying for two months, Phang finally visited a polyclinic. She was referred to KK Women's and Children's Hospital (KKH) where she went for an ultrasound, mammogram and biopsy. In April 2017, she was diagnosed with Stage 1 breast cancer.
CONFRONTED WITH DIFFICULT DECISIONS
"At first, I was in denial," Phang said. "I didn't feel sad or afraid. I behaved as though nothing had happened. I couldn't believe this was happening to me. I just felt disconnected and numb."
This disbelief eventually gave way to anger, sadness and a sense of helplessness, especially when Phang was told she had to undergo chemotherapy and a mastectomy. "I was absolutely shattered by the news. I suddenly felt like I didn't have a future," she said.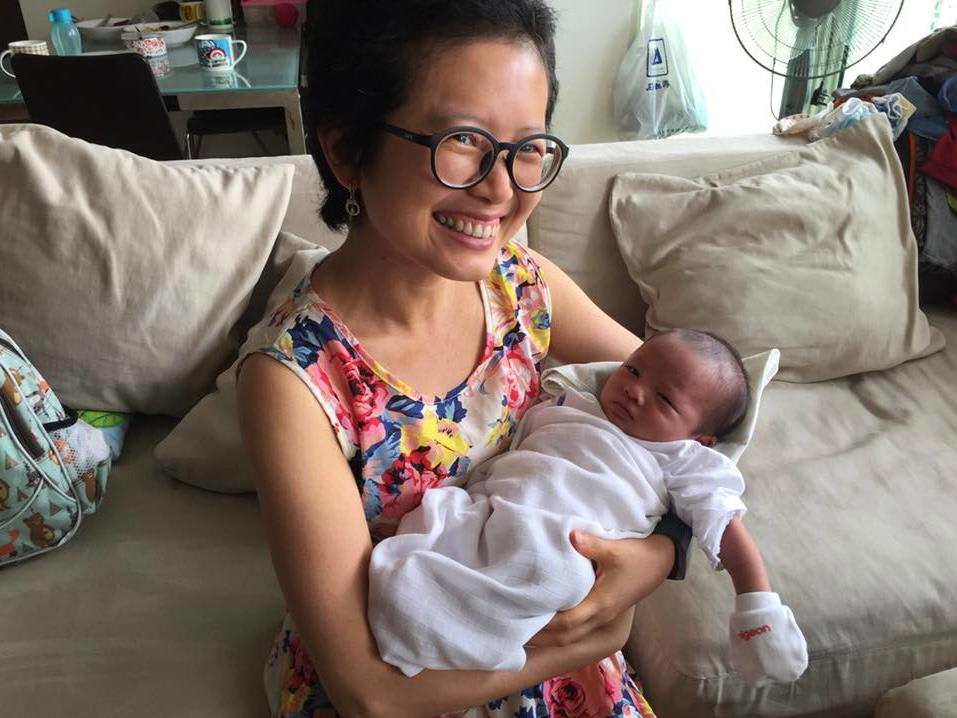 A friend arranged for her to meet three cancer survivors, who shared their cancer journey with her. One recalled how she got fired from her job because of her illness and advised Phang to prepare for it.
Phang, who had been working as a graphic designer at her company for two and a half years, confessed that she did not think it would happen to her. She was proven wrong.
"At first, when my boss first knew of my cancer diagnosis, he told me not to worry because the company insurance could help pay for the treatment. But one day, he suddenly called a meeting with five of my colleagues, deliberately excluding me," she said.
"At the end of the day, he told me that they had taken a vote, and three of the five colleagues voted to let me go. I was asked to leave with immediate notice and compensated three months' salary," she added.
"I was shocked because it was so cruel. I was also worried about whether I could now afford my medical bills."  
Financial concerns were not the only thing holding Phang back from treatment. As a young woman, she was worried that treatment would dash her hopes of starting a family.
"I was single and hoped to get married and have children. I didn't want to lose my breast," she said. "I also wanted to preserve my fertility. Even though my gynaecologist said I could preserve my eggs, I felt (cryopreservation) was costly and unnatural," she said.
SEARCHING FOR ALTERNATIVE THERAPY
Afraid and depressed, Phang rejected the medical plan entirely. Flying back to Jakarta in June that year, she decided to try Traditional Chinese Medicine (TCM), which she hoped would treat the cancer while preserving her fertility.
"I consulted a sinseh (a TCM physician) from Kalimantan, and drank a herbal tea daily. I also bought a bra containing stones that allegedly contain negative ions to absorb the cancer toxins, as well as a lot of oral supplements made from mushrooms. I felt the urgency to get healed naturally so I wanted to try everything," she said.
Within three months, she spent S$7,200 on herbal treatment, and S$9,000 on the other products and blew through the money from her severance pay. Her father also helped with the costs and her inner circle of friends fundraised for her. However, none of the treatments worked.
Within three months, she spent S$7,200 on herbal treatment, and S$9,000 on the other products and blew through the money from her severance pay... However, none of the treatments worked.
The turning point came when Phang, who had joined a breast cancer support group, noticed that patients who rejected medical treatment started dying one after another. That was the wake-up call she needed.
In October 2017, she returned to Singapore for a long overdue check-up with an oncologist from a private hospital that her cousin recommended. The oncologist told her that her tumour had almost doubled in size, and the cancer had advanced from Stage 1 to Stage 3; it had spread to the surrounding skin.
BEATING THE ODDS
Looking back, Phang feels that choosing a good and sympathetic doctor made a huge difference in her recovery journey. "She reassured me that even though I had Stage 3 cancer, it was still isolated to my breast and the skin around my breast, and could be treated. She also understood my reluctance to go for a mastectomy and suggested a lumpectomy (breast-conserving surgery)."  
Phang began chemotherapy the very next day. "Each session lasted for five hours. I sat on a sofa while the medicine was administered into my veins. I felt very cold and tired during chemotherapy and would sleep through most of the treatment," she recalled.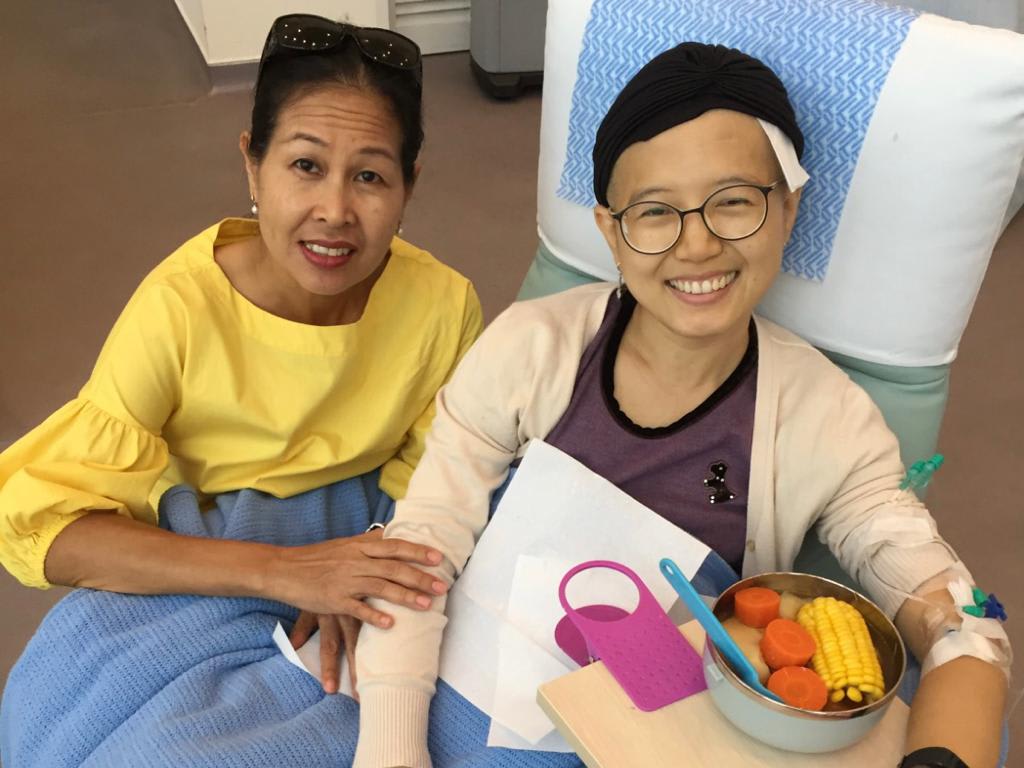 "Because of the drip in my hand, I struggled to eat on my own during chemotherapy, so my friend fed me lunch. After treatments, I felt so weak that I couldn't even stand properly and had to hold someone's hand to walk," she said.
However, Phang bore the side effects with fortitude, and even exercised on days she was not scheduled for chemotherapy, often clocking 30 minutes on the trampoline every alternate day. On Saturdays, she enjoyed sunrise jogs. She switched to a plant-based diet, choosing raw vegetables for their nutritional value.
Encouraged by her brother, she also found part-time work while undergoing treatment, distributing free step trackers from the Health Promotion Board (HPB) and teaching people how to use it. She was promoted from crew member to team leader.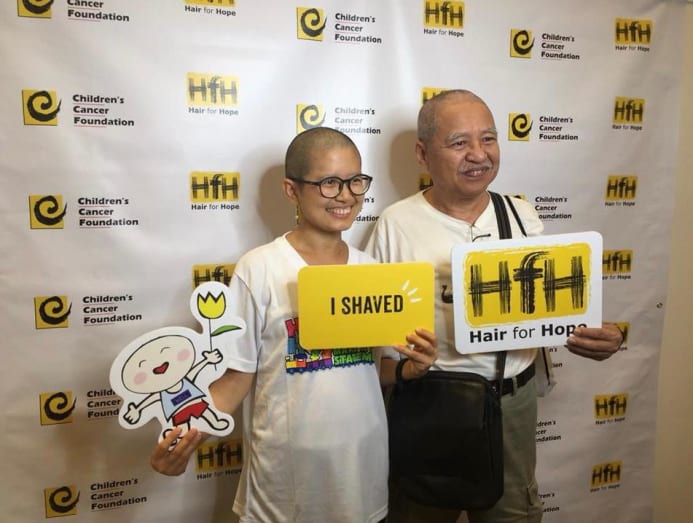 Nonetheless, she struggled with the financial burden of cancer treatment. Even though she moved from the private hospital to a public hospital, Phang could not afford the hefty bill.
To ease her burden, her church friends secretly fundraised for her – at first within their inner circle, and subsequently via a larger scale K-pop dance event in August 2017. They invited K-pop dance performer Alvin Tan to lead a dance on a Saturday evening and sold tickets for the event, raising S$10,000. Many bought tickets to give away. Some people donated money without buying tickets.
"To this day, I am so moved by what they have done for me that my tears would fall just thinking of it," she admitted.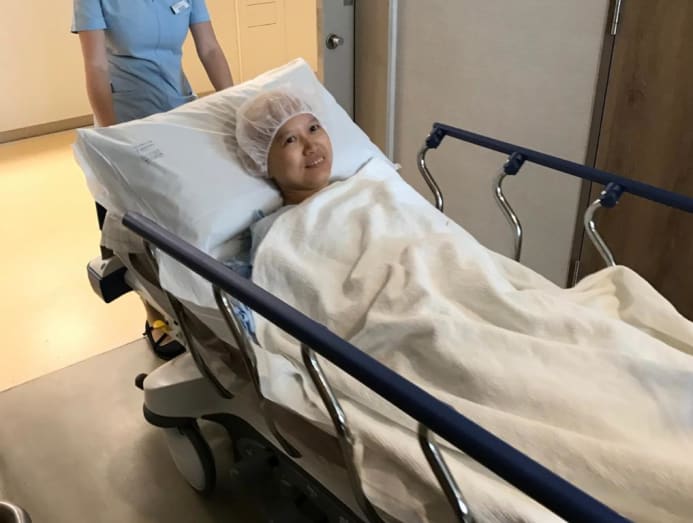 Supported by loved ones and managing to claim some of her medical expenses from her hospitalisation insurance plan, Phang completed a year of chemotherapy, a lumpectomy and one month of radiotherapy.
LIFE BEGINS AFTER CANCER
Today, Phang is cancer-free, and has found a new job as an operational executive in an education company with a supportive boss. She also continues to enjoy a healthy diet and fitness regime. In fact, even while undergoing chemotherapy in December 2017, Phang completed a 10km Standard Chartered Singapore Marathon Run.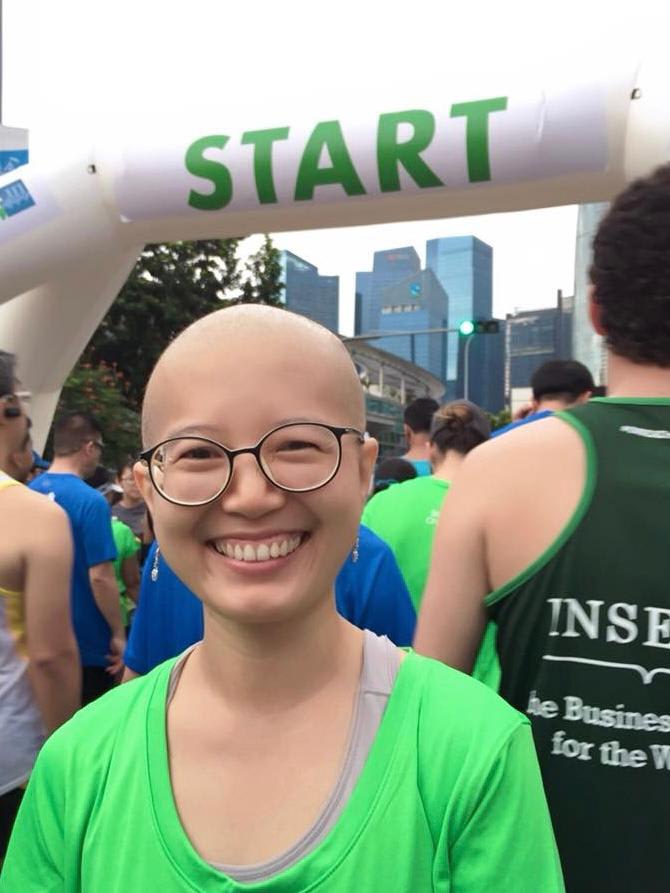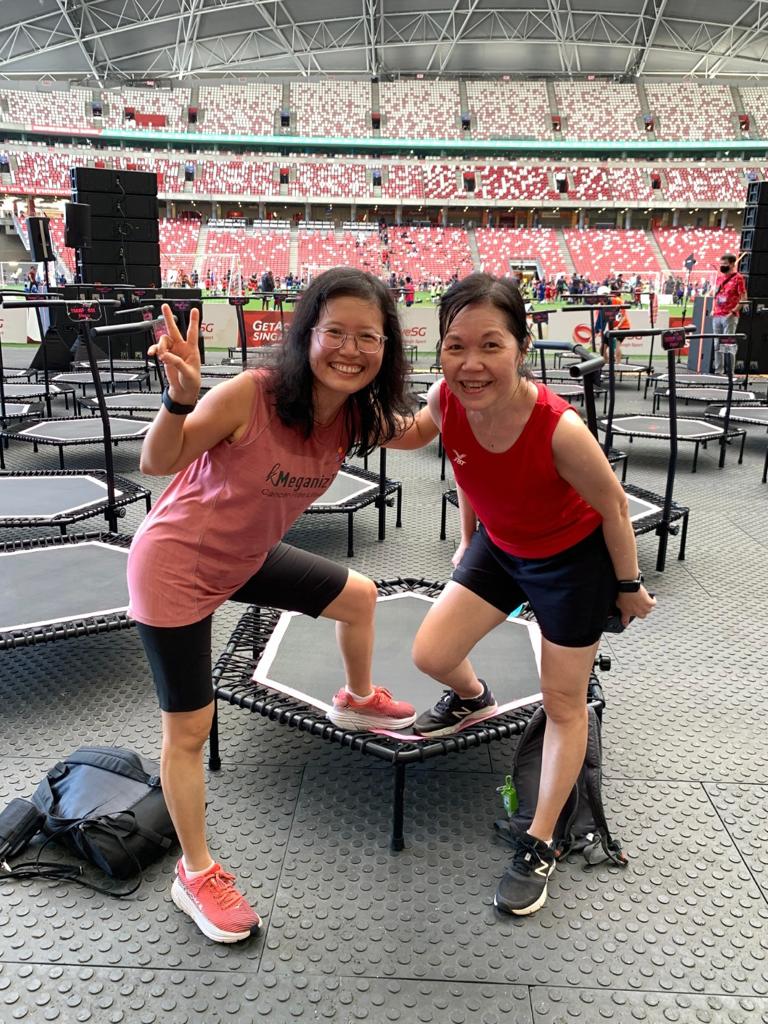 "Cancer has changed my perspective of life. I have learned to love myself more, and no longer eat food that will destroy my body. I also prioritise mental health and adequate rest," she said.
"This has been a wake-up call for me to start a new life. I want to fight to be as healthy as possible and live to the fullest because God created me in this world for a reason and I want to fulfil it," she said.
Another big takeaway from her cancer experience is that it made Phang realise how loved she is. "A lot of friends supported me through this journey. When I struggled through chemotherapy, I would sometimes run away crying and ignore my friends," she said. They would simply walk quietly beside her.   
And if her friends couldn't accompany her for treatment because of work, they would nominate someone else from their church to go with her. "This cancer journey showed me who my true friends are, and also helped me make quite a lot of new friends," she said.
Looking towards the future, Phang still dreams of building a family. "I do worry about whether I can find someone who loves and accepts me, and my breast cancer journey. But I still hope to find someone who does, start a family and have children," she said.
CNA Women is a section on CNA Lifestyle that seeks to inform, empower and inspire the modern woman. If you have women-related news, issues and ideas to share with us, email CNAWomen [at] mediacorp.com.sg.