She offers free classes to help low-income kids learn how to read: 'They deserve the same opportunities'
After taking a phonics course by mistake, Lydia Lok decided to start an enrichment centre where every three students would fund free phonic classes for one underprivileged child. She tells CNA Women how she emptied her bank account and almost couldn't afford to pay her HDB mortgage to build her social enterprise and charity.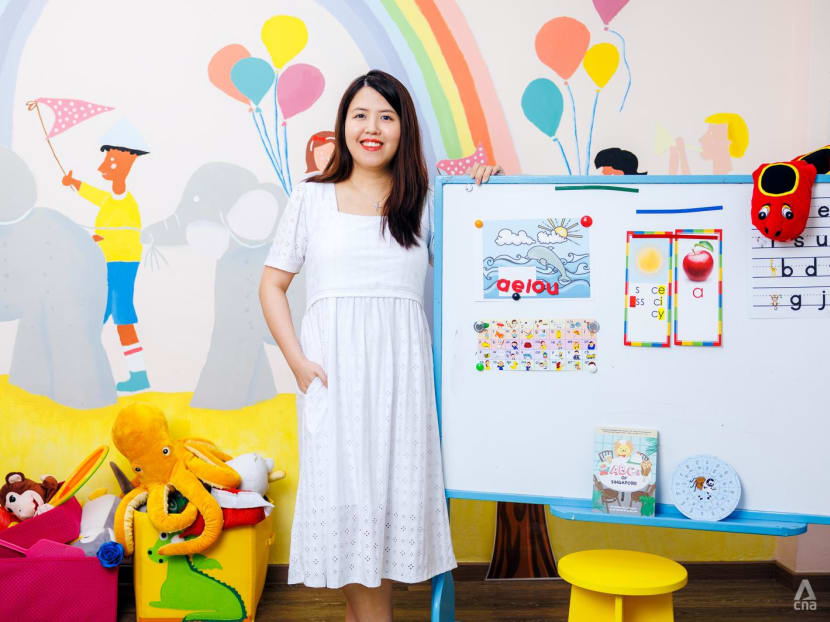 Lydia Lok runs an enrichment centre offering phonics, English and mathematics. Known as Curious Thoughts Academy, it currently has more than 700 students, from toddlers to secondary school students.
This is not surprising given the highly competitive education system in Singapore.
But that's just half of the story.
Lok then takes the money she earns from these more affluent families to fund free phonic lessons to teach kids from low-income families how to read. Every three paying kids funds one underprivileged kid whose parents are struggling to make ends meet and simply cannot afford enrichment. 
Some come from non-English speaking families where parents may be first-generation Vietnamese or Thai. Some are also diagnosed or suspected to have special needs such as dyslexia, attention deficit hyperactivity disorder (ADHD) or mild autism.
Most of these children were referred to the Academy by social workers or child psychologists. Low-income parents who want to enrol their children for free may also get a referral from a social service agency.
Lok's mission: To help level the playing field for vulnerable children.
"In Singapore, many parents who can afford it are sending their children for enrichment classes to learn to read before primary school. So by the time kids enter primary one, by our estimates, 80 per cent would already know how to read simple sentences," said the 38-year-old.
The remaining 20 per cent who cannot read come largely from underprivileged families, Lok observed.
"I want to minimise the gap between these two groups so that vulnerable children don't enter primary school with a disadvantage," she said.
THE WIDENING GAP FOR THE UNDERPRIVILEGED
Should five to six-year-old kids be expected to be able to read? Lok said that a dyslexia intervention programme she attended in Portland, United States, noted that it was developmentally appropriate for seven to eight-year-olds to start reading.
"But in Singapore, this is not the case because it is so competitive," she stressed. "Since 80 per cent of kids enter primary school knowing how to read, it is very hard for the 20 per cent who are lagging behind to catch up."
"It is like a domino effect," she added. "If you start learning to read at a later age, you start spelling, and writing sentences and paragraphs at a later age too. That is why, in primary school, we often see the gap widening between underprivileged kids and their peers."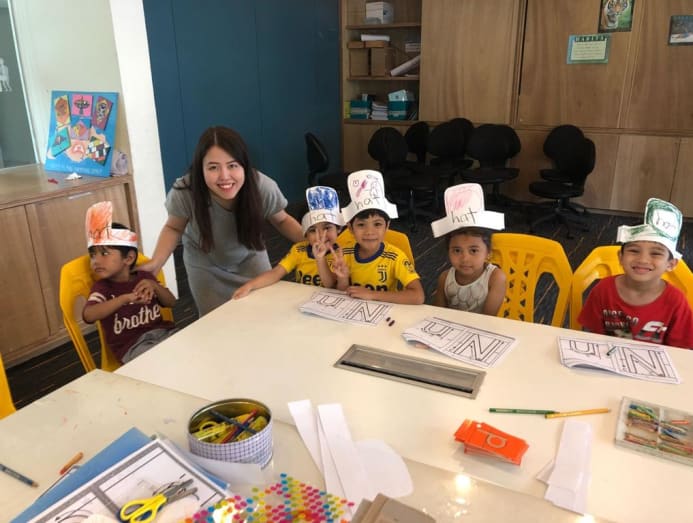 Some of these children only get flagged in primary three or four when they still cannot read or write. Lok and the Curious Thoughts Giving team, try to help them catch up.
Some children manage to catch up and enjoy exponential development in the nick of time, said Lok. Others are so far behind that they struggle to make up for lost time.
"We have a child who couldn't read at primary four when she joined us. We managed to teach her to read sentences, but she's now in primary five where children are tested on inferential questions in page-long comprehension passages.
"Because of the lag effect, she's still struggling. And we don't have another four years to catch up before PSLE," lamented Lok. 
A SERENDIPITOUS ACCIDENT
Though Lok had been a volunteer since her student days and always knew she wanted to help the underprivileged, she never imagined she would be teaching.
Before starting Curious Thoughts Giving, Lok was a policy officer at the Ministry of Social and Family Development (MSF) working on child protection, probation, and delinquency and homeless issues.
"By the time the cases go to the ministry, they are already very troubled and it's very hard to remedy the situation. So I started reflecting on what I could do that is more upstream and preventive, instead of reacting to things that have already happened and that I have no control to change," she said.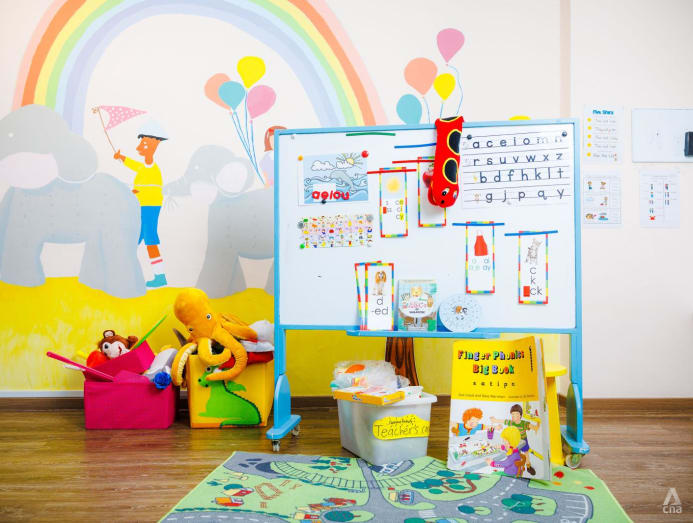 Everything clicked when she unknowingly registered for a phonics course in 2014.
"I was not a teacher or parent then. I just didn't know it was a course to teach children how to read. I thought it was a phonetic course on pronunciation. And since I was working with a lot of lawyers on legislation, I wanted to buck up on my pronunciation," she laughed.
"On the first day of the course, I realised to my horror that it was not a course on pronunciation!"
During the course, Lok learnt to teach kids how to match letters or groups of letters to sounds when learning to read and spell. She did not expect to apply her learning. However, a few months later, a friend unexpectedly shared a troubling encounter with her.
As a single mum, her friend had been saving up for her four-year-old child to learn to read at a phonics centre. She did not expect him to be rejected by the centre because he was deemed to be too far behind.
"I was outraged," Lok said.
She offered to teach him phonics for free every weekend. And within three months, he started reading.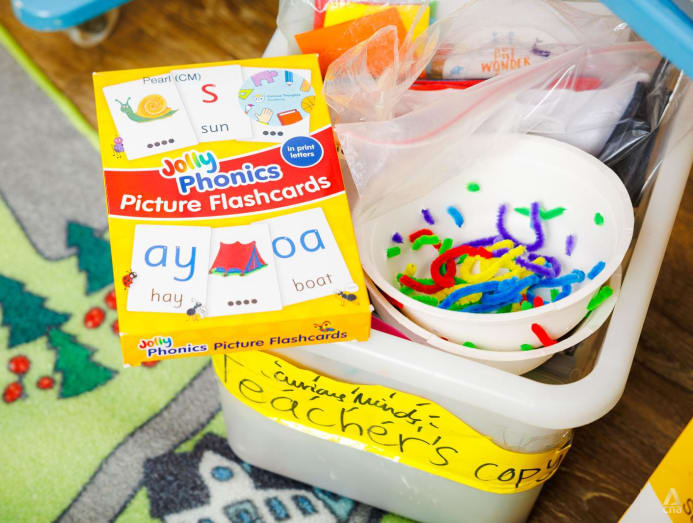 A few months later, Lok's twin sister connected her with a Japanese woman who asked if she could teach eight Japanese students aged between four and 10 to read for free. She did and again, they started reading within three months.
"That was when I realised how useful phonics can be in teaching kids to read. So I decided to start a social enterprise to level the playing field for kids from less privileged backgrounds," she said.
RISKING EVERYTHING FOR A DREAM
In August 2016, Lok and her husband Yao Shuo Han, 40, a former secondary school teacher, founded Curious Thoughts Academy with the idea that paying students would support low-income beneficiaries. She started with a small grant from the Singapore Centre for Social Enterprise and S$20,000 of her own savings.
Enrolment was slow. For the next six months, the Academy only had five paying students. Lok offered business consultancy on the side to pay for rental and utilities. Nonetheless, by October, their personal bank accounts had been drained.
"My husband and I couldn't even pay our HDB mortgage and got a pink slip from the HDB department. We reached a point where we thought we would have to close down the business," she said.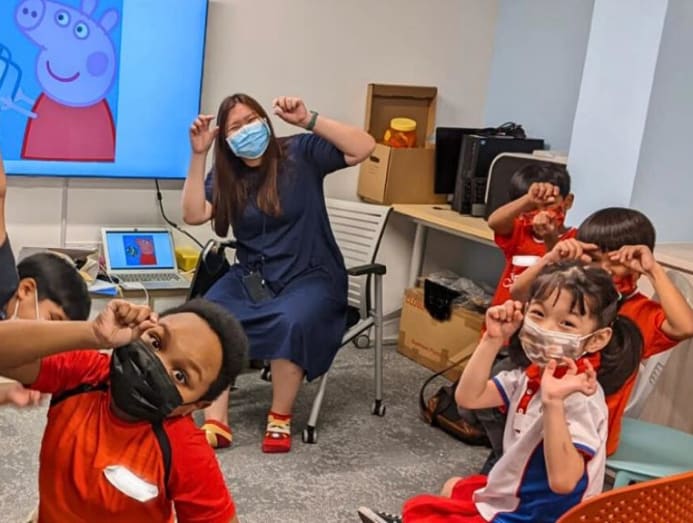 Under incredible financial stress, Lok did something completely unexpected. She decided to use her centre to help as many low-income children as possible before shutting it down.
"I wrote to many social workers and shelters telling them to send their kids to us for free. They sent us 10 beneficiaries," she said.
Little did she expect that this act of kindness in her darkest moments would become a turning point for the enrichment centre.
As the public saw more students at the centre, they started to register their own children, not knowing they were beneficiaries.
Enrolment grew by five paying students each month, and soon, they broke even and hired their first full-time teacher. 
BRIDGING THE GAP
Today, Lok has 16 full-time staff at Curious Thoughts Academy. She also set up Curious Thoughts Giving, the charity arm of the enrichment centre in 2017, run by one full-timer, and supported by eight staff from the Academy, including Lok.
"We came up with the name Curious Thoughts Academy and Curious Thoughts Giving because we wanted a programme where children would have curiosity in learning and not just learn through the academic drilling," she said.
The charity offers free phonics lessons to close to 117 beneficiaries from low-income families at various social service agencies around Singapore such as KidSTART, Singapore Children's Society and Children's Wishing Well.
Her social enterprise Curious Thoughts Academy also offers free phonics lessons to another 23 beneficiaries at Middle Road.
Beneficiaries are supported by paying students from the Academy, as well as grants from foundations such as The Majurity Trust, and donation drives.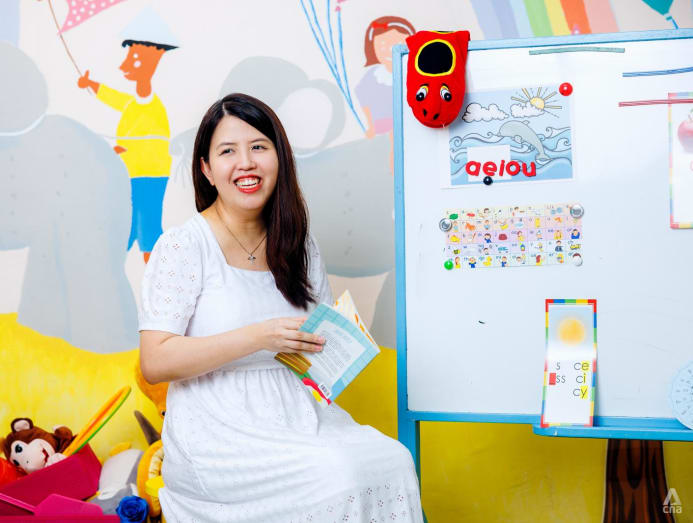 "In Singapore, you need the academic qualification to even have doors open to you. Many times, if you do not have that paper certificate, you'll get fewer opportunities to try out what you really aspire to do in life," she explained.
"Underprivileged children should have the same opportunities. I want them to excel academically so that they go on to have well-paying jobs and have the ability to do the things that they want to pursue in life," she said.
CNA Women is a section on CNA Lifestyle that seeks to inform, empower and inspire the modern woman. If you have women-related news, issues and ideas to share with us, email CNAWomen [at] mediacorp.com.sg.