This 24-year-old Gen Z getai operator wants to share her love of the song stage with the younger generation
Silvya Tan is one of the youngest getai operators in Singapore. She tells CNA Women what it was like to take over the business from her father in 2022, bringing back the lights, music and performances to the Hungry Ghost Festival.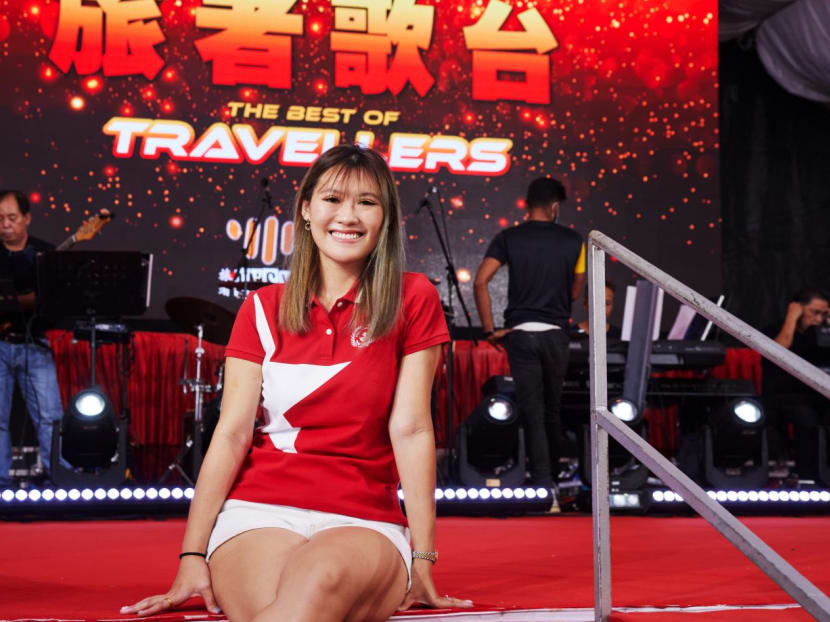 If you live in the heartlands, you may have heard a familiar mix of Hokkien, Cantonese and Mandarin songs blasting across large open fields at night. With this year's seventh lunar month beginning on Aug 16 and ending on Sep 14,  many getai ("song stage" in Chinese) are expected. 
Meet one of Singapore's youngest getai operators, 24-year-old Silvya Tan, who took over the reins at TravellersMedia Concepts from her 64-year-old father Roy Tan in June 2022, and subsequently renamed it InSync by Travellers.
It might be hard to imagine the sequined outfits, flowery suits, old-school Mandopop hits and heartland vibe of this traditional song stage appealing to a Gen-Z-er. However, growing up in a getai family, Tan absolutely loves the boisterous atmosphere of this unique type of Southeast Asian live music performance.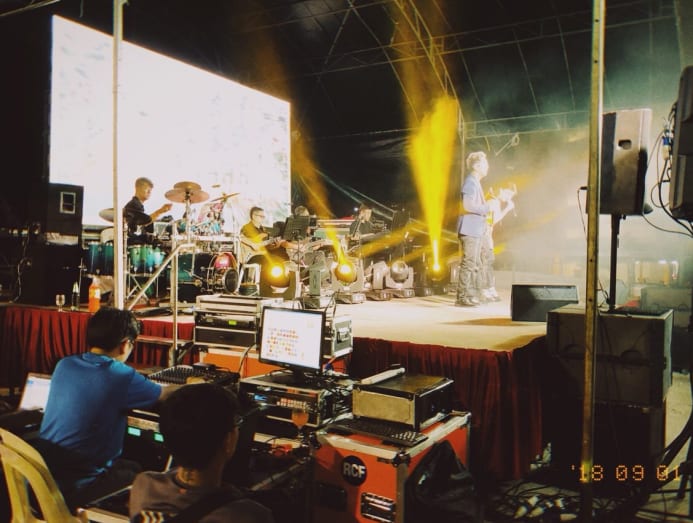 "Usually when you go to a bar or lounge, you get the same performer for the whole night, and you have to order food or drinks to enjoy the music. Getai provides free live entertainment. The quality of the performers is comparable to that of a bar, and we change performers every 20 minutes. When you enjoy the performance with a large crowd, you can really feel the communal spirit," said the second-generation getai operator.
TAKING OVER THE STAGE
While most of her peers enjoy their music on YouTube and Spotify, Tan finds the vibe of live getai music incomparable. Even before she was born, her parents were getai operators, and from the age of three, she spent weekday and weekend evenings immersed in this subculture.
"As a child, I found it fascinating. Every time I heard the music, I would dance. Because I was very outgoing, the singers would dress me up in their costumes and sometimes bring me onto the stage during their performances to dance," Tan said.
"When I was in primary school, I even went on stage to sing a Hokkien duet Nan Ren Qing Ni Ren Xin with a getai singer. This is one of my fondest memories."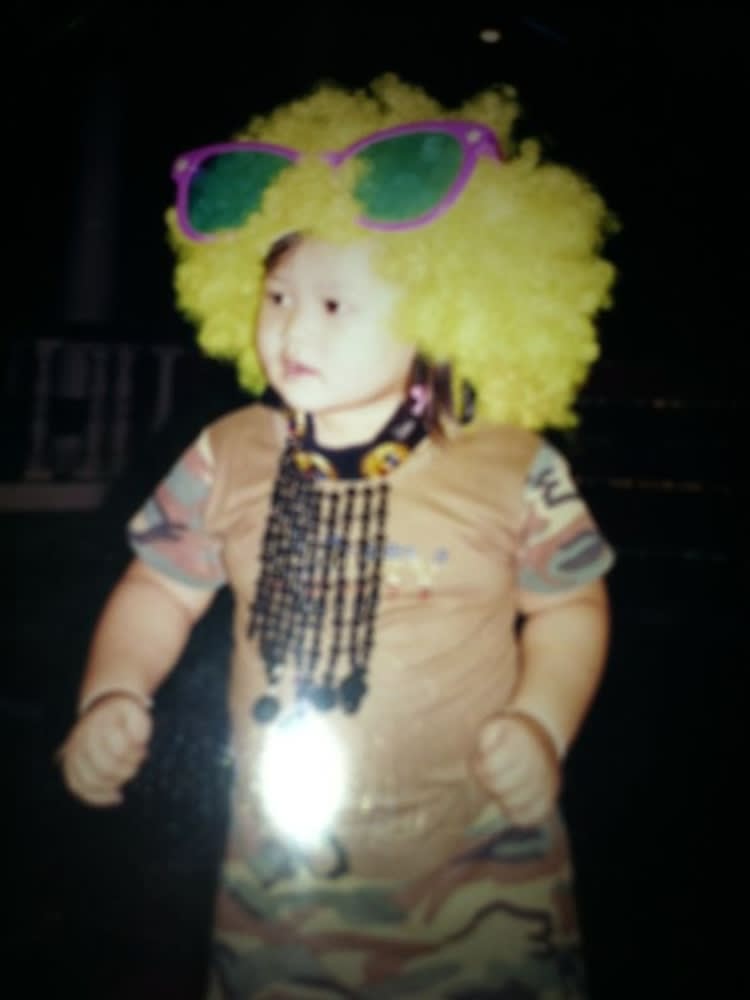 Growing up within the getai, it was always understood in her family that Tan, who has a younger sister, would take over one day. However, when she graduated from the Singapore Institute of Management (SIM) with a business management degree in 2020, the pandemic hit.
"Some getai moved online and offered live streaming, but my father did not like live streaming because the human touch, atmosphere and spirit was lost. So we ceased operations for two years and the plan for me to take over got delayed," she said.
As Singapore eased COVID-19 restrictions in 2022, her father received a request from the Federation of Merchants' Associations Singapore to run a getai in Jurong West in June last year. Since he was in Thailand visiting with his wife's relatives, he tasked their daughter to run it solo for the first time. That is how she ended up taking over the business.
Tan quickly put together her lineup of performers, band and emcee, and oversaw the set-up of the stage, sound system and lights. "I was very nervous and afraid I'd make mistakes, especially because an MP was attending the show," she said.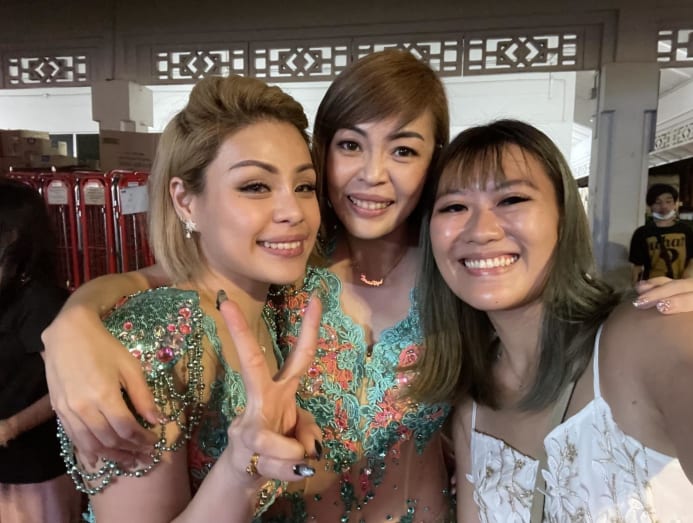 "Luckily for me, everything went smoothly. There were more than 1,000 people at the getai and they filled the whole area. People who didn't have seats stood around, and the nearby coffee shop was also filled," she added.
"During the performance, some people came up to me to tell me how much they love the getai. One of them was a middle-aged Indian lady. This surprised me because most of our songs are in Mandarin and Chinese dialects.
"So when this lady told me that even though she doesn't understand the language, she really enjoyed the three-hour performance. It really warmed my heart to know that this was a culture that everybody, regardless of race, could embrace because music has no boundaries," she said.
CHANGING OF GUARDS
That was in June, before the seventh lunar month began. A year on, at the start of this year's Hungry Ghost Festival, you could say Tan has survived her trial by fire as a second-generation getai operator.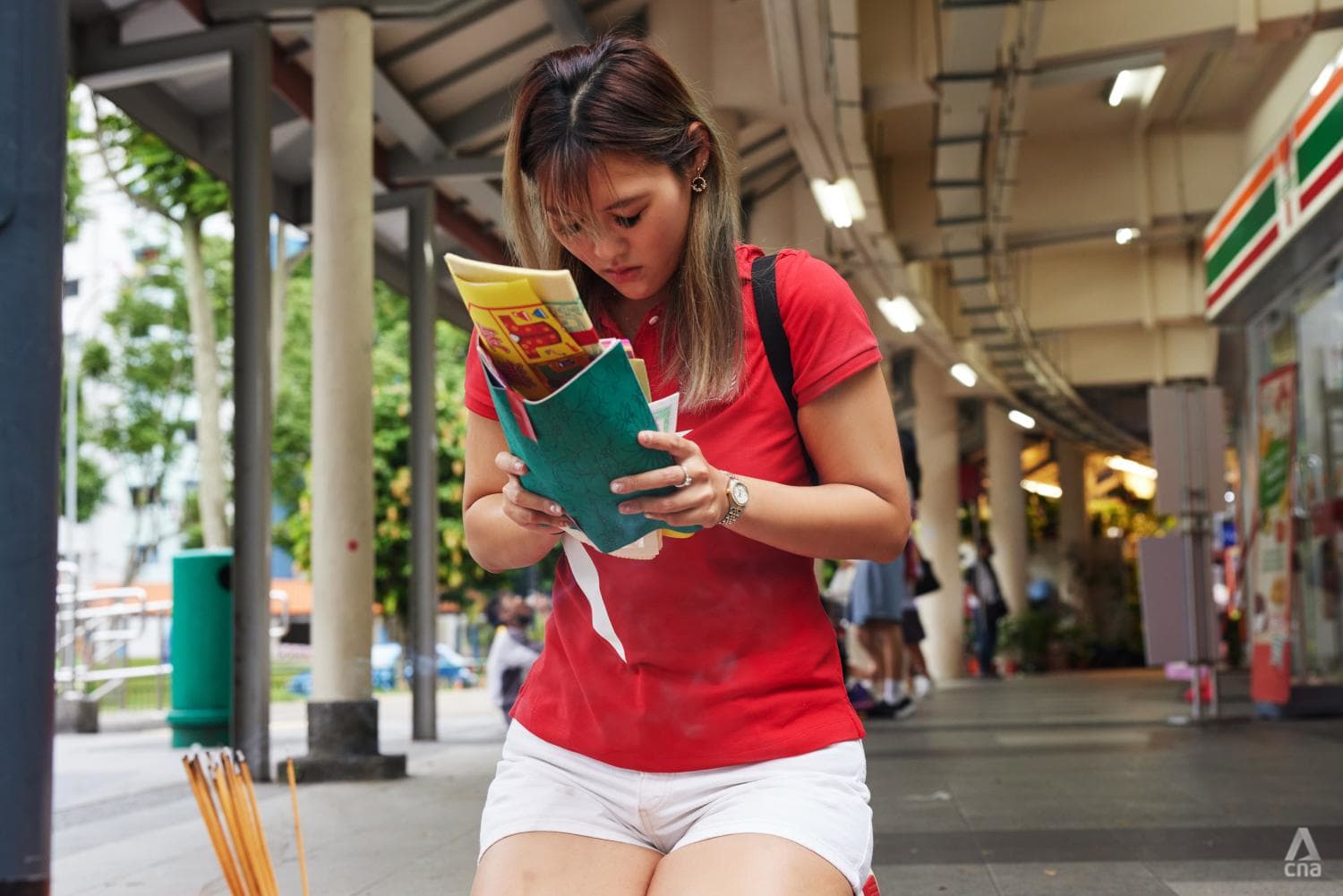 "The seventh lunar month has always been the busiest period for getai. In 2019, before the pandemic, we had 40 getai in the seventh month. This year, it is still picking up, so it's a bit quieter. So far, we've had half that number of bookings," Tan said.
However, it is a common misconception that getai only run during the seventh lunar month, she noted. InSync by Travellers organises an average of 10 getai events a month for other parts of the year, especially during festivals such as National Day, the Mid-Autumn Festival, Chinese New Year, New Year's Eve, or when a temple celebrates a deity's birthday.
The operators tweak the programme to suit the occasion. The Chinese New Year's Eve getai, for instance, may include more festive songs, include a character playing the Chinese God of Wealth, and run from 9pm to past midnight to include a countdown; while the National Day getai may include more patriotic songs.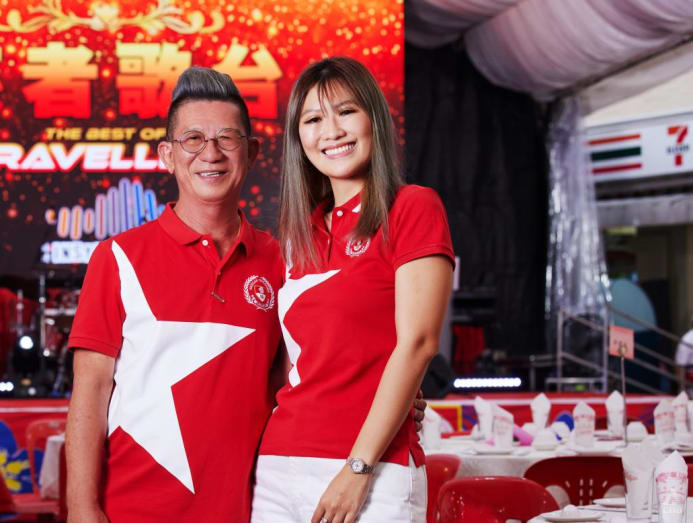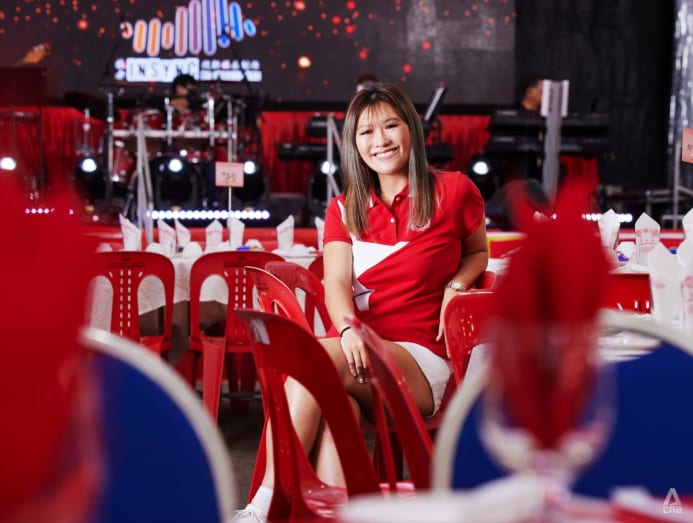 Since this is a small industry, Tan noted that most of their competition comes from five or six bigger getai operators. It is also a predominantly male-dominated industry – most operators and clients are men.
"Usually, getai operators bond with clients over drinks. It is common to end a getai meeting with beer at a coffee shop," she said.
It is such a big part of the culture that when she was 18, her mother, 56-year-old Buapath Tan, who helped run the family getai business, began training her to hold her liquor.
"My mother would take me downstairs to the coffee shop and order beer for me. I don't really like beer because it is so gassy so I don't drink a lot and have never gotten drunk," laughed Tan.
Tan also noted that since getai saw a resurgence in the 70s and 80s where there were fewer entertainment options as compared to today, many of the original operators are around the same age as her father and have passed the business down to their kids. "Many getai are now run by the younger generation, though I am probably the youngest among them," she said.
It is no wonder that the getai of today incorporate more modern elements, like LED screens, multi-coloured stage lights and younger singers. Occasionally, they even include a side feature like a runway show.
Tan also started publicising her getai on TikTok (@insync.events) to appeal to younger audiences. "We do have a younger crowd watching getai today, but it is not a huge part of the crowd unlike in the past, when getai was the primary entertainment for all ages," she noted.
As a child of getai, she feels that this is a culture worth preserving. "Now, you can watch anything online, but for many older folks, getai has been their entertainment since young. If it vanishes, they will be very sad," she said.
As for the younger generation, Tan notes that with rapid digitalisation, the sense of community within the heartland may be lost.
"I think it is good to preserve getai because this is where we gather. Everybody laughs together. Everybody claps together. We may not know one another, but as long as we are at the getai, we can enjoy the atmosphere and the spirit of live music together," she said.
CNA Women is a section on CNA Lifestyle that seeks to inform, empower and inspire the modern woman. If you have women-related news, issues and ideas to share with us, email CNAWomen [at] mediacorp.com.sg.