Indoor skydiving world champ Kyra Poh on flying high with sister Vera: 'One day, she will be better than me'
Kyra Poh was 14 when she was celebrated as the "world's fastest flyer". Today, she continues to break her own records alongside her younger sister Vera. CNA Women caught up with the two to talk about sisterly love and sky-high ambitions.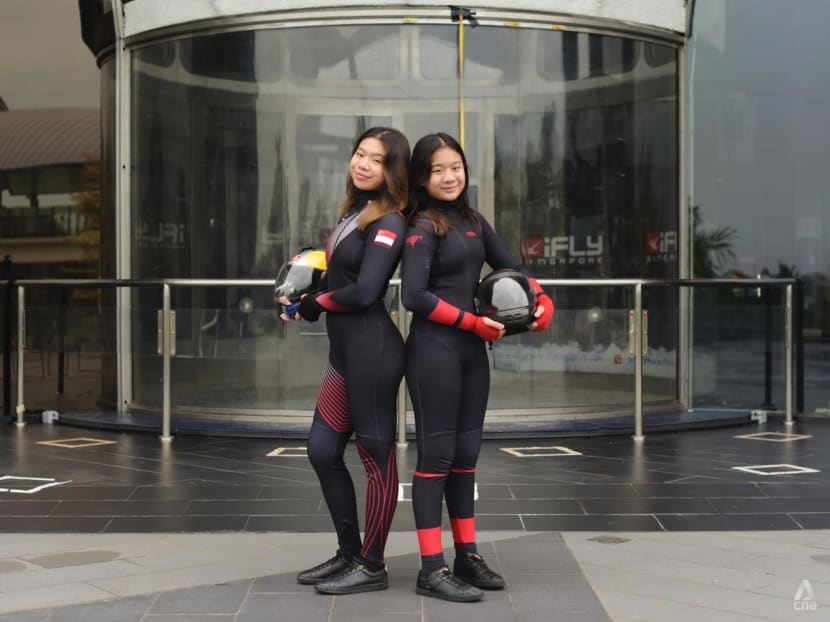 Fun, easy-going, carefree – these were three qualities that came to mind when we first met Kyra and Vera Poh, the sibling pair breaking records with their drive, flexibility and speed.
When CNA Women first sat down with the sisters for an interview in June, they were back to their training routine at Sentosa's iFly Singapore after a very successful stint at the 4th FAI World Cup of Indoor Skydiving 2022, which took place in Belgium a couple of months ago. 
Kyra, 19, had bagged the gold medal for the freestyle solo open category. Meanwhile, it was 12-year-old Vera's first time competing at the World Cup and she also clinched two gold medals in the two-way and four-way dynamic categories. (Dynamic flying is when flyers, whether solo or in teams, execute choreographed routines in the fastest time possible.)
Four months earlier, the siblings had also taken part in the Belgium Open Indoor Skydiving Championship in December, where they competed together for the first time in the two-way dynamic category and came in first.
"We were the only all-female sibling team and it was really nice. It's always been my grandfather's dream for us to fly together and win," recounted Kyra.
"I WANTED TO BE ABLE TO FLY"
To have one young competitive indoor skydiver in the family is notable enough. To have two sisters is something else.
Kyra recalled how her introduction to such a niche sport was "completely by chance".  Her mother, who works in advertising, had needed people to be part of an iFly Singapore commercial back in 2010, a year before Singapore's first and only indoor skydiving facility officially opened. 
"I mean, who wouldn't want to try? Every eight-year-old will want to fly when they get the opportunity to," she shared. "I wanted to be an astronaut when I was younger. When I tried this out for the first time, I realised it wasn't that I wanted to be an astronaut, but I wanted to be able to fly."
Every eight-year-old will want to fly when they get the opportunity to.
And she did so in style. Kyra would later clinch two gold medals and one silver in her debut competition at the Wind Games 2017 in Spain at the age of 14. She was dubbed the "world's faster flyer" when she won her first ever solo speed race there. To date, she's won 45 medals and has four Guinness World Records, which include the most number of backflips in a minute. 
Her passion for the sport undoubtedly rubbed off on Vera, who would initially tag along during her training. The younger Poh eventually gave indoor skydiving a try and went on to compete in seven competitions, winning five medals so far. 
But it wasn't without any doubts for the younger sibling. Vera admitted she had "mixed feelings" about indoor skydiving at first, and even considered doing other sports such as netball instead. 
"But I was too short," she laughed. "I considered it for a moment, but I was like nah, indoor skydiving is way cooler."
A SISTER'S LOVE
"By the time my sister started skydiving at seven years old, I'd already been flying for six years. But she definitely started competing at a higher level earlier than I did – there weren't many competitions when I first started," Kyra recalled. 
While the older sibling is certainly no stranger to media interviews anymore, Vera admitted she "doesn't really enjoy interviews" as she's "more reserved".
During our interview, it was interesting to see the sisterly dynamic unfold between the two: Vera the shy one, with Kyra gently nudging her to answer first and only chiming in at the end when she needed guidance. 
One thing was clear: Their love for each other was palpable in even the smallest gestures, like when Kyra casually handed over one of her AirPods to Vera, or when they helped each other put on their skydiving suits. Not to mention how they couldn't help but finish each other's sentences.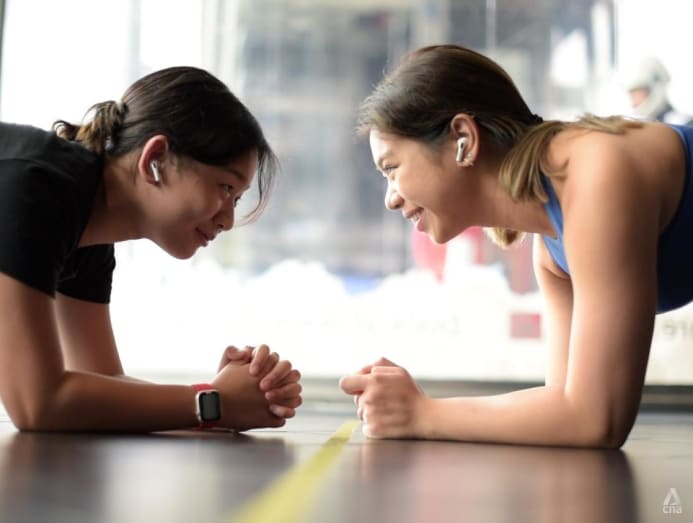 "Usually we'd share music and listen to the same song while we stretch and talk about what we're going to train," Kyra explained, adding that she'd listen to her routine song during competitions.
Meanwhile, her sister would listen to – "Taylor Swift!" Vera finished the sentence excitedly. 
"She's a big fan," Kyra smiled.
Indoor skydiving champion Kyra Poh is a familiar face to many Singaporeans but she's not the only one in the family with sky-high ambitions. The 19-year-old's younger sister Vera, 12, is also following in her sister's footsteps.
WHAT'S IT LIKE TO EXCEL IN INDOOR SKYDIVING, WHICH ISN'T QUITE A MAINSTREAM SPORT?
Kyra: It's very cool that we're doing such a niche sport. Whenever we tell our friends and family members about what we do in skydiving, they don't really believe us at the start.
When I first started competing 12 years ago, we were the only Asian country, competing with a group of Europeans who were twice our age. It's nice to see more Asian countries coming into it, and that we were able to put Singapore on the world map.
It's nice to see growing awareness about the sport too – we started out with around five people flying with us in our community, and since COVID (began), we have about 24 people now.
VERA, WHAT WAS IT LIKE TO GROW UP SEEING YOUR SISTER IN THE NEWS PRETTY FREQUENTLY? 
Vera: I feel very proud of her and grateful that I have such an amazing sister. Seeing what she's accomplished makes me feel inspired and very happy for her. Now that we fly together, I know how hard she trains and how much more effort I would need to put in if I want to be like her – a world champion.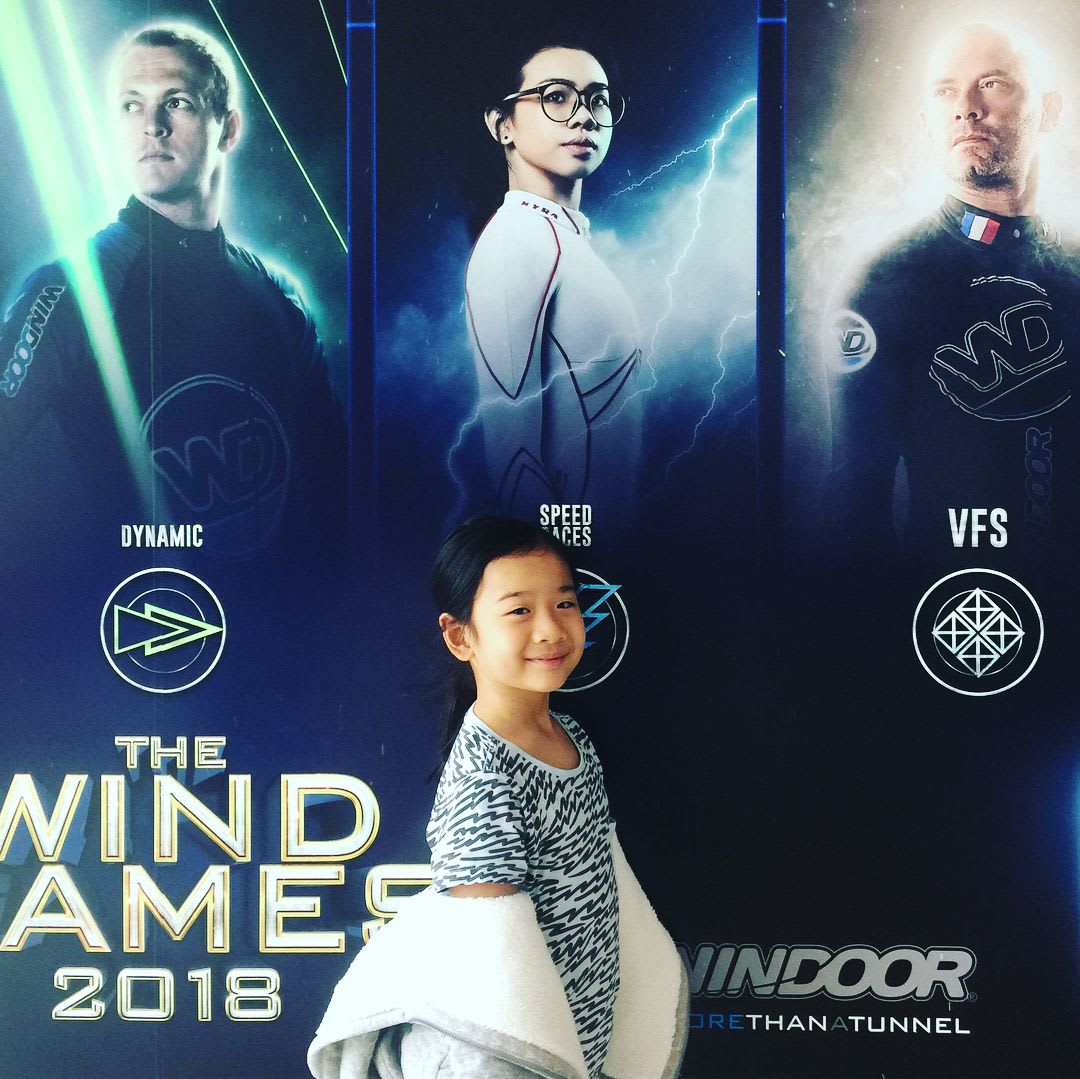 I also learned it isn't easy having so many interviews all the time. I sometimes wonder how she does it and still sounds as excited – especially when she's talking about things she's said many times before. 
HOW DO YOU BOTH JUGGLE SCHOOL, TRAINING AND COMPETITIONS?
Kyra: It was very difficult, but I started skydiving when I was already studying, so it became a norm for me. During competitions, I used to wake up at 6am for school. When it ended at 5pm, I would train till the wind tunnel's closing time at 10pm. Homework would only start at 11pm till about 2am. So I'd only have three to four hours of sleep per night. 
It was only when I finished school that I realised I have so much time to train. Now it's my sister's turn to juggle school and flying.
Now that we fly together, I know how hard she trains and how much more effort I would need to put in if I want to be like her – a world champion.
Vera: I'm in Secondary 1, and my classmates and school friends are very supportive of what I do. When I miss out on school, they would tell me what I'd need to catch up on. And as it's a new sport to them, they ask me questions and make the effort to understand what I do, and why I love it. My school has also allowed me to train flying as a co-curricular activity (CCA). 
AND NOW YOU BOTH ARE COACHING AS WELL?
Kyra: I'm usually away for the summer, but my ex-partner Yi Xuan and I (who used to compete together) train about up to 40 professional flyers on Saturdays. The oldest is a 52-year-old – he's Japanese and trains with us on the weekends.
Vera: Yi Xuan coaches me and my four-way dynamic flying team. When my sister's away, I help to coach the others on Saturdays, and I coach speed rounds, one-on-one, on Thursdays as well. The flying community's really close – we're going to bring some of our professional flyers to Australia to compete in smaller competitions for fun, which I'll probably take part in with one of them. 
TELL US SOMETHING ABOUT YOUR SISTER –  WHAT'S YOUR FAVOURITE QUALITY IN HER?
Vera: She's always very positive even when something goes wrong. That changes the whole mood of the situation, and it never fails to make me feel better. 
I really wanted to get into the School of the Arts, and when I didn't get in, my sister helped me to be optimistic about it. She said: "You won't have super long days like I did, and you will have more time to hang out with your friends even if you choose to continue flying as a sport."  And she's right. I am really enjoying my school and time with my friends now.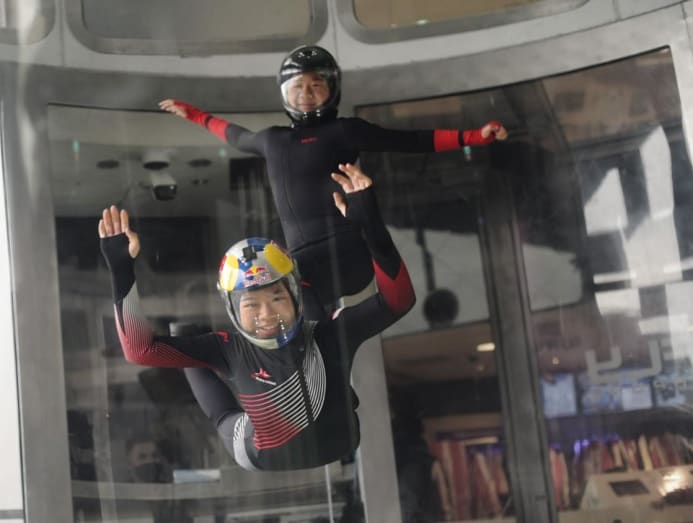 Kyra: My favourite quality about my sister is her composure. When she's at a competition, she's able to keep calm and stay in focus mode. And even at a young age, she knows how to lead a team because she's the number one flyer in her four-way dynamic team. 
She's also definitely the cool one out of the both of us. Seeing how she composes herself during competitions or in anything inspires me.
WHAT ABOUT A PET PEEVE?
Vera: Her singing! My sister's always singing – she sings during warm-up, when she's bathing and even when she's walking up the stairs. It's not like she's inconsiderate but because she's always spontaneous and loves music, she'd sometimes sing at the top of her voice. 
There was once when I was having tuition, and my tuition teacher asked: "Does your sister know that the walls are not soundproof?" I told her about it after, and we both had a big laugh. 
Kyra: When she wears my clothes all the time. (laughs) Every time I call back when I'm overseas (we usually call almost every single day), she wears every one of my T-shirts.
Vera: It was a one-time thing, but I realised it was annoying her, so I just kept doing it! 
HOW WOULD YOU DESCRIBE YOUR RELATIONSHIP WITH YOUR SISTER?
Vera: It's nice to have someone to depend on. If I don't want to tell my parents anything, I can tell my sister. I'm also very entertained by her when I'm not annoyed by her random singing, especially when we spend time in her room playing our favourite songs, singing and dancing.
Kyra: We're really close. Even though I'm the older sibling, I would say she's like the older sibling and I'm the more playful one. She's also definitely the more mature person at home, while I'm the more mature one when coaching.  (laughs) We complement each other in a way because we're so different. 
Since young, my parents have also instilled the need for us (sisters) to be close. When my mum scolds us, for example, and if one of us tells on the other, we both will get in trouble. She wants to instil trust in us.
WE UNDERSTAND YOUR MUM'S VERY INVOLVED IN YOUR FLYING JOURNEY. TELL US MORE ABOUT THAT. 
Vera: When I used to follow my sister to her training, I knew I wanted to try flying one day. My mum always had this rule: To try something new four times before making a decision to do it. After trying it for the fourth time, I thought, okay, maybe I'll do this.
Kyra: My mum helps me with my choreography for competitions. She used to be a cheerleader when she was young, so it's helpful when she gives me feedback. When I try out new things, I don't know what I look like – it could feel amazing but look visually terrible. 
During COVID, my mum and I did a judging course to help flyers understand what the judges are looking out for, such as flexibility, speed, intensity and spins.
BEING IN THE SAME SPORT COMPETITIVELY, DO YOU FEEL THE PRESSURE TO PERFORM BETTER THAN THE OTHER? IS THERE ANY SIBLING RIVALRY? 
Vera: Not really. I'm not really affected as she's a really good flyer. Plus, we are working on different disciplines – she's doing freestyle and I'm mostly focused on speed-based dynamics. 
We always talk about how one day, quite soon in the future, she will be better than me.
Kyra: I don't think it's more of a pressure but it's nice that I can coach her anytime she wants. Starting to compete from a really young age, it's very important to keep it fun and for my sister to enjoy herself when she's training. So my mum and I, and our family, we try not to push her all the way because we know that she still has a long way in front of her. 
AS THE OLDER SIBLING THOUGH, DO YOU FIND YOURSELF NAGGING VERA?
Kyra: I definitely do because I know her full potential in the sport. I have some expectations of her as my sister but she takes it quite well – and she's very talented. We always talk about how one day, quite soon in the future, she will be better than me. 
WHAT ARE SOME MISCONCEPTIONS ABOUT THE SPORT THAT YOU WANT TO CLARIFY?
Vera: A lot of people just assume I'm doing outdoor skydiving, jumping out of planes. 
Kyra: When you're in there (the wind tunnel), we try to make it as effortless as possible, so people think it's really easy. But every single part of your muscle is in control, and a lot of things go into the one-and-a-half minute performance. 
A lot of people don't understand that indoor skydiving is a sport. We're trying to spread awareness, especially in Singapore, on how we compete and the judging criteria.
WHAT'S THE NEXT BIG THING YOU'RE WORKING ON?
Kyra: I just got my outdoor skydiving licence last year (the minimum age is 18), so I've been skydiving. My aim is to be able to compete in the sky, and hopefully be a world champion for indoor and outdoor skydiving. As for Vera, she still has about six years to go before deciding what she wants to focus on.
We're really happy that we get to do the sport together and we hope that one day, we can compete together in the World Cup competition. 
CNA Women is a section on CNA Lifestyle that seeks to inform, empower and inspire the modern woman. If you have women-related news, issues and ideas to share with us, email CNAWomen [at] mediacorp.com.sg.