Naomi Yeo starts built-in furniture business with her mum: 'I wanted to help you fulfil your dream'
The mum-and-daughter team behind new online store Ohana Concept talks to CNA Women about all things family, furniture, and building on their relationship – including what it's like to have Mum design your marital home.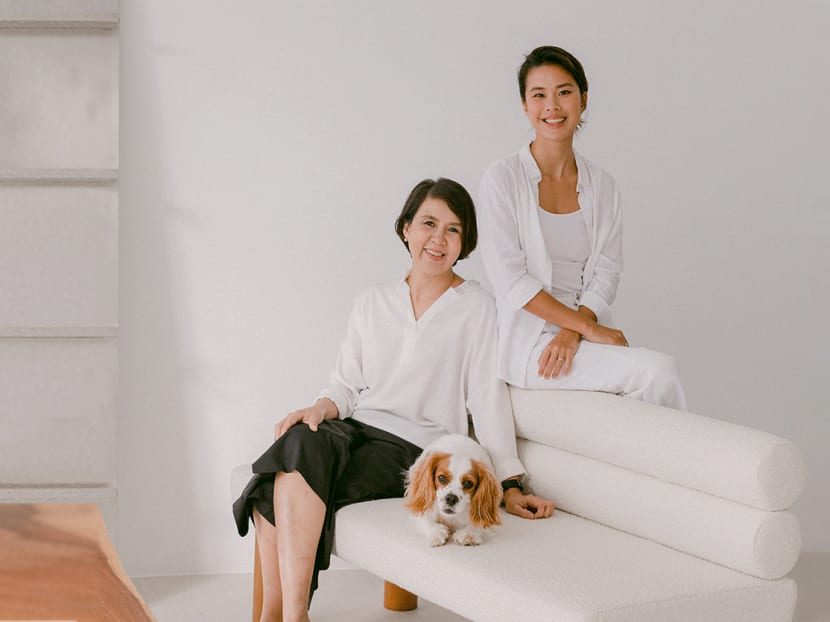 Host-presenter and actress Naomi Yeo is adding to the list of things on her resume – she's started an online shop selling custom built-in furniture with her mum as her business partner.
It was mum Cindy Ang who brought up the idea of launching a business three years ago, over a family dinner. Ang herself has had a 30-year career in interior design, working with clients such as McDonald's and Ferrero Group on their outlet designs and innovation centre respectively. She is also an adjunct lecturer in interior design. 
"I approached Naomi because I knew that I needed help in social media and marketing because e-commerce is different," she said.
Her daughter, however, was "a little bit afraid" of running a business with her mum. "Because when it comes to family, you're all about the emotions as well … we know how to push each other's buttons," Yeo said. 
It was only in 2021 when she agreed. Turning to her mum during a virtual interview the pair did with CNA Women, the 27-year-old said: "I wanted to help you fulfil your dream. I've never really said this to you but it will be nice to just kind of build on to what we have, now that I've also moved out." (Yeo married singer-musician Benjamin Kheng last year.)
Growing up, I would always see her at the dining table … or using our kids' table to draw out concepts for people's homes.
"It's all or nothing, right? You can't do these things halfway," added Yeo. "There will definitely be hardships that will come through, but if this is an opportunity for you to learn how to communicate better – or build on the relationship that you have with your mum – I think you should just go for it."
LAUNCHING THE BUSINESS 
The pair launched Ohana Concept in May after about 18 months of conceptualising, designing and finalising the concept.
Ohana Concept allows customers to choose from ready-made built-in furniture, such as a kitchen cabinet, bathroom vanity or TV console, on the platform – and then add customisation features such as selecting their preferred dimensions and finishes. The designs range from Scandinavian to industrial and modern, among others. 
Ang recounted it "took a while" to develop the designs, look into current trends, the sizes of homes, and how to effectively sell her furniture on an e-commerce platform.
"I was actually a little surprised that Naomi eventually set her foot in because I didn't want to push her. At the back of my mind, I think if she helps in some way, that's good enough for me. But I'm happy that she's now in," said the 58-year-old, who takes care of the manufacturing and design aspects of Ohana Concept. Yeo focuses on marketing and operations.   
Ohana, which means family in Hawaiian, makes perfect sense for the duo. "Growing up, I would always see her at the dining table … or using our kids' table to draw out concepts for people's homes," said Yeo. 
"What I'm seeing as a little girl is just my mum and me building homes for people to live in and create a family also."
CONGRATS ON THE LAUNCH. WHAT WAS THE MOST CHALLENGING PART OF BUILDING OHANA CONCEPT TOGETHER? 
NAOMI: The hardest part for me is not rushing in terms of getting things done. I want to be efficient and my goal is to continue serving people and understanding what people need and how people perceive us. But I'm forgetting that I'm also very human, and if I want to do a good job, I shouldn't be rushing.
CINDY: As an interior designer, design is always first – how will you meet the needs of people? When my daughter came in, she reminded me that it's a business, and an e-commerce business – which is different from what I have been doing. 
Where do we start? How do we get the conversation going? How do we make peace and how do we work together in a professional setting?
That's also where we had a bit of difficulty. She had to also see that design takes time. Taking time for some things is good because you will develop it fully instead of rushing through just to make sure you get some things out.
WHAT WERE THE FUN BITS IN THE PROCESS?  
CINDY: Doing something new, like working on a website, is exciting to me – but I won't use the word "fun".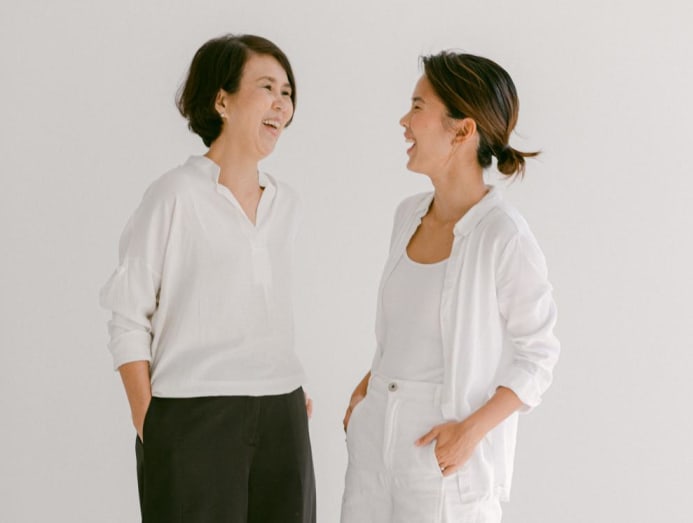 NAOMI: Maybe "fun" looks a bit different for her. (laughs) I always see her eyes sparkle when something is finished. She also designed my marital home, and when it was completed, there was this sense of satisfaction, and I could see it in her body language. 
For me, the fun part is pulling the website together, from the logo design to the colours – I'm really about the small details and I take pride in those things. 
NAOMI'S FIRST HOME MUST HAVE BEEN AN EXCITING PROJECT FOR BOTH OF YOU. WHAT WAS THE EXPERIENCE LIKE? 
NAOMI: I knew what I wanted in my home – and Mum was able to bring out what I had in my head and draw it out with pen and paper for me. 
CINDY: Designing Naomi and Benjamin's home was more fun for me. We kept it professional – I treated them like any other client. They treated me as the designer, too, and that's very important. And because she's my daughter, I know what she likes and what she doesn't. So it was not difficult for me.
NAOMI: I trusted my mum completely. As a freelancer, you not only work with people, but you also have to make decisions for yourself. It was nice for someone to take what I wanted and make the decisions for me. Ben and I just kind of let her run with it. 
WHAT MAKES OHANA CONCEPT DIFFERENT FROM OTHER CUSTOM FURNITURE RETAILERS IN THE MARKET?
NAOMI: First of all, we don't want to take away anything from what is currently available, whether it's a physical store, interior designers or anyone that adds to the industry and helps to build homes for people.
We just want to add and provide a middle ground for people. Having design training can make it easier to communicate with the people who are building the furniture. We can say: "Okay, can we tweak this a little bit?".
Being able to speak in their language is very important. So, just having that voice there to cement everything will really set things apart.
WHAT DOES SUCCESS MEAN TO BOTH OF YOU? 
CINDY: Success would be seeing my work everywhere (laughs). To me, winning a trophy or award is not comparable to a client who is happy with what you have done for them.
NAOMI: It's funny that you ask because just this morning, when I was having my reflection time, the word "wisdom" popped up. I realised that from my childhood to adulthood, all I've really ever asked for is wisdom and the courage to try different things. 
When I was younger, I always had a hard time dealing with failure. And I still continue to (but) I think failure looks very different to me now, thanks to the people in my life, who are always encouraging me. 
For me, success with Ohana is if I'm able to take things one step at a time; if I'm able to slowly learn from my mistakes. I made media my career, so this is very new, uncharted territory. I want to be successful with the little things, like getting someone to be happy with a concept or even, having a conversation with you. 
WHAT'S ONE QUALITY ABOUT THE OTHER THAT YOU WISH YOU HAD? 
NAOMI: There's always this quiet resilience that my mum has, which I think I could afford to have more of. Quiet resilience is knowing when to take a step back and go: "Okay, this is a conversation I will address another day" or "I just don't want to talk about it, but I can find peace in my own way because, maybe, theres no point in talking about it anymore". 
As a kid, this silence really annoyed me. Because sometimes all I want to do is to debate, right? I just want to talk about things.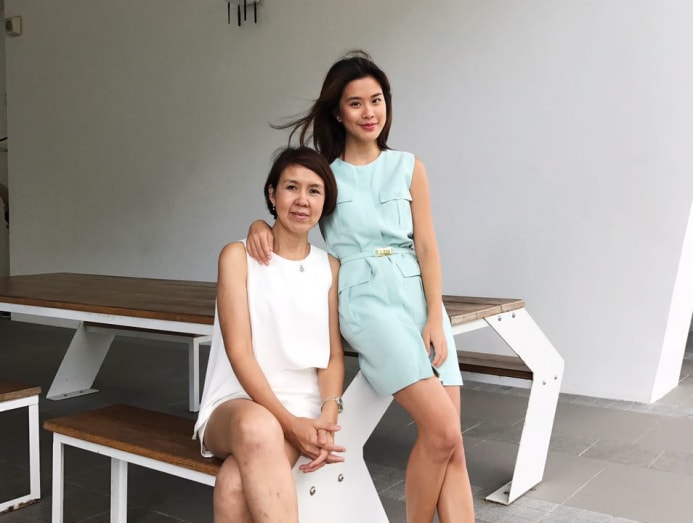 CINDY: She has a very generous spirit. To her, she can give away something that I know she likes very much, if she sees that the person really needs it more.
PEOPLE SAY IT'S HARD TO WORK WITH FAMILY. DO YOU WORRY ABOUT THAT?
CINDY: We are still learning how to communicate to address each other's concerns and fears. So we probably have to learn how to set boundaries, set goals, set time to work out some things.
NAOMI: I definitely agree … I think any family will also tell you that this is a grey area. It's all about the layers (of our relationship) and how you want to peel them apart and then build on it again. 
From my childhood to adulthood, all I've really ever asked for is wisdom and the courage to try different things.
I never had to deal with this before, so where do we start? How do we get the conversation going? How do we make peace and how do we work together in a professional setting? 
Ohana Concept is an opportunity for me to heal certain areas in our dynamic and create something new. I owe it to myself to give it a shot.
NAOMI, NOW THAT YOU'RE OLDER, IS THERE ANYTHING THAT YOU'D LIKE TO HONOUR YOUR MUM FOR? 
NAOMI: As I grew up, I started realising how hard I was on my mum. I realised that there were so many moments – like how she would take my younger brother Nigel and I to the Botanic Gardens every Saturday, and how we bought pillows from this really big event called Snoopy Land and put them all over the car – which showed me that every aspect of her life had a little bit of us.
I regret that I was so critical of my own mother and my own family. But I think in terms of our relationship, I'm trying to repair that and trying not to do it forcefully. 
Back then, I wasn't mature enough to realise that. I mean, you grow up in your time, right? 
HOW WOULD YOU DESCRIBE YOUR RELATIONSHIP WITH EACH OTHER – AND CINDY, DID YOU EVER IMAGINE NAOMI WOULD END UP WHERE SHE IS TODAY?
CINDY: We do have nice mother and daughter moments – writing each other notes, encouraging each other, and that helps us build our relationship and faith. 
From a young age, I already knew she was quite strong in language and creativity … so it's quite easy for me to understand when she said she wanted to work in the media. 
NAOMI: I already knew as a teenager that I wanted to be in the media, so I was trying to get my grades up. I didn't have the words for it then but I had very big feelings. And those feelings were feelings of anxiousness and a lot of worry about where my life was going to go. 
When I was 14 and about to go into an exam, my mum passed me this note which I still keep to this day. It was a really nice form of encouragement. 
Sometimes you're not going to say it to someone face to face, and having the means to write it on pen and paper and communicate it – that's another love language I definitely appreciate. 
CNA Women is a section on CNA Lifestyle that seeks to inform, empower and inspire the modern woman. If you have women-related news, issues and ideas to share with us, email CNAWomen [at] mediacorp.com.sg.