This 28-year-old ditched a six-figure salary and started a sex toy company
The co-founder of Singapore brand Good Vibes says she hasn't drawn a salary in more than a year, but she's happy. She credits it to taking risks, serendipity and being comfortable in her own skin.
At just 26 years old, Meryl Lim had a cushy job at one of the largest F&B companies in the world. She drew a six-figure salary, held a small stake in the firm and was living in a luxury condo in District 9. 
Lim's career at Kraft Heinz was what you might describe as a dream. She had been a fresh graduate when she joined the firm and the opportunities were plenty, enabling her to rise through the ranks quickly. 
She became head of revenue management in less than five years, and was given the chance to form and shape the growth of her own team, mentoring those who were just starting out and grooming them for promotions. 
She was happy. But she gave it all up.
Today, Lim runs Good Vibes, a sex toy company she started in the heat of the pandemic. She hasn't drawn a salary in more than a year.
You're probably asking why. The answer is not what you'd expect. 
"Everybody was looking at me as if thinking, 'You gave up a S$200,000 salary a year with equity – are you an idiot?'" Lim told me during our Zoom interview from her new – less flashy – apartment in Katong. 
"I was like, yeah, but I enjoy what I'm doing. I think it's okay. Money is not everything. And I've never really had much self-doubt or fear – I'm very comfortable with who I am. I think that's one of my strengths," she said.
Hearing her story, I realised that almost every big decision she has made has had to do with serendipity. That and the natural ease with which she takes risks without overthinking them. 
For example, Lim was president of the prestigious Investment Interactive Club at the Nanyang Technological University (NTU) when she was a student there. 
She had no interest in working in a bank – she was simply curious about investing. When a friend wanted to check out the club and asked her along, she agreed. 
"I got involved in one event and then another event, and when the time came to think about running the club, I just went for it. 
"That's my attitude in life. Just give it a try. No one really wanted to try because it was quite scary – you had to give speeches and get people to vote for you, like a proper presidential election," she told me. 
The experience came with "great learning", said Lim, adding that she was constantly drawn out of her comfort zone as the job required her to talk to human resources execs from renowned companies such as Barclays and Unilever. 
It was very okay for me to admit that I didn't know and wanted to learn.
The club was also predominantly made up of men, which "pushed me a lot", said Lim. 
While imposter syndrome – a term commonly used today to describe the tendency to doubt one's abilities – was "not a very big problem" for her, Lim said this reality, coupled with the fact that she was often exposed to professional bankers, put her under pressure at first. 
"I had that struggle early on, but honestly, after a while, I was just like 'screw it'. It was very okay for me to admit that I didn't know and wanted to learn. I did have my doubts, but they weren't eating me up."
When it came to getting her first job as a fresh graduate, Lim similarly took the "never try, never know" approach. At the time she didn't know what she wanted to do – all she knew was that she didn't want to work in a bank, despite now having a business degree with a major in finance. 
"I applied everywhere, including in shipping. The only jobs I didn't apply for were government jobs. I figured I'd just do all these interviews because the more people I spoke to, the more I would understand if I was interested in the field or not," she said.   
She eventually went with Kraft Heinz after seeing that its senior management were in their 30s, suggesting that she too could be "super hardworking and ambitious, and climb really high and achieve so many things at a young age". 
Never mind that the job the company offered her was a "pure finance" role, not something she really wanted to do. 
"Business budget planning – you can't get more finance than that. But I took a leap of faith because I really liked the CFO and the president of the region. I cancelled my graduation trip and signed on."
Lim rose quickly, eventually being appointed to hire for and lead her own team. This was where she was happiest.
"It was great. They gave me full control. I really enjoyed hiring people I could connect with and seeing them grow, and being able to promote them within six to eight months. Not a lot of companies give you that kind of authority, space and trust. The whole people side was really meaningful for me," said Lim. 
GOOD VIBES ONLY
In 2020, amid a restructuring of the company, Lim found herself no longer able to imagine a future there. 
It wasn't sudden – she had had "a lot of time to think" during a brief work stint in Australia.
"One of the things I thought about was how I enjoyed what I did but didn't find it meaningful. I guess the older you get, the more you think about the meaning of things. I kept asking myself what I was doing, selling ketchup and baby food. In that job you're helping your company increase profits but you're not really helping customers," she shared. 
The company sent her to London to consider taking up a role there but when she couldn't find anything that was a good fit, she decided to resign, thinking she would use the downtime to travel the world. 
Around March last year, over drinks with a few male friends, Lim asked for suggestions for the name of her new Instagram page, intending to use it to record her travels. One friend suggested Good Vibes Only.
"I joked that it sounded like a sex toy company. And then we started talking about sex. That night, I started thinking about how I never talked about sex with my friends. Every time I had a sex problem, I always ended up Googling. But I was never satisfied with the results because they were always set in the western or European context. I wondered why we never talked about it if it was such an essential need.
"I also thought about how I'd never bought sex toys in Singapore. The only shop I knew was the one opposite my office, at Lucky Plaza. I would always glance at it as I walked past. I wanted to walk in but never did because what if my boss or colleagues saw me? The toy that I had, I bought in Japan with my partner – it's ironic that you never hear about people buying sex toys in Singapore but when I did a survey on it for the business, everyone said they knew about that seven-storey building in Japan.
"Why can't we buy sex toys in Singapore? Why isn't there a clean shopping environment for that here?"
When the borders were shut down due to the pandemic, thwarting her travel plans, Lim rallied her friends to start Good Vibes, the sex toy company. The business launched in November 2020 with three toys ranging from S$49 to S$69, including The Koi – a clitoris-focused toy touting the "air pulse technology" that continues to trend globally. 
Why can't we buy sex toys in Singapore? Why isn't there a clean shopping environment for that here?
It was meant to be a side hustle at first but amid several lockdowns, the business grew and became "very promising", especially after the brand started getting press coverage. 
"It meant that I was doing something people wanted to hear about. It was meaningful for me to speak to customers but knowing that society was really changing in this way was another level. That was when I decided that I wanted to stay with it. I felt I needed to really dedicate time to it."
However, she struggled to get her co-founders, who all had full-time jobs, to commit. Eventually they stepped down.
"I was struggling to raise it. I didn't want to push them so much because they're my friends and I care about them, I didn't want them to be overworked. It was very tough for me to accept it at first when they left but looking back now, I'm so glad because it really gave me the space to have full control," she said. 
ON BEING THE FACE FOR SEX TOYS
It's almost unheard of these days to have a business and not have a person front it. Naturally, Lim struggled with this idea. 
"I didn't want to do it at first because I didn't want it to affect future career opportunities – I wasn't sure how human resources would take it. But after speaking to some friends, I realised I had to put my face to the brand because if I didn't, it would contradict the idea of normalising sexual wellness. 
"So I did, and people were still reaching out and trying to recruit me, so I guess it doesn't matter for them," she said. 
The people closest to her were generally supportive, she said, or nonchalant.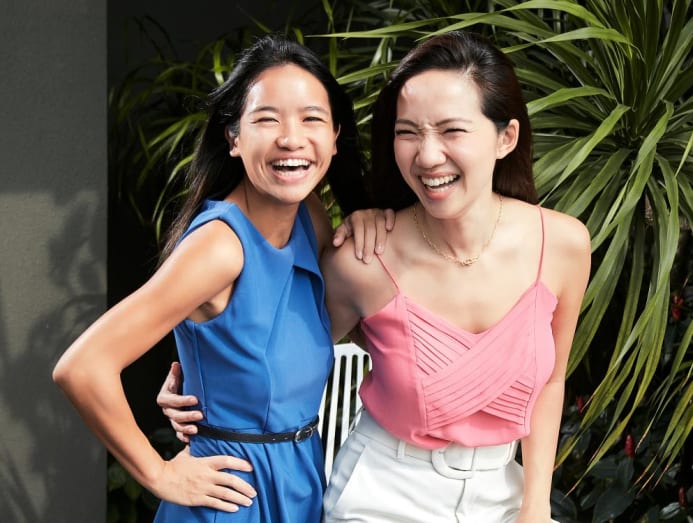 "Until now, my parents and I haven't really talked openly about it specifically. When people come over and ask me what I'm doing, I'll tell them I have a business selling sex toys and my parents, even though they're there, don't add to it, they just accept it, just quietly accepting it," she said. 
Lim was only able to recall one cold response to her work. As part of her initial research, she had sent surveys to friends and acquaintances via group chats.
"I'm a data person. I need to know how open people are, how many people actually owned sex toys. I remember in one group chat, a former classmate said I shouldn't be discussing this topic openly. I got a bit of a shock because I didn't expect it but I was lucky that others in the same group chat openly replied and told me it was necessary," she said.
In general, "I had more supporters than otherwise", she added. 
A SIMPLER LIFE
Ultimately, one has to have this characteristic to be able to embrace the startup life: The ability to live simply. Lim hasn't paid herself since establishing her company despite having broken even, choosing instead to re-invest her profits into expanding the business.
Lim was raised in a "typical family". Her parents, an engineer and a secretary at a bank, weren't big spenders, she said. 
"They probably could afford to spend but they liked going to the coffee shop and weren't into branded goods. If I wanted to do something, they'd tell me to earn money and get it done myself. I wanted to learn Japanese, French and German, so they told me to spend my Edusave Award money on lessons.
"So even though I was earning quite a big salary at Kraft Heinz, I never bought branded things. I'm a very simple person. It allows me to do a startup life because if you're not earning, then just cut back on expenses. I also didn't spend much while working at Kraft Heinz so I was able to save," she said. 
At 28, Lim has a firmer grasp of self than I can only hope for at 35. 
She already knows she's "a huge risk-taker" and is passionate about nurturing others. But when her partners dropped out of the project and she found herself being a solo founder, she learned "a lot" more, including how disciplined she really was. 
"The good thing about being a solo founder is that you have the freedom to make decisions so you get to move at the pace that you want. When you're in a team, you can hear from different perspectives, but it's hard to reach a consensus. But of course when you're alone, you question yourself because you have no one to bounce ideas off. There have been times when I would lose momentum and question a lot of things," she said. 
Earlier this year, Lim found the balance she needed when Good Vibes merged with sex toy retailer Hedonist, making Jacqueline Kee her co-founder. Altogether, the sister brands have sold 3,000 toys since they launched. 
"It's nice to have someone you trust with your business, someone you can discuss your ideas with. It's worth investing in having the right people on board because it'll push you to do more and grow faster," said Lim.
Next year, the duo plans to ramp up efforts to normalise conversations around sex, beginning with an art pop-up event at Siri House in Dempsey Hill. They also want to create "a safe space" for these conversations to continue, with weekly workshops on pleasure and women empowerment. 
"We're currently focused on growing the team to accelerate our growth not just in Singapore but also in the region. Even though we've had organic sales from overseas customers, we hope to be more targeted in positioning ourselves as the Asian sexual wellness brand focused on driving education and growing penetration in our region," said Lim.
"We plan to achieve S$1 million in sales within the next three years," she added.
CNA Women is a section on CNA Lifestyle that seeks to inform, empower and inspire the modern woman. If you have women-related news, issues and ideas to share with us, email CNAWomen [at] mediacorp.com.sg.