Sentosa Fire Station's female commander: Rescue work not all about fighting fires – empathy is key
A good firefighter needs to be able to take the heat – and in ways you might not expect, Lieutenant Colonel Jennyline Fan tells CNA Women.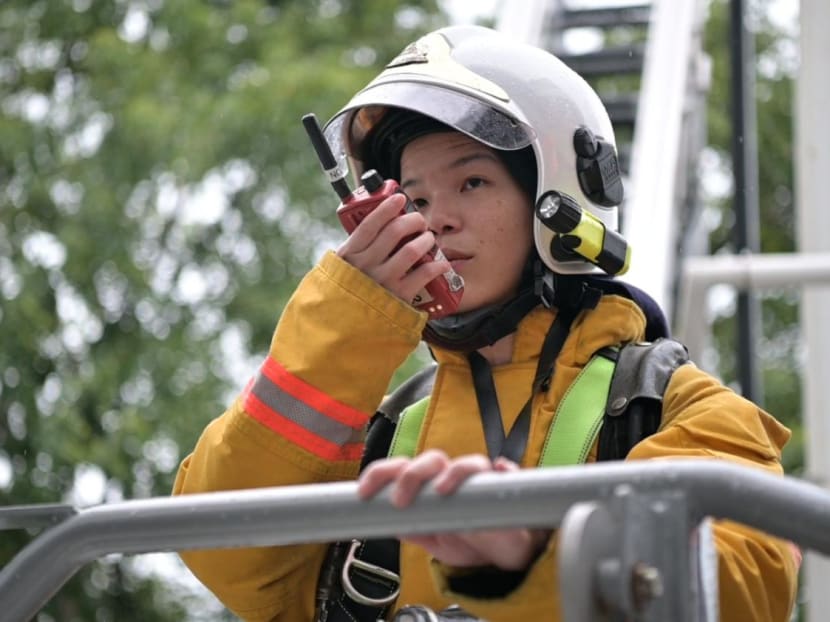 In another life, I once donned a hazmat suit for an emergency drill. The drill lasted just 10 minutes but I remember how breathless I felt; how hot and stale the air was in the suit. 
So when Lieutenant Colonel (LTC) Jennyline Fan described her rookie training at the Singapore Civil Defence Force (SCDF), I silently commiserated. 
LTC Fan is the commander of Sentosa Fire Station, which opened in 2016 to render emergency services to and around the resort island. 
One of the things that first drew the 34-year-old to the SCDF was the physical challenge. Training to be a firefighter is said to be the toughest among the uniformed organisations. 
For LTC Fan, the training was also the toughest thing she's had to do so far in her 11-year public service career. 
Part of the training is conducted in a structure at the Civil Defence Academy that simulates a high-rise building. Officers have to be able to run up around 10 flights of stairs wearing protective gear and carrying firefighting equipment, all of which can weigh up to 60kg. 
It's like running a vertical marathon while carrying a whole other person.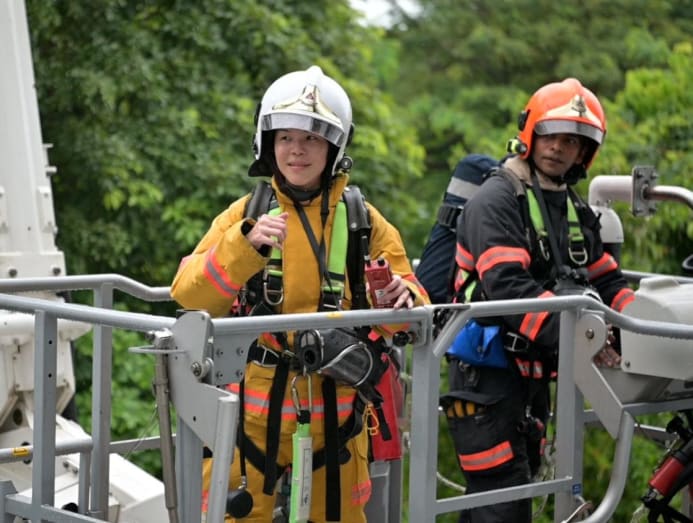 "The default firefighting gear is called 'bunker gear'. It's fire retardant so it's very hot. On top of that, we have to wear the breathing apparatus set, which is really heavy. Then there's the helmet and additional equipment, such as the hose and breaching tools," she told me, referring to the tools used to break through an entrance.
"Acclimatising to the heat was the hardest bit for me. I could train for the weight-carrying, to a certain extent. At the gym, you can try and increase your strength and endurance. 
"But it was only after wearing the suit every day over a couple of months, at the end of the training course, that I finally felt a bit more comfortable in it," she said.
"Along the way, we drank water and if we really couldn't take it, we'd let our trainers know. But we pushed ourselves as much as we could. 
"Another thing we'd do to help ourselves was to put on the suit outside of our training time (to get comfortable with it)," LTC Fan added. 
"WITH RANK COMES RESPONSIBILITY"
LTC Fan, who joined SCDF after receiving a Local Merit Scholarship from the Ministry of Home Affairs (MHA) in 2008, started out as a rota commander at Tampines Fire Station, a role she describes as "a foundational posting for all SCDF senior officers". 
She has held several postings, including as an assistant director at MHA, since then. Last year, she was appointed commander of Sentosa Fire Station.
"Most senior officers would want to be a commander at some point in their career and I'd always found it to be a fulfilling position. But with rank comes responsibility and there are challenges associated with that," she said.
As commander, LTC Fan's day typically starts at 7am, when she participates in the station's daily drill, during which her team sometimes simulates rescue scenarios. 
The shift change at 8am gives her a chance to catch up with shift supervisors, better known as rota commanders, after which she attends meetings and tackles administrative responsibilities. 
"Operational readiness is something we cannot compromise on so I'll supervise to make sure they do proper equipment checks. Sometimes, I do random spot checks. 
"We handle some items that are more sensitive or controlled and I make sure these things have been signed in and out properly," she said, adding that being meticulous is another essential part of her job. 
"You also have to trust your key appointment holders," she said. "Respect and trust have to be built over time. You trust they can do their work and they trust you to have their back in certain situations. When there are errors, we must be able to stand with them.
"There needs to be a balance between trusting them and knowing when you have to step in, such as when you have to oversee things yourself, intervene if there are disagreements between rotas or let headquarters know we need more time for a project."
Working in a male-dominated environment affords her no special privileges, LTC Fan said, although she believes she brings a little extra something. 
"I would say my leadership style is collaborative," she said. 
"When it comes to operations sometimes there is no room for discussion because of urgency but in the administrative area of running a fire station, I prefer to hear from my colleagues before deciding on the best way to deal with an issue."
Women are better empathisers than men, according to a massive study conducted by the University of Cambridge just last year, and research shows that empathy in the workplace is positively related to job performance.
It's a quality LTC Fan advocates for.
"Being a woman, you tend to be a bit more empathetic. You can listen and relate to other people better, (which is important considering) I work with National Servicemen, regulars and officers of varying ages," she said.
EMPATHY IN RESCUE WORK
Rescue work as a notion is often loaded with machismo. But there is an essential "soft" aspect to becoming a hero, especially a professional one. 
LTC Fan recalled an incident last year, during which her team helped a woman working at a food court, who'd had her arm trapped in a sugarcane extractor. 
"It happened in a public area (food court) so the challenge was more about ensuring the privacy of both the team that was working, as well as the patient. If we're suffering, we don't want people staring," she said. 
Such thoughtfulness is often required on the medical end of things. 
"There will always be next-of-kin around and they're usually very anxious, as anyone would be if their family members were in trouble. Our SCDF officers have to practise empathy a lot. They have to be authoritative in certain areas but they also have to make sure the relatives are alright.
"Some relatives might be anxious to help or want to stay close to the patient, but they can't because we need space to operate. That's when officers have to explain things, to tell them they need the space and to assure them that the patient is getting the best care," said LTC Fan. 
"Officers attend service excellence workshops and this is where we learn how to speak with members of the public; for example, if we have to be firm, how to do it tactfully and with empathy."
CNA Women is a section on CNA Lifestyle that seeks to inform, empower and inspire the modern woman. If you have women-related news, issues and ideas to share with us, email CNAWomen [at] mediacorp.com.sg.